Hardwood Floor and Janka Scale
The Janka hardness scale is a wood hardness scale that was developed over 100 years ago by J.A. Janka. J.A. Janka was one of the first people to explore the mechanics of lumber failure and the study of strength properties in wood.
A common use of Janka hardness ratings is to determine whether a species is suitable for use as flooring. For hardwood floors, the test usually requires a 2″ × 6″ sample with a thickness of at least 6–8mm, and the most commonly used test is the ASTM D1037. When testing wood in lumber form the Janka test is always carried out on wood from the trunk of the tree (known as the heartwood) and the standard sample is at 12% moisture content and clear of knots.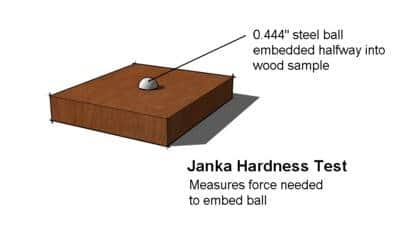 Janka Hardness Test
It is based on the amount of pressure needed to drive a 0.444-inch steel ball 6 inches in diameter into hardwood. This number is called the Janka rating and the Janka test measures a material's resistance to wear, hardness, and density.
The Janka rating is the average force in pounds required to push a steel ball onto wood with a 0.444-inch diameter into the wood to half of its diameter.
Wood Species hardness based on Janka test
It is one of the most common ways to compare the hardness of different woods. Although, it does not take into account factors like the actual density of wood or how many rings per inch (t/m) is in a lumber species. Below, we have listed some of the common wood species used in the flooring industry in the order of their Janka ratins.
Wood Species Janka Scale rating
What is considered a good rating for a wood floor on the Janka Hardness Scale?
1290 lbf is considered a good Janka rating which is the rating of red oak. However, you should consider so many other factors when choosing wood floors as other factors affect how flooring performs. The chart is not to be considered an absolute; it is meant to help people understand which wood species are harder than others.
What is the best Janka rating for hardwood flooring?
These exotic woods are considered the hardest woods and are mostly red in color.
The hardest hardwood floor based on the Janka hardness scale in the world (Janka hardness at 3,700 lbf) is Brazilian ebony. Although it is extremely dense and heavy, it's not commonly used in flooring because of its extremely high cost. The species is native to the eastern part of South America, and it has been prized for centuries for its rich color and grain structure. In fact, Brazilian ebony was formerly used solely on high-end construction projects such as castles and cathedrals.
How to measure Janka hardness rating?
The test to measure the hardness of wood is called a "Janka Hardness Test." The Janka test uses an instrument called an impact tester, which drives a standardized steel ball into the surface of the wood sample at high velocity. When the ball hits the wood it leaves an indentation that's measured and checked against a chart to determine its hardness. The higher the Janka number, the harder the hardwood floor and the more force required to damage your wood floor. When choosing flooring products, check out the Janka hardness chart to determine which particular type of hardwood floor is best for your home.
What is the softest wood that we recommend for flooring purposes?
Cherry at 995 lbs is our softest recommended wood for flooring purposes. Anything, below that, is considered softwood. Basically, don't use it for flooring purposes.
It is important to note that the Janka test measures only how hard the wood is at its surface. The so-called softer wood beneath the surface can still have a high Janka rating depending on the species.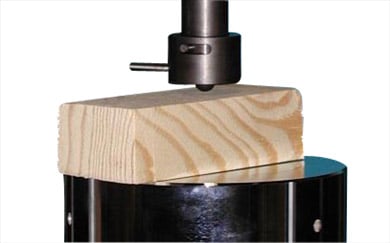 Most common wood species used for Flooring according to Janka scale
White oak
This wood is the strongest of the oaks and is very popular in the flooring industry. Because white oak has a somewhat milder red tone than red oak, it is the preferred option among designers and builders.
Hard Maple
Hard Maple is a type of maple with exceptional strength and stability. Canada is famous for its Maple and that holds true when it comes to the Canadian hardwood industry. Although many types of maple exist, the most common hard maple is called Sugar Maple which ranks at 1,420 lbs.
White Ash
Though ash can be found throughout North America, the wood from white ash is highly sought after for its strength and durability.
In fact, it's often used as a substitute for oak in flooring products.  It has a Janka rating of 1120 lbs or 5400 N.
Red Oak
This wood makes up the majority of the hardwood flooring on the market today although it's not one of the harder woods at just 1290 lbs on our scale. However, red oak is available in many different forms that help to make it a popular choice for flooring purposes.
This wood is the most common oak used for flooring. It has beautiful natural markings and is easy to stain or varnish.
In recent years, red oak has become very popular because of its affordability.
Hickory
Hickory is the hardest North American species of wood available. It's also the heaviest, which makes it ideal for high-traffic installations such as offices and churches. Hickory is one of the most durable woods, making it a popular choice for wood flooring.
This is a very dense wood; its density rating of 1,820 means that it doesn't float in water.
Conclusion:
The Janka hardness test is a simple way to measure the relative hardness of wood. The higher the number, the harder and more durable your floor will be. When choosing hardwood for your home's floors, it's important to consider both what type of wood you want as well as how much traffic you expect it to see. However, this hardness scale should not be your buying guide. There's so much more you should consider when choosing the perfect flooring for your home. Please check out our exclusive hardwood flooring Buyer's guide for more details.
Here at Canadian Home Style, we support Canadian-made hardwood for all the right reasons. Feel free to contact us so we can help you find the best product for your needs. If you are in the market for wood flooring, be sure to check out our showroom in North Vancouver to find out why we are the highest-rated company in British Columbia. Book Now!