Low Maintenance Kitchen Design Tips
Some of us dread going into the kitchen, and some are master chefs. Whatever your case is, the kitchen is one of the vital parts of any household. It is where bellies are filled, and memories are made. And what none of us like is to have to work unnecessarily hard to maintain it. We want an inviting oasis that we will enjoy entering every day, no matter how skilled we are. Whether you are moving into a new home or are looking to redesign your existing kitchen, you want to choose the best design for you and your family. Follow our low-maintenance kitchen design tips for some fresh ideas.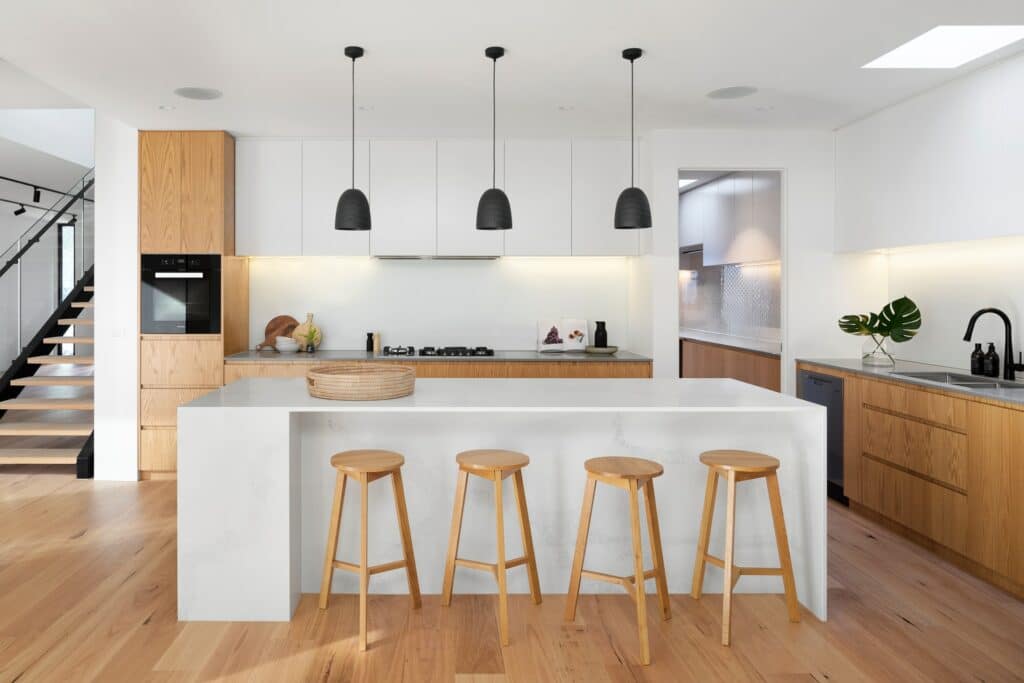 Where to start with your low-maintenance kitchen design?
At the very beginning, you might get overwhelmed with the number of design options out there. And then you have to make all those decisions—from every individual appliance and kitchen cabinet to the countertops and floors. The important thing is to not panic and plan well ahead of time. Think of this task as a fun project where you can express your artistic side. You can get help from a Vancouver kitchen renovation buyer's guide if you are in the area. Also, consult your loved ones, your friends, the internet, and, if all else fails, consider hiring an interior designer. They can give you great advice on the best materials, prices, and organization—to name a few.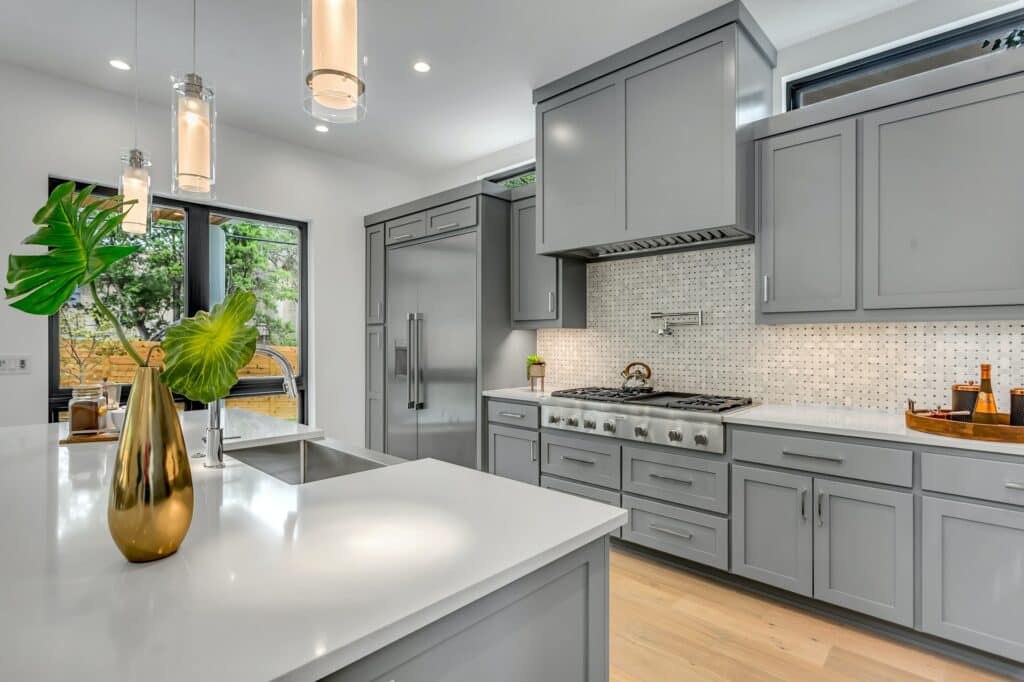 Breaking down the main kitchen areas
If you want to get well organized, think of the big picture first —the colors, materials, orientation, and practical issues that will make your life easier. After that, break it down into smaller, more specific areas. There are many to address, so take a look at some of the major kitchen areas to focus on.
1.      Let's start with the countertop
Most modern kitchens will include an island—if the space permits. Otherwise, you want to make sure to have a large enough area with a countertop where you can prepare your favorite meals. The material of the countertop is of the utmost importance. With so many to choose from, it might not be easy. And the prices vary dramatically. Granite, marble, and wood are among the more popular choices. But be careful with these three, as they are in fact porous and need to be regularly maintained. If you choose to go with the non-porous materials, go for porcelain or quartz. These will most certainly pay off in the long run, as you will not have to replace them, maintain them, or worry about liquids. They are extremely easy to clean and virtually indestructible.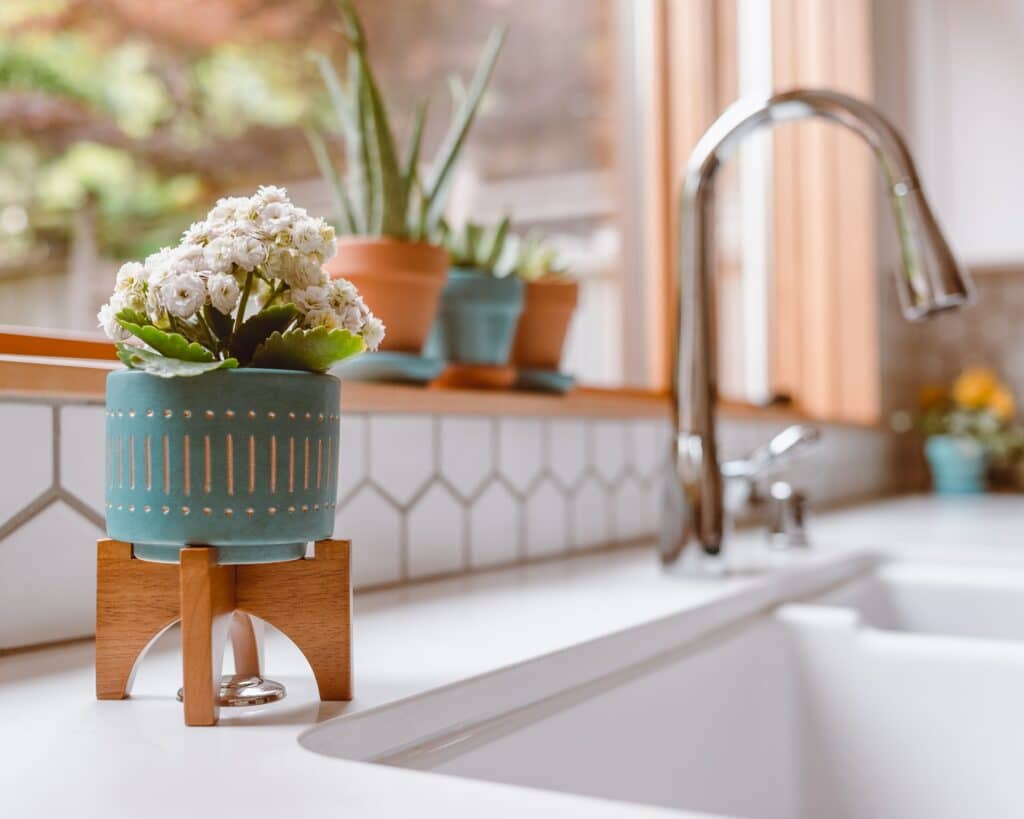 2.      The kitchen cabinets
The abundance of choices can be pretty overwhelming when it comes to the cabinets. Try to come up with a color scheme that suits you and your family best. Play around with colors and materials that would go well with your countertops. If in doubt, gray kitchen cabinets are an excellent neutral option that goes well with almost everything. If you want a low-maintenance kitchen design, it is probably best to stay away from open shelving.
This design is very trendy, but it might become a hassle when it starts collecting dust quickly. If you are looking for a more open design for your cabinets, go for glass doors. They will reduce the dust and still have your dishes on display. If you are in Canada, you can also get assistance from the experts in the field, the award-winning Custom Cabinetry and Flooring retailer. Another thing to take into account is the surface of the cabinet doors. If the doors have too many embellishments or raised panels, they will be tricky to clean.
3.      The sink
Most of us like to have a large sink to stuff as many dishes in there as possible. Single, double, it is a matter of preference. But what is commonly overlooked is the importance of edges. An under-mount sink will give you that seamless transition between the countertop and the sink. It might surprise you how helpful this is when you are cleaning. You can easily wipe those crumbs straight into the sink. You will also avoid dirt getting stuck at that very edge and ultimately forming mold. This would be the definition of a high-maintenance kitchen, which is the opposite of what you are looking for.
4.      The flooring
This is another kitchen area that requires a lot of attention. It needs to endure infinite wear and tear and remain durable. Tiles are an obvious solution for most kitchens. However, there are also some lovely waterproof laminate flooring options. This is a modern take on the traditional and overused kitchen standard. Especially if you have an open-plan kitchen, the laminate will help it seamlessly blend in with the rest of the house. If you still prefer the tiles, pick a color that is not too bright but also not too dark. Both could turn out too difficult to maintain. Also, avoid too unpolished textures for the floor, as they will be tough to clean daily.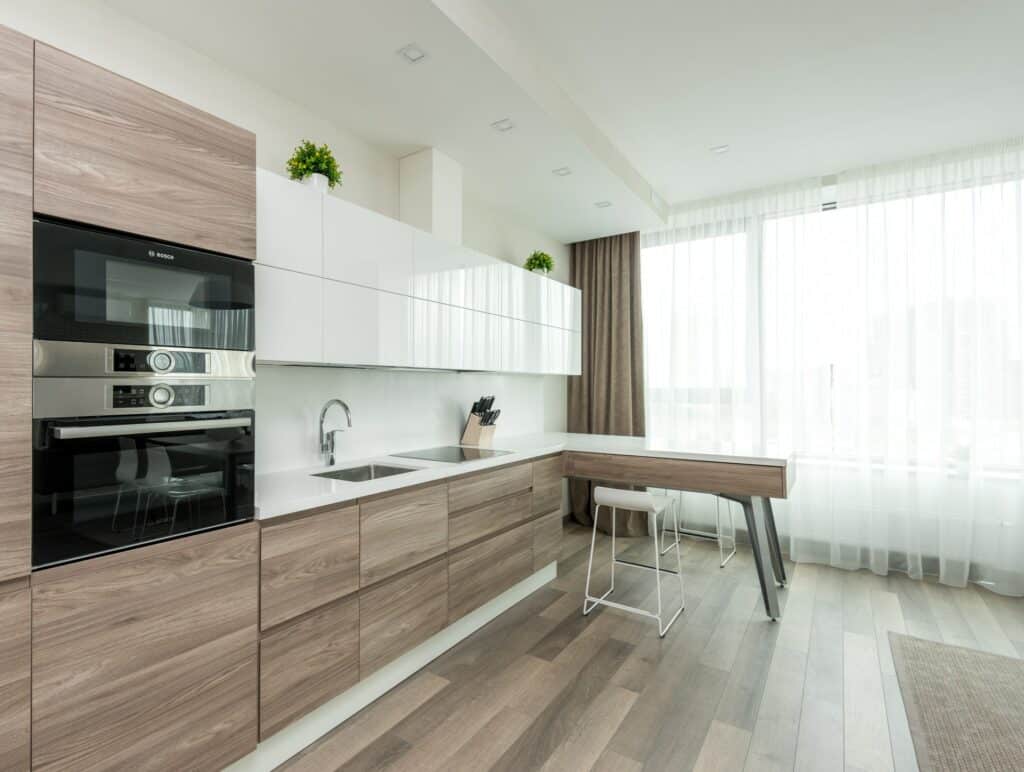 If you are moving—take your kitchen with you
It is possible that you have spent a lot of money and time designing your dream kitchen and suddenly you have to move. A new job opportunity has come up, or you had to move for family reasons. Either way, that has to be nerve-wracking. If you cannot part with it, pack your kitchen before moving and take it with you. If you are making a long-distance move, you want to make sure that you prepare it for safe transfer. This is no small feat, and you want to organize it thoroughly. Start planning and make sure you do online research on the best practices to save all the valuable items in your kitchen. Do not hesitate to call experts to organize all this for you.
Your dream kitchen realized
As you can see, there are many aspects and small details to take into account when designing a kitchen. That being said, it can also be rather exciting once you get into it. Have your family members involved, take your time, and enjoy it. Pick out that low-maintenance kitchen design that you have always wanted—on your terms. You and your loved ones will relish it for many years to come.
Canadian Home Style is your back-to-back Consumer's Choice Award winner for 2021 and 2022 for flooring and custom cabinetry. Book your showroom consultation with our expert kitchen designer;  Let's make your dream kitchen a reality. Book Now!