High-quality cabinets in Vancouver:
Are you looking for magazine-worthy kitchen cabinets for your beautiful Vancouver home? Then you may have heard about Cabico Custom Cabinetry – a premium and leading Canadian quality cabinet manufacturer located in St. Catharines, Ontario, and Coaticook, Quebec. For the last 30 years, people like you have found lasting solutions from this proudly Canadian company. At Canadian Home Style, we have withered a relationship with Cabico, offering our clients quality products and amazing experiences in Lower Mainland.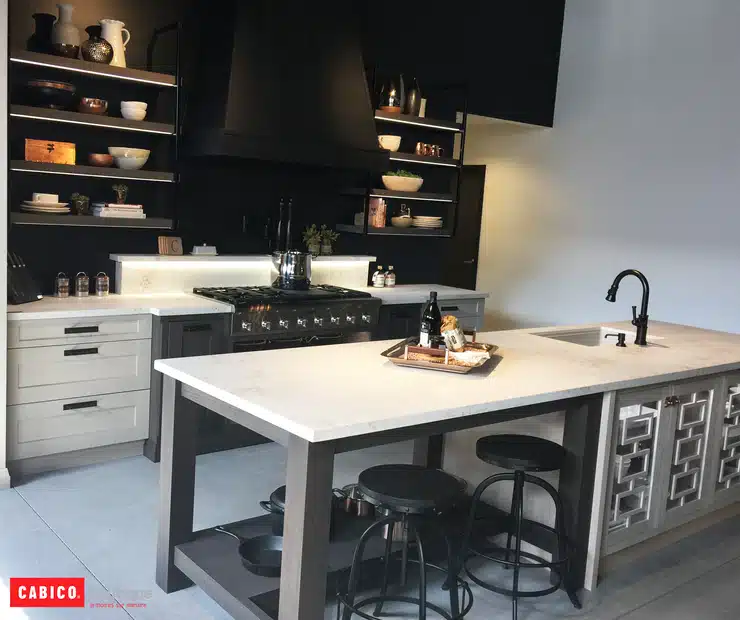 The company has largely three excellent quality cabinet series to choose from.
Cabcio Unique Series – Vancouver Custom Cabinetry:
It is easy to say that you want something unique for your remodel or installation project. Making it happen is often a challenge because what you may call unique may actually be a recreation of something else online. With the Unique Series, we are talking about a fully customizable work of art. Notably, you can pick from over 100 standard door designs in at least 100 standard finishes. A pick for the BLUMOTION or Blum's TANDEMBOX intivo options, throw in custom door designs and custom color finishes, and you can truly say that your cabinet is one in a million, and you will be right. Anything unique you can imagine, we can help you produce.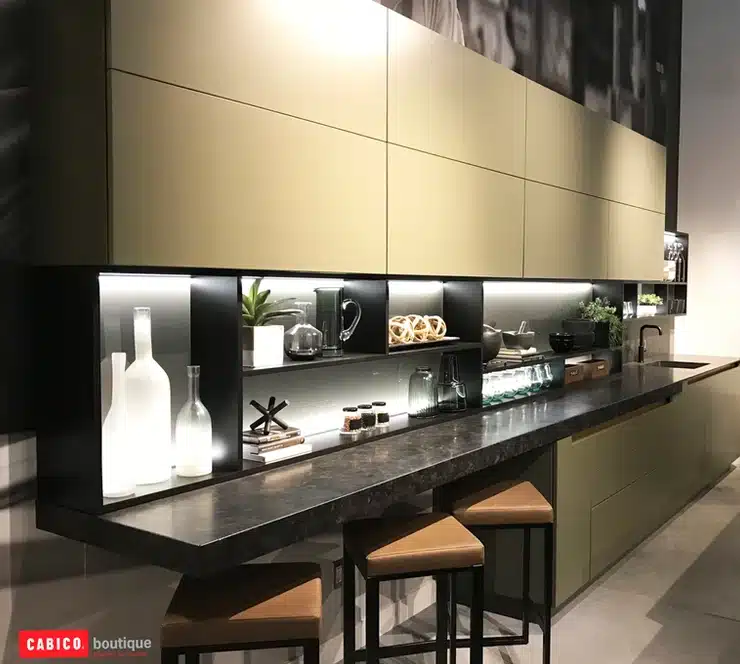 Elmwood Series – Vancouver Custom Cabinetry:
Are you looking for premium grade refinement? This is what 40 years of cabinetry royalty get you. The finesse, the grandeur, the gloss, and the picturesque charm of Elmwood will never allow a dull day in your kitchen. The pride here is not the overwhelming level of variety and superior choice but rather the indescribable commitment to the highest level of technique to bring it all together into a futuristic wonder. None of the 80 wood species, the 200 custom door designs, or the 5000 standard finishes hasn't been handcrafted from start to finish. Every piece smells natural and fresh, every design says yes, and the outcomes look unreal. It is real though, and it could all be yours.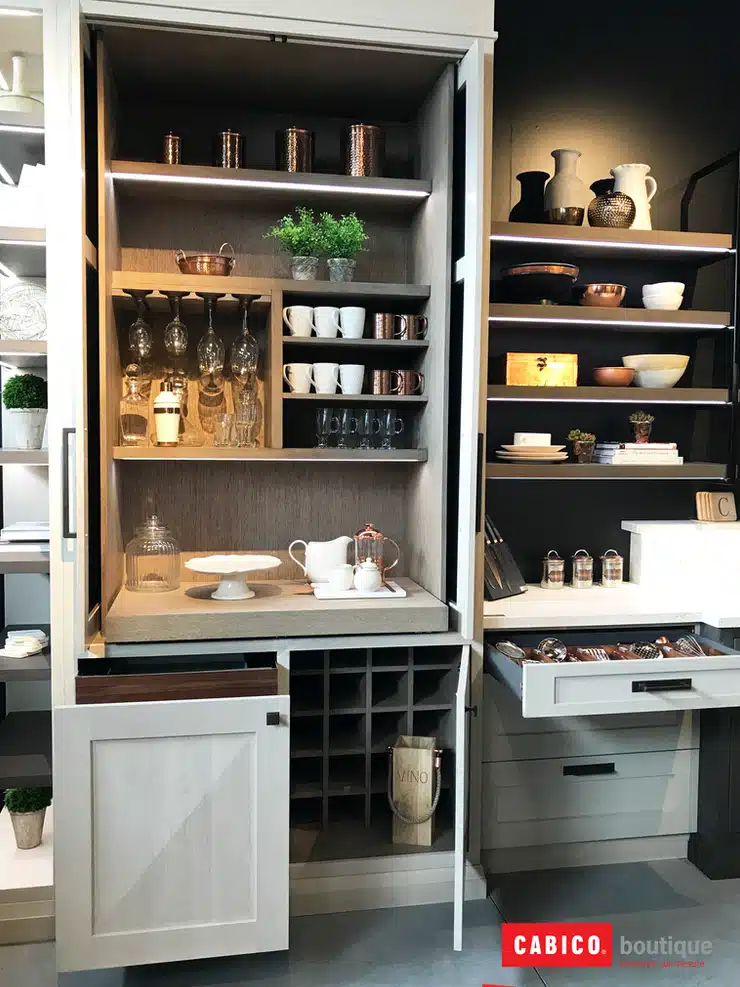 Essence Series – Vancouver Custom Cabinetry:
This series is created for the purists. The warmth that nature offers, the choice at its purest form, the design reaching into your inner core, the essence comes alive for anyone looking for nothing short of the contemporary. It blends well with superior installations and minimalist
designs. At least 20 door designs, 25 finishes, and customizable sizes now exist for this range. This amazing option of solid wood will never fall short of inspiring your daily kitchen routine.
Why custom cabinets from Cabico?
When you are thinking of interior décor, you want options. You don't want to end up with an old boring design. Cabico offers you exactly what you are looking for whether that is built ins options or custom cabinet doors. They have added the variety to choose from; the variety that makes it difficult for you to choose. It is never a tradeoff between tastes and preferences, luxury, and functionality, but rather a mixture of all those features and more.
Even more compelling is that the products are available for customization. Think of a color, theme, and design, Cabico offers you all the wonderful choices. You don't have to worry about the possibility of wrong cutouts for the appliances or flaws in the finished work. Being a high-end designer, expect the best. The cabinetry range for the kitchen is definitely worth the investment.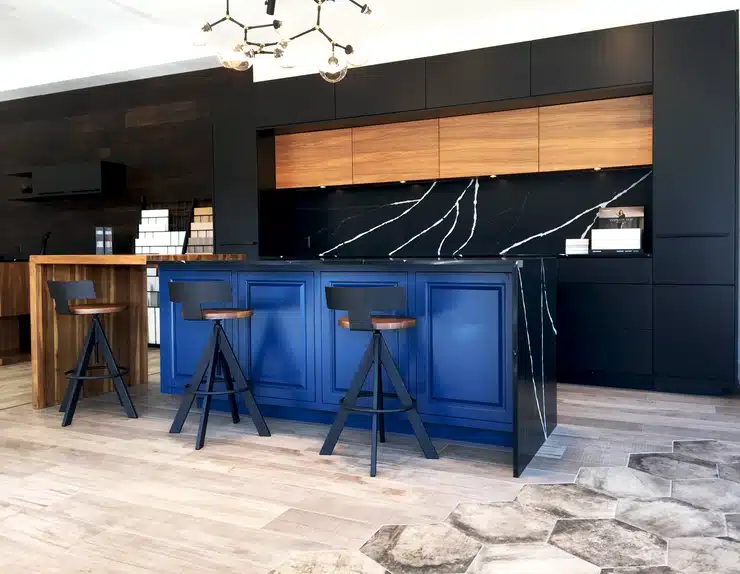 Canadian Home Style
We pride ourselves as Vancouver's top experts in offering custom cabinetry and flooring solutions. Our customers are consistently asking for unique experiences. Our Canadian experience is unique globally, and the Cabico Custom Cabinetry features a range of exclusive finishes and touches that our unique to our Canadian living.
We want to give our customers an authentic experience, and we know a company that has
consistently delivered this level of satisfaction for years. Cabico has endeavored to provide locally generated solutions. We stand with them on this quest as a proudly Canadian company.
Unparalleled distribution network
Cabico, as North America's leader in custom cabinetry, has over 700 distribution centers for its products and we're proud to be the one in Lower Mainland. Whether you need the Elmwood Series or the Essence Series, we will get it for you. You can also order the Unique Series for a more discerning outcome. Wherever we have a project, we can be sure that our clients will get Cabico-original craft for the cabinets. It is a reassuring feeling because you know you are about to get the same promise of natural, fresh and authentic results.
Exemplary quality
If you have ever installed any type of finish carpentry only to be disappointed, then you will
appreciate what Cabico brings to the table. Peeling paint, warping wood, cracks, and such
things will definitely turn your awesome dream into a nightmare. Cabico has made it their
business to make sure that does not happen with their customers. Over 600 craftsmen and women work diligently to maintain high-quality standards. Every piece goes through rigorous checks to ensure that it does not have any blemish. Theirs is not an industrial plant; it is a studio for artisans making a work of art by infusing the human touch in every piece. The results tell the story and the warranties are lifetime.
Visit our showroom in North Vancouver, British Columbia, today for more details on Cabico and our custom cabinets and custom millwork.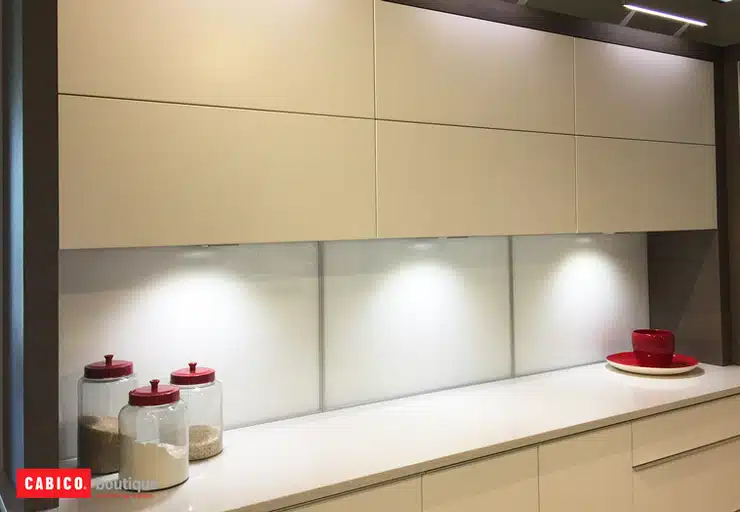 Services we offer:
Exceptional kitchen and bath design

Complete kitchen renovation

Complete Bathroom renovation

Residential and commercial flooring services
Kitchen and bath design: One-stop shop
Our designs are modern and completely custom for all projects. Your professional designer will walk you through the whole design process from picking your cabinet doors to the final walk-through and she will also stay in contact with you through the project. Our prices are competitive, our solutions are life-long and our focus is quality. Our entire team is dedicated to providing top-notch service to create your unique space in every room of your house.
Areas of our Services
Vancouver

North Vancouver

West Vancouver

Coquitlam

Burnaby

Sunshine Coast

Coquitlam

Port Coquitlam
We Offer Our Services to:
Home owners

Home builders

Contractors

Interior Designers
Cabico offers quality at a reasonable Price:
Cabico has a massive manufacturing plant that gives them the ability to buy products in bulk, so their prices are reasonable and they have an ever-growing selection of quality goods.
Final thoughts regarding Vancouver's best custom cabinetry line:
Buying custom and premium-quality cabinetry is one task. The other important task is to hire an artisan that matches the quality of the materials with the exquisite skills required to bring your dream custom kitchen to life.
Have you ever heard of buying a good piece of art might force you to buy a new set of drapers?
If you haven't, then you know now. Matching a design takes skill and experience to pull it through successfully.
Whether you are picking custom or standard options, you will need a highly skilled artisan for the job. Here is where we come in. At Canadian Home Style, this is our business, our trade, our livelihood.
Vancouver custom cabinets via Cabico – Book Now!
Frequently Asked Questions:
Does Cabico offer refacing of kitchen cabinets?
Yes, We can offer refacing services for your kitchen cabinets via Cabico. However, we strongly recommend changing your boxes as well.
Do you offer custom bathroom vanities via Cabico as well?
Yes, we offer custom bathroom vanities and bathroom cabinets via Cabico.
Do you offer your services for new construction as well?
Absolutely, We offer custom millwork packages for new construction projects as well.
Do You offer an installation warranty as well?
We offer a lifetime installation warranty on all of our custom cabinets and custom millwork.
Does your design package include 3D rendering and additional revisions?
Absolutely, we offer 3D rendering services and we work with you every step of the way on your new kitchen to suit your style with a wide variety of doors to choose from.
Does Cabico offer custom closets and custom storage solutions as well?
Absolutely, You can use custom cabinets of Cabico for every interior room of your house. That includes your custom storage or closets.
Do you offer kitchen cabinets only through Cabico?
Yes, we are committed to Cabico as our sole partner when it comes to custom cabinets and millwork.
Do I have to pre-book a showroom consultation?
Walk-ins are welcome but scheduling ahead of time is recommended, especially if you intend to speak with a kitchen designer about your project.
Does Cabico have another dealer in Vancouver BC?
No, CHS is their only official dealer in Vancouver BC.
Our Address: 1420 Marine Drive, North Vancouver, British Columbia.