The Higher end of Canadian Custom Cabinetry
Are you searching for a cabinet manufacturer to change the look of your home in Canada? Cabico is the cabinet of Canada and should be your first choice. Don't just buy any Cabico cabinet; go for the Elmwood series. Cabico is a Canadian-based cabinetry manufacturing company that has been around for more than 30 years. They acquired the smaller Ontario-based cabinetry and closets producer Elmwood in 2016. You can say that Elmwood is Cabico's luxury line. The purchase of Elmwood brings Cabico's combined sales to 100 million dollars.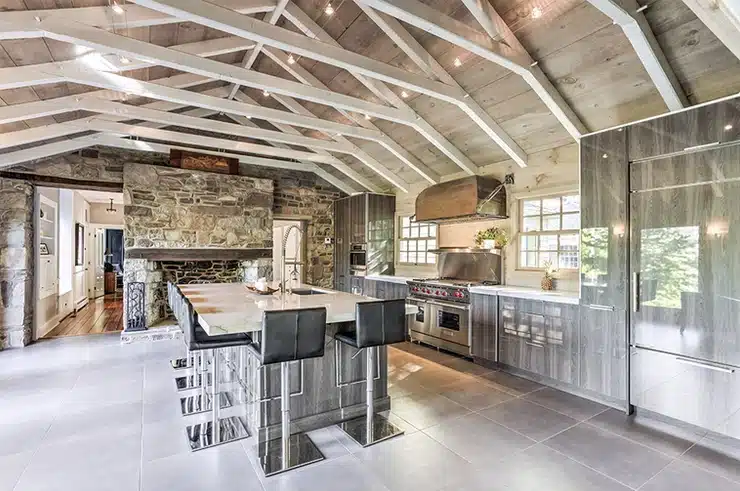 Elmwood has been crafting high-quality custom cabinetry since 1973, and this tradition did not change with its merging with Cabico as most of the Elmwood series from Cabico is custom made. That is what makes it really special. Elmwood has been around far longer than Cabico has. That is why the obtaining of Elmwood is more like a merging because Cabico retained the 250 employees from Elmwood. In combination with its 350 employees, you can be assured that 600 highly experienced dedicated workers will make your dream home cabinet become a reality.
We at Canadian Home Style are the official dealers of Cabico's Elmwood series. As you know, we only deal with the best luxury products that are sure to last a lifetime. Elmwood's possibilities are endless but don't take our word for it. These facts about the Elmwood series will blow your mind.
Elmwood offers fully customizable cabinetry inspired by the latest trends in European and North American designs.
One fact that we cannot ignore is how this high-end series offers uniqueness. You can submit your custom design to Elmwood with detailed drawings. It gets created in the Elmwood factory, and voila, you will a hundred percent get what you asked for in the best materials possible. The Cabico's Elmwood series has many positive reviews from customers, mostly thanking them for creating their dream cabinets.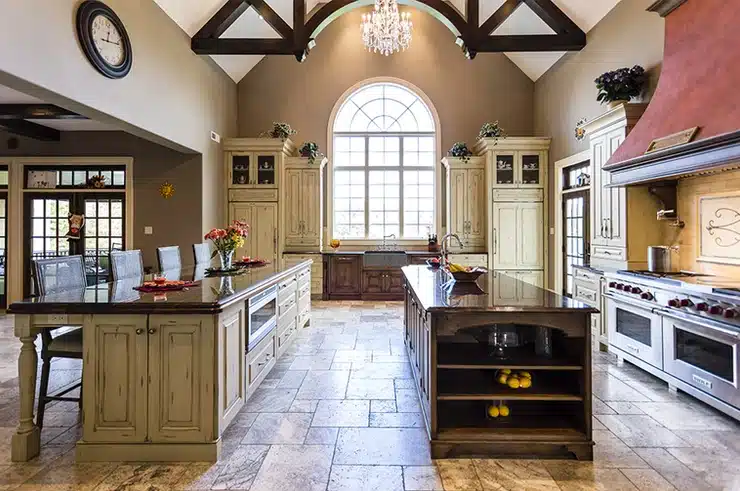 All Elmwood products are handcrafted in St. Catherines, Canada.
Although Canadian Home Style is also dealer of products that are not made in Canada, isn't it super cool that the Elmwood series is made in Canada? Not only do you get supreme quality, but you also get to be a good citizen by buying from your country. Cabico has a special projects team located at a plant in St. Catherines, particularly for the Elmwood series because of the wide range of custom cabinet orders they receive. This special project team has a group of seasoned artisans in different fields who put in their best to make the most elaborate orders happen.
Elmwood follows strict environmental standards.
I am sure you wonder how a wood-making company can have strict environmental standards. Everyone at Cabico respects the wood that nature provides them with. All Cabico products are made with eco-friendly materials from certified suppliers. They absolutely do not use materials that can harm the environment. The industrial wood-making process meets the California CARB II specifications, which is basically an environmental policy that exceeds regular industry standards.
Cabico is also a member of the (KCMA) Kitchen Cabinet Manufacturers Association, (CKCA) Canadian Kitchen Cabinet Association, (NKBA) National Kitchen and Bath Association, (CaGBC) Canada Green Building Association, and the U.S Green Building Council.
Cabico is also part of an active recycling program where wood, solvents, paper, cardboard, and plastic wastes items are recycled. Most of Cabico's products are finished in the house. While doing this, they follow the local environmental hazardous air pollutants standards. Yes, Cabico takes a little from the environment to produce beautiful cabinets. Still, they safely do that and give back to the environment too.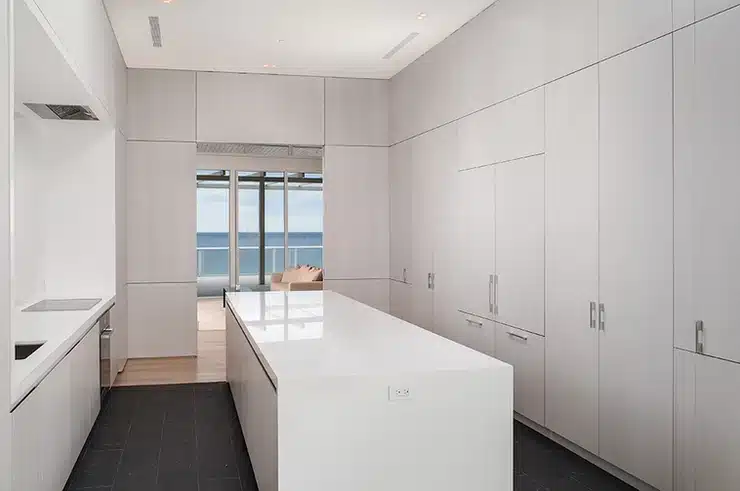 You get over 180 standard and exotic wood species in various cuts.
Cabico Elmwood series offers you a variety of wood choices. Some of them include the Red and White Oak, Maple, Bamboo, Cherry, Chestnut, Alder, Pine, Hickory, Walnut, Birch, Ash and more in different species. These are actually some of the best wood choices for doors;
Walnut is a hardwood with a wood grain of circle and spiral patterns that helps insulate the room without absorbing moisture.
White oak has a light tan color, and it is unique because of its tiger stripe wood grain. It works well with stain finishes, and it is a great choice for interior furniture design.
Red oak is a prevalent choice for woodworking and can be used for desks, cabinets, or tables. The red oak wood has an open grain and is great for various finishes. It is usually stained instead of painted, has lightweight, and has a high shock resistance.
Cherry wood has a reddish-brown color, and it may either become darker in time or lighter. The beauty really comes from its color. It has a fine, straight grain that gives the wood a smooth texture.
 Alder is the most popular wood used for interior doors. The unique thing about alder's grain is the knot in the grain pattern; there is a certain charm to the knotty pattern. It is solid wood and one of the least expensive wood options for doors, so it is popular.
Cabico also offers different types of cuts for the Elmwood series, cuts like the rift cut, quarter cut, and flat cut. Some species of wood can be cut in certain ways for better results.
The type of cut used will make a huge difference in some woods. The end pattern on the surface of the wood is a result of how it is cut. Cabico Elmwood series provides the highest standard of materials, production process, quality control and will assure you of one of the best warranties in the industry.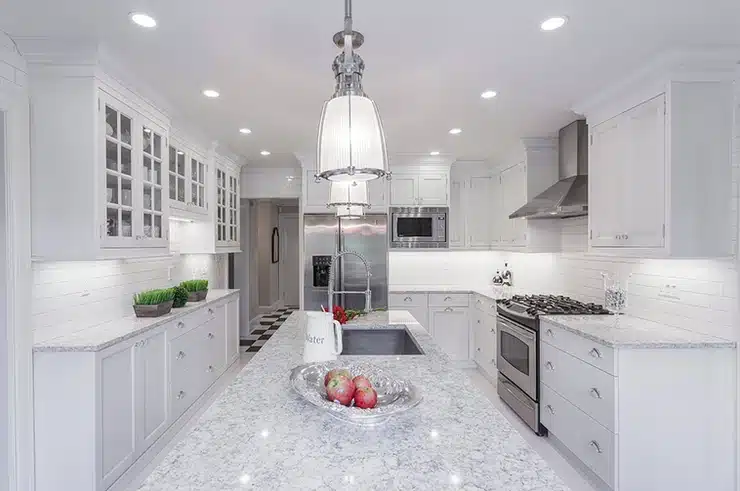 Elmwood series offers over 200 door designs with more than 5000 custom finish options.
One of the most outstanding pieces from this series is the doors. They are prepped with automated sanding and hand-finished. Cabico's Elmwood door has various standard designs with inspiration from doors specific to different countries, and of course, you can ask for a custom door to be created for you as well.
Custom color and finish creations: There is also an in-house color match system where all the colors and finishes are created in the Cabico lab. The finishes are applied by experienced painters as part of the Cabico team.
Painted and stained doors can have rich and vibrant matte, satin, diamond gloss and hydra gloss finishes. Most of Elmwood series 60+ standard paints and stains are available with any of their 10 glaze (7 dry and 3 wet) options making over 540 paint/stain and paint/stain & glaze combinations to choose from. While more finish collections like heirloom, estate, vintage, and other sheen and distressing techniques are also available. In terms of sheets good and veneer options you can choose from melamine, high pressure laminate, aqua gloss, Fenix, high gloss PET, ultra-matte PET, aura, faux wood veneer, faux stone veneer to name a few.
With a stain finish, the original wood grain pattern is not altered at all. Sheen finishes make the doors pop with vibrance, melamine is a low-cost plastic laminate finish that is durable, and a vintage finish gives the wood an antique look. Each type of finish has its strong and weak points. You can also mix finishes to make your doors look unique. For example, after a custom painting, you can add a coat of sheen to give it a glossy look.
With Cabico, the possibilities are limitless, so you can go all out when it comes to creating a door to suit your tastes. What's not to love about that?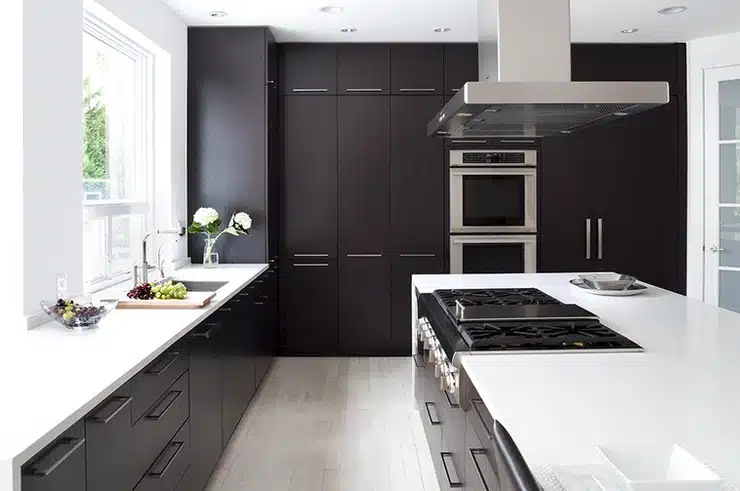 Seven different interior finish options
 White melamine

Black melamine

Hardrock maple melamine

Platinum linen melamine

Anti-microbial walnut melamine

Tundra melamine

White birch wood veneer
Cabinet Construction Type
There are different types of cabinet construction with their pros and cons that will make your kitchen look good. Cabico offers different construction types to choose from. A frameless construction allows for full access and more storage space, and a framed cabinet is the traditional cabinet design that lightly impacts the storage potential of your cabinets, while the inset framed type takes the same characteristics of the framed construction. These are the types of construction types the Cabico Elmwood series offer:
Full access frameless

Channel

Full overlay frame

Square inset frame

Beaded inset frame

Beveled inset frame
All over ¾ inches thick boxes. With ¾ inches thick full depth adjustable shelves.
Glides and Hinges
Cabico also offers Full extension soft close dovetailed solid wood drawers in maple or walnut. Blum and BluMotion drawer glides are standard. With bluMotion, no matter how hard you slam doors, fronts, or pullouts, it will close softly. This soft-close system is used for all Cabico drawers and doors.
You can upgrade to the premium maple, stainless steel capped walnut, and walnut drawer box if you want a higher grade.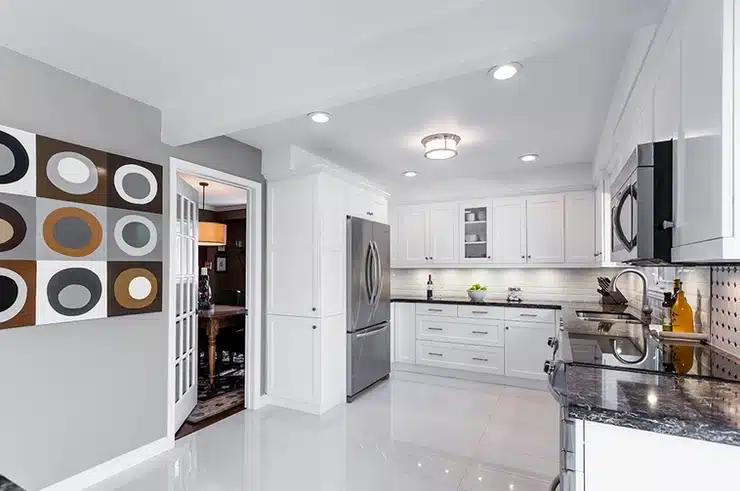 WHAT ELMWOOD EMPLOYEES THINK ABOUT THEIR PRODUCTS
In the Cabico magazine section, an interview with an Elmwood series Cabinet maker Teri Brownson was featured. You can really tell that Cabico cabinetmakers are really passionate about their work. When asked about the most satisfying aspect of her work, she said the uniqueness of each piece was the most satisfying aspect of the work, and it really inspires cabinet makers to put in their best.
She also spoke about her deep respect for wood, where she has to learn the secrets, grain, and character of the wood over time while learning to bring out the best of the wood has to offer. When asked about what premium quality means to her, she replied, "Premium quality is all about being proud of our work, proud of a job done well, right down to the smallest detail. And that's exactly what our customers get with the Elmwood series".
If you are looking to be assured that care goes into the construction of your cabinets, you don't have to look far, Teri Brownson has worked for the Cabico Elmwood series team for 5 years, and she boldly says that "she is proud to put her name on it."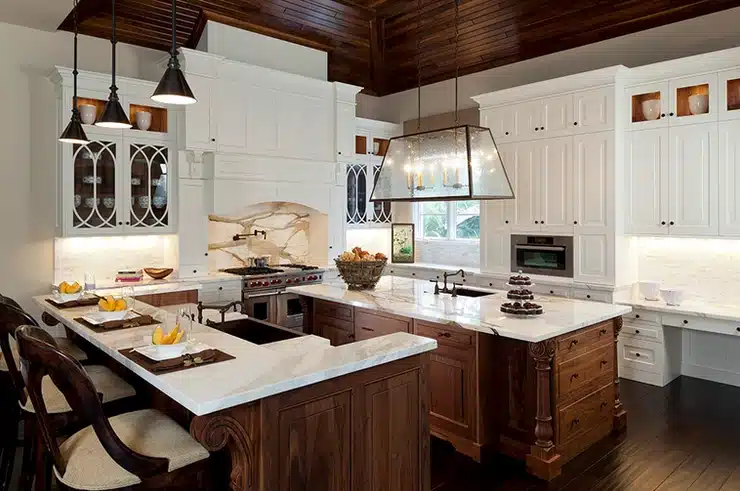 WHAT TO LOOK FOR IN A CABINET
There are so many beautiful cabinets designs out there coming in different types of wood. How do you know what to look for in a kitchen or bath cabinet? Check out this list to see how well Cabico's Elmwood series does.
BUDGET
This is one of the first things you have to consider before buying any item at all. You have to weigh the benefits and ask yourself if you can afford them. Elmwood series offers a lifetime warranty for all items. If you are wondering whether it is worth it, remember that you get to use the cabinets for the rest of your life.
Wood cabinets are heavy-duty, and they come in various choices. There are the more expensive woods which, of course, will be fancier and more durable, and there are the less expensive types of wood. To change your entire kitchen cabinetry, so many other factors will affect the cost of your renovation, like the size of the kitchen, wood type, finishing, and the number of cabinets you want. For the Elmwood series, you should be looking at a few thousand dollars to get your dream kitchen cabinets, this is higher than standard prices for cabinets, but lots of positive reviews of this series prove that it is worth the cost. Compared to other custom cabinetry manufacturers Cabico Elmwood series is appropriately priced.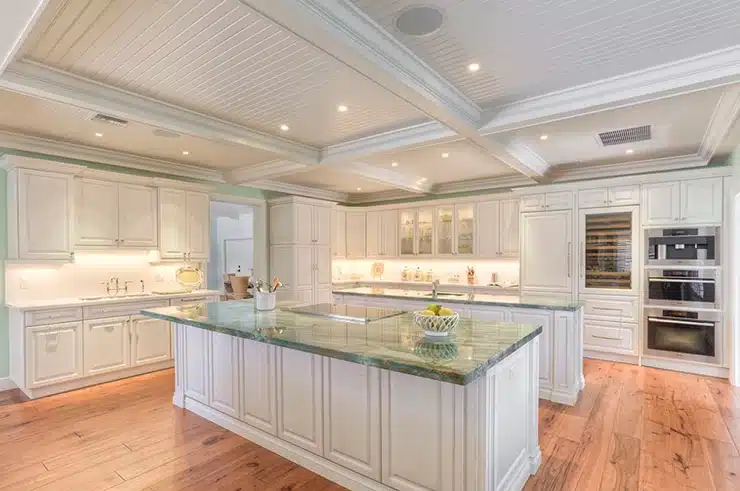 CONSTRUCTION
It is not only about how a cabinet looks; the quality of a cabinet is also very important. The way a cabinet joint is fixed also says a lot about how sturdy it will be in the future. Less sturdy cabinets joints can be stapled while others can be glued. Cabico's drawers are glued and assembled using dovetail joints for maximum durability with quality European hardware, and the doors are also glued and tested for maximum durability. Dovetailed drawers last longer than other alternative joints options because dovetail joints fit together like a puzzle piece.
Cabico has a solid assembly of wood dowels ¾ inches back with socket screws. It also undergoes a four-sided square and pressing process that ensures durability. You are also entitled to a standard soft-close drawer, but you can upgrade to self-closing doors. Cabico will not charge extra for height or depth reduction for specific doors or drawers.
The best thing about Cabico's construction process is that they get custom orders, all the suitable professionals will be involved with the custom piece from the beginning of construction to the end of construction. Custom designs are also assessed with software program to make sure that it is feasible, and necessary adjustments are made before the project begins. This attention to detail truly puts Cabico above others when it comes to construction.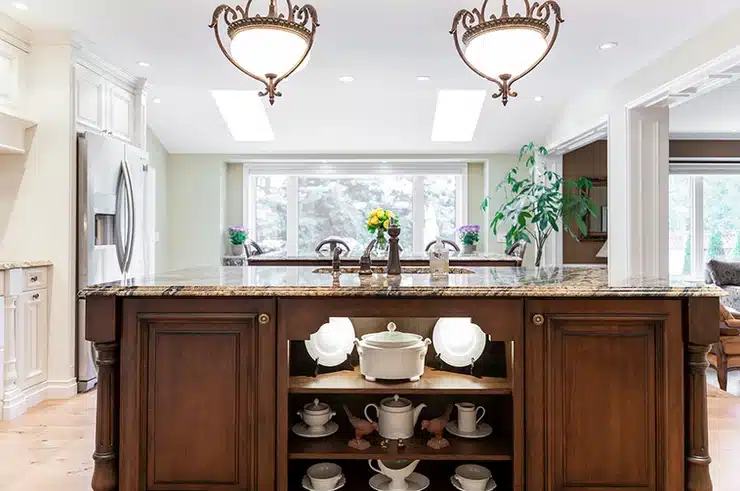 GRAIN AND COLOR
When it comes to wood species and the colors or finishes, the Cabico Elmwood series definitely delivers. When getting a cabinet, you should search for suitable woods that can retain the natural grain pattern if it is beautiful enough, or you can change the original color with stains or paints to mask the grain patterns. With over 500o custom finish options, this is one thing that Cabico excels at. The right kitchen or bath cabinetry will make or break its style and functionality.
Because Cabico gives you various choices with colors, you don't have to worry about your cabinets matching the rest of your kitchen. Some wood may change colors to become lighter or darker over time, and you should keep that in mind when choosing the best fit for your home.
A door says a lot about a house, as well as all the cabinets in it. Kitchens and baths are central to everyday living, and they are rooms that will be used several times daily in a regular home. With the Cabico Elmwood series, you will get the essential human touch in every step of the design that will give you a functional and custom design made from high-end craftsmanship. We at Canada Home Style will only recommend the best quality, and we trust the Cabico Elmwood series. This is why we consider Cabico Elmwood is the cabinet of Canada.
Cabico Custom Cabinetry – Elmwood Series – Cabinet of Canada
Canadian Home Style – Your official Dealer of Cabico Custom Cabinetry – Book Now!
Visit or North Vancouver flooring and custom cabinetry showroom today.