Bathroom Renovations in Vancouver
VANCOUVER BATHROOM RENOVATIONS
At Canadian Home Style, we offer the highest standards for bathroom renovations in the Lower Mainland. Our team pays attention to every detail, ensuring that your bathroom is transformed into a functional and stylish space. Our bathroom renovation packages are not only custom, but they are unique in that it is not just about the final product but also the journey along the way. What matters to us is "timeless design," and environmental sustainability and Our focus is quality. Let's together bring your next beautiful bathroom to life!
Our Proven Process for your Bathroom renovation in Vancouver, British Columbia.
Our proven process is committed to using environmental practices with sustainability at the forefront. Our team is set up with one goal in mind: to give you the bathroom of your dreams. Your vision inspires us to transform your bathroom into something extraordinary, a welcoming and inviting space. Whether you're looking for a modern oasis or a more classic look, we have the experience and resources to make it happen.
The type of bathroom remodelling we do is not one-size-fits-all. Each project is designed and developed according to the client's tastes, preferences, budget, and timeline. We adore each client's individuality, reflected in every bathroom we renovate.
In addition, we consider all design factors, like how much natural light your bathroom gets, the layout of the room, and what type of fixtures and finishes you prefer. All of these factors combine to create a space uniquely yours.
Our process begins with a complimentary consultation at our North Vancouver showroom, where we will discuss your vision for the space and understand your needs and wants. From there, we will develop a concept board which includes inspirational mood boards, layout options, and suggested materials and finishes. Once the design concept is approved, we will begin working on the final design.
We work with you at every step to ensure you're informed and educated about all options for transforming your home. Our active involvement with the NKBA ensures that our selection and designs follow the latest trends in the industry.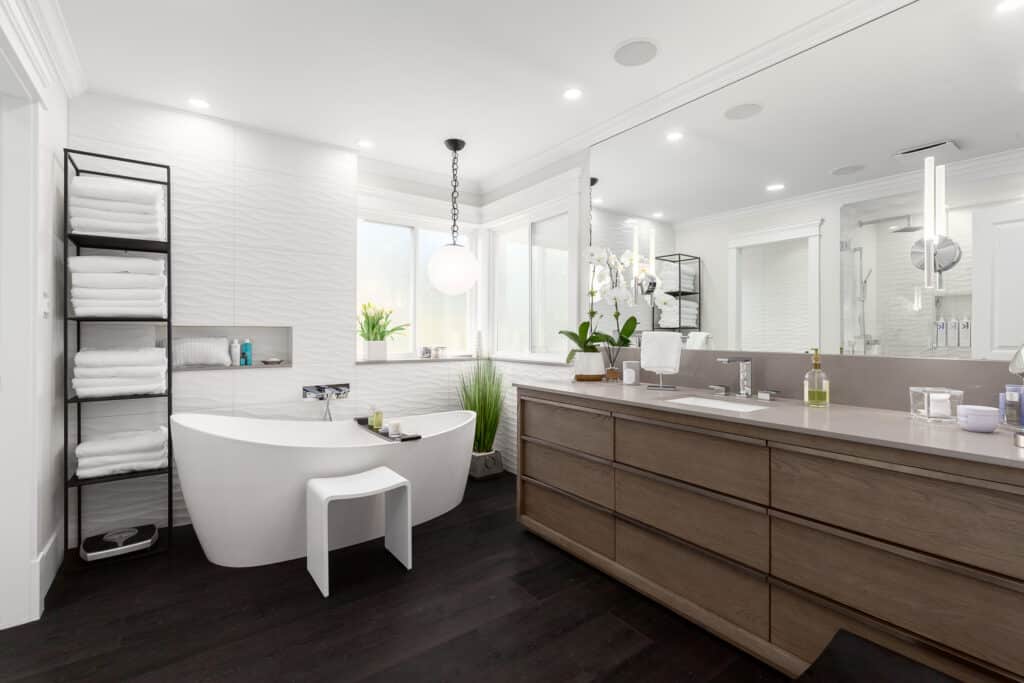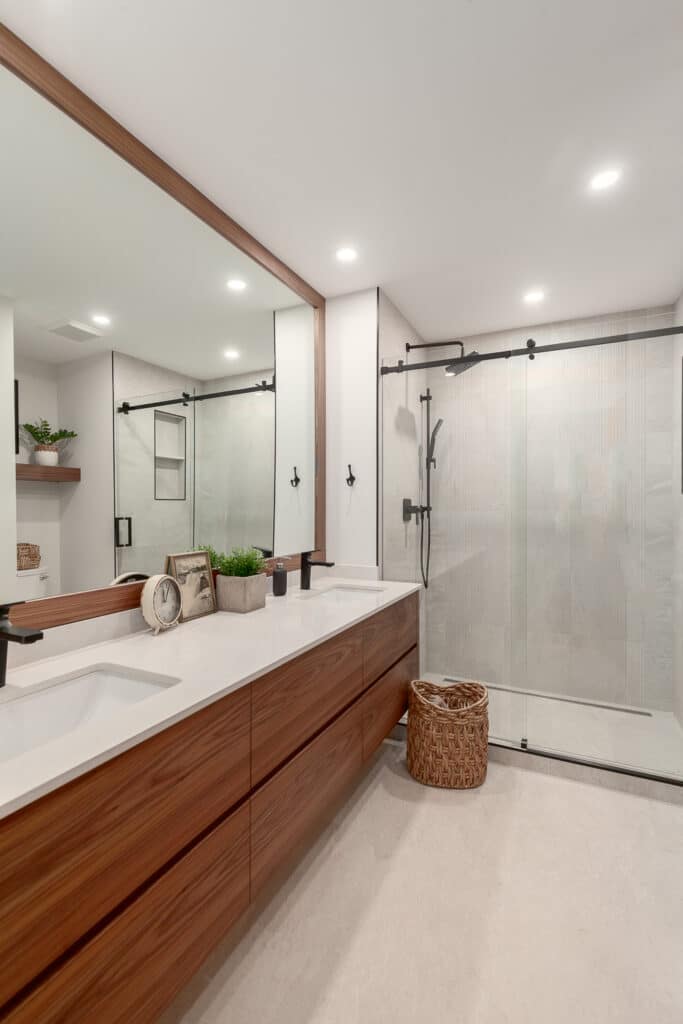 Vancouver Bathroom Renovation Packages
We offer complete bathroom renovation services from start to finish.
3D rendering of bathroom design
Waterproofing services through the Schluter system
Tile setting services
Supply and delivery of tiles
Supply and Install in-floor heating systems
Supply and delivery of all plumbing and lighting fixtures.
All plumbing and electrical work through our certified and licensed plumbers and electricians
Supply, delivery, and installation of the vanity
Supply, fabrication, and installation of the countertop
Supply, fabrication, and installation of shower or tub glass
Why Choose Us For Your Vancouver Bathroom Renovation
There's a lot that goes into a successful bathroom remodelling or reno. There are so many different components in play, such as waterproofing, lighting, fixtures, plumbing, tiling, and cabinetry, to name a few. Many companies offer a "menu" of services, but there can be a massive disconnect between the person quoting and those doing the work. On the other hand, we offer in-house design and hands-on project management. Our process is proven, and our reputation speaks for itself.
Each of our projects comes with a Lifetime Warranty, which guarantees that your new bathroom will last for decades. We believe that investing in quality materials and craftsmanship is essential to building long-lasting homes. We guarantee that our products will not only give you joy in your space but also stand the test of time.
Other services we also offer
Flooring Services

Kitchen Renovation

Kitchen and Bathroom Design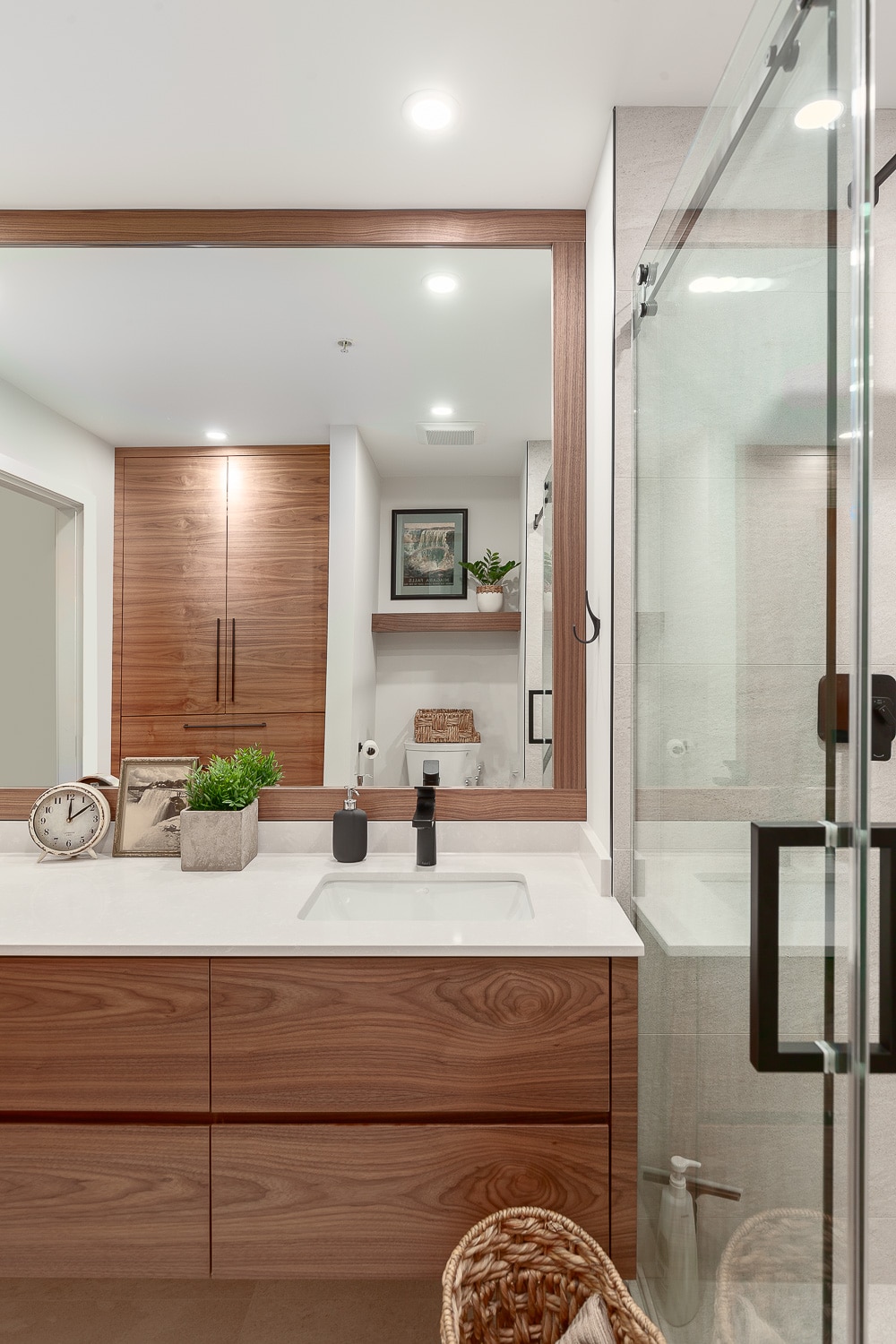 Nancy Draper
bathroom renovation in Vancouver, British Columbia
Soheil and his wonderful crew did a kitchen refresh for us - new quartz countertops, backsplash, lighting, installation of new appliances, which required some reconfiguration of the spaces for them. The work is beautiful, and everyone involved was a skilled tradesman, and friendly and on time every time. The communication between everyone on the team, and with us was outstanding - each trade knew when the other had been there, or would be there, and were completely up-to-date on what each had done or would be doing. Soheil has a strong team of talented and friendly people. When it was time to gut (to the studs) our master bathroom, we only considered Canadian Homestyle to do the work. This time Sareh led the project, and our experience was exactly the same - strong and frequent communication, skilled and friendly trades, always on time, and Sareh really listened to us, and made us feel that our wants and opinions were valued, while adding her own expertise to help us make the best choices of materials and changes. We can't say enough about working with Canadian Homestyle. A+++++++ !!!!!!!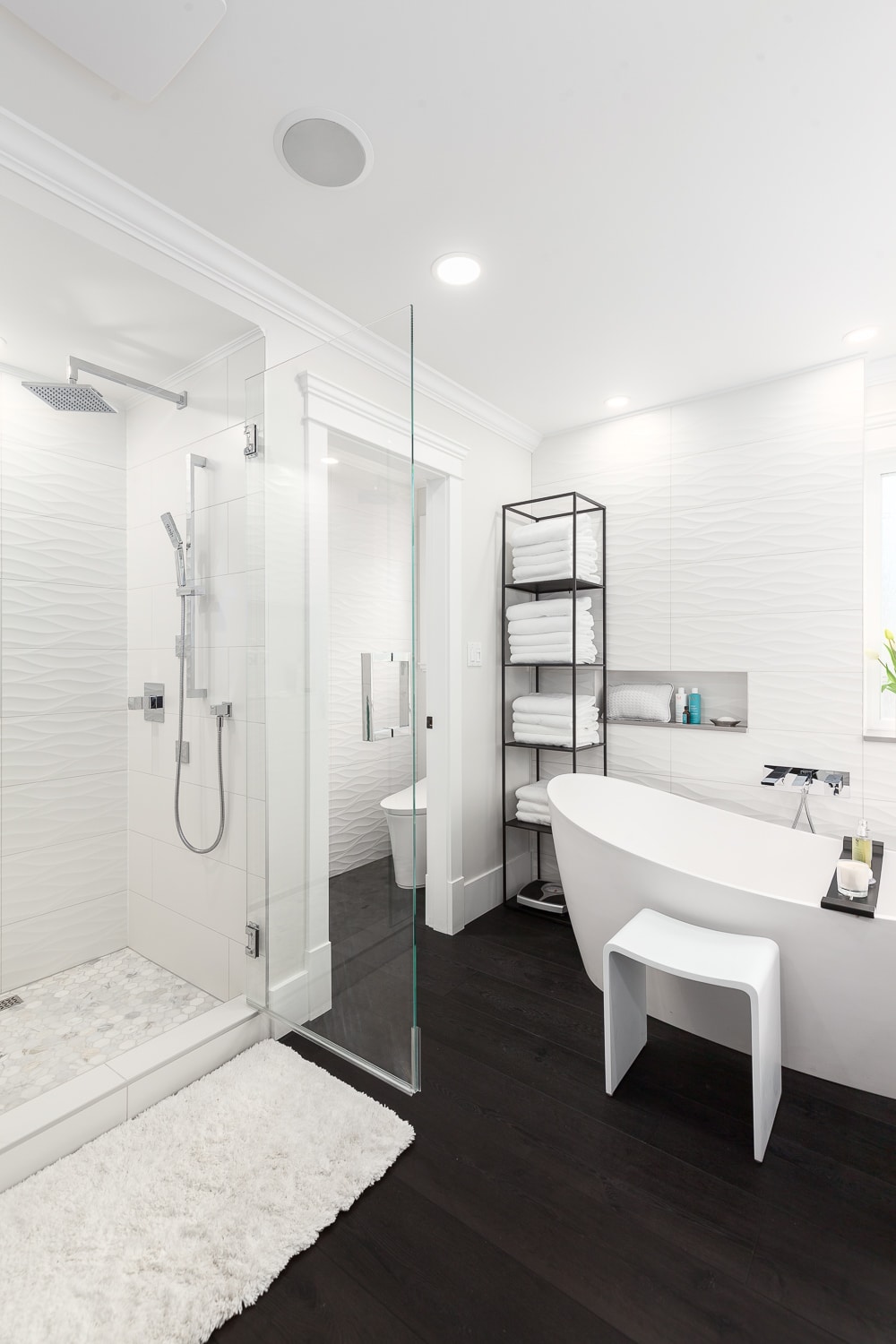 Lanita Moore
bathroom renovation in Vancouver, British Columbia
Soheil and his team helped transform a tired old condo into an Executive Suite. They also renovated all three bathrooms in our house in North Vancouver. Our bathrooms are gorgeous. Especially, the master bathroom is absolutely jaw-dropping. Whether it's flooring, cabinets, a complete renovation, or new build, Canadian Home Style is your one stop shop. Everyone there is professional, friendly, knowledgeable and the trades people are highly skilled. We are looking forward to working with Soheil for all our future projects.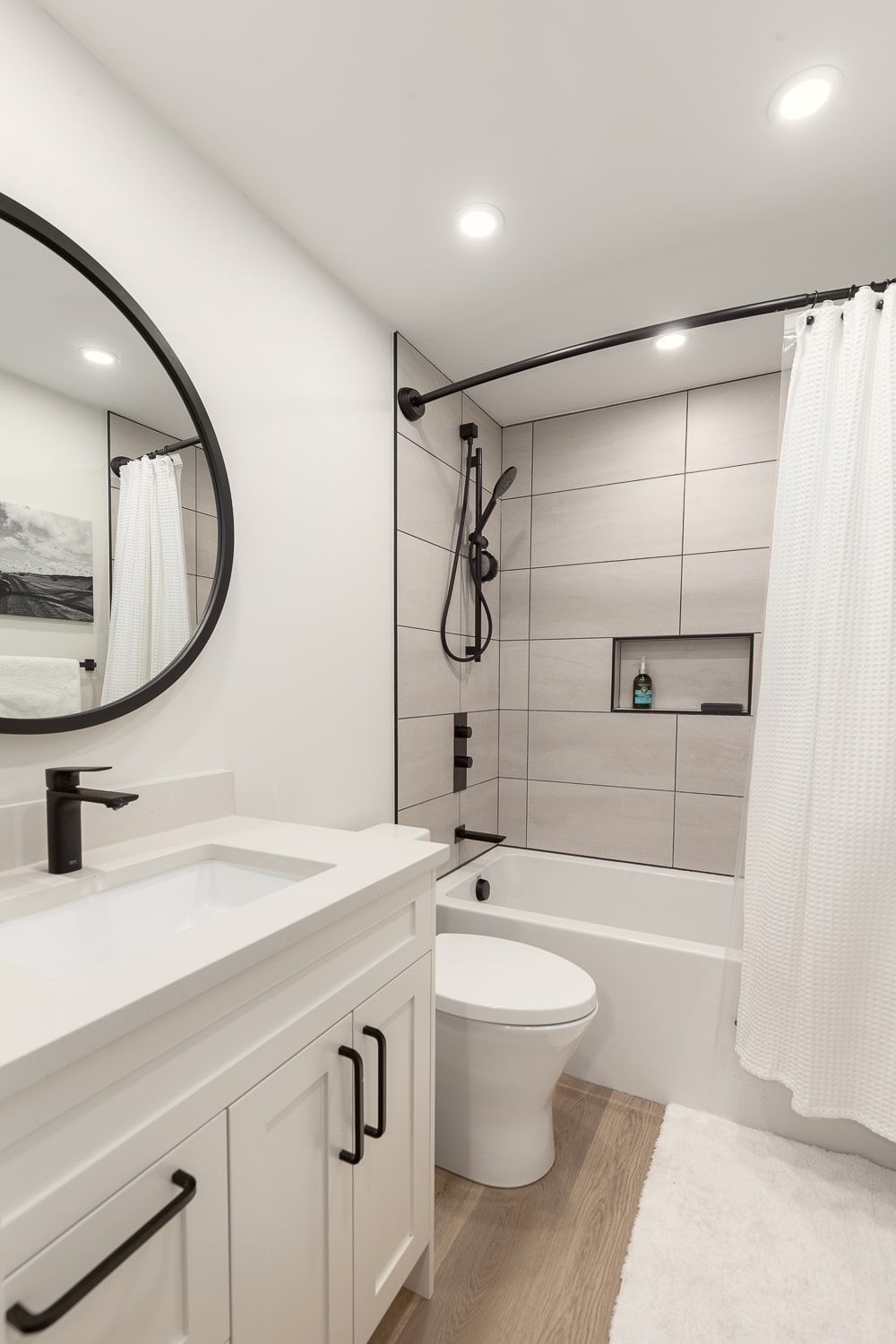 Dave Reekie
bathroom renovation in Vancouver, British Columbia
Excellent work. Three years ago they did our kitchen. This time they reno'd 2 bathrooms. The quality of workmanship was excellent. They were on time and on budget. The trades people were all skilled, very courteous and respected our living space. Sareh did a great job of keeping us informed and the work moving along. Highly recommend them.
Featured Bathroom Renovation Projects in Metro Vancouver, BC
Frequently Asked Questions