Galley: Not Your Average Workstation!
The kitchen is one of the favorite rooms in the house for a lot of people. You get to prepare nourishing meals and have fun with family members. If you have a lovely home in the Vancouver area and you want a high-class kitchen, adding a Galley Workstation is a must. The original Galley designer and former partner, Roger Shollmier, designed the first Galley workstation for his own kitchen. After R. Scott Anderson, the owner/president, and CEO of the Galley, was introduced to Roger Shollmeir, he decided to reinvent an entire sector by creating a WorkStation where users can accomplish every task in the kitchen. So, when you want to measure by experience level, Galley is high on the list.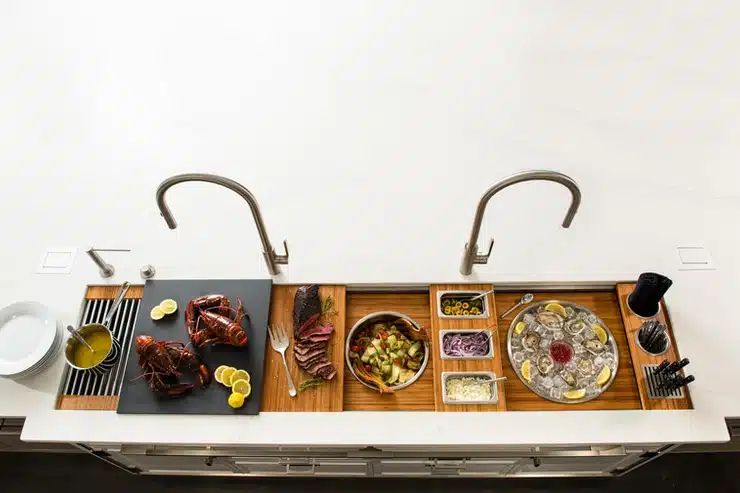 We at Canadian Home Style are the official dealers of Galley WorkStations. We only offer our customers top-notch products. Sit back and sip some coffee to discover why we love Galley WorkStations.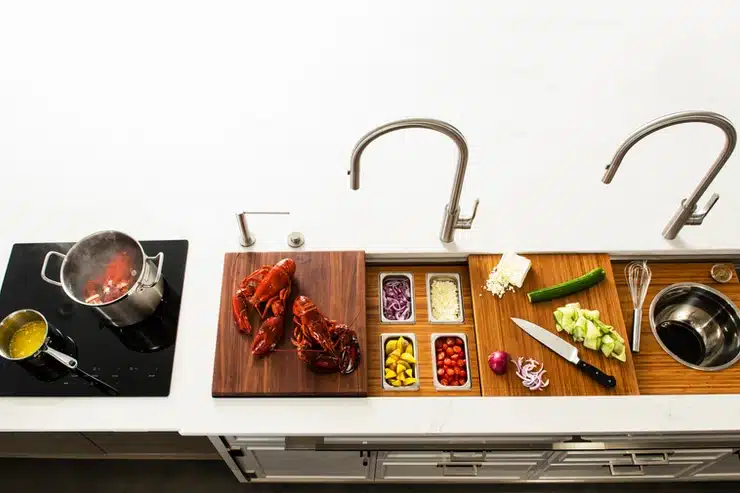 IT'S NOT JUST A SINK. IT IS A WORKSTATION
What Galley offers is just not an ordinary sink. It is a WorkStation. WorkStation sinks basically have the usual design of a sink with some included accessories like a drying rack, colander, cutting board, and a bottom grid. This is to ensure that you save as much space as you can in your kitchen while having the advantage of easy organization and multifunctionality. We want our clients to look at Galley WorkStation as an appliance/workstation that transforms their day-to-day life by changing how they work in their kitchen.
This type of workstation is a growing trend and makes the concept of sinks bigger than just a place for washing dirty dishes to something handier. Everyone is evolving from simple sinks, and you should definitely join the trend. Galley offers a stylish and smart WorkStation where you can prepare, cook, serve and entertain in one space.
WHY YOU SHOULD GET THE GALLEY WORKSTATION
WorkStations have grids of top-tier and lower tiers where the accessories racks are placed; you can slide racks as needed and stack them over each other when not in use.
It saves a lot of space. This is one of the basic functions of a WorkStation. Its multifunctionality helps you save money and space that you would have consumed when buying the extra accessories separately. This does not in any way mean that WorkStations are small, Galley offers them in different sizes for any type of kitchen. For example, you can use the cutting board addition to chop your vegetables instead of using your countertop, and the drying rack can be used to store clean dishes. If you check how much space all the accessories that Galley WorkStations offer currently take up in your kitchen, you will appreciate Galley WorkStations more. For instance, it is not easy to store colanders and mix bowls. As a bonus, you don't only have to settle for standard additions; you can buy extra accessories if you really want to maximize the use of space.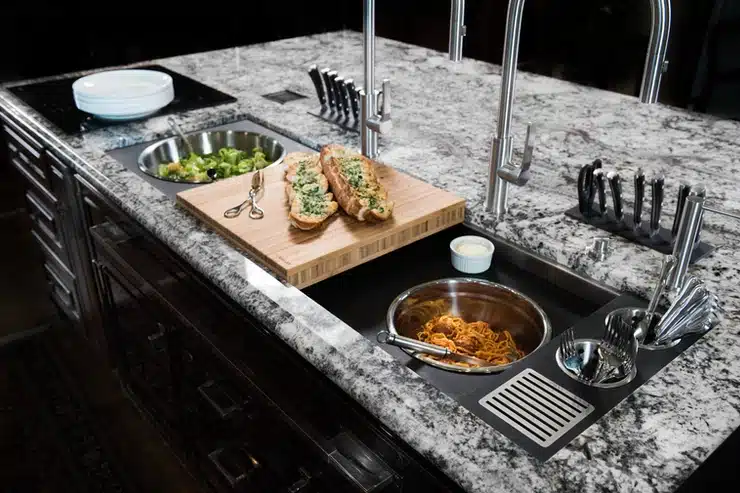 It makes the kitchen look cleaner
When you don't have kitchen equipment all over the place, your kitchen will look tidier. You can also hide your dirty dishes strategically when you have a WorkStation by moving the top-tier racks and boards to cover them. This way, you don't have to be embarrassed when you have unexpected guests.
WorkStations make you look forward to cleaning
By limiting your work area to just the WorkStation, you get to keep your countertops cleaner. Where you would normally have to move around a lot to wet a towel and wipe the countertop all over the kitchen, a WorkStation gives you immediate access to the sink. When you chop, drain, mix and garnish food using the WorkStation accessories, you won't feel too lazy to clean them when you are done.
WorkStations also makes cooking easier
An excellent example of how a WorkStation does this is if you consider the stability of the colander fixture. Where you will normally have to hope your freestanding colander is well balanced when you want to drain water from your pasta, with the WorkStation colander accessory, you can do this easily. It might also prevent accidents from occurring.
Problems the product solves:
In a conventional kitchen layout (triangular layout), meal prep is inefficient. But with the Galley WorkStation, you get efficiency and ease.
People can't socialize while working.
Others can join the fun. With Galley, family/friends can work together efficiently in a very small space.
Cleaning is very time-consuming. With Galley WorkStations, you can clean as you go along, while you're washing, chopping, prepping, cooking, socializing, entertaining, etc.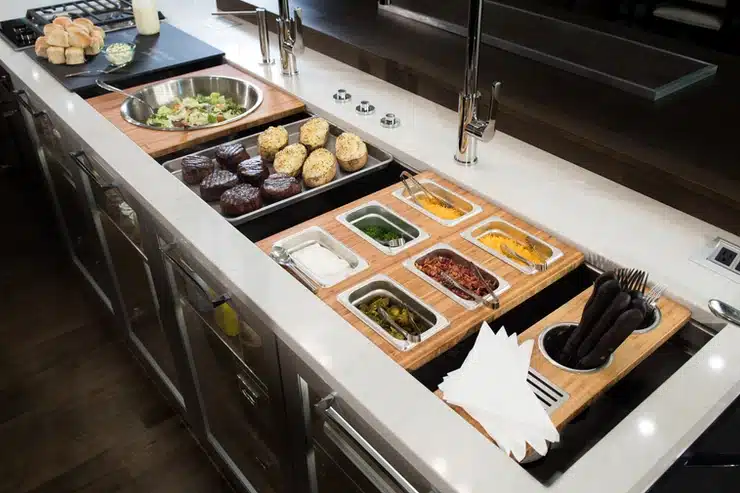 Complete Culinary System:
Workstation primary purpose: cooking, prepping, entertaining, and serving.
Galley's linear layout minimizes the steps in prepping, cooking, cleaning, etc. You don't have to move around the kitchen as much. It contains the mess and minimizes the clean-up process when you work in the system, not around the system as you would do in the conventional kitchen lay-outs.
You can work hands-free. The Galley is selling a lifestyle, not a basin.
Why Galley is different as opposed to other similar products:
Besides the superior quality, they are not just selling a look or a brand. Every piece in the Galley workstation is designed to work perfectly within the system to make working with the system truly efficient and functional. It is the ease and convenience of using the system that makes all the difference. Other brands don't have the same design and functionality.
What's very important to consider when buying and designing a Galley workstation:
In order to get the true Galley experience, make sure the WS is outward-facing (for example in the island). Go as big as you can. Number one client's regret is that they should have gone bigger. 4' WorkStation is the minimum size that Galley recommends in order to get the full functionality and efficiency out of the system.
Have a cooktop nearby. Preferably on either side of the island, you should also have short-term refrigeration nearby. Add pull-out trash and If the space and budget allow you to add a separate wash station, you will really get the full experience.
TYPES OF GALLEY WORKSTATION
There are large ones for big kitchens and smaller WorkStations for smaller kitchens. In fact, you can say that the smaller the kitchen, the more necessary a Galley WorkStation becomes. You can set it up in your kitchen island if you want the best location to still talk to family members while you prepare meals or talk to a kitchen designer to help you figure out the best location. The WorkStations have also been designed to fit with the standard width for US and European cabinets, so no extra adjustment to your cabinets is needed when you buy a Galley Workstation.
All Galley WorkStations come in four different materials for all of its type to suit all designs of kitchens. That's right, you don't have to worry about your new sink blending with your present kitchen design, you can choose from the white resin design, natural golden bamboo style, exclusive gray resin, and the graphite wood composite.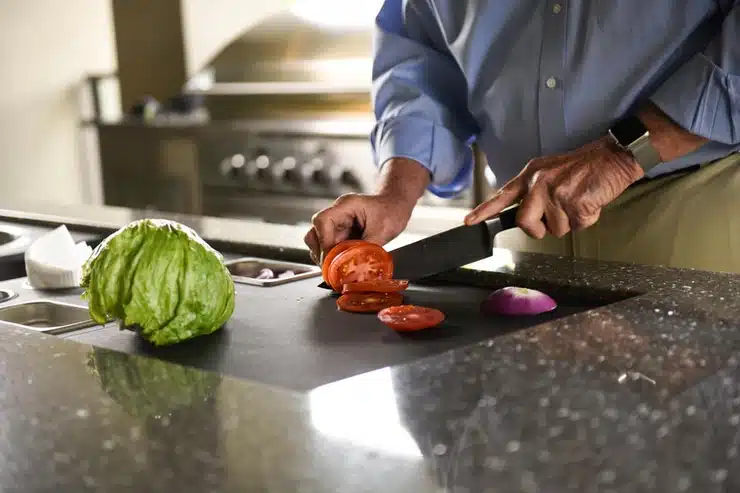 ACCESSORIES
Every Galley WorkStation comes with accessories. Some come with the full culinary kit while others do not. These accessories fall in line with the 4 different material types that your Galley WorkStation can be made of. For the IWS 7, 6 and 5, you can interchange the accessories between the lower and upper tiers by rotating the rack to 90 degrees. This makes your kitchen more organized.
There are 11 Galley accessories available as a standard in total: there are the cutting boards, the colander, the mixing bowls, colander and bowl platforms, and drying racks in sets of 1 or 2 for both upper, lower, and dual tiers versions to make 11 pieces. Additional culinary kits you can buy are the condiment serving board, the large basin, the serving set, the half sheet pan, the utensil caddy, the upper deck, the wash set, the serving set, the countertop knife block, and the garnish cutting boards.
Some of these extra accessories are specifically for the upper-tier only, while others can be dual tiers. You can buy a bottom grate and a strainer basket to make washing easier for the basin. These extra kits will really be useful for your kitchen and it completes the look of your Galley WorkStation because it is made with similar construction materials as the WorkStation. Check out the different types of Galley WorkStations available.
IDEAL WORKSTATION
This is the rectangular-shaped WorkStation by Galley that is available in 6 different lengths for all kitchen types. The number of people that can work with the workspaces increases when you use a higher version of it. This is also true for the number of accessories it comes with.
Ideal WorkStation 7S/7D
This is a 1-3 users' WorkStation that can be used for a large kitchen or a restaurant. It has a length of about 80 inches with a width of 20 inches to accommodate the top tier. The basin width is 16 inches. It comes with the full culinary set of 9 tools (11 pieces), and you can buy the recommended Galley taps and lower grate to complete the look.
Ideal WorkStation 6S/6D
This 1-2 users' workstation is a favorite for busy families. It comes with 8 culinary tools (10 pieces) and has dimensions of 69 x 18 inches for the basin area.
Ideal WorkStation 5S/5D
The 5S/5D is the best-selling Galley WorkStation because it gives the perfect balance between a large and a small workstation. With just 56 x 16 inches, it fits into most kitchens. It comes with 7 tools (9 pieces) for the culinary kit.
Ideal WorkStation 4S/4D
This WorkStation is ideal for small or medium kitchens. With a length of 44 inches and the standard width of 16 inches, it has 4 culinary tools (6 pieces) and you can only use one tap for it. It seems a bit too below from the 5S/5D but it is perfect for small kitchens. The dimensions are actually not as small as the number suggests. The size of the upper and lower deck platforms is smaller than that of the higher WorkStation models to give more free space for washing.
Ideal WorkStation 3S, 30S and 2C
These WorkStations can be used by 1 person only. They all come with 4 culinary tools (5 pieces), and the 3S is 32 x 16 inches. The 3S, the 30S, and 2C are usually wash stations along with one of the higher workstations as the main one. The 30S and 2C versions are smaller at just 26 x 16 inches and 20 x 16 inches respectively.
CORNER WORKSTATION
A corner WorkStation is similar to the ideal WorkStation but it is located at the corner of your kitchen. This L-Shaped workstation gives a completely different look from a straight workstation. But it may limit the number of users of the workstation. Corner workstations are unique, and it will help free up space on the kitchen island. With a Galley corner WorkStation, you can also install a smaller version of the ideal WorkStation like the 4S or 3S if it is not as central as you want.
Galley offers the corner WorkStation in 3 different ways. There are the 4x4C, 4x3C, and 3x4C corner WorkStations with the upper and lower tiers for various rack placements. As the names imply, the 4x4C has equal lengths for the left and right sides while the other two options have one side longer than the other side. They all come with 4 tools (6 pieces) culinary kits and you can get them in the four material designs that Galley offers. If you want more tools, purchasing the optional culinary tools will definitely spice up your kitchen.
IDEAL WASH STATION
Galley's Ideal WashStations are basically still WorkStations designed with washing tools instead of culinary tools. The wash station 4D comes with 3 wash tools, a drying rack, a mini drying rack, and a utensil caddy and it has a partition in the middle. The 4S version comes with the same tools minus the partition. WashStations also have the 3S, the 30S, and 2C versions, which have the same dimensions as the WorkStation versions with a wash kit instead of a culinary kit.
We also have the corner wash stations, which have the 3 different options of the ideal corner WorkStation, but it comes to the wash kits instead of culinary tools. If all you want to do is wash dishes in your sink without all the extra tools that a WorkStation offers, you can buy a Galley WashStation instead. It also comes in the 4 different build materials Galley has.
IDEAL WORK & WASHSTATION
Galley also offers the work & wash station selection so that you can get the best of both worlds. For example, the ideal work & wash station 7D comes with all the tools of the WorkStation 7S but adds extra washing tools. You get 10 culinary tools in 15 pieces, instead of the 9 in 11 pieces. The additional tools are extra drying racks and a utensil caddy. The 6S, 5S, and 4S also come with additional wash stations versions. This extra wash kit combines meal prep tools and washing tools. If a WorkStation is not enough for you, you should totally get the Galley work & wash station.
BAR STATION
The Galley bar station is perfect for washing your glasses and mixing up shakes and juices and cocktails. It comes with just 2 tools which is a mini garnish board and a mini drying rack. There are 2 Galley bar stations. The bar station 20 is bigger at 20 x 16 inches while the bar station 18 is just 14 x 16 inches, so it cannot double as a home sink.
CUSTOMIZED GALLEY
You can go as far as customizing your special Galley WorkStation to suit your needs. You can request for a center drain instead of the original side drain at no cost, an apron front, your own custom length if all the dimensions are not suitable for your kitchen and a higher depth if 10 inches is too deep for you. We at Canadian home style will make sure your custom order is available in 5-6 weeks.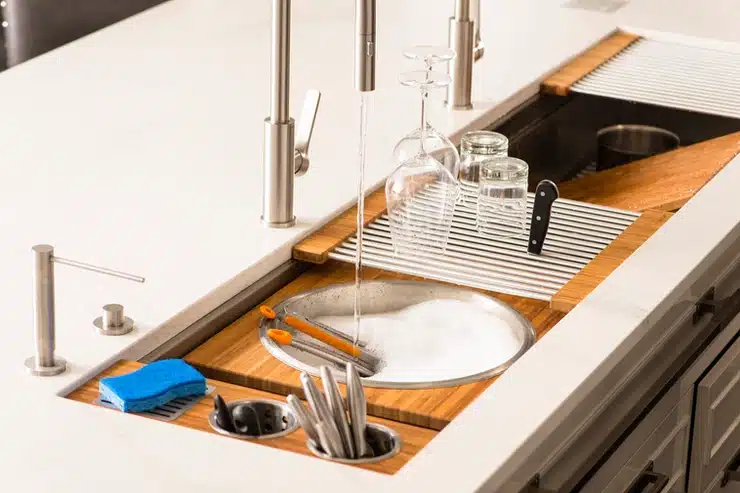 MATERIALS USED
Stainless steel
Galley WorkStation is made of 16 gauge/ 316 stainless steel. This is the description of the highest grade of steel available. This type of steel is very durable and it screams quality by the look and feels. Galley adds a custom angel finish to top it off and an undercoat that helps in soundproofing your WorkStation. You can now have a quieter work experience.
Angel finish
Angel finish might sound a bit foreign to you. The galley boasts that this custom-made finish on the interior of Galley WorkStations reduces the usual high reflectivity of stainless steels, hides random scratches, resists water spots, and is very easy to clean. These sinks are built to last a long time because you can restore them to their original state if it has been scratched by re-sanding with an orbital sander. There is a how-to video on the Galley website of this process.
White Resin and Gray Resin
Two of the four design options of Galley WorkStations are grey and white resin. Resins are very popular and durable. They can withstand the onslaught of heat and cold (in Canada, this is a huge advantage), and are highly resistant to scratches and stains. The resin will not absorb bacteria, chip, swell, peel, crack, bend or rot, and it can be washed with soap and water. The resin will also outlast the other Galley WorkStation materials.
Graphite wood composite
Graphite wood from Galley is eco-friendly, non-porous, and durable, it is composite wood, so it can and will darken with constant use. Galley only offers this material for WorkStations in matte black, so scratches and darkening will not be obvious in the long run. All of its accessories can be cleaned using a dishwasher.
Natural bamboo
The natural bamboo WorkStation accessories are obviously made with bamboo and it gives an exquisite and classic look to your kitchen. The problem with this material is that you may notice vegetable stains after some time, as is normal with woods. But with proper care and oiling, you can always prevent splitting restore the wood to its normal glory.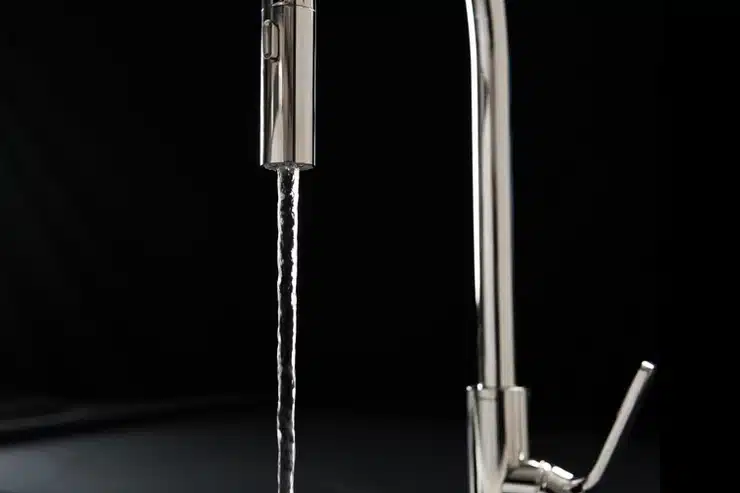 Galley Tap:
The Galley tap is a specialized pull-out faucet that has been designed to fit with Galley WorkStations. This tap consists of components that are made from corrosion-resistant materials and are built for high durability.
With the Galley Tap, you may easily fill pots with Laminar mode on the Workstation or directly on an adjacent cooktop in Laminar Mode. Clean fruits and vegetables using the powerful Jet Spray function with ease, as well as wash Culinary Tools, cookware, and dishes using the Slide Switch's ergonomic design.
Your Highest-end Workstation:
Galley WorkStations are used by a lot of high-class chefs who have given positive reviews of the workstations. It has a lifetime warranty with deals for upgrades or refurbishing. A kitchen brings the whole family together and it is the most important room in your home. Turning your kitchen into a space that you love will definitely make you happy. Canadian Home Style is the official dealer of Galley WorkStations in the Lower Mainland. We love Galley WorkStation and everything about it. Come and visit our showroom where you can see our Galley Display and we can tell you all about it.