Kitchen Cabinet Trends 
In the construction industry, we recognize kitchens as the heart of every home. Cabinets are probably one of those things that can be eye-catching, most especially when filled with precious items. But we can go beyond personalizing our homes by also extending customization to our cabinets. By that, we mean going the alternative route by installing custom cabinets made especially for your beautiful Vancouver home. With such an approach, nothing can feel out of place. Let's take a closer look at the 2021 Vancouver kitchen cabinet trends.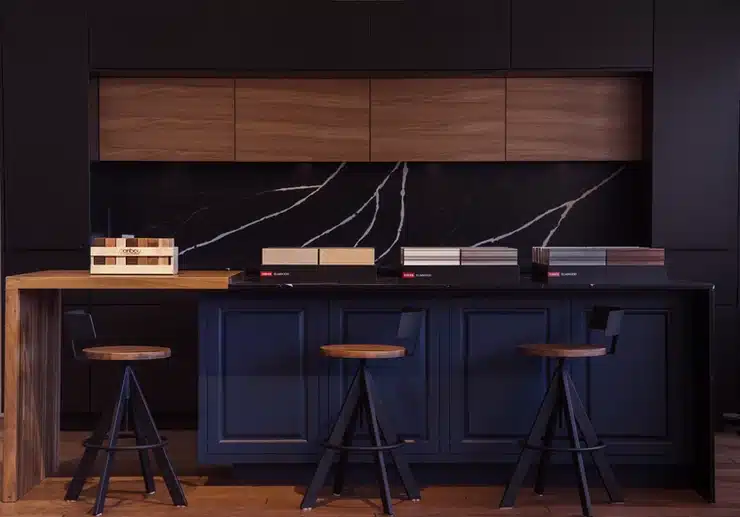 Kitchen Cabinets Ground- Shifting Colors
Coral and pastel hues are making a splash in the cabinet scene, and you'll love how these exciting colors can be versatile in whatever style or theme you choose.
We've enjoyed the neutrals for many years, but now is the time to bring in the colors befitting for a year of hope and optimism. Aegean blue, for instance, can make your kitchen look fresh and lively, then pair it with brass, or matte black hardware to add a timeless and elegant look.
Apricot and orange tinges are strong colors that can look absolutely stunning with a stark white backdrop or walls with gray undertones. But if you're looking for an amazing cabinet color for your apartment pastel hues are the current trend as it looks chic and youthful for any small interiors.
Do you love your neutral-colored cabinets but want to add some punch of excitement to the look? You can add a vibrant color on one or two of your central cabinet panels to create that eye-catching focal point for your Vancouver's home kitchen cabinets.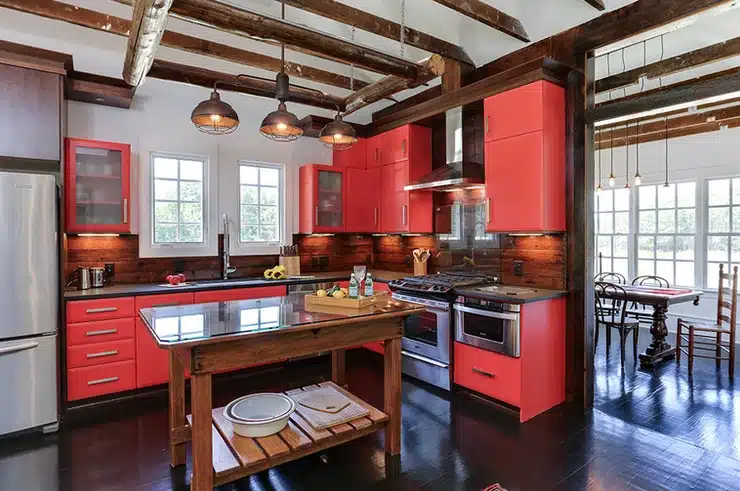 Unique Door Panels
When you're tired of the same old same old look of your cabinets, using a different material other than wood or glass on their surface can freshen up the look. Metal grated, or cane webbed cabinet panel doors are practical alternatives if you want to have a certain amount of discrete while you can easily see through the contents.
Japandi is making a wave in today's homes, and you'll love having the practical sliding door cabinets, the Japanese way. It saves space and can look elegant or chic, especially for your wardrobe cabinets.
Drop the Hardware
Speaking of practicality, this year, the push latch of the recent years is here to stay. The simple, no hardware system gives that seamless and clean look for your modern home. While the tap-on spring mechanism means no annoying banging and prevents damage to your door panels.
Going handleless also creates a safe space for your little ones, especially for your kitchen where is the busiest hub in your home. No wonder the push latch is an enduring feature for cabinets.
Open Shelving
As open shelving is not for everyone because of the constant need to be organized, it still has a strong presence in the interior design scene. Think of black matte metal surfaces held and framed with brass tubes to get that industrial look.
Where our kitchens can be a busy place in the heat of cooking. An open shelf in the kitchen is a great way to not only showcase beautiful cutlery, plates, pots, and others, but it is a convenient way to store items that are always in use, such as condiments. The open shelf should be situated in spots where work is mostly done, like above the center island. Locking condiments in traditional cabinets can be quite a problem, especially when we forget about the contents.
How many expired condiments do you have locked up in there? If your answer is quite a lot, well, then perhaps an open shelf is the solution to your problem. You can display items and see them immediately when you need them. The shelves don't take up a lot of volume so they can pretty much be mounted anywhere such as up in the ceiling.
So far, just mention the functional aspect of an open shelf in the aesthetics, and you can arrange items within in a manner that is clean and orderly. Align those mason jars like they were decorations themselves. You can also use them as bookshelves to store your recipe books. Just be careful not to overload them and make a mental note of the storage capacity.
Of course, this idea can also extend to other rooms in the home and not just the kitchen.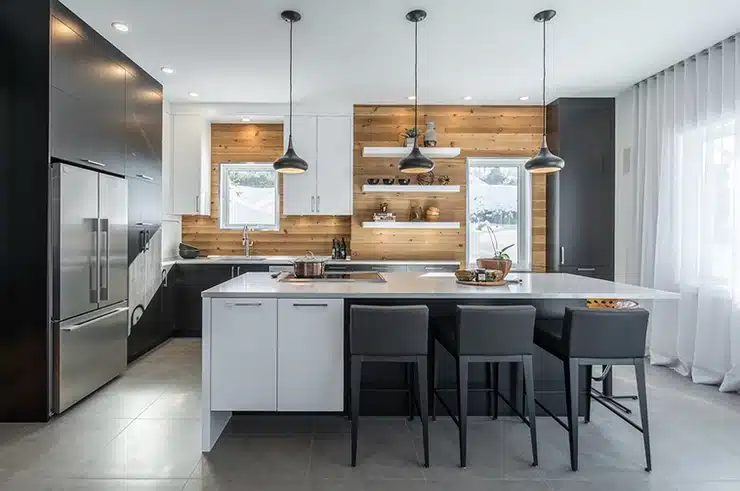 Matte Black Shakers
Black is beautiful, no doubt about that and as some stay with the clean white cabinets, while others move on to color, black has still a strong presence with today's cabinet trends. A timeless color combined with the homey look of shaker cabinets can create an interesting look especially for your kitchen or bedroom cabinets. The black shaker cabinets are elegant-looking or pair them with shades of gray to get an interesting color layering. This is a great idea especially if you have a large cabinet system.
An advantage of having matte black shaker cabinets is that you get to choose whatever hardware style or color. Chrome, brushed nickel, crystal hardware, or wood door knobs the black is the perfect backdrop for any color or style.
Tech Integrated Cabinets
Ever since wireless technology has become abundant, smart devices even found their way into the kitchen. But as with every electronic device, a power source is going to be needed. But what happens when you run out of batteries? Are you going to run an extension cord along the kitchen floor? That's probably a safety hazard. The easy solution to this problem is to charge your phone by hooking it to a charging station embedded into the cabinet. This is a handy way to keep your gadgets juiced up.
Of course, the crème de la crème of embedded electronics is cutting-edge appliances that can be seamlessly integrated with your cabinet system.
Customized cabinets can easily integrate whatever tech-related system you need for your Vancouver kitchen cabinets and make sure you get a clean and safe cabinet system.
Outro
If you are planning to renovate or you just bought a new home in Vancouver, fitting your home with custom cabinets is an effective way to really show your personality.
The ability to customize our shelves and cabinets allows us to make them more functional in any way we want. If you are a wine aficionado, a wine rack can be added to the cabinet as an extra feature. Whatever you want to store into these cabinets, you can always allocate a special compartment via customization for it. Sure, there are cabinets out there you can buy that would have what you need but sometimes they are not the right fit or they can be too expensive even for a simple extra feature.
Customization can also go beyond just adding a compartment or two, it's not really something special but what you can do is to modify the appearance of the cabinet. Everything from the layout of the shelves, the types of doors, the size of the cabinet, and the material used to the texture. Your creativity is the limit.
Since you can pick the material to be used, you can also get a better build quality. Mass-produced cabinets tend to be made from poorer materials to lower production costs.
Here at Canadian Home Style, we have high standards and we take pride in our philosophy and approach towards every project we're involved in. We are proud to be the official dealer Cabico custom cabinetry in Lower Mainland. Let's make your Vancouver kitchen cabinets stand out, not only in the city but in the world.
Visit our North Vancouver flooring and custom cabinetry showroom today!
Canadian Home Style – Flooring and custom cabinetry North Vancouver.