Sanding and Refinishing Wood Flooring in Metro Vancouver:
It sounds like you want to rev up your flooring! You can rejuvenate them by sanding and refinishing, but should really do it?
As Vancouver's top flooring company, we felt like our viewers needed to know more about this topic. The idea behind doing this appears to be rather inviting, but before you make the initial investment you should be aware of the pros and cons.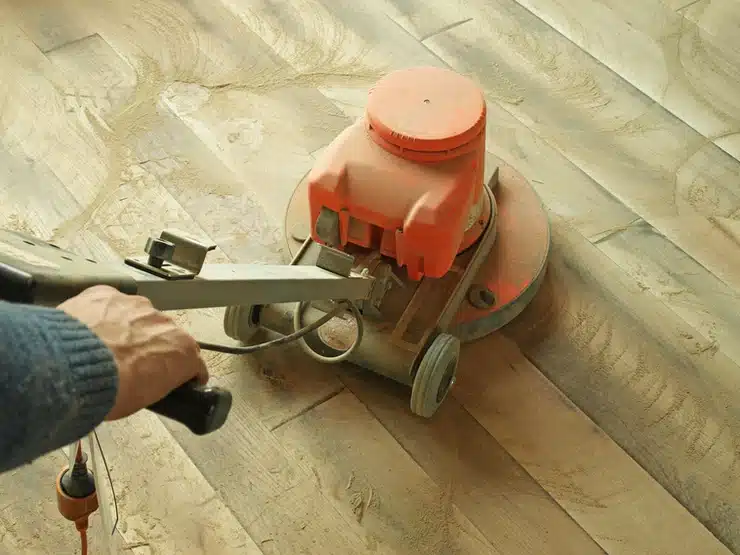 What Do We Mean by Sanding and Refinishing wood floors?
In simple words, sanding and refinishing a real wood floor is the process of sanding the top surface layer of your floor and then reapplying a floor finish to it. During the procedure, you're able to stain your existing hardwood floor (if you want to, this step isn't necessary) and apply a finish to re-seal it which will also give it that natural shine. This may sound easy but the process is actually a lot more complicated than explained here. In order to properly sand and refinish a hardwood floor, you must actually open up the wood grains in the process so the wood can absorb your stain uniformly. Otherwise, your staining results will be rather patchy because the softer parts of your planks will naturally absorb the stain molecules more efficiently than the harder parts. This is a very technical procedure and it actually takes a hardwood master to do it. This is not like painting your bedroom walls; it's far from it.
Although sanding and refinishing your wood floor is more economical than replacing it, it's still pretty pricy to do it the right way. In Vancouver, it can typically cost you around $4-7 per SF. If you have a large area to cover, the bill can certainly rack up to the hundreds and if not thousands.
Why Would A Hardwood Floor Need Sanding and Refinishing?
The main purpose of sanding and refinishing your hardwood floor is to restore its original beauty. You may want to do this for several reasons, you may be planning on selling your house, or generally just want your flooring to look better.
If your hardwood floor has a large number of scratches, signs of water damage, or is losing its color slightly, then sanding and refinishing should remove most of these issues. Through this process, you'll be able to re-stain your flooring to whatever stain color you'd like before applying the final finish.
Even though your hardwood flooring won't need to be sanded and refinished regularly if maintained well, it's definitely something that you may consider when the time comes to it. The idea seems pretty logical so why wouldn't you do it? Before going ahead with the idea, we recommend that you consider some of the disadvantages of sanding and refinishing your hardwood.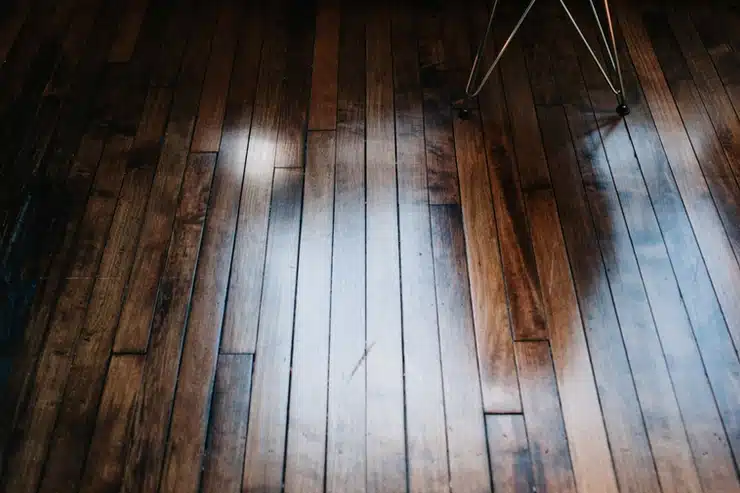 What is Sanding and Refinishing?
Before we get into a few reasons why you shouldn't sand and refinish your Vancouver hardwood flooring, you should know where this practice has come from. In the past, we didn't have any pre-finished hardwood flooring products in the market. Therefore, the process of getting a wood floor would normally include installing the unfinished wood planks followed by applying the stain and finish on-site. It's also worth mentioning that our finishes were not as strong in the past, so we often find ourselves having to sand and refinish our floors constantly in order to maintain the look.
Do We Think It is Worth It?
In most cases, the answer is No. Sanding and refinishing will only lead you down a dead-end street of disappointment, as Vancouverites have learned firsthand by experiencing all too many home renovation projects gone wrong in recent years. Let me explain why: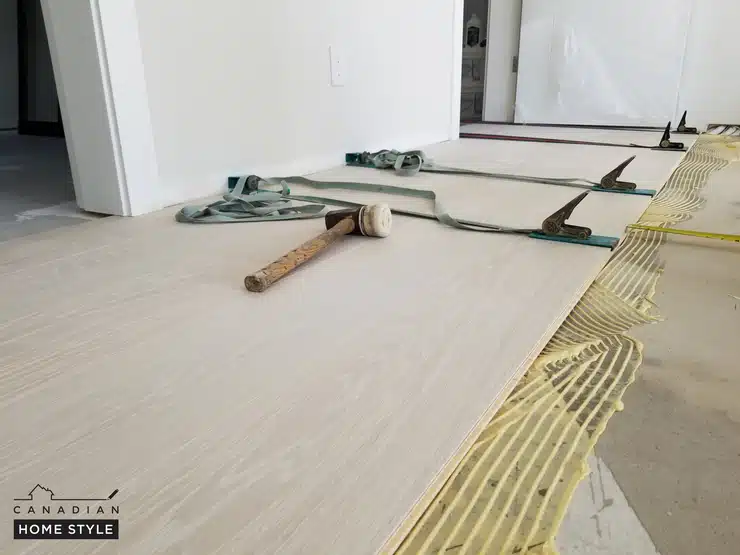 Anti-scratch Performance:
The Bona finish that we apply on-site is only on average 1/3 as strong as the average factory finish that is applied to pre-finished wood in the flooring industry.
Pre-finished hardwood flooring is normally layered with an ultra-strong aluminum oxide finish. This anti-scratch topcoat is then properly cured by applying UV radiations and maintaining ideal curing conditions during the manufacturing process.
To summarize this, an on-site finish will never be as strong as your factory finish and you should only expect a third of the normal performance.
Limitations:
There are limitations when it comes to sanding and refinishing your floor. First of all, you cannot sand all hardwood floors. Your floor has to be securely attached to the sub-floor. Meaning, floor types that are floated aren't an option. Only floors that have been nailed or glued can be sanded as these are solidly attached and can handle the heavy machinery used for sanding and refinishing. In addition, you have to make sure that you have a thick enough wear layer for sanding down your hardwood floor.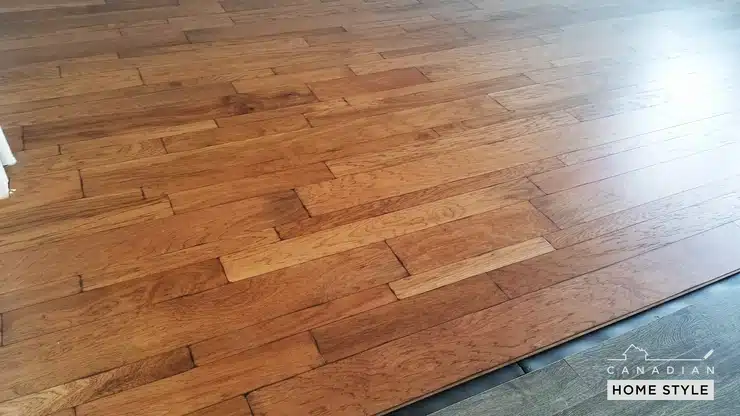 Style Restrictions:
Remember, you're able to change the color of your Vancouver hardwood flooring by staining it. However, you aren't able to change the physical appearance, in particular the width of the boards. If you're looking to modernize your home, sanding and refinishing your old hardwood flooring just isn't the correct way to go about it. In Vancouver, our flooring trend is going towards wider and longer boards. Therefore, sanding and refinishing your 2(1/4)" hardwood planks won't hide the age of your floor.
To achieve a more modern look, you'll want to purchase wider planks. Wider boards will make the room a lot more spacious while giving it that extraordinary modern feeling. If this is something you are trying to accomplish, the only way you're going to be able to do this is by purchasing engineered flooring that offers wider planks.
In certain applications, if your existing hardwood planks are nailed or glued to the subfloor, you may be able to leave them underneath and just simply float your new hardwood on top of the existing floor. This would save you a lot of cost and time. However, you need to talk to a professional to make sure this is actually something that you can or cannot do.
As you're able to see, sanding and refinishing your hardwood flooring may bring back a small bit of life out of your hardwood flooring. In our eyes, it may not be worth the effort in the long run. Purchasing the right hardwood floor is a much better alternative and something that people should consider before refinishing their hardwood floors.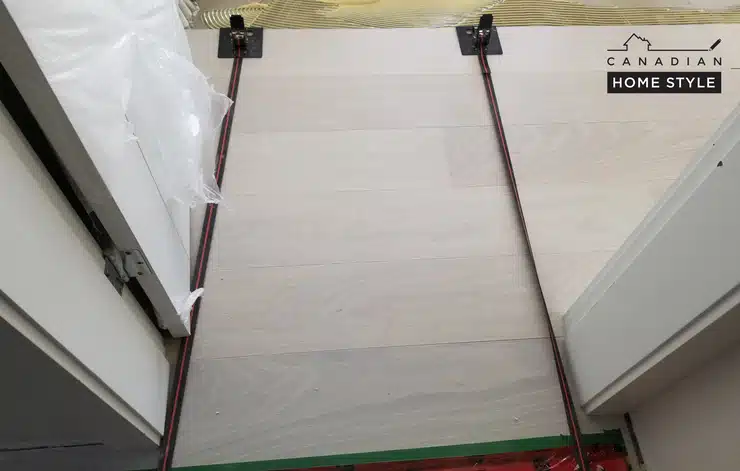 Canadian Home Style is your highest-rated flooring company in Metro Vancouver and back-to-back Consumer Choice Award winner in 2021 and 2022. Don't hesitate to reach out to us for more information or whether you should go ahead with sanding and refinishing your hardwood floor. Sanding and refinishing is actually a service we offer but, typically don't recommend.
Visit or North Vancouver flooring and custom cabinetry showroom today. – Book Now
Area of Services:
Burnaby
Coquitlam
White Rock
Maple Ridge
Port Coquitlam
Port Moody
Gibsons
Sechelt
New Westminster
Frequently Asked Questions about Sanding and Refinishing wood flooring
Can you only sand and refinish solid hardwood?
No, You can also sand and refinish engineered hardwood flooring as long as it's stapled or glued to the subfloor with enough wear layer to be sanded down.
Can I sand and refinish my hardwood floors myself?
No, this is something that takes lots of experience and also special types of equipment.
Should I remove baseboards before refinishing hardwood floors?
No, there's no need to re and re your baseboards when it comes to sanding and refinishing wood floors.
How many times can I sand my engineered wood?
It really depends on the thicknesses of the wear layer. However, if you do have a 3 mm Lamella (industry standard for quality hardwood flooring). You should be able to sand and refinish the floor up to 2 times.
Is Solid hardwood better than engineered hardwood for sanding?
Not necessarily! However, you are almost certain that you can sand and refinish your solid wood since you're not worried about the wear layer and the method of installation. The same can't be said about engineered wood flooring products.
My hardwood has a wired brushed surface, will that be gone after sanding?
Yes, it is unfortunate but you would most likely sand past the brushed surface during this process.
Can laminate flooring also be sanded and refinished?
Absolutely not! Laminate is not engineered hardwood and cannot be sanded at all.