TORLYS: A GLOBAL FLOORING COMPANY
Torlys offers responsible flooring solutions that are perfect for those who are looking for durability but also versatility. Their NatureTek (QuickStep) flooring is astonishing, especially when you need it in households with all sorts of activity happening inside them!
Torlys Laminate Flooring – Performance at Great Value
It's able to withstand harsh household routines and is made from extraordinarily durable material that is still visually pleasing to the eye. Their NatureTek (QuickStep) flooring is one of the more economical flooring options they provide, but the quality certainly doesn't slip. Each induvial plank is still made to pristine elegance for the fraction of the price you'd be paying for luxury hardwood flooring.
Quick-step Naturetek Program:
In this article, we'll be discussing the key benefits that Torlys NatureTek (QuickStep) provides and how your household would profit from this. It's certainly a game-changing laminate flooring option and it is much better than your average manufactured laminate flooring out there.
We truly think that this laminate flooring is the pinnacle of all flooring types within this price range. Its honesty is overwhelmingly good and would be rude not to express our feelings about it to our viewers. In the flooring industry, we consider Torlys QuickStep laminate as the Lamborghini of Laminate flooring.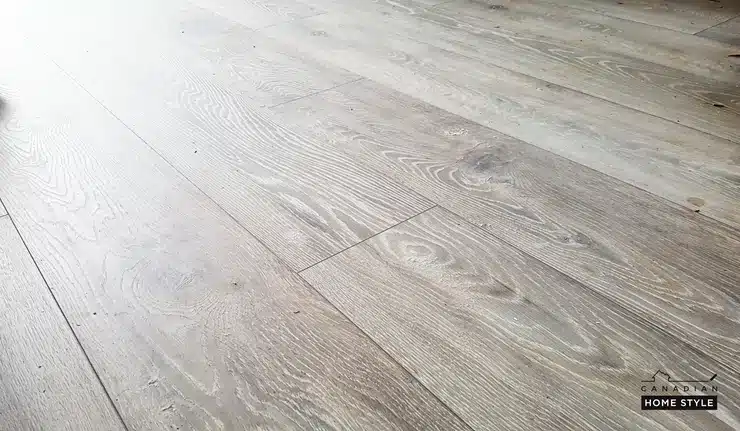 ScratchGuard™
You're probably asking yourself, "what is ScratchGuard"?
It's simply Torlys new and exclusive protection that they place on their laminate flooring to make the product even more scratch-resistant. This dramatically decreases the chances of scratches and even micro-scratches appearing on your floor. Micro-scratches can be hard to prevent as they happen naturally through everyday dirt and dust. Even the tiniest pieces of grit can normally leave your flooring with light scratches. This wearing layer is like no other and provides some of the best durability within the laminate flooring industry. With durability being a major factor when purchasing a flooring product, it most definitely doesn't disappoint.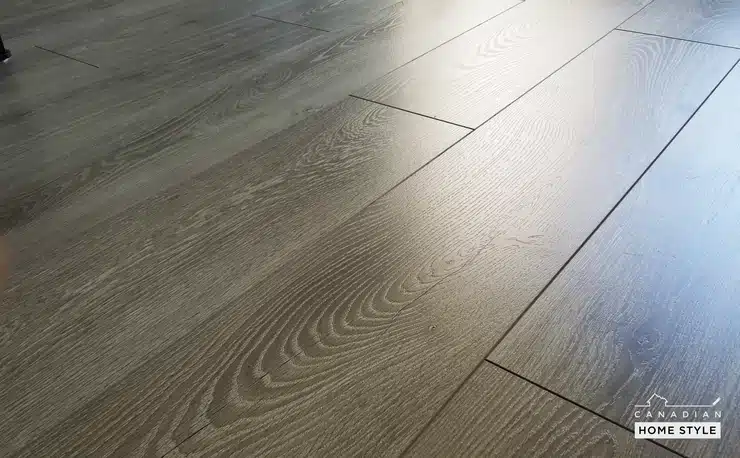 The GenuEdge™ is all about waterproofing. This innovative technology provides Torlys laminate flooring with superb water protection. This sealer is to keep water out of the joint and core, not to be mixed up with their Hydroseal that repels waters from penetrating through the HDF core.
With both of these high-performance waterproofing techniques, you can be assured that your laminate flooring is completely protected from any water damage. This allows for easier cleaning and less stress if you have pets. This laminate can be damp mopped or steam mopped with relative ease and can be used in most areas of your household.
Uniclic®
Torlys offers the Uniclic® locking mechanism on all of their QuickStep laminate series. This super tight locking system prevents any water leakages, reduces movement, and makes installing the floor extremely simple. Their patented Uniclic® locking mechanism is truly one of a kind and has great reviews throughout the web. They had the ambition to create the best gap-resistant locking system and they've managed to do just that.
I thought I would mention repair as it can be a pain for most laminate floor owners. Even though, laminate flooring is considered very durable when it comes to scratches; from time to time, you may occur a scratch on your floor that gets on your nerve and must be repaired.
Most floors would have to be disconnected starting from the nearest wall, all the way up to the damaged board. However, This is not the case when it comes to Torlys QuickStep laminate flooring with Uniclic®. You're indeed able to replace a single plank without having to back-peddle from the wall to the damaged area. You might ask me how?
Well, It is their Uniclic® locking mechanism that allows you to replace a plank in the middle of the floor with an easy plank replacer tool called Torlys BullDog™. A great benefit to have that most laminate flooring providers don't offer.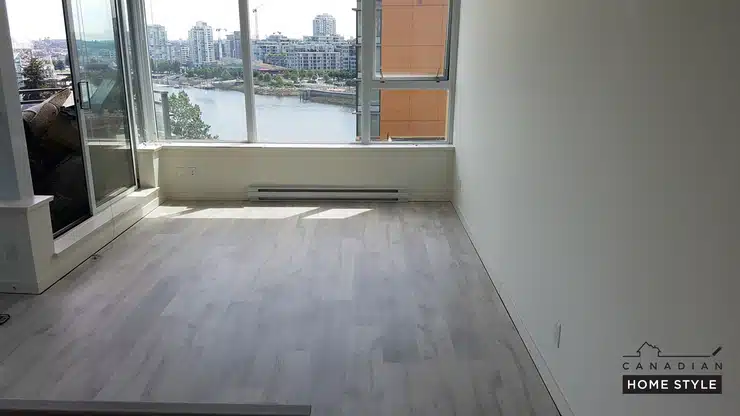 Contemporary Patterns: Elegant Wood Visuals
Quick-Step NatureTEK program includes over 15 different series, each with its own color scheme, which allows for a lot of creativity. Most laminate flooring options in today's market are roughly 7.5″ wide by 48″ long. Torlys is one of the only companies that offer super wide and long laminate boards. They offer boards over 9″ in width and 80″ in length. This is of course the look we're after in our luxury Vancouver homes.
Having such a vast amount of flooring choices is great for any homeowner wanting to upgrade their existing floor, or to gather ideas for a future project. When choosing, you may even find a flooring type that you didn't even know existed. This makes the Naturetek plus program one of the best laminate options in Vancouver.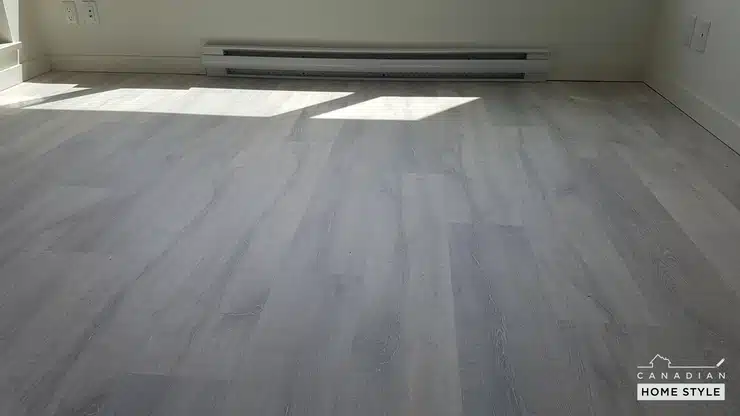 Excellent Performance:
Torlys understand that a warranty plays an important role when you're trying to select your home's flooring. Torlys Quickstep laminate flooring has the following warranties to protect its customers.
Wear-through Warranty 
Torlys offers a 35-year wear-through warranty. This is limited to wear on the surface of the boards, must be clearly visible, and has a minimum of 1.4 square centimeters. In case you were wondering, gloss damage isn't considered wear.
Surface Waterproof Warranty 
The waterproofing warranty is distinct from the water-resistance guarantee (see below) and lasts for 10 years. You must follow their installation instructions carefully and ensure you do not violate them to be eligible for this warranty.
Water Resistance Warranty 
This warranty, unlike the previous one, offers a 35-year coverage for rooms that don't have to have waterproof flooring.
Stain & Fade Warranty 
Torlsy offers a warranty on their floors if they get stained from foods or beverages. As for fading, UV rays can damage laminate floors if they are exposed daily. This is not a common issue for Torlys laminate lineup, but you're able to claim for warranty replacement or repair on your flooring!
At Canadian Home Style, we take pride in our flooring selections. We only present flooring options that we would consider using in our homes. Come and see our full display of Torlys NatureTek.
Torlys NatureTek Laminate Series – Book Now!
Visit our North Vancouver Flooring Showroom today!