Kitchen Cabinet Design:
The first thing that usually catches your eye when you enter a kitchen for the first time is its cabinets. If you're looking to purchase this home, it's not unusual to explore and open all the drawers in order to get an idea of what type of material they are made from or how well-organized everything must be kept.
The kitchen cabinet design that you choose for your home will set the tone for the rest of the house and has a significant impact on how your space is used. In this blog post, we have compiled some of our favorite color combinations and styles to help you make an informed decision when designing your next beautiful kitchen.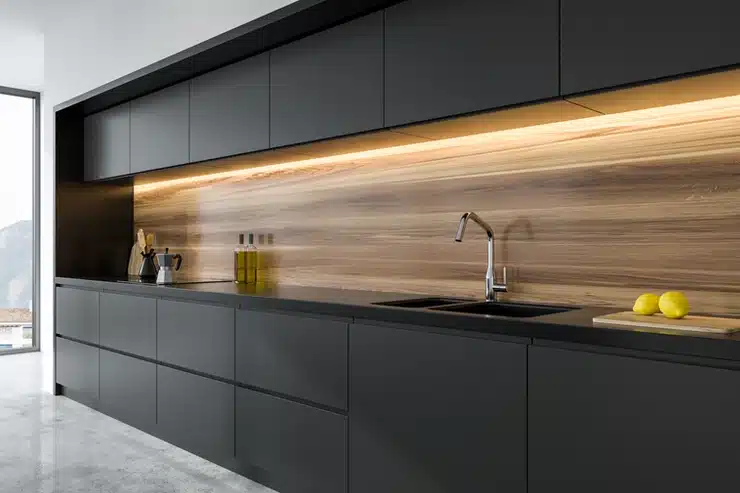 Kitchen Cabinet Design – Matte Black and Walnut
Warm Black and Walnut 
At the onset, it is quite hard to picture black as a warm color for your kitchen. However, if you see the neutral hue combined with the earthy walnut texture, for sure you'll love this kitchen cabinet combo.
Go with the matte black finish, the combination of the two tones works well with both modern and traditional kitchen designs. The organic tones in wood work well with the modern kitchen designs as it provides a sense of warmth, without feeling too rustic.
Hardware: White ceramic, patterned hardware, chrome, brass
Pros: Can make a kitchen space look elegant and look expensive more than its actual price.
Cons: The kitchen can look dark without a proper lighting design.
White and Walnut 
Burrowing from the Scandinavian interior themes, white and walnut cabinets are more elated. With its delicate texture, it creates a soft warmth for any kitchen space. Walnut kitchen cabinets are very popular in contemporary kitchens as well as farmhouse-inspired kitchens due to their sleek look and feel that is perfect year-round!
Hardware: Brushed nickel, gold
Pros: Great for small kitchens when you want more than just white cabinets.
Cons: Walnut cabinets can be expensive and materials are not readily available locally in some areas.
Oak and Seafoam Green or Blue
A challenging color combination but a worthwhile choice for a traditional or modern themed kitchen. This kitchen cabinet combination offers a fun way to spice up your traditional or modern themed space. A perfect choice for those who need some extra warmth, but also want the coolness of seafoam green! Experiment with different fabric combinations when you're looking at this color scheme too – mix it up and have fun! Combine your oak cabinets with crystal black mosaic to create the perfect balance, or choose black and white checkered flooring which is classic yet fashionable.
Hardware: Matte black, brushed nickel, matte bronze lacquered
Pros: Softwood texture adds to that homey feel to a kitchen without being overbearing.
Cons: Can look dull without strong contrasting accents.
Knotty Pine and Shades of Gray
If you're looking for a wood material for your industrial-themed kitchen, pine cabinets and a backdrop of gray hues are the perfect combos in kitchen cabinet design. The rustic look of pine makes it the perfect material for combining with metallic surfaces. Black accents will give contrast and a professional appearance.
Hardware: Matte black, handleless cabinets
Pros: Pine is cheaper wood that can be found in many bespoke cabinet workshops.
Cons: The softer wood means that it will dent and mark easily. Apply a good sealant for best results!
Pretty Blue on White
We've seen a lot of blues and teal lately in kitchen cabinets and is a color combo that will likely continue in many years to come. Thanks to its cool and pretty overall look that works for both traditional and contemporary themes. If you love the clean and airy feel of white kitchens but want more color on your cabinets, add lighter blue shades with a tint of green tones such as powder blue, teal, pale turquoise, and Cambridge blue.
Hardware: Matte black, gold, nickel
Pros: It can fill large spaces without being too overwhelming.
Cons: Can look outdated with no proper light layering.
Brave Amber and Red
The combo may look like an old-fashioned color choice for your kitchen cabinets but when used with gloss and sleek lines you'll get the modern sensibilities you crave tinged with excitement. For these colors to work you'll need white-washed walls and countertops to create that strong contrast. Section your color, for instance, have a wall of red cabinets on one side and yellow on your upper cupboards.
Hardware: Silver, handleless cabinets
Pros: A vibrant color amidst a minimalist home that adds warmth and character.
Cons: Limited color on your décor and other elements as it can clash with the bold colors.
Classic White and Dove
Forever popular, the ultimate neutral hue of white cabinets represents health and sanitation which are important factors for a kitchen. To add depth and prevent a stale look, combine your classic white with dove white. The gray undertones are so subtle it looks almost like shadows on your kitchen space.
Hardware: Any type and color will do, but the best contrast is gold and matte black.
Pros: Easy to combine with other colored kitchen elements.
Cons: High maintenance and cleaning.
Takeaway:
Color can be a fun way to make your kitchen space feel more personal. Homeowners are able to quickly switch up their color scheme, as it is an easy and affordable fix. However, if you're looking for the safest option when putting your property on market soon, white with wooden cabinets will always work best!
At Canadian Home Style, your premier Vancouver kitchen remodeler, the last thing we want is for our clients to settle on an unsatisfying color combination. Our team wants you to have options so that your new kitchen is perfect and reflects your own personal style. If you're still not sure what colors work best together in your space or are looking for some inspiration, come and see us at our North Vancouver showroom and we can help you with your next Vancouver kitchen renovation project from start to finish. Book Now!