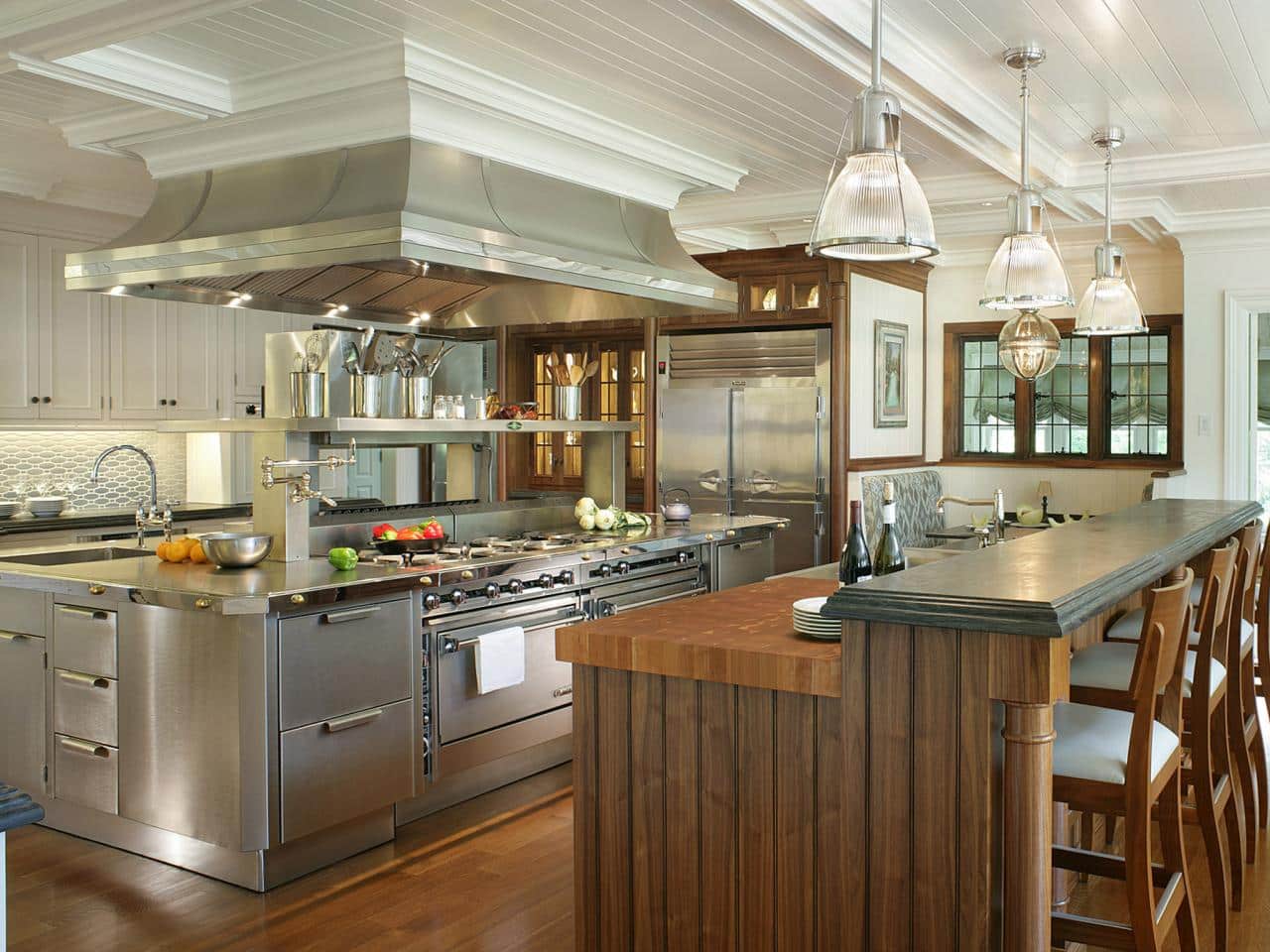 Designing your dream kitchen
If you plan to redesign your kitchen, you will want to start by assessing your current space. Whether it's the layout, design, or materials, getting a realistic idea of how much space you need to achieve your vision is important. Next, consider the purpose of your new kitchen and what its functions will be. What are the different functions of a kitchen? What are the different areas you want to make more appealing?
Ideally, you want your kitchen to have a central focus. This means that it must be the first thing you see when you enter the room. This could be a window or sink. Make sure that your focal point is visible and reflects your personality. Moreover, the design of your kitchen should accommodate all of your needs and fit within your budget. To help you make a decision, ask the designers for their advice.
Choosing the right appliances can help you achieve the ideal mood in your new kitchen. You can also choose the right appliances that will fit your family's needs and complement your kitchen's design aesthetic. Also, consider the size and color of appliances when choosing them. It's important to ensure you choose ones that won't look out of place in your new kitchen. Then, you can use recessed lighting to illuminate the workspace.
Once you've selected the design you like, the next step is shopping for the materials. You can visit design centers or look for customized individual suppliers. While shopping for materials, try not to rush it as this may take a while. The process of selecting final products should take between a week and two. Find a fixed-price contract if you've already decided to hire a design/build company.
What's the difference between 2D and 3D in kitchen design?
There is a big difference between 2D and 3D kitchen designs. A 2D design is a simple drawing on paper showing your kitchen layout. It doesn't show depth or perspective, so it can be difficult to get an accurate idea of what your kitchen will look like. A 3D rendering, on the other hand, is a life-like image that gives you a better idea of how your kitchen will look once it's been designed. With 3D software, you can even walk around in your virtual kitchen and see how everything looks from every angle. Deciding on things like countertops, cabinets, and appliances is much easier.
3D kitchen design software
There are many benefits to using 3D kitchen design software for creating your custom kitchen. They let you see your design in a whole new way. Using 3D rendering, you can easily customize your space and add different fixtures and finishes to make it exactly how you want it. A good program will have 60K+ products in its library that you can choose from. Some programs also allow you to upload your models and provide photorealistic renderings. You can create a virtual walkthrough in minutes with 3D visualization.
Another advantage of 3D kitchen design software is that it lets you create and share your ideas with others. It will also display furniture from popular stores. You can also access the software through your mobile device and complete your work while on the go. This software does not have comprehensive kitchen design features, however. Instead, it's better suited for e-commerce workflows. You'll need the patience to get used to the software and make it your own.
Another option is Homestyler, an online design software by Autodesk that lets you easily create your dream kitchen layout. You can choose from over 10,000 items and take a 360-degree walkthrough. The software even includes a materials list, which you can use to make a physical plan. Using 3D kitchen design software is not just a great way to visualize your dream kitchen, but it can also make it a reality.
The software also features dollhouse and interior dimension tools that help you get the correct kitchen and cabinet placement measurements. You can create floor plans, choose wall colors and flooring, and explore brand-name appliances. There is no limit to the number of possibilities! It's easy to see how your dream kitchen can be, and it's worth a try! If you haven't used 3D kitchen design software before, it's worth downloading a free trial to see how it works.
Custom design and design ideas
Dream kitchens can be beautiful and functional, but many design processes focus on storage. Whether you love to bake and prepare meals in the kitchen or you prefer to prepare a meal in a separate area, an abundance of space for storage is crucial for a dream kitchen. Ask your designer or builder for their suggestions to ensure that you are maximizing your storage space. Before choosing a style and color scheme, consider functionality, such as the height of counters, the number of storage areas, and whether there's enough room for a dining table.
Once you know the size of your kitchen, determine what appliances you will need and whether you'll need extra storage space. You'll also want to determine your budget. A dream kitchen can cost much money, depending on the appliances, materials, and functionality. Taking your time to plan your kitchen will ensure that you get the perfect design for your needs. Fortunately, there are several ways to cut costs on your dream kitchen.
Choosing the right cabinetry can make or break the experience of cooking. Hiring a cabinetry designer to create a custom cabinet set will make cooking easier and allow you to display your personal tastes and interests. A custom cabinetry set will also ensure that your kitchen reflects your style while providing excellent functionality. And, since no two kitchens are exactly alike, you can choose an island with plenty of storage space.
If you have never considered a custom design before, a kitchen designer who is familiar with the latest trends and materials can provide you with everything you need. Custom-made kitchens can increase the value of your home and provide you with a more functional, beautiful space. If you're looking for the perfect design for your custom kitchen, contact Canadian Home Style in North Vancouver to hire one of their professional designers.
Open floor plan
An open floor plan is ideal for a functional kitchen. It allows for easy interaction between the kitchen and living areas. Creamy white cabinetry contrasts beautifully with a solid dark wood floor, which is a beautiful touch and easier on the back and feet. Built-ins and shelving facilitate ample storage. An antique French window is a door to the dreamy china cabinet, which has plenty of space for the family's china. Pacific Silvercloth covers the base for silverware.
For many homeowners, an open floor plan is a perfect solution to accommodate large gatherings. Open-plan kitchens allow for a seamless flow from living areas to dining rooms. This makes entertaining easy. When you have friends and family over, you can see them coming and going and still be in the middle of the action. And if you have kids, you'll always be able to monitor them easily. Open-plan living rooms also make it easier to entertain.
Open floor plans have many benefits. They encourage interaction among family members. Open-plan kitchens also reinforce the kitchen's concept as the home's heart. You can easily watch over your kids in the family room without stepping into their space. Open-plan kitchens are also perfect for entertaining because they lack walls. Guests can talk to the cook and watch their children while they wait. The result is a more sensible and enjoyable entertainment experience.
In terms of design, open-plan living is an increasingly popular trend. Open concept homes are usually organized around a centrally located kitchen, which opens up to the dining and living areas. They're often called a "great room" for that reason. Open-plan living has many benefits, but it's not for everyone. Make sure you consider the space in your home when deciding on a floor plan.
Specialized appliances
You've come to the right place when you desire to cook gourmet meals with the highest quality and craftsmanship. Specialized appliances are an integral part of many dream kitchens.
The layout and appliances that make your dream kitchen a reality may depend on the kind of appliances you have in mind. Whether you want to install a wet bar or have a pantry may impact the layout of your dream kitchen. Choosing the right appliances will also determine the style and type of cabinetry needed to accommodate the appliance. Expert design advice is the best way to make the process as stress-free as possible.
Professional designers
Professional designers use advanced kitchen design software programs to help you make the best choices for your custom kitchen. They can also provide you with a 3D rendering of your customized space to better understand what it will look like.
2020 kitchen design software is extremely user friendly
Most interior designers use the 2020 kitchen design software for their projects. It is a powerful program that allows you to create beautiful and modern three-dimensional images of kitchens. Some of the features offered by 2020 kitchen design software include choosing cabinet colors and styles, selecting appliances and countertops, and creating virtual tours of the finished kitchen. At Canadian Home Style, we use this powerful tool for our custom kitchen designs and 3D rendering; this is the best tool, in our opinion, for custom kitchen design, and it's compatible with our Cabico catalogs.
Frequently Asked Questions:
Is there an app to design my kitchen?
You can quickly design your kitchen with a web kitchen planner like the RoomSketcher App. Professional kitchen designs may be created without requiring technical expertise. Every program has a learning curve, but if you put in a little effort first, we believe you will be pleased with the results.
Is SketchUp basic kitchen design software free?
Yes, SketchUp provides its most basic version for free, but the paid PRO version, which costs $65, offers much more functionality.
Are the free kitchen design software tools any good?
SketchUp basic free version is the best kitchen design software that is free. SketchUp has a very clean and precise interface and is relatively easy to use. However, it has a lot of limitations compared to the paid version. Don't opt for the free version if you need all the features.
Canadian Home Style is your family-owned and operated custom cabinetry retailer with a showroom in North Vancouver, BC. We provide complete kitchen and bathroom renovations across the Lower Mainland with an extended warranty. We are proud members of the NKBA, National Kitchen and Bath Association.  In addition, we have won the Consumer's Choice Awards back-to-back in 2021 and 2022 for our commitment to business excellence. We are considered one of the highest-rated kitchen and bath design and renovation experts in Metro Vancouver. Book now to visit our North Vancouver showroom, where you can get expert advice from one of our kitchen and bath designers. We're happy to be a part of your journey with your next home renovation project in Metro Vancouver.
Services We Offer:
Main Areas of Service in British Columbia:
North Vancouver
West Vancouver
Burnaby
Coquitlam
Squamish
Whistler