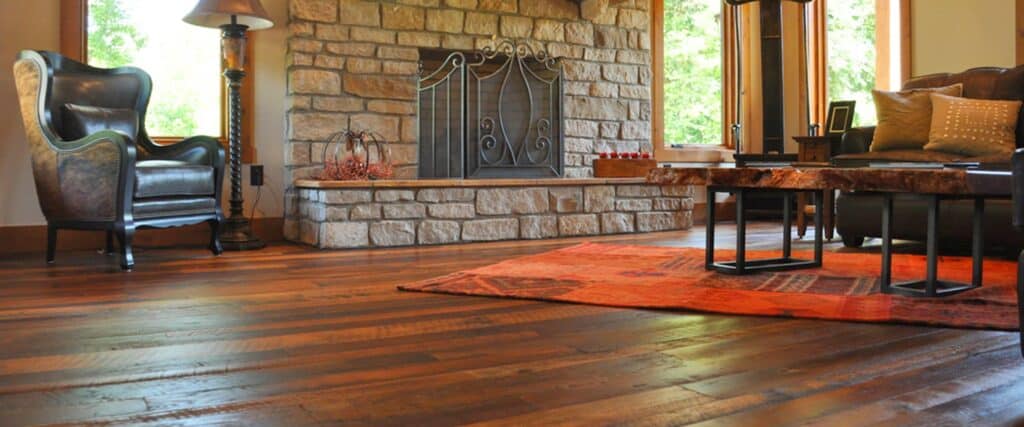 Rustic hardwood floors come in many varieties, including random-width and distressed. Learn more about colors, prices, and care tips for rustic hardwood floors. Here are the main characteristics of rustic hardwood floors:
Distressed hardwood floors
If you are considering upgrading your flooring, consider distressed hardwood floors. They are beautiful, versatile, and extremely affordable. These floors have a unique character and a lived-in appeal that complements country-chic designs. You can choose between hand-distressed wood and engineered versions.
Distressed wood floors can come in several different finishes and wood species. During the process of sanding, different imperfections in the wood are highlighted. These imperfections provide character to a room and add visual interest. These floors are popular for cottage and farmhouse decors and have a rustic charm and warm feeling. Distressed floors are great for achieving the rustic look of antique floors without wear and tear.
Cleaning distressed wood flooring is easier than with other types of hardwood, though you must remember that it is difficult to keep pristine. While it is highly durable, it will need more attention than other types of wood flooring. A simple wet mop will do the trick. Because wood has natural variations in color, hand-scraped floors need to be wiped clean regularly to avoid damaging the wood. However, be prepared to spend more if you decide to have these floors installed. You can find distressed engineered wood in various colors and finishes.
These floors have a rustic look that can be a dramatic and show-stopping accent to your home. A distressed hardwood floor has a look and feels of a custom floor. Your guests will be amazed and delighted with your stylish new floor! If you love the look of distressed hardwood floors, you can also opt for a hand-scraped style. Distressed hardwood floors are a great choice for people who love antique wood.
Hand-distressed floors are more costly than other types, but they add character and warmth to rooms. Hand-scraped flooring reproduces the look of antique wear on the edges of wooden boards. These floors also feature wormholes, chatter marks, and other artfully applied techniques. The texture of these floors is truly unique. So, if you are considering buying a distressed hardwood floor, you should do it.
Random-width hardwood planks
For a unique look, consider installing random-width hardwood floors in your home. These floors lend an authentic, earthy look to your rooms. You can add a woodsy touch with this natural style. Random-width planks can be found in Canadian Home Style's Heritage collection, which includes woods with a historic look.
These rustic-style planks vary in width and length but have the benefit of minimizing seams. This flooring is ideal for rooms with high ceilings, while long, narrow planks can be used in smaller rooms. They also give a spacious look to a room, while the random pattern will pair well with a plain room design. In addition to rustic-style floors, random-width planks are versatile enough to work well in modern rooms with a contemporary style.
If you've never installed hardwood floors before, planning is important. Draw a rough layout to see how planks will look in your room. If you're unsure of your woodworking skills, consider hiring a professional installer to assist you in the installation. They can also help you plan the layout of your room. When you're ready to install your new floor, hire a professional who's familiar with the wood and can offer advice on how to best apply it.
A random-width plank floor can create a unique flooring pattern, with the widths of the boards varying from the other. This design is quickly gaining popularity because it's a great complement to rustic and modern decorating styles. The biggest headache you'll face is figuring out how much flooring to use. But it's worth the extra effort to achieve a beautiful design. So, what's stopping you from giving random-width planks a try?
If you're looking for a traditional, timeless look, try using narrow planks. These are two to three inches wide and perfect for narrow rooms and spaces. They also look great when used in patterned designs. The narrower planks are more convenient for laying in corners. They can also create a rustic farmhouse style. They can also make larger rooms seem more spacious.
Colors available for rustic hardwood floors
Rustic engineered wood floors are one of the most popular rustic hardwood floors. The wood is recycled from old buildings, houses, and barns. Rustic engineered wood is often attractive and looks great in hallways, dining rooms, and other areas. Many options are available for choosing the colors and types of rustic engineered wood. Listed below are some options that are popular among homeowners. Read on to learn more about these colors and types of rustic engineered wood.
Colors of rustic hardwood floors can range from warm, rich brown to sanded brown and even white. Rustic hardwood floors are becoming increasingly popular because of their earth-friendly properties. Many reclaimed wood boards are now available, including wood that was once used for construction. American Chestnut, for example, was once an important wood for building before blight decimated the species. These trees are now a great source of reclaimed wood.
The types of wood used to make rustic hardwood floors vary in color and grain. While oak and maple have similar grain patterns and are hard, maple has an even grain and is a lighter color. Maple is a good choice for stains. Hickory is the hardest non-exotic wood with a dramatic contrast in light and dark colors. Choose a species based on the color scheme of your home. If you're unsure of what color you'd like, consider ordering a sample. Once you've chosen a color sample, test it in your room. Check the floor's color with the furniture and in the sunlight.
Consider installing dark floors if you're looking for a traditional, timeless feel. A rustic living room floor may look black at the grain, but it adds character and interest to a room. The herringbone pattern also adds interest to the floor. These floors also look great with jewel-toned paint colors, as well as with sunny accents. You can even match your rustic flooring with other decor items such as accent walls.
Price of rustic hardwood floors
When choosing a rustic hardwood floor, keep in mind that you will be paying more than just the price of the floor itself. There are different species of this type of flooring and the price will vary accordingly. The most popular species are hickory, walnut, and maple. You can choose solid or engineered rustic hardwood floors, and these floors are usually characterized by prominent graining and variations in the wood. These floors are typically made from more durable wood, but they may still require much maintenance.
Rustic hardwood floors are pricier than other types of flooring, but they will beautify any room and add significant resale value. Prices vary from store to store, so it is helpful to know your measurements before you purchase your flooring. Then, ensure you know how many square feet your project will require. This will help you determine your budget and the style of the flooring you need. You can also choose rustic wood flooring that will match the theme of your room. Remember, you must always add 10% cutting waste to your measured SF.
A rustic hardwood floor is perfect for both residential and commercial use. These floors are designed with the largest widths and lengths and usually feature mineral streaks and knots. These flooring types are also reasonably priced. Depending on the wood you choose, you can expect to pay anywhere from $7 to $35 per square foot.
You can choose rustic grade hardwood floors to save money while still getting gorgeous and unique flooring. These flooring types are great for residential indoor installations but don't forget that they come with more imperfections.
Canadian Home Style is your family-owned and operated flooring retailer with a showroom in North Vancouver, BC. We provide full-service commercial and residential flooring solutions across the Lower Mainland with an extended warranty. We are proud members of the BC Floor Covering Association (BCFCA) and the National Wood Flooring Association (NWFA). In addition, we have won the Consumer's Choice Awards back-to-back in 2021 and 2022 for our commitment to business excellence. We are considered the highest-rated flooring experts in Metro Vancouver. We pride ourselves on holding the highest standards in the flooring industry. To uphold our high standards, we have a strict policy of "not selling or displaying any products that we wouldn't want in our own homes." Before we select a product to feature, we carefully assess product quality, off-gassing, warranties, and responsible sourcing. Book now to visit our North Vancouver showroom; we can help you choose the perfect floor for your home or business.
Services We Offer:
Main Areas of Service in British Columbia:
North Vancouver
West Vancouver
Burnaby
Coquitlam
Squamish
Whistler