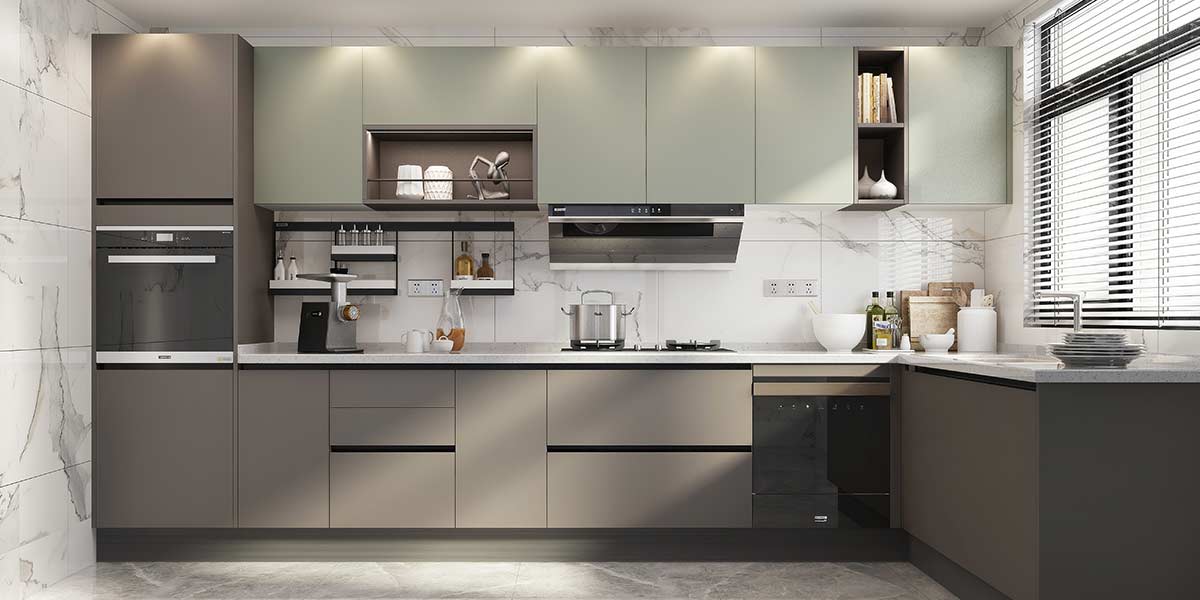 There are many shades of grey to choose from for your kitchen. Grey is a versatile color that works well with many different materials. This neutral shade gives your kitchen a calm and relaxing ambiance. It can make a smaller room feel spacious, so if you're looking for a color for your kitchen, you should try one of these shades. Here are some of the advantages of grey. Here are some advantages of grey in the kitchen to consider for your next kitchen renovation project.
Grey kitchens come in many shades.
There are several different types of grey kitchens to choose from. When choosing a color, you should consider your personal tastes and the kitchen's overall look. While gray is a neutral color, it can be influenced by other colors. Some shades of grey are warmer than others. Blue undertones, for example, will make the kitchen appear steely, while red undertones will give the kitchen a warm, putty tone. Look at pictures and online galleries to determine which shade suits your kitchen best.
Light grey work surfaces and cabinets will add sparkle. Avoid using too much grey, particularly in a small space. Choose accent fittings in a lighter color to soften the overall look. A patterned floor tile will also lift the scheme. Grey kitchens also look great with contemporary materials. However, the color should be paired with a contrasting color to make them pop. Grey can be a versatile choice and can be a great accent color.
If you're decorating your kitchen on a budget, you might want to stick to a neutral shade of gray. However, if you're looking for a more dramatic look, you could choose a darker shade of grey. Grey cabinets can look great with white or cream countertops, so you can choose what works best with your decor and your kitchen style. In addition, you may opt for a backsplash made of stone.
They work with a variety of materials.
To bring a little color to a grey kitchen, consider adding accessories in bold colors. Bright hues best offset dark colors, so think of bold, contrasting patterns or accessories. Use accessories from brands like Staub and Le Creuset to get your desired look.
A darker shade of grey may be more suitable if you want a rustic-inspired look. This color is a great complement to wood-and-metal-like materials, such as exposed brick walls. In this style, the cabinets are a contrasting shade, and the floor is lighter than the wall color. However, gray can also look flat in certain lighting conditions, so be sure to add some texture if you'd like to avoid this look. For example, a rustic look might work well with a kitchen incorporating a grey worktop. This style has a lot of wood grain.
Wooden countertops might be perfect if you want to add warmth to a grey kitchen. Light wood-effect LVT or laminate are both suitable options. Dark woods like walnut and oak will look great with dark grey, but light-colored ones will add depth and character to your space. When choosing a flooring option for your kitchen, treat the material with a coating of wood-based primer.
They create a calming atmosphere.
You can easily modify the atmosphere of your kitchen by choosing shades of grey that can be combined with white decor. These shades will create a welcoming environment. Alternatively, you can opt for shades of light blue to make the kitchen look serene. Generally, pale grey, green and blue are all considered calming colors. If you are looking for a more vibrant and energetic color scheme, you can go for shades of yellow or orange.
If you plan to decorate your kitchen with shades of grey, you should use storage solutions with high shelves. This way, you can keep your frequently-used products out of sight. Another option is to use a pull-out ladder to get to high shelves. The natural color scheme is relaxing and can help you relax. When paired with appropriate music, it's possible to create a stress-free atmosphere.
Choosing a neutral color scheme is an important consideration for your kitchen. The warmest hues invoke energy, so you'll want to keep them as accents. Grey can also help you increase the value of your home by sprucing up your home. But beware: this color scheme can quickly become dull if you're not careful. You can always mix white with wood to create an aesthetically pleasing space.

They make a smaller space feel bigger.
Grey-toned kitchens are the ultimate way to open up a small space. The cool color is ideal for any kitchen, and you can use it to your advantage by using accessories such as a bright orange kettle, a beautiful vase, or a set of colorful plates. There are many leading cookware brands in this style, so you can find one that fits your style and budget. Remember, though, that this color scheme is not for everyone.
The combination of dark, light, and grey cabinets can give a more expansive space. They also match the darker hexagons in some Scandi-inspired kitchens, while grey walls are more balanced and less stark. Grey is also great for adding texture to a smaller room, as contrasting colored floors and worktops can make a grey kitchen look more interesting. Grey can also look flat in certain lighting, so adding some texture is best to avoid the look becoming too bland. The Sebastian Cox kitchen, with its wood grain, is an example of a kitchen with a rustic style.
To add warmth to a gray kitchen, consider laying hardwood flooring. Real wood or imitation wood-effect LVT will give a room a more homely feeling. The wood-effect LVT and imitation wood-effect laminate flooring will go well with any gray shade, so if you are unsure which one to choose, try ordering samples to see which one will look best in your home.
They work with a chrome pull handle.
If you're redecorating your kitchen and are wondering how to make it look its best, the answer is to go with a color that will compliment the overall design. Grey is one of the most popular colors, and it's neutral enough to use as a base for a pop of color. For example, if you're using dark slate grey cabinets, you might want to use a shiny chrome pull handle. Grey and chrome look great together, and a glossy pull handle can help tie everything together and avoid looking too flat.
If you're going for a modern look, you can go with a matte finished handle. Matte handles are especially great with gray cabinets, and the black matte finish is the best option. Matte handles also go well with other styles like an industrial, Scandinavian, and modern farmhouse. A chrome black handle is also a great choice for using gray cabinets. You can also use silver handles for a more elegant effect.
The color grey can be found in many different shades, from soft white to black. It is extremely versatile and can complement any look. For example, grey works well with industrial decor, country style, or bright tiles. You can even combine it with a statement wallpaper. Grey kitchens also go well with a gold pull handle and bars. It's easy to get carried away with the grey look and still make it look fabulous.
They go with any look.
A kitchen's color scheme can make or break the room's overall look. Grey is a versatile color that blends easily into most decor styles. Its neutral tones make it ideal for both modern and traditional styles. Using five shades of grey in your kitchen will give it a balanced, modern look. If you're worried about bringing too much grey into your kitchen, you can use white as a balancing color, while brass prevents the look from appearing too 'cold.'
To make grey look more versatile, you should choose a lighter shade. Lighter greys go well with brick reds, terracotta shades, and chartreuse yellow. Darker shades go well with browns, caramel, and chocolate tones. However, if you want a more sophisticated look, you can use a darker shade of grey. The shade you choose will depend on your preferences. But the most basic way to match grey with any look is to use contrasting colors.
To make grey look warm, you can pair it with wooden countertops. Dark wood countertops will add a touch of warmth to a grey kitchen. You can pair dark grey cabinets with white countertops for a more modern look. A white countertop will make a grey kitchen look upscale and sophisticated. Copper accents can also enhance the look. In addition, gray and white go well with any look, so you're guaranteed to find the perfect match for your kitchen.
They are a universal trend.
Grey paint schemes are a popular choice for a neutral color scheme and are versatile enough to work in modern and traditional homes. This versatile palette makes a beautiful statement, whether an entire room or only one wall. White walls and cabinets with a grey countertop are an elegant contrast that creates a unique interior. In addition, grey paint accents the shape of white cabinets to create a trendy modern kitchen design.
Gray is a neutral color that projects a sense of wisdom, knowledge, and cleanliness. When used in the kitchen, it can create a relaxing, tranquil space that will make even the most hectic day feel like a vacation. With the right palette, kitchens can turn from a basic white space into a luxurious space that will leave guests wondering how you prepared all those delicious meals. Whether you have a modern or classic kitchen, gray will add a sense of sophistication to your space.
Grey is also versatile enough to blend in with many other color schemes. White and wood are popular choices with grey. Wooden counters and tables are also popular. It is possible to pair a grey kitchen with other materials such as wrought iron or stainless steel. But it is important to know how to incorporate wood into your kitchen. Grey will look best with white and wood, so make sure you buy them with care. Incorporate some wood elements in your kitchen design to make it look elegant.
Canadian Home Style is your family-owned and operated custom cabinetry retailer with a showroom in North Vancouver, BC. We are the official dealer of Cabico custom cabinetry in the Lower Mainland, providing complete kitchen renovations with an extended warranty. We always keep up to date with the latest trends and are proud members of the NKBA National Kitchen and Bath Association.  In addition, we have won the Consumer's Choice Awards back-to-back in 2021 and 2022 for our commitment to business excellence. We are considered one of the highest-rated kitchen and bath design and renovation experts in Metro Vancouver. Book now to visit our North Vancouver showroom, where you can get expert advice from one of our kitchen and bath designers. We're happy to be a part of your journey with your next kitchen renovation project in Metro Vancouver.
We are the official dealer of Cabico custom cabinetry in the Lower Mainland, and we believe in providing sustainable kitchen designs that can last you and your family a lifetime. Contact us for all of your Vancouver kitchen renovation needs.
Services We Offer:
Main Areas of Service in British Columbia:
North Vancouver
West Vancouver
Burnaby
Coquitlam
Squamish
Whistler
Did you miss our previous article…
https://canadianhomestyle.com/kitchen-renovation/home-renovation-bloggers/