BEAUTIFUL GRAY KITCHEN CABINETS:
If you are wondering if gray cabinets will either be a drab or a fab in your Vancouver kitchen, continue to read on as we tackle the facts and misconceptions of the queen of colors in cabinetry.
You have seen these gorgeous gray kitchen cabinets popping up on social media feeds numerous times, looking chic, sophisticated, and like a million bucks. There are also cutesy and cordial gray kitchen cabinets for the space-starved apartments, just like straight from a home and lifestyle magazine.
Not everyone goes gaga with the color because, as we all know, gray is associated with dread. It's a range of colors you won't even find in a rainbow. Well, technically, it's a shade.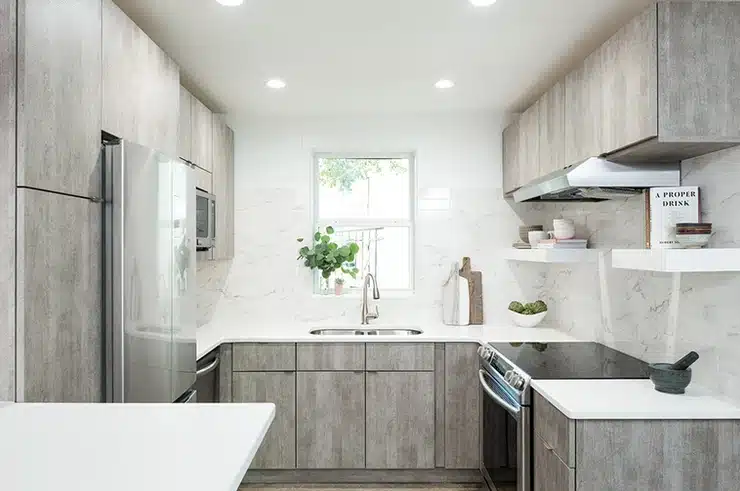 Gray is the new Black:
However, gray kitchen cabinets are surprisingly great for your home, and yes, even with Vancouver's melancholic weather. Why? That's simply because gray is a versatile color, just like white goes with any color or kitchen size, but the difference is that instead of getting a stark and cold look, you get a well-balanced color scheme in your kitchen. Of course, this is provided you use the shade properly, such as juxtaposing with other richer colors or textures.
Consider a different approach with this odd range of colors, and let's dive in further to see how we can take advantage of gray kitchen cabinets for our Vancouver home.
The Perks you Get from Gray Kitchen Cabinets
Invites Exciting Tones.
Let's first address the elephant in the room right off the bat. Yes, its true gray can invoke negative feelings, as pointed out by experts, but with the right color combination and strategic lighting, you'll be surprised by the awe-inspiring look you can achieve.
The strong point of having gray kitchen cabinets is that it brings a feeling of neutrality, calmness, and balance that is, without being monotonous, hardly achieved by any other color scheme. And with a neutral backdrop, you've got a chance to add warm textures to your walls or flooring or add a touch of bold colors to accentuate the look.
Gray is considered a friendly color, so you can match it with any color tone you wish.
Positive Psychological Effects.
The color gray swings between reposeful and eagerness. This clash of emotions is not conducive to anyone working in the kitchen; it is, frankly, the last thing anyone needs in the heat of preparing a meal for the family. A creative way to nullify this effect is to blend the colors harmoniously by grounding them to match with other kitchen elements.
Great for any Size of Kitchen.
Living in the city means not all can afford sprawling mansions, and if you're starting with a small kitchen, the gray kitchen cabinet is perfect as it won't make your space cramped or overbearing.
But the versatile color works well whatever kitchen size you have, whether in a log cabin, a mansion, or an apartment in the middle of the metropolis. Whatever your current abode, unlike white cabinets, gray kitchen cabinets fill the room without stealing the show. So even if you have floor-to-ceiling high kitchen cabinets across the room, the gray color tone goes with any floor and wall texture or color you throw into the mix.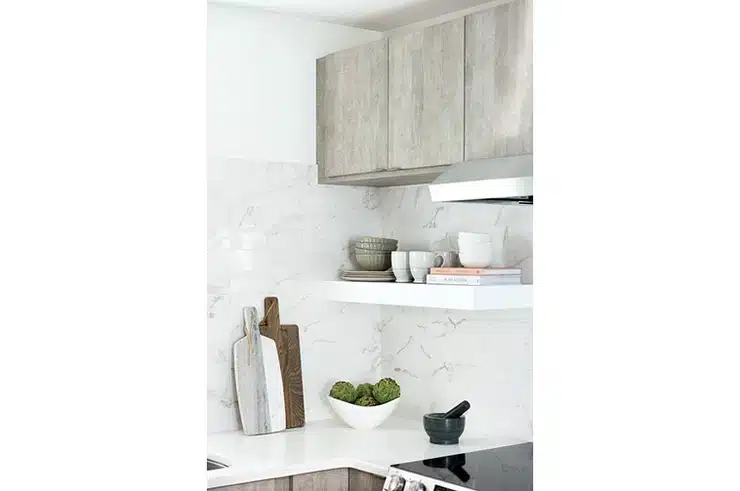 Cool Simplicity.
Borne from our minimalist sensibilities, the gray kitchen cabinet trend will continue to be relevant today and for the years to come. While timeless, the gray hue projects sophistication but not too forward and almost constrained, just like in an expensive urban home.
As the busiest spot in your home, the kitchen needs to have room to breathe, especially if you have other design elements in your kitchen. Your gray kitchen cabinets that make around 30% of your color scheme will not be too overbearing on the whole look.
Get the Mood You Want.
There's the right shade of gray for you. There are dozens, if not hundreds, of gray shades ranging from cool to warm; with this, you can achieve any look or mood you want.
The multifaceted hue will bring you to a lot of places. Add a lemon accent color and get a tropical feel to the kitchen space. If you have existing dark wood or with warmed tones, you can choose a kitchen cabinet with a Revere Pewter gray tone that has that green undertone. Or, if you're testing the waters and don't want to go full-blown on your gray kitchen cabinet, the Edgecombe Gray is a perfect choice. With more beige undertones, it's perfect for a brighter and lighter color scheme for your kitchen cabinets.
How about adding a whiff of seaside breeze? Select gray kitchen cabinets with blue undertones to get the look.
The multifaceted hue gives you freedom, and whether opting for that chic bohemian or a more manly man kitchen hub, there are many ways to achieve the mood you want through gray kitchen cabinets.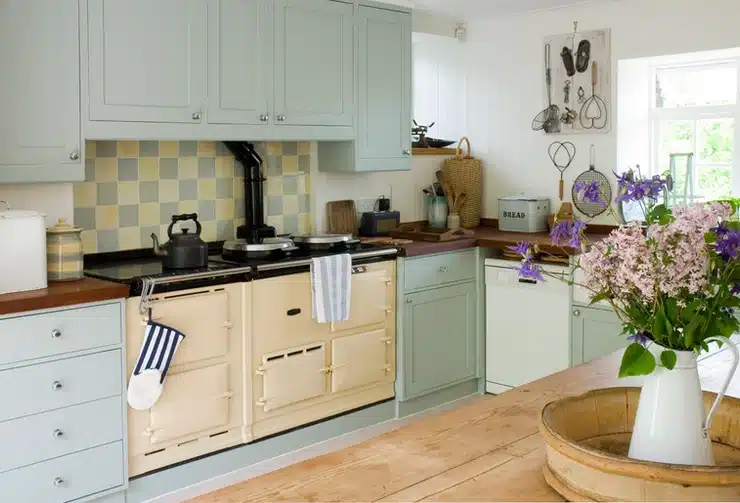 Maintain Cleanliness and Order in the Kitchen
Considering all the activities involved, kitchens are expected to accumulate dirt over time. Vapors float and deposit to various places when cooking. Moisture will collect dust and this will darken on crevices and even surfaces. You will have to clean surfaces regularly to keep your cabinets looking pristine.
Gray cabinets offer you the ability to lessen upkeep time since gray colors don't showcase stains as easily as other lighter colors. However, if you still want to retain that whiteness, you can always pair gray cabinets with white countertops. The colors won't clash and give the illusion of an added dimension.
Use Gray to Focus Attention on Other things.
Gray is a color that can bring about anticipation for other aspects of the kitchen. As a neutral color, it highlights the bolder elements in your kitchen, such as that travertine backsplash or that lovely waterfall-edged center island.
Pieces of decor placed against a gray background will surely focus on those decorative elements. If you feel the need to bring focus to certain objects in the kitchen, then gray kitchen cabinets can be your go-to solution.
Closing
Trends do come and go, but like fashion, some elements seem to endure through changes, and gray kitchen cabinets are seen as a timeless choice that homeowners can explore. To some, neutrality gives them a sense of relaxation and excitement. Regardless, it is important to know that the shade of gray you pick can teeter you to either end of the spectrum. With the right layer of lighting, texture, and color combinations, you can achieve gorgeous kitchen interiors like those eye-catching images you see on your social media feeds.
However, the style you choose for your home should reflect your personality and go with your lifestyle.
Canadian Home Style
Canadian Home Style is your Vancouver kitchen renovation's top destination. We are the official dealer of Cabico Custom cabinetry in the Lower Mainland. We pride ourselves on our custom kitchen designs with a focus on quality and functionality. Come and see us at our North Vancouver custom cabinetry showroom, and we can help you with all aspects of your custom kitchen renovation from start to finish. Book now!