The Innovative Purparket Luxury Engineered Hardwood Flooring
Wanting to renovate your house with immaculate Canadian-made hardwood flooring? Then our new line of prestigious hardwood flooring by PurParket might just be the flooring solution you're looking for. Made from only the most premium European White Oak and White Ash wood species that provide excellent visual appearance, superb durability and a luxurious feel. This hardwood flooring really has it all and we want to give you a brief introduction to this family-owned company that has the hardwood flooring industry buzzing.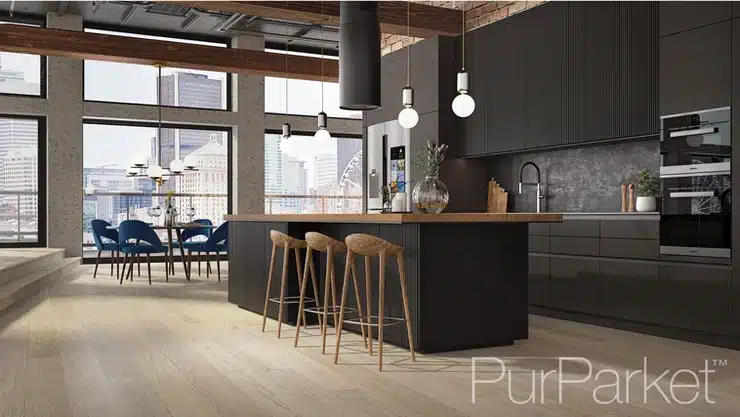 About PurParket
Before we jump into the juicy bits, let's introduce you to PurParket. PurParket is a family-owned and operated Canadian company that has been dominating the higher end of the flooring industry for some time now. With over 35 years of experience, their goal was to create the best engineered hardwood flooring in styles that can suit every application, keeping quality at the forefront.
Their floors are specially designed by their creative team of designers to ensure their flooring styles are suitable for each unique installment and only offer the highest standards of quality.
As you can see, PurParket is a lavish company that only produces greatness with its engineered hardwood flooring. Without a doubt, we can back these statements and that's why we're truly excited to partner up with them as their exclusive retailer in North Shore, British Columbia. Below, we dive deeper into why PurParket should be the choice of luxury hardwood flooring for you.
This impressive engineered hardwood collection is all European White Oak and European White Ash, both hold immense strength, versatility and look incredible in any application. The overall construction is 5/8″ thick that offers a generous 4 mm sawn lamella. The engineered core is either marine-grade multi-ply Baltic Birch or Poplar with a Birch backer in the case Gravity hand-scraped series.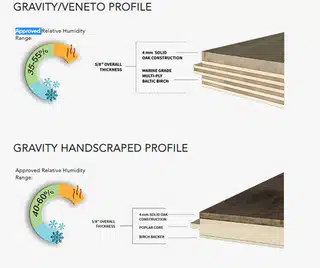 Collections – There are two collections when it comes to their engineered hardwood flooring range. These are the Gravity and Veneto. Each holds their own identification and provide great visual appearances as well as performance and strength.
Gravity Collection:
This collection was designed to create a flooring solution that represents mother nature and the different colors that grow throughout the changing seasons. This collection pays tribute to the ever-changing of our landscape and it promotes the feeling of well-being and comfort. The texture of this wood can include a smooth, wire-brushed or hand-scraped finish, depending on your flooring desire. It's clear to see that this collection has been put together by a great team of passionate designers.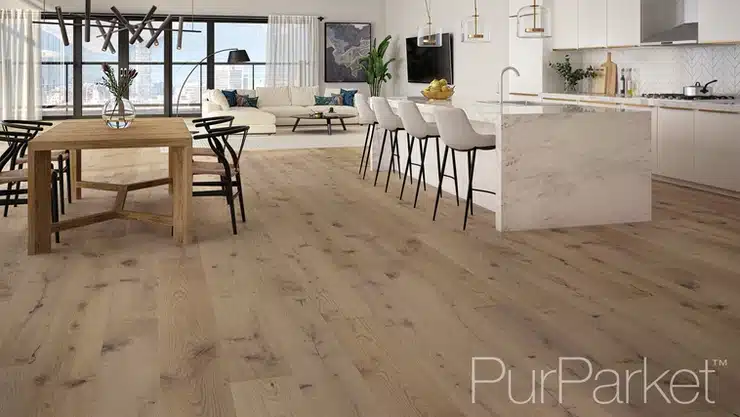 Veneto Collection:
This collection was created to be something more modernized than the Gravity collection to produce nothing but variety for their customers. It's a European-inspired flooring that is crafted with White Oak, it's elegant, simple and flawless, something most people can benefit from by installing in their properties. We're absolutely in love with the colors from this collection and it really suits our current West Coast flooring trends. In addition, this collection offers rift & quartered, select & better and character grades that add a lot of flexibility when it comes to customizing flooring projects.
Durability and Finish – PurParket has managed to create a flooring solution that looks fabulous and also holds extreme strength within it. They were dedicated to creating flooring that lasts, and they've done just that. From using only the best-harvested wood, all way to adding an exclusive UV oil ceramic finish, all construction aspects are mastered to a "T" and offer fantastic protection from UV damage, scratches, and etc. Their exclusive formulation allows the finish to be factory applied for increasing the uniformity of the product on the wood's surface and its impregnation. Purparket uses nano-technology which yields cleaner ceramic resins for extra strength. This UV Oil exclusive finish is maintenance free but it also allows you to easily repair scratches if you ever need to.
Radiant Heat – I could go on and on about all the great benefits that PurParket's wood flooring offers, but nothing compares itself to their radiant heat performance. This company has optimized its flooring collection so they're compatible with most radiant heating systems. However, if you have a radiant heating system, you must submit their radiant heating compliance form before installation in order to activate your warranty. Don't worry, we're here to help you every step of the way when it comes to preparing your radiant heating subfloor.
Eco-friendliness – PurParket is truly committed to being environmentally and sustainably mindful in all of the aspects of their operation. This is something that we take very seriously when it comes to choosing our partners and you can rest assured that all of their products are VOC free (Volatile Organic Compound) and CARB Phase II Compliant.
Installation – The luxury flooring that Purparket produces can be glued, floated, or nailed down depending on your application and subfloor. Therefore, you can literally install it wherever you like.
Canadian Home Style is your exclusive PurParket Engineered Hardwood flooring dealer in North Shore. Come and see our North Vancouver flooring and custom cabinetry showroom to see the full display and we can tell you all about it.
Best Engineered Hardwood Flooring in Vancouver
Canadian Home Style – North Vancouver Flooring and Custom Cabinetry – Book Now!