How To Install Laminate Flooring for Beginners
So, you've decided to ditch that tacky, old carpet and upgrade to chic laminate flooring? Good for you! But before diving headfirst into this DIY adventure, let's ensure you know what you're getting yourself into. Installing laminate flooring isn't as scary as it sounds. It's a manageable project that can be done in less than a day. We'll guide you through the process – from preparing your space and gathering the necessary tools to laying each row of shiny new planks just right. You'll need patience and precision – but don't worry; we're with you every step of the way. By the end, you will have beautiful new floors to show off and a sense of accomplishment that's worth more than any professional installation service can offer. Let's roll up our sleeves and get started on transforming your home!
Key Takeaways
Laminate flooring is an ideal option for DIYers, with a relatively quick and trouble-free installation process.
Proper preparation of the area and subfloor is crucial for a successful installation.
Planning the first and last rows and cutting them accurately is important for achieving a professional and seamless appearance.
Installing the underlayment, first row, and remaining rows correctly is essential for a stable and durable laminate flooring installation.
Preparing the Space
Before you even think about laying down your laminate flooring, it's crucial that you properly prepare the space – doing a thorough clean-up, smoothing out your subfloor, and letting your planks acclimate to the room conditions can make or break your DIY project. In fact, according to a survey by Home Innovation Research Labs, over 70% of successful flooring installations are attributed to diligent prep work.
When installing laminate flooring, it all starts with choosing the right underlayment. This is an essential step as it provides insulation and helps level out minor imperfections in the subfloor. Don't rush this process; spend time researching which type will best suit your needs and complement your chosen laminate product.
As you begin this venture, be prepared to troubleshoot common installation issues that may crop up. These could include gaps between planks or buckling from inadequate expansion gaps. There's no shame in seeking help if needed! Remember: every challenge conquered brings you closer to a professional-looking finish.
And don't forget about maintaining and caring for laminate flooring post-installation! Regular cleaning using appropriate methods will extend its lifespan and keep it looking fresh for years to come.
Gathering Tools
Make sure to gather all the necessary tools for your project. Having everything at hand will make the process smoother and save you some time. As a DIYer, having the right tools and knowing how to use them effectively is crucial.
Here are two essential categories of tools you'll need:
Safety gear: Prioritize safety precautions when installing laminate flooring. This includes wearing protective eyewear, durable gloves, and knee pads for comfort while working on the floor.
Protective Eyewear: Protects your eyes from dust particles.
Durable Gloves: Shield your hands from splinters or sharp edges.
Knee Pads: Provide comfort during long hours of kneeling.
Installation Tools: These vary depending on your particular flooring choice. However, common items include a measuring tape, a pencil for marking cut lines, a circular saw or hand saw for cutting planks, and a hammer and tapping block for tightly fitting planks.
Measuring Tape & Pencil: To measure and mark where cuts are needed.
Circular Saw or Hand Saw: Used to cut laminate planks to size.
Hammer & Tapping Block: Ensures tight fitting of planks without damaging the surface.
Remember that troubleshooting common issues is part of the process. Don't get discouraged if things don't go perfectly; use these moments as learning opportunities. Good preparation and tips for a professional finish will ensure a job well done. Once installed, follow maintenance and care tips to keep your new floor looking great for years!
Preparing the Subfloor
You'll love the transformation, but first, let's get that subfloor in tip-top shape! Preparing your subfloor is a crucial step in the laminate flooring installation process. Start by addressing any common subfloor issues. This may include fixing chips or dips in a concrete floor, removing protruding nails or patching cracks in wooden ones. It's important to have a clean, smooth surface as it ensures your new flooring will lay flat and secure.
Your flooring is more than just a surface to walk on. It's a complex system consisting of multiple layers, each with its own important role. One of the most crucial layers is the subfloor, which provides the foundation for the entire flooring platform.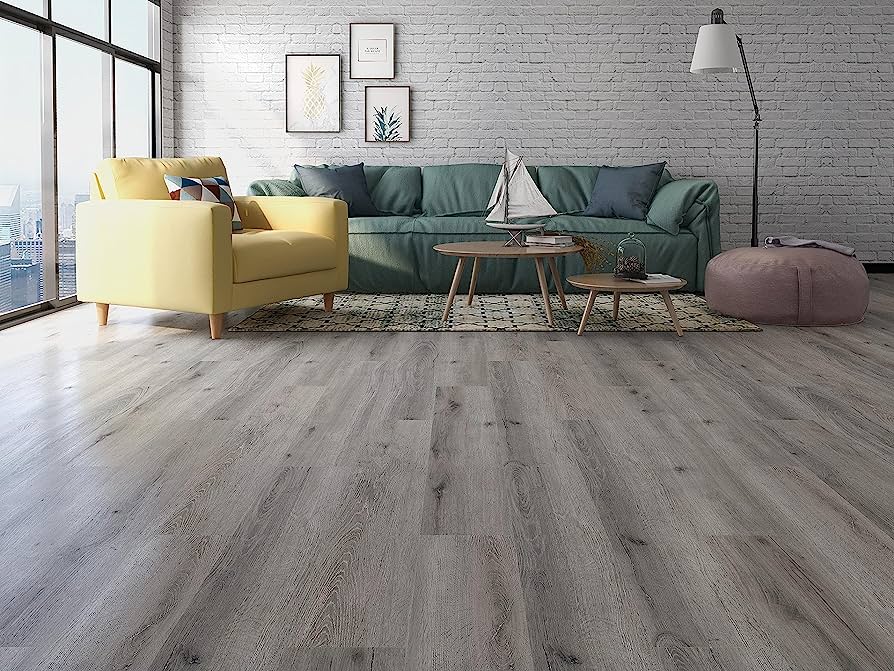 A level subfloor is essential for the strength and durability of your flooring. If the subfloor is uneven, it can cause problems throughout the entire system. For example, if you install ceramic tile over a bad subfloor, you may have cracked grout or broken tiles.
In modern homes, the subfloor is typically made of tongue-and-groove plywood or OSB. These materials create a stable and flat base for your flooring. However, if the subflooring material is substandard, you may need to level the floor with new plywood before installing new flooring.
In older homes, the subfloor is often made of individual pine planks. These low-quality boards can warp, cup, and crack over time, creating uneven surfaces.
Ensuring a level subfloor is not just about aesthetics. It's about creating a solid foundation for your flooring that will stand the test of time. By levelling your subfloor, you can avoid costly repairs and enjoy a beautiful and durable floor for years to come.
Don't underestimate the importance of a level subfloor. It's the unsung hero of your flooring system, providing the stability and support your floors need. So, before you embark on your next flooring project, check and level your subfloor. Your floors will thank you.
How to address your subfloor unevenness
We believe in a straightforward approach to diagnosing an uneven subfloor. It's all about checking the overall room slope and understanding the floor's pitch. Let's dive into the details.
To start, grab a rotary laser level. This nifty tool will project a perfectly level line onto all the walls when placed in the center of the room. By measuring the distance between the laser line and the floor at different spots along the room's perimeter, you can determine if there's major sloping.
But that's not all. You can also get a rough idea of the floor's pitch using a long straightedge. Lay it across the center of the floor, with one end at the foundation side and the other toward the center of the house. Place a carpenter's level on the straightedge and observe the bubble in the center vial. This will tell you if the room is roughly level or noticeably sloped.
Now, here's a tip. Keep an eye out for wall cracking that occurs directly above one corner of a window or door. If you spot cracks running up the wall from the corners, it could indicate a more serious problem.
First, let's talk about irregular dips or sags. Covering the subfloor with sheets of plywood might do the trick if they span no more than 4 inches and are no more than 1/2 inch in depth. This will flatten the floor and prepare it for any new flooring you have in mind.
But what if you're dealing with shallow waves or dips wider than 4 inches? Well, we have the perfect fix for that too. You can level out those areas with a liquid self-levelling compound. Once it dries, your floor will be level and smooth, ready to embrace any new floor covering you desire.
Now, let's address the issue of sagging along a line in a one-floor area. This could be a sign of a warped or broken floor joist. Don't worry; we have a solution for this as well. You can reinforce the bad joist by adding a sister joist alongside the old one. This will provide the necessary support and ensure your floor stays strong and sturdy.
When correcting subfloors, you need a solution that goes beyond the ordinary. That's where the self-levelling compound comes in. This innovative product is designed to bridge wide sags and depressions, creating a smooth, level surface that will stand the test of time.
To begin, you'll want to identify the low spots on your floor. A long straightedge is the perfect tool for this task. Once you've marked these areas, it's time to prepare them for the self-levelling compound.
Applying a primer to these areas is smart if the manufacturer recommends it. This will ensure proper adhesion and maximize the effectiveness of the self-levelling compound. Allow the primer to fully dry before moving on to the next step.
Now it's time to mix up the self-levelling compound. Whether you opt for the pre-mixed buckets or the dry form that can be mixed with water, the result will be the same – a solution that settles into the low areas and dries to a smooth surface.
Once you've mixed the compound, it's time to apply it to the low spots on your floor. Use a trowel or a similar tool to spread the compound evenly, ensuring it fills in all the gaps and creates a level surface. Take your time and be thorough – this is crucial to achieving a flawless result.
As the self-levelling compound dries, it will transform your floor. The once uneven surface will become smooth and level, ready for whatever comes next. It's a transformation that will improve your space's aesthetics and provide a solid foundation for future flooring installations.
When you're ready to cut those beautiful laminate planks, remember that precision matters! Taking time here ensures a snug fit and seamless look later on.
Don't forget about choosing the right threshold and moulding – these finishing touches truly complete the look of your new floors giving them that polished finish we all desire!
Measuring the Flooring
Just like a tailor would never dream of crafting a bespoke suit without first taking precise measurements, it's equally essential to accurately measure your room before cutting and laying your new floor planks. This step is crucial in ensuring the durability of your laminate flooring and minimizing the fragility precautions you must take.
Here's how you can do it:
Determine the direction: Decide in which direction you want to install your planks. Typically, they should run parallel to the longest wall or main line of sight.
Measure the width: Measure across the room at right angles to the direction of the planks. Remember to subtract three-fourths of an inch for expansion gaps.
Calculate rows: To determine how many rows are needed, divide by plank width from step 2. If necessary, trim the plank width for a better fit.
Consider transition piece options: If different types of flooring meet in this area, plan for installing transition tracks.
When measuring, remember that precision is key in achieving that seamless professional look while ensuring each plank fits perfectly into place – just another integral part of this DIY journey we're embarking on together!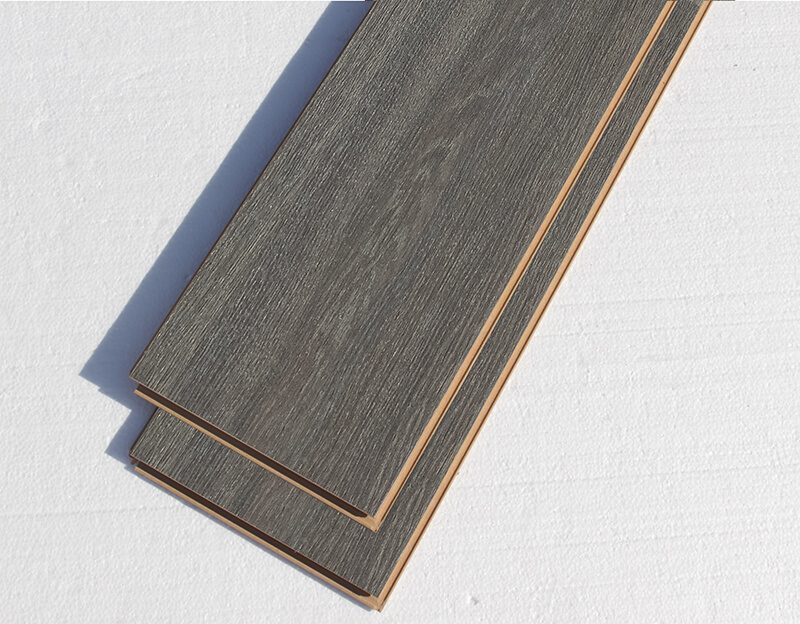 Preparing Doorways
Now, when it comes to preparing your doorways for the new floor, don't be intimidated – with a little patience and the right tools, you'll have them ready in no time. You might wonder how this fits into choosing the right underlayment or selecting the best laminate flooring for your space. Well, it's all part of setting up your area for success.
Clear any obstacles around the doorways. Then, take one of your laminate planks and rest it flat against the door jamb. This will show you where to cut so that your new floor can neatly slide underneath. Use a handsaw to trim this line carefully; remember, precision is key here.
This process certainly helps in troubleshooting common installation issues, such as uneven cuts or improper alignments that could potentially affect how well your flooring fits together. With these tips for cutting laminate flooring handy, you're making sure each piece interlocks perfectly without causing damage to those delicate tongues and grooves.
Installing Underlayment
Remember to acclimate your chosen laminate planks for at least 48 hours before installation4. This allows them to adjust to the room's temperature and humidity and helps prevent warping post-installation.
Now let's talk underlayment options. Your choice of underlayment can significantly impact the longevity of your floors. Consider factors like moisture protection and sound absorption when choosing an underlayment for your room requirements.
Laying down the underlayment might seem like a breeze, but it's where the magic of soundproofing and insulation happens. This is your opportunity to give your new laminate floor a solid foundation. The underlayment benefits are countless, as it not only provides a layer of cushioning but also serves as moisture protection.
Before you begin, ensure you've chosen the right type of underlayment for your specific needs and budget. There's an array of underlayment options and costs available in the market, each with its own set of advantages:
Foam Underlayment: Economical and basic option
Provides good sound absorption)
Lacks moisture barrier
Combination Underlayment: Slightly more expensive.
Offers both noise reduction and moisture protection
Premium Underlayments: Higher cost but best performance.
Superior soundproofing capabilities
Integral vapour barrier for superior moisture protection
For optimal results during installation, unroll your underlayment parallel to the wall where you'll start installing your flooring. Trim excess material using a utility knife, ensuring it fits perfectly against the wall.
Remember that this foundational step will significantly contribute towards achieving an outstanding finish and long-term durability for your laminate floor. Installing your underlayment correctly will promote peace within your space by offering excellent soundproofing while keeping any unwanted dampness at bay.
Laying the First Row
Having prepared your subfloor and installed the underlayment, you're now ready to lay the first row of your laminate flooring. This step is where your project truly begins to take shape. But remember, we're going into it with a sense of community, sharing this DIY experience.
Start by selecting your planks. One thing you'll appreciate about laminate flooring is its durability and versatility, not forgetting the cost savings you enjoy over traditional hardwood.
Now here's where fragility concerns come in – the tongues on these plays are quite delicate. Handle them gently to prevent unnecessary damage during installation.
Next up is positioning your first plank. Remember that tongue side should face outwards towards the wall. Use spacers along this wall for a professional finish.
You might wonder about transition pieces between different flooring or rooms; various options are available to connect your new laminate floor with existing surfaces. You'll install these after laying down all planks using an aluminum track for a sturdy connection and neat appearance.
This process can be even smoother thanks to our sponsor Arrow Fastener, who supplies reliable tools like staple guns for trim installations.
So get started on that first row! It's one step closer to achieving that beautiful transformation in your space!
Installing the Second Row
After the triumph of completing your first row, it's time to dive into laying down that second row, and boy, are you in for a treat! The process is pretty much the same as the first row, but there are some troubleshooting tips and common mistakes to be aware of.
| Troubleshooting Tips | Common Mistakes |
| --- | --- |
| Use the remaining plank from the previous row to start next | Not staggering seams at least a foot apart could lead to instability |
| Ensuring tongue fits snugly into the groove before pressing down | Forcing planks together may damage fragile tongues |
| The tapping block can be used gently if necessary | Overusing the tapping block can cause damage |
Choosing the right underlayment is vital. It provides cushioning and sound absorption while smoothing out minor subfloor imperfections. Consider transition options for uneven floors too; a good transition strip can seamlessly bridge gaps between laminate and other flooring types.
Maintenance-wise, simply dust-mop or vacuum regularly. Avoid using wet mops or steam cleaners; they could cause buckling over time.
Just remember: with each new row comes more experience. You're becoming part of a community of DIYers who've transformed their spaces with their own two hands. Keep going—you're doing great!
Finishing Touches
"Now that you're on the home stretch, it's time to add those cherry-on-top details to make your new floor sing. One crucial part of this is choosing trim that complements your laminate flooring. Many options are available, so consider colour, material, and style to create a harmonious look.
Another key aspect at this stage is ensuring your floors have had proper acclimation. This process allows the wood to adapt to the room's humidity and temperature, preventing buckling or gaps in the future.
Next up is creating seamless transitions from your laminate floor to other types of flooring. Transition strips are a great way to achieve this and maintain a consistent room appearance.
Baseboards give your project a finished look. Always stick them into wall studs for secure attachment and leave an expansion gap between them and your laminate flooring for optimal results.
As you wrap things up, avoid common mistakes such as rushing through these final steps or failing to clean up dust and debris before applying finishing touches. These little details can make all the difference in showcasing your beautiful new DIY laminate floor."

Frequently Asked Questions: 
Helpful Resources: