If you haven't heard of Mannington luxury vinyl flooring, you may have been living under a rock. Mannington has dominated the US market with its pristine and durable flooring since the early 1900 and is still doing so until this day. We and our customers are overwhelmed by the sheer quality Mannington provides in their flooring. Therefore, we decided to write a short introduction to Mannington luxury vinyl flooring and the key benefits of each collection they offer.
Who is Mannington?
This manufacturer of fine flooring has taken the US by storm and is continuing to impress us each year. They're based in Salem, New Jersey, which is located in the United States. They're experts in manufacturing superbly constructed luxury vinyl flooring and were founded in 1915.
Their goal is to provide innovative, elegant and state-of-the-art flooring by producing only the most prestigious flooring to their customer base. However, providing a satisfactory experience to their customers isn't all they do. But they also base their manufacturing on environmental elements that cause the least negative effects on our planet.
With over 100 years of perfecting their craft, it's clear to understand that Mannington knows a thing or two about creating great flooring solutions.
Mannington Adura offers both stone and wood effects. Adura is famous for its great visuals and realistic look. Mannington changes their pattern repeat manually during the manufacturing process. Therefore, your flooring will look extremely close to the look of real wood or stone with random variations.
Mannington offers its luxury vinyl flooring planks or tiles in three main construction: WPC, SPC and Glue-down LVT. One of the advantages of Audra is the fact that most of their visuals are offered in all three available constructions which provides a lot of flexibility in design from project to project. We're going to get into details about Adura and its key benefits below.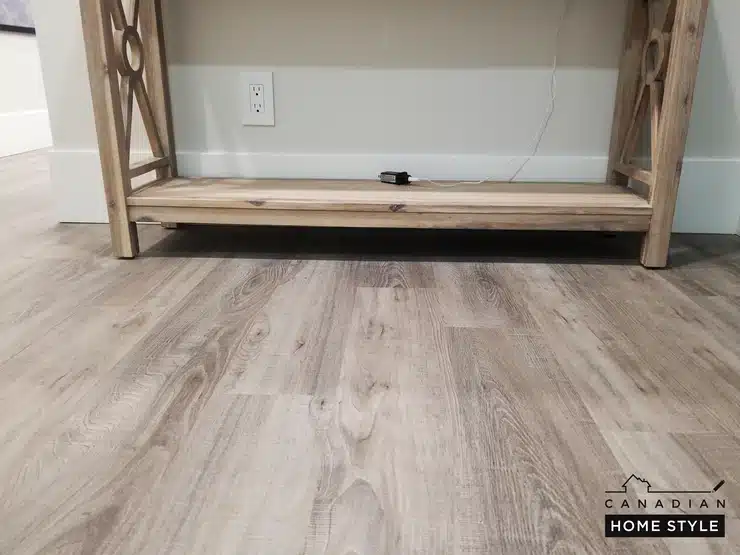 Mannington Adura Max – WPC Hybrid Click Luxury Vinyl Flooring
Adura Max is their WPC luxury vinyl flooring. This is a hybrid vinyl with a solid core, HydroLoc™, made out of WPC. WPC stands for Wood Polymer Composite. This product comes with a built-in soundproof underlay that provides an STC rating of 63 and an IIC rating of 72. Therefore, you should be able to install this product without having to add any additional soundproofing underlay in most of the Strata buildings in the Lower Mainland. Adura Max is hands down our favorite and is the most popular and comfortable vinyl flooring that Mannington produces.
Installation – This luxury vinyl flooring is a floating style floor and can be installed in all rooms, above or below grade. As it's waterproof, it can also be fitted in bathrooms to provide a seamless flooring solution throughout your house. Adura Max can be installed on all subfloors, including ceramic or porcelain tiles with grout lines.
Wear Layer – This product offers a 20 mils Urethane wear layer with exclusive ScratchResist® that contains Aluminum Oxide for extra protection against scratches.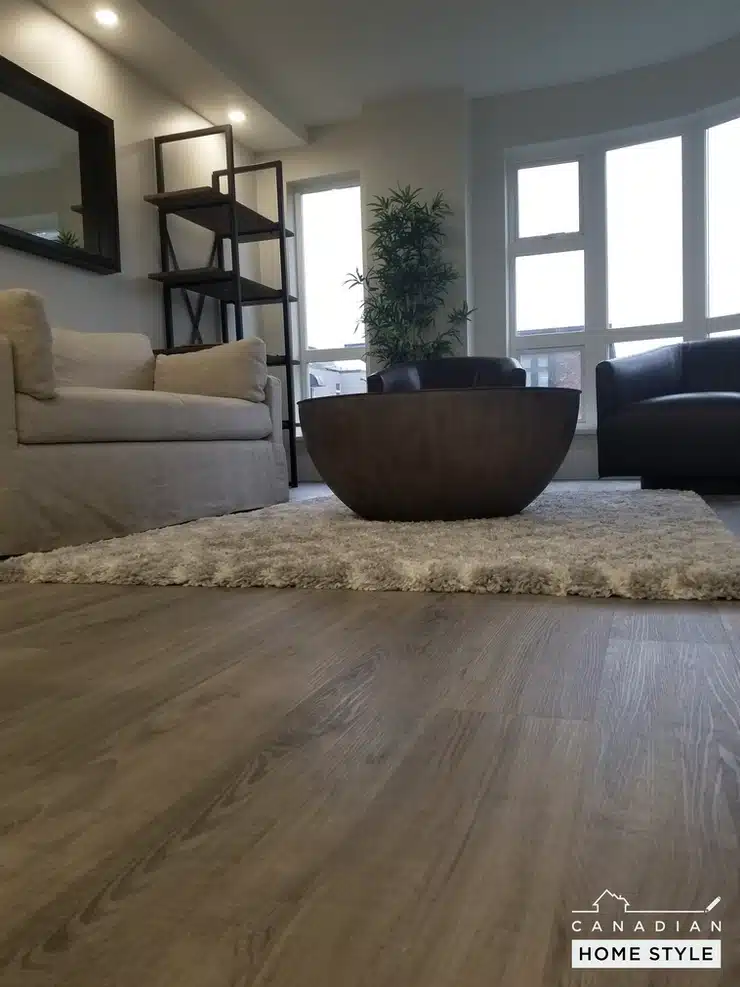 Mannington Adura Rigid – SPC Hybrid Click Luxury Vinyl Flooring
The Adura rigid is their SPC luxury vinyl flooring. SPC stands for stone (or Solid) polymer core in the flooring industry. Adura Rigid luxury vinyl flooring is made to be extremely durable against common dents and scratches that can occur. This product is thinner and heavier compare to Adura Max and it is also more affordable. In addition, Adura Rigid copes with temperature changes a little better due to the super stable SPC core. Similar to Adura Max, Adura Rigid comes with a built-in underlay that provides an STC rating of 63 and an IIC rating of 72. However, this product is not as soundproof as Adura Max because of the overall thinner construction. People say that Rigid flooring is the strongest in all of the Adura luxury vinyl flooring range, but also the least comfortable.
SPC Core – SPC provides superior strength and solidity. It much stronger than a WPC core but with strength becomes a lesser comfortable flooring. Choosing between the two can be hard, but it's down to what suits your environment best. In the flooring industry, we normally consider SPC for commercial use and WPC for residential use. However, you cannot go wrong by installing either or for your application.
Installation – The installation guidelines are the same as Adura Max. This luxury vinyl flooring must be floated and you can install it on top of your existing tiles without having to feather-patch your grout lines.
Wear Layer – This product offers a 12 mils Urethane wear layer with exclusive ScratchResist® that contains Aluminum Oxide for extra protection against all kinds of scratches.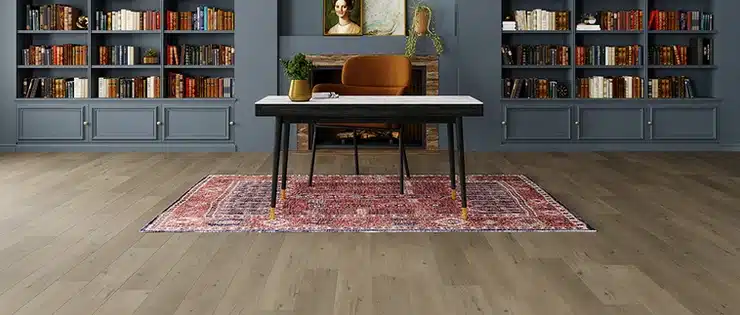 Adura Rigid by Mannington
Mannington Adura Flex – Glue Down Luxury Vinyl Flooring
Instead of the click-and-go hybrid vinyl collections above, the Mannington Adura Flex is a glue-down-only flooring solution. This product doesn't feature a WPC or SPC solid core. Therefore, you won't be able to install this product without proper subfloor preparation. This product also doesn't include a built-in underlay for soundproofing purposes. Even though this product is more affordable compare to Adura Max and Rigid, your installation will be more costly as you need to feather-patch your subfloor with Ardex and use pressure-sensitive vinyl glue. In today's market, glue-down vinyl is mostly used for commercial applications where soundproofing is not an issue. Adura Flex, however, is easily repaired compare to its counterparts we talked about as you can replace a plank or tile in the middle of the floor.
Microban® – Adura Flex offers Microban® technology, a safe and proven technology that protects 24/7 against the growth of bacteria. Microban® is the most recognized brand of antimicrobial in the industry and is also used in health care equipment and military gear. This protection will never rub or scratch off and it will last for the life of the floor. Floors that offer Microban® remain 99% cleaner compared to untreated surfaces. Therefore, this technology is not to be taken for granted. Mannington is planning on extending this technology to their Max and Rigid products as well.
Plank and Tiles Sizes – This flooring collection consists of two ranges, their stone range, and the wood range. The stone range can be installed with or without grout. It's safe to say that any visuals that are offered in Max and Rigid series are also available in Flex. However, the reverse is not true. Both unique designs from this collection come in an array of different sizes to suit all housing plans and layouts. For the planks, you can expect to see 6" x 48" and 7" x 48" giving you an option for different widths. As for the tiles, these are supplied in both 18" x 18" squares and 12" x 24" rectangles depending on your desire and installation plan.
UV and Stain Protection – Without a doubt, Adura has unbeatable UV and stain protection manufactured into its flooring. These are two of the main common problems with your average luxury vinyl flooring products in the market. Mannington has managed to overcome these issues with their exclusive innovations and commitment to excellence. It'll add years and maybe even lifetimes onto your flooring, ensuring you are getting what you paid for. If you're a pet owner, you can most definitely benefit from the stain protection and its ease of maintaining and cleaning.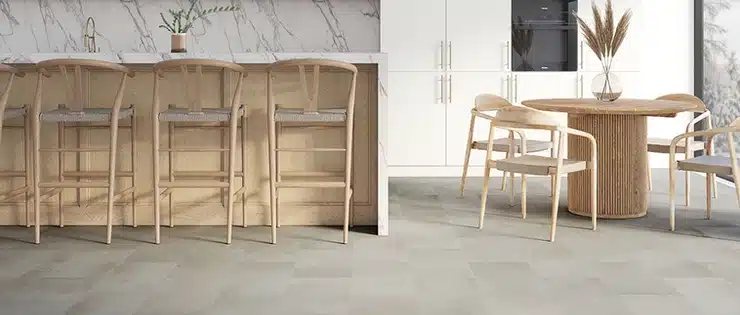 Adura Flex by Mannington
Mannington Sustainable Promise:
One of the main reasons we are a big fan of Mannington and their products is the fact that they are very environmentally and sustainably mindful. They always seem to be doing the right thing when it comes to taking the next step to protect our planet. Their "Purple Martin Project" is a great example of their commitment to the right cause.
FloorScore® Rated – All Mannington products are independently tested and meet the toughest standards in the industry. FloorScore® rating means your flooring has been tested and meets specific requirements of indoor air quality standards and low VOC content.
Here at Canadian Home Style, we are a big supporter of Mannington Adura luxury vinyl flooring. We choose our partners carefully and there's a reason we're considered one of the highest-rated and most recommended flooring retailers in Vancouver. Come and see our North Vancouver Flooring showroom to see our full display of Mannington Adura where we can help you with all of your flooring questions and concerns. Book now!