Torlys Cork Flooring:
Torlys Cork and CorkWood™ flooring provide innovativeness and sustainability, the two most relevant features for any flooring product in today's market. Let's explore why you should consider Torlys CorkWood™ flooring for your home in Vancouver.
A Bit of History on Cork
Did you know that cork has been used in construction as early as Ancient times by Greeks, Romans, Egyptians, Portuguese, and Spanish? In addition to construction, cork has also been popular in nautical uses and other devices. Cork gained a tremendous amount of popularity during the early 1950s. The famous Falling Water residence in Pennsylvania by architect Frank Lloyd Wright, the Mayo Clinic, and Plumber Building in Rochester, Minnesota, the most notable buildings that have utilized the cork material.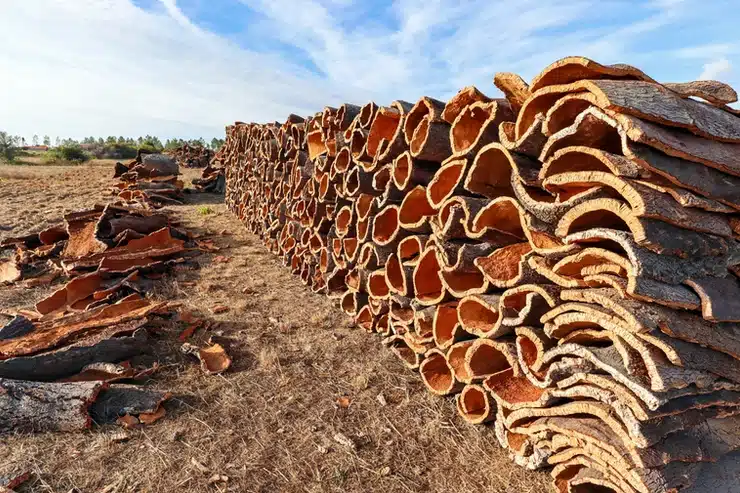 The Making of Cork Flooring
Before we get into CorkWood™ flooring by Torlys and its revolutionary features, let's figure out what traditional cork flooring is. In general, cork flooring is made of the following components:
1) An scratch-resistant layer
2) Cork decorative layer
3) HDF stabilizing core
4) Some sort of locking mechanism for floating installation
5) Cork underlay attached
Take note that not all cork floors are manufactured the same way. Torlys cork has always been considered the benchmark in the flooring industry, and they are our preferred supplier.
Torly's dedication to creating a social, environmental, and economically responsible product makes it one of the preferred cork flooring brands worldwide. This is especially true regarding LEED-certified projects due to their low-VOC (Volatile Organic Compound) content.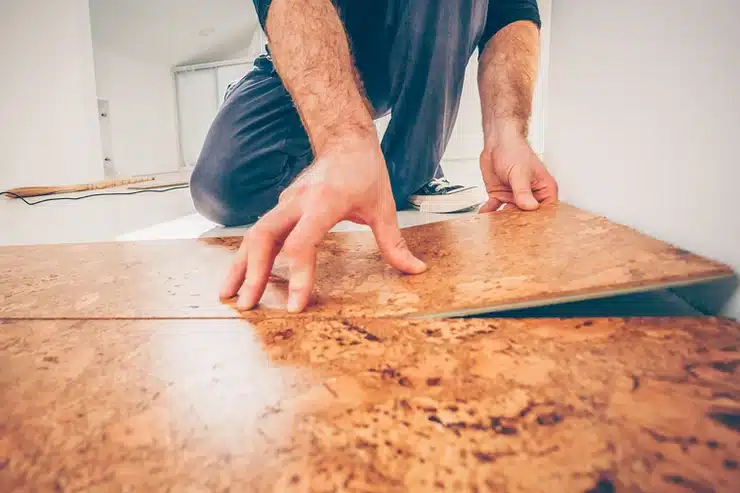 Torlys Cork Flooring Best Assets
Comfortable Flooring:
Cork is made up of 70-80% air. This is simply thanks to the honeycomb-like structure of the cork cells that trap air. Therefore, this flooring option is easy on your joints, knees, and back. In addition, with a 3.0 R-value per inch thick, you'll expect warm flooring that's thermally comfortable under your feet. Cork natural thermal properties cut your energy costs, making it an affordable alternative to floor heating systems.
Healthy Flooring:
 Cork floors have antimicrobial and hypoallergenic properties, making them an ideal flooring solution for any part of your home. This is especially advantageous if you have kids or household members with allergies or asthma.
Safe Flooring:
 Cork flooring is also very slip-resistant due to its high level of natural friction, making it a very safe flooring solution for the elderly or those with walking disabilities.
Like any wood material, cork burns at a very slow pace. This is thanks to its suberin content, an inert, impermeable waxy substance in the cell walls of corky tissues. Therefore, cork does not spread flames and releases harmful gasses during combustion.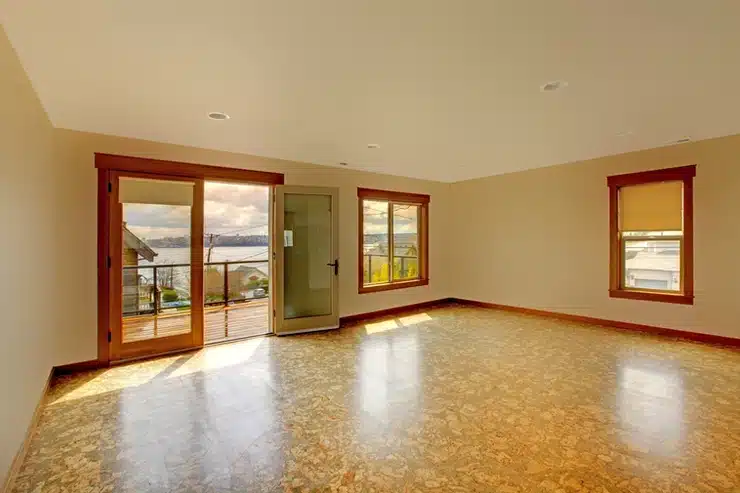 Durable Flooring:
 Made with high-density wood smart core and the patented Uniclic joint technology, Torlys Cork flooring resists gapping and is dent resistant. It also integrates an innovative Polyurethane scratch-resistant finish that's extremely durable.
Cork wood floors come with a low to medium density makeup, but Torly's excellent structure makes it the most dent-resistant product in the market, and it can withstand wear and tear for many years to come.
Torlys Warranties:
Torlys product lines come with a minimum of 25 years to lifetime warranty and a re-purpose guarantee which means you can reuse or move your cork floors anywhere.
Quite Flooring:
 Cork has a natural sound-dampening acoustic property due to the material's air pockets that naturally trap sound. It is the preferred material for music studios, offices, and nurseries. Cork underlay has always been the preferred underlay option in the industry regarding noise transmission between floors.
Quick to Install and Repair Flooring:
 The trademarked Uniclic® locking mechanism offered by Torlys on all of their cork series has the best locking mechanism in the world. It's really quick and easy to install and allows your flooring to be gap-free and sturdy. In addition, you can easily replace a plank in the middle of your floor without having to open the entire floor to get to the damaged piece. You can pull up the damaged piece with their patented Bulldog™ tool.
Please remember that you need to acclimate your cork flooring before installation so it can adjust with the humidity and temperature of the room in which it is being installed.
Torlys cork is typically floated, but you can nail or glue your cork flooring as desired.
Sustainable Flooring:
 Cork is a very eco-friendly and sustainable flooring option. The cork material is harvested every nine years without actually cutting down any cork oak trees. In addition, Torlys FSC certification is an indication that you're bringing an eco-friendly building material to your home. With cork's natural thermal properties, as mentioned earlier, you also lower electricity use in your home.
Why not Cork Flooring, then?
Well, to be honest, traditional cork flooring normally doesn't look good. Not everyone can get over the busy look of cork. We love everything about it but don't like its look in interior design, especially in modern design. This has been the problem that has haunted cork in the flooring industry. This is why Torlys CorkWood™is a revolutionary product since it offers you all the benefits of cork flooring we discussed, but it also gets around the look many people have been avoiding for years. Let's find out more about CorkWood™ by Torlys.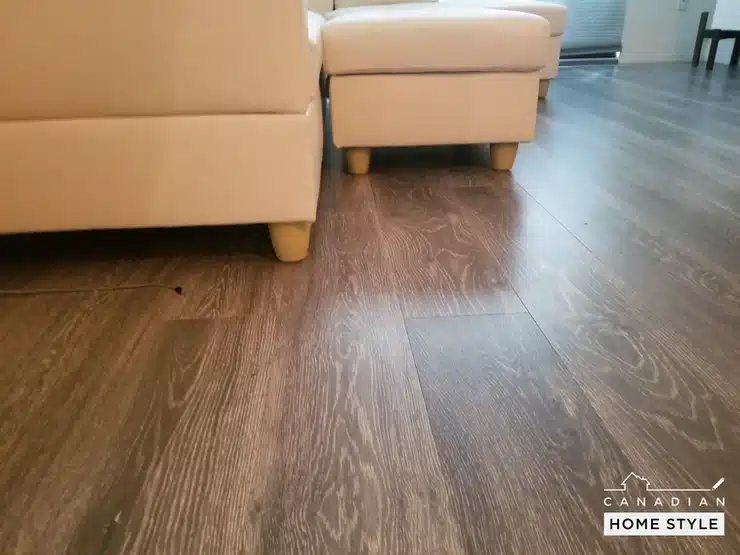 Torlys CorkWood™ Components:
Polyurethane scratch-resistant finish.

Direct print compressed cork (3mm top layer on CorkWood™ Designer and 2.5mm top layer on CorkWood™ Elite)

HDF smart core for dent resistance

Patented Uniclic joint for gap resistance

Warm, quiet CorkPlus Blue attached underlay is made with Microban antimicrobial product protection to resist mold and mildew that cause stains, odors, and flooring deterioration.
The difference is the direct print, which is visually pleasing, unlike the traditional cork. This print imitates the look of European Oak or American Walnut wood species. These are two of the most eye-pleasing wood species in the flooring industry.
In addition, If you love the durability of laminate floors, Torlys CorkWood™ performance is similar to laminate flooring with an equivalent AC4 wear rating. 
Torlys CorkWood™ designer series is also the first to offer the extra-long 6' planks, which mean faster installation and a seamless look on your floors.
This is why we consider CorkWood™ a 3 in 1 flooring solution. You get the beauty of hardwood, the durability of laminate, and the comfort of cork.
At Canadian Home Style, we hugely support Torlys flooring products, and we love their CorkWood™ series. Visit our North Vancouver flooring showroom today to see our full display of Torlys CorkWood™, and we can help you with all your flooring questions and concerns. Book now!
We are a family-owned and operated flooring retailer committed to providing the highest quality products and installation services. We provide full-service commercial and residential flooring solutions across the Lower Mainland with an extended warranty. We are proud members of the BC Floor Covering Association (BCFCA) and the National Wood Flooring Association (NWFA). In addition, we have won the Consumer's Choice Awards back-to-back in 2021 and 2022 for our commitment to business excellence. We are considered the highest-rated flooring experts in Metro Vancouver. We pride ourselves on holding the highest standards in the flooring industry. To uphold our high standards, we have a strict policy of "not selling or displaying any products that we wouldn't want in our own homes." Before we select a product to feature, we carefully assess product quality, off-gassing, warranties, and responsible sourcing.