Quality Hardwood Flooring in Vancouver
Wood flooring doesn't just add a prestigious look to your Vancouver home and offers a long-lasting and durable surface. There seem to be countless brands, styles, colors, finishes, widths, and much more within the hardwood industry these days. Have you ever wondered why a particular product can cost three times as much as something similar? Below, we go into details about what dictates the price of quality hardwood flooring. These are the criteria you should consider when shopping for hardwood floors in Metro Vancouver.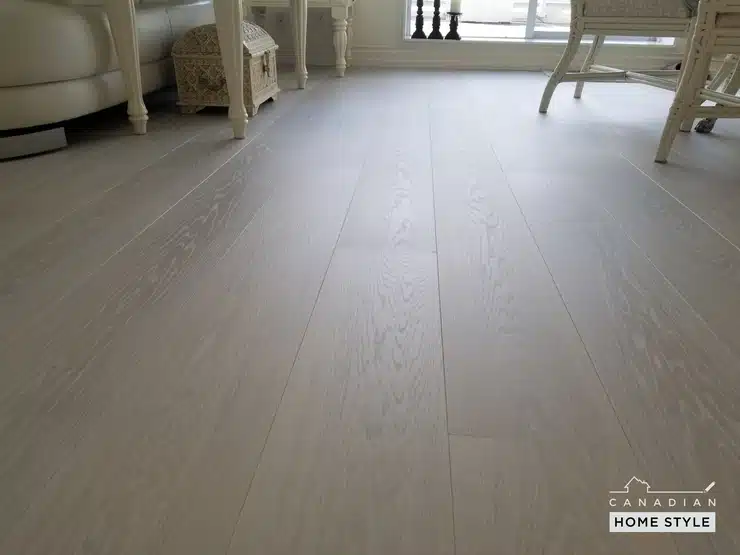 1. Wood Finishes: Anti-scratch Top Coat
The most crucial aspect of any flooring is the finish, this is especially the case when we're talking about wood floors. Remember, you're not just buying hardwood floors but finished wood floors. This determines the many benefits you'll receive with the floor, such as the water and scratch resistance capabilities of real wood floors. Manufacturers go above and beyond to make their own exclusive patented finish. The ideal finish will offer extreme protection to stains and add durability without taking away the natural beauty of hardwood.
Currently, there are four main finishes throughout the industry, these are:
· Aluminum Oxide
· Polyurethane
· Ceramic
. Titanium Oxide
We'll go into details about all of these finishes in another article. For now, we suggest our favorite brands based on the type of finish.
Mercier – Aluminum Oxide: Mercier offers Generations Intact 1000 for residential use and Intact 2500 for commercial use. Mercier is famous for the strength of its finish in the industry. Mercier's Intact 2500 is the most anti-scratch finish on the market. The key to this strength is their innovative technology and the fact that they can create smaller aluminum oxide particles than other manufacturers.
PurParket – UV Oil Ceramic: Their exclusive formulation allows the finish to be factory applied to increase the uniformity of the product on the wood's surface and its impregnation. Purparket uses Nanotechnology, which yields cleaner ceramic resins for extra strength. This UV Oil exclusive finish is maintenance-free and allows you to easily repair scratches if you ever need to. Purparket offers engineered wood flooring products only.
Lauzon – Titanium Oxide: Lauzon is the only company in the world that offers a Titanium Oxide finish. Titanium oxide is stronger than Aluminum Oxide. The Titanium Finish is known for its dynamic flex ability to absorb heavy impact without cracking and provides great protection against scuffing and chipping.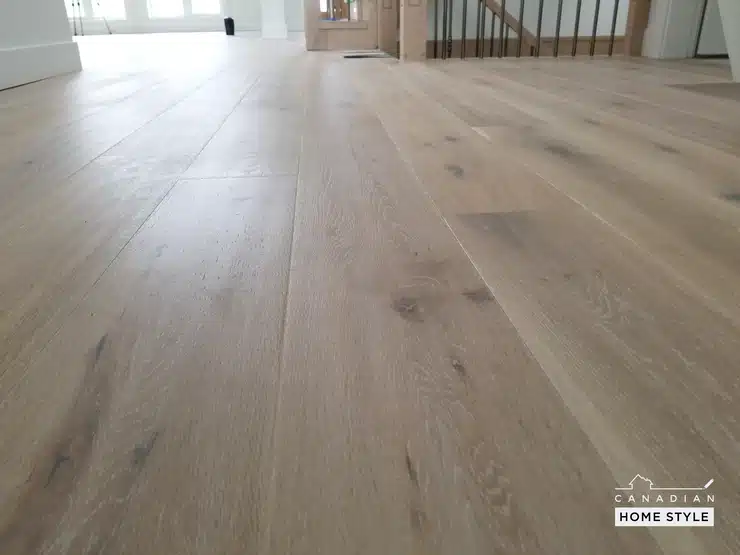 2. Country of Origin
As you can imagine, where the hardwood is manufactured into flooring planks will considerably influence the price. Part of this is related to labor costs, and the rest is based on standards and quality control. But remember, in flooring, you certainly get what you pay for. It's no surprise that Canada has a very strong hardwood manufacturing industry. We love and trust all hardwood flooring products that are produced in Canada. As a rule of thumb, purchasing hardwood flooring from cheap labor countries, such as China, can result in lower quality products that may have inadequate finishes to protect them from everyday use and off-gassing issues. Although the pricing seems inviting, we can most definitely be comfortable saying that you should opt-in for Canadian-made hardwood flooring, especially when your health is on the line.
3. The Construction of Hardwood Floor
You might be aware that not all hardwood flooring is constructed similarly. In general, there are two major categories as follows:
Solid Hardwood –  Solid hardwood flooring is milled from a single piece of wood and is typically cheaper than an "engineered" alternative. This is because there's less labor involved in making solid wood compared to engineered hardwood. However, solid hardwood doesn't provide as much stability with humidity as engineered hardwood flooring. Unlike the common misconception, solid wood flooring is not better than Engineered hardwood flooring. Consider this: the more layers of wood on top of each other means more stability. This is because as time passes, any expansion or contraction of the wood will be absorbed amongst itself and not affect the overall quality of the flooring.
Engineered Hardwood – The construction of engineered hardwood is specially designed to be more stable in its environment. This type of wood flooring is constructed from at least two different wood species to ensure more stability. Many different wood species are used to construct the engineered core; as you can imagine, they come with different price tags. Therefore, how the core is constructed and what species of wood is used is a big factor in the overall price of your hardwood. For instance, the Baltic Birch of Russia is more expensive than Poplar; these are two common wood species used for core construction. Therefore, products that offer Baltic Birch instead of Poplar in their engineered core are normally more expensive.
4. Wear Layer
This excludes solid hardwood, but the thickness of the wear layer can severely change the price of engineered hardwood. The wear layer is simply the thickness of the hardwood above the core of the engineered flooring and is called Lamella. Wear layer thicknesses vary, but you can expect them to range from 1 to 6 mm. Typically, the thicker the wear layer, the more prolonged usage you'll get out of your flooring. This is because it dramatically enhances your flooring's durability and repairability.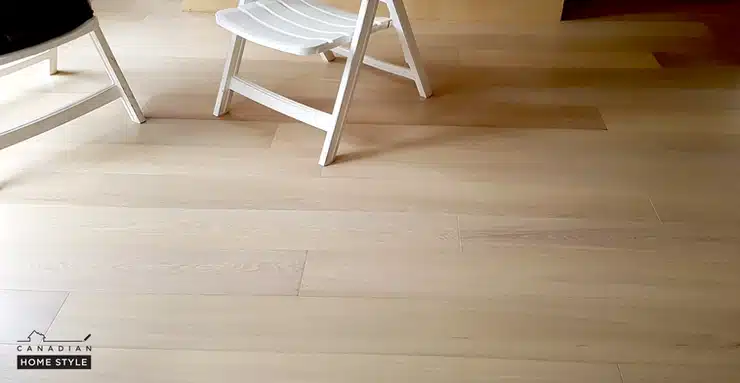 5. Grading of the Hardwood
As you're probably aware, not every wood tree will be completely identical. Because of this, when the hardwood is harvested and processed into flooring planks, it gets graded to determine the quality of the wood.
Grade AB (Prime Grade) – This is the cleanest looking, and it's generally taken from the center of the timber log. The appearance of knots and color variations are minimal.
Grade ABC (Select Grade) – Below AB grade is "select grade." This contains slightly more knots than the above and holds more color variations between planks.
Grade ABCD (Natural Grade) – This grade has more knots than both of the above, and they can span out to around 30mm in size. It also holds a lot more sap within the wood.
In simple terms, the cleaner the hardwood is from knots, the more waste associated with manufacturing your planks will radically change the price.

6. Species of Hardwood
There are a lot of different species of wood that are used in the flooring industry. Each species offers its unique look and benefits and should choose based on your style preference and application. However, different kinds of wood can hugely range in price. For example, species like Santos Mahogany or American Walnut will be much more expensive than your traditional red oak.
7. Width and Length
If you want to achieve a more natural sleek look or try making your room feel more spacious, wider and longer hardwood planks can help you with that. However, the wider and the longer your boards, the more expensive your flooring can get. Besides a massive lack of trees suitable for wider planks, manufacturers will also waste more wood while creating wider and longer boards during production. Because of these factors, the flooring's width and length can play a massive role in how expensive your hardwood flooring will be.
Here at Canadian Home Style, our packages are custom, and our solutions are lifelong. We offer only the highest quality flooring products in the market and support Canadian manufacturers. We don't sell or showcase any product we wouldn't put in our homes. See us at our North Vancouver flooring showroom and discover why we're considered the highest-rated flooring company in Vancouver, British Columbia. Book Now!
Areas of Services:
Burnaby
White Rock
Squamish
Whistler
Sunshine Coast
Coquitlam
Port Coquitlam
New Westminster