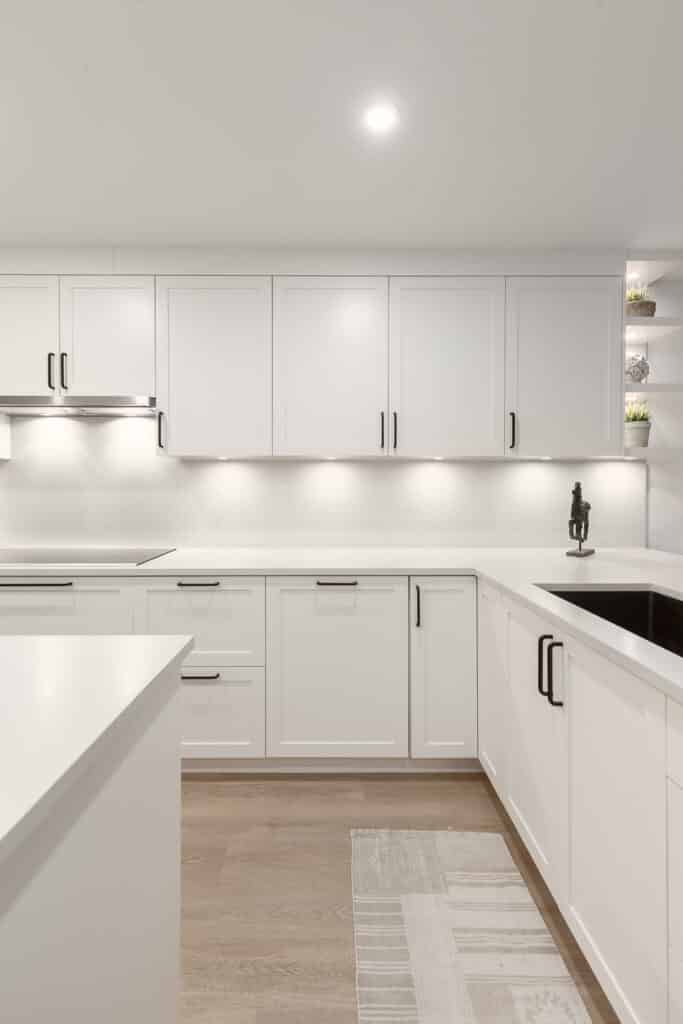 A simple kitchen design doesn't have to be boring. The best designs often incorporate the following key elements: White subway tile backsplash, sliding glass door, Work triangle, and muted colours. These features are a must-have for any kitchen! But what are the most popular choices? Read on to find out how to get them! You can even add a little flair with a little creativity for your next kitchen renovation! This article will give you ideas for decorating your kitchen without breaking the bank.
White subway tile backsplash
A classic white subway tile backsplash is a timeless choice for your kitchen. While subway tiles are generally installed with flat edges, different patterns and styles can add interest to your backsplash. A classic look is often characterized by tiles of the same height and shape. This basic look allows the focus to be on the colour of the tile. To add texture to your tiled walls, consider beveling the edges. Bevel means to cut off to a sloping edge. This method creates a unique effect and helps increase the wall tiles' visual appeal.
Another option is to use subway tiles in contrasting colours. A subway tile backsplash can add an extra touch of decorum to a kitchen. Despite being a classic design choice, subway tiles can also come in various colours.
Whether your kitchen is modern or transitional, you'll love a white subway tile backsplash. It has timeless elegance, versatility, and elegance. A kitchen with a white subway tile backsplash will go with any style, including traditional wood or tile floors, earthy granite-like countertops, and white hardwood floors. You can even pair white subway tile with other materials such as stainless steel or glass. You can use various patterns of white subway tiles to create a unique look for your kitchen.
When choosing a tile colour for your backsplash, choose one that complements the rest of your decor. While white and gray are classic colour choices, beige and gray subway tile will also make a wonderful accent to a kitchen. Another option is to use accent tile on the backsplash in a colourful way. A white backsplash can be a blank canvas for fun patterns and colours. A simple white backsplash with gray accents can create a bold focal point for your kitchen.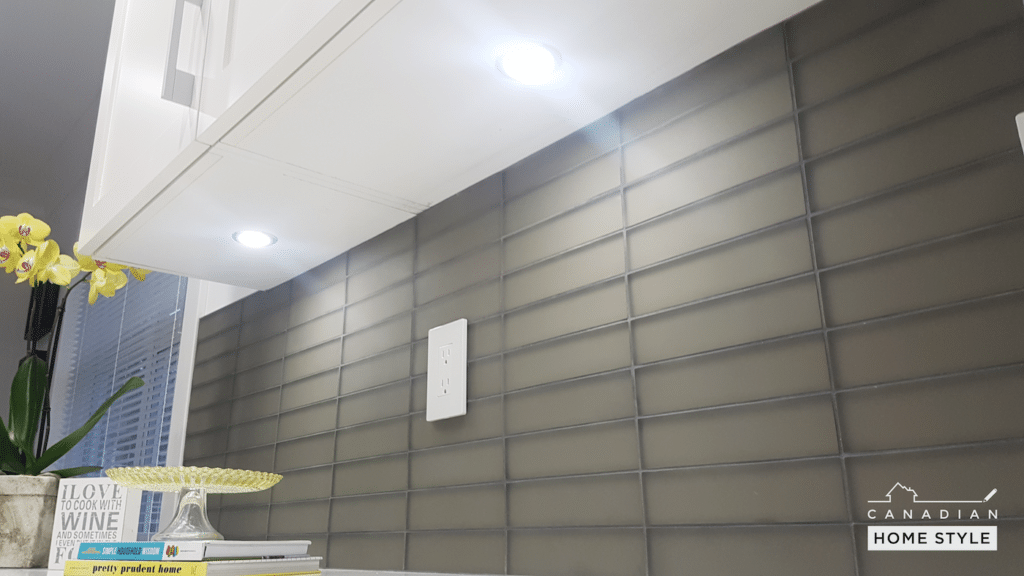 Sliding glass door
Sliding glass doors are an excellent addition to any kitchen design. The space-saving features of sliding glass doors are unmatched by any other type of door. These doors are easy to open and close, allowing fresh air and natural light to enter the space without taking up valuable floor space. Additionally, these doors are typically twice as large as regular doors, creating the illusion of more room in a small space. If you're looking for a more affordable option for your kitchen design, consider going with a sliding glass door.
Sliding glass doors look great when paired with wooden furniture and the right lighting. They also add character to modular kitchen designs. A simple design for ample natural light can be accomplished with a sliding glass door that opens sideways. To further increase your kitchen's appeal, use blindfolds to control natural light. And for added effect, consider using a glass door that's partially or fully obscured to create a sense of privacy.
Sliding glass doors in a simple kitchen design is the perfect way to separate the living area and kitchen. This door type will allow you to showcase your modular kitchen or fancy crockery without hiding the unclean kitchen below. This way, your kitchen will look cleaner while remaining open and airy. And because these doors slide out of the way, you can keep them closed when you're not using them.
A sliding glass door in a simple kitchen design is a practical option for a kitchen, but it requires special maintenance to last. You can even save money by buying used doors. However, they will not have all the features of new doors. And remember that sliding glass doors are usually more expensive than traditional wooden ones but are also energy efficient and low-maintenance. They're also an excellent option if you're looking for a low-cost kitchen door.
Work triangle
If you're looking to optimize your cooking efficiency, the work triangle is an excellent option. It keeps the three major workstations near the cook while minimizing traffic in the kitchen. In addition, the triangle minimizes interruptions to the cook as he or she cooks. The following simple kitchen design tips will help create a work triangle that meets your needs. Here are three ways to implement the work triangle in your kitchen.
Consider the work triangle in your kitchen layout. The University of Illinois School of Architecture developed the work triangle decades ago. During those days, men were the breadwinners and were often in the kitchen. Women were the homemakers, making packed lunches for the family. The work triangle should eliminate obstacles between the cook, the dishwasher, and the sink. The design must also maximize the functional and versatile spaces in the kitchen.
Despite the simplicity of this kitchen layout concept, there are many ways to incorporate it into your kitchen plan. For one, it's important to plan the area for every task. While a work triangle is ideal for most kitchens, it should also be suitable for small kitchens. A work triangle will make your kitchen look spacious and well organized. And a work triangle can make preparing food faster and easier. The design idea is based on scientific management principles that were popular in the 1920s. These principles focused on efficiency, production, and labour but were later discredited due to their tendency to treat people like machines.
Using the work triangle in a kitchen design is an effective way to optimize the flow of food throughout the space. While galley kitchens don't always lend themselves to a working triangle, they can still benefit from the design principle. However, if you're planning a new design for your kitchen, the work triangle is a good idea. The key is to remember the three factors. They will help you choose the perfect kitchen.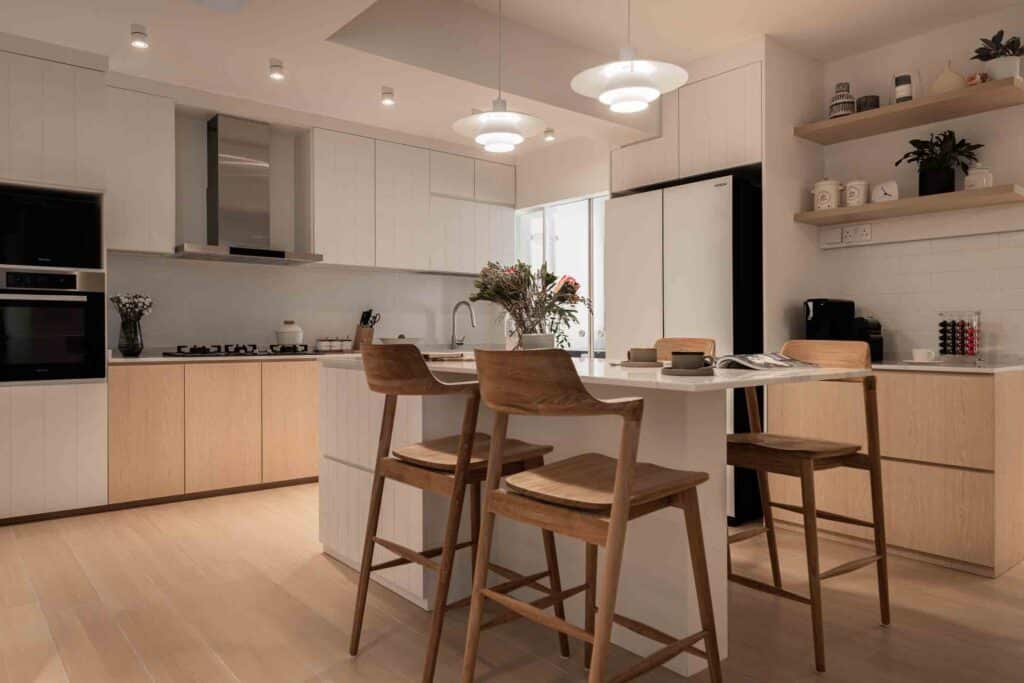 Muted colours
A simple kitchen can look like a more elegant, modern setting if you use muted colours. These neutral shades bring out architectural elements and accessories without dominating the space. They also reflect light generously, creating an airy feel. They can also be combined with textures and artwork to create a more comfortable environment. Read on to learn how you can apply muted colours in your kitchen. And don't be afraid to incorporate a few of them in your simple kitchen design.
You can achieve sophistication and elegance by using muted colours with other colours. If you have a dark-coloured kitchen, Terra Green will balance it out. Or you can use Daydream, a grey-green reminiscent of lichen. Muted colours are also versatile enough to create a fresh look. And while you can't use bright hues for your entire kitchen, you can add a splash of colour to the backsplash. Try a colourful tile pattern for the backsplash, which can balance out the neutral tone of the walls. The backsplash will be a perfect place to add colour, so you can change the pattern of the tiles and combine them to create a unique look. Depending on how you use these colours, you can have bold colours for pantry shelves and hardware in different shades.
One way to incorporate muted colours in a kitchen design is to use separate paint colours for the island cabinets or between the upper and lower cabinets. A professional design-build team can help you decide which hues are right for your kitchen. If you live in Metro Vancouver, Canadian Home Style's design team can consult you and help you select the perfect hues for your kitchen. You can also get a free in-home consultation from them. These are very helpful in choosing a colour scheme for your kitchen, whether you're looking for a modern or rustic kitchen.
Storage space
One of the key features of a functional kitchen is its storage space. When the kitchen is cluttered, meal preparation and socializing become a hassle. An organized storage plan ensures that your kitchen will be functional and beautiful. However, you have to plan for kitchen remodelling before you start tearing apart the room. Consider the following simple kitchen design features for added storage space. Read on to find out more about these features. Hopefully, this will help you make an informed decision for your kitchen remodel.
For added counter space, install a center console or island. These add function without sacrificing aesthetics. You can also add shelving over base cabinets. This way, you can also place appliances and utilities on the island. Make sure to allocate separate storage space for small appliances, pots and pans. A center console can double as a console table or a bar. Dedicated storage space in an open kitchen design will help you organize large and special items without cluttering the room.
Hire Canadian Home Style for your Vancouver kitchen design needs.
Canadian Home Style is your family-owned and operated custom cabinetry retailer with a showroom in North Vancouver, BC. We are the official dealer of Cabico custom cabinetry in the Lower Mainland, providing complete kitchen renovations with an extended warranty. We always keep up to date with the latest trends and are proud members of the NKBA National Kitchen and Bath Association.  In addition, we have won the Consumer's Choice Awards back-to-back in 2021 and 2022 for our commitment to business excellence. We are considered one of the highest-rated kitchen and bath design and renovation experts in Metro Vancouver. Book now to visit our North Vancouver showroom, where you can get expert advice from one of our kitchen and bath designers. We're happy to be a part of your journey with your next kitchen renovation project in Metro Vancouver.
We are the official dealer of Cabico custom cabinetry in the Lower Mainland, and we believe in providing sustainable kitchen designs that can last you and your family a lifetime. Contact us for all of your Vancouver kitchen renovation needs.
Services We Offer:
Main Areas of Service in British Columbia:
North Vancouver
West Vancouver
Burnaby
Coquitlam
Squamish
Whistler