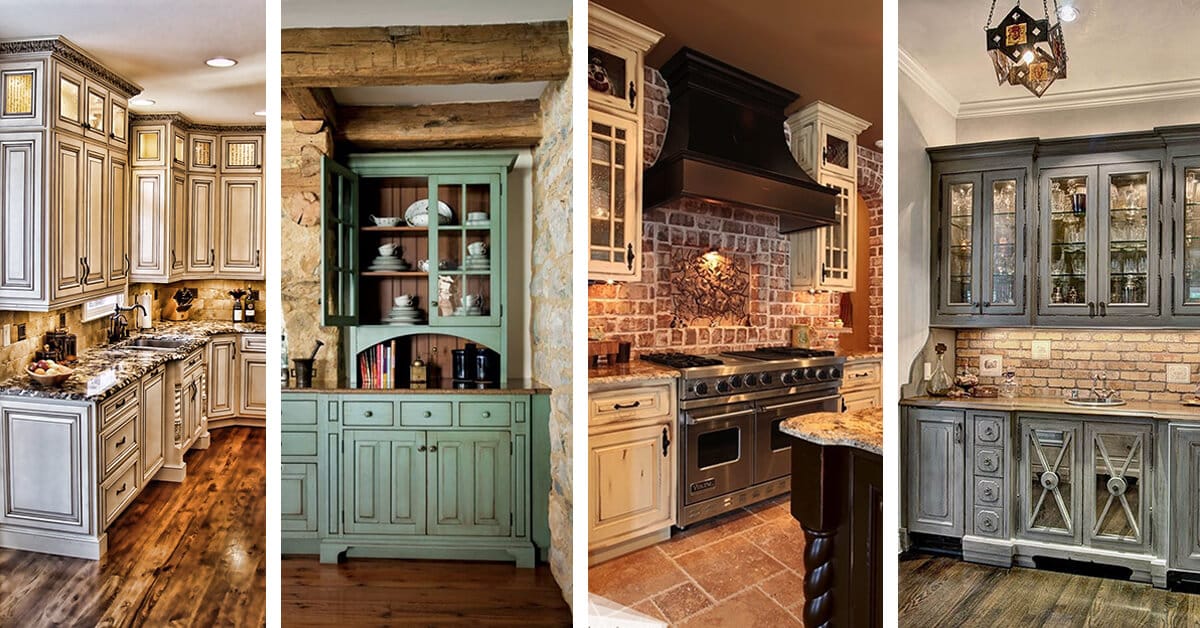 Rustic Kitchens are back!
If you're planning a kitchen renovation and wondering what direction you should take in designing your next beautiful kitchen, a rustic-style design may be the one. You're not alone if you've always dreamed of owning a rustic kitchen. This trend is coming back, and you can get a rustic kitchen of your own by implementing some of the tips in this article. You can add these elements to your kitchen: Prairie style cabinets, Distressed wood shelves, glazed tile backsplash, and Stainless steel appliances. This look is not only functional, but it also looks lovely and warm.
Prairie-style cabinets
You can incorporate the look of Prairie-style cabinets into a rustic kitchen by choosing a distressed wood finish. Choose a combination of wall and base cabinets to create a rustic look. Consider using stones on the countertop and wooden shelves to complete the look. Using distressed wood cabinets can add a cozy feeling to a kitchen. If you're unsure which materials to choose, consider using natural wood or a combination of wood and stone.
The cabinet face frame is the front section of the cabinet. The face frame is visible on framed kitchen cabinets, and its primary purpose is to hold the door in place. This part of the cabinet has a thickness of 3/4 to one-and-a-half inches and is usually constructed of stiles and rails. These two pieces are joined together by screws, but high-quality construction methods use dowels to ensure the door remains in place.
You can also opt for cabinets with louvred doors. This style is not only attractive but provides ventilation as well. Besides being used in rustic kitchens, these cabinet doors are also used in shoe and bag closets, clothes drying cabinets and cabinetry for home entertainment appliances. These types of cabinets can even conceal an air conditioning unit! If you're unsure whether to use them in your rustic kitchen, consider a transitional finish with contrasting material or an accent piece.
A rustic kitchen can be a place to display a vintage dish or china collection. Glass cabinets are also an elegant option for displaying vintage dishes. They're reminiscent of the historic china cabinets that once graced the home of the Hudson Valley. A rustic kitchen should have a mix of light and dark elements. You can choose a white-painted lower cabinet and match it with dark wood counters for dramatic contrast. If you're looking to blend Old-world and contemporary styles, consider using a rustic farmhouse sink to complete the look.
A rustic kitchen should be welcoming and comfortable. A rustic kitchen should not feel crowded or overly cramped. You should choose a kitchen design that matches the rest of your home. You may want to consider an inset kitchen cabinet style inspired by the Georgian and Victorian periods. These styles require fine-tuning skills and a refined construction process. As a result, they are expensive and are often on the higher end of the scale.
Distressed wood shelves
Distressed wood shelves can make a big visual impact if you have a rustic-inspired kitchen. These shelves are often tucked into the corner of your kitchen, above the counter, or in a creative niche. If you aren't up to a major renovation, you can build rustic shelves using reclaimed wood. These shelves are a great way to add a bit of rustic charm to a modern-style kitchen while cutting costs and improving your DIY skills!
The best way to install distressed wood shelves in a rustic kitchen is to use wood screws. Screws can easily be inserted into the wood, but they must be tightly anchored to prevent moving. You can use wood filler to fill in the gaps and give the shelves a smoother finish than nails. You can also install wallpaper or tile to add a unique finish to your distressed wood shelves.
A distressed wood shelf is made from a wooden board treated with conversion varnish. This type of varnish is transparent and chemical-resistant, protecting the wood from household chemicals. Conversion varnish is available in a flat sheen and a dull sheen. These shelves can be made from recycled wood one-half inch thick and range in height from 4 to 24 inches. If you don't have the budget for real wood, you can buy pre-finished or unfinished reclaimed wooden shelves from your local home improvement stores.
Another great option for rustic-style shelves in your kitchen is live-edge wooden shelving. This is a practical solution for kitchen clutter, as it can store items you use often. In addition to adding functionality, they can create a beautiful display for your kitchen. Using these shelves allows you to maintain a clutter-free kitchen and free counter space. It's also possible to build your shelving. You can even make your own by following a simple DIY tutorial.
Achieving this look requires some knowledge of how to build a shelf. You can use several methods, but both are relatively simple. To get started, simply follow these instructions and purchase some inexpensive wood. Alternatively, you can consult the Internet for inspiration and home design trends. You may also consider the use of a nail gun or drill. A nail gun typically leaves a smoother finish. You should also make sure that the shelves are level.
Glazed tile backsplash
This backsplash style leans toward an aged but manmade appearance, which can complement a rustic-themed kitchen. The stone colour and distressed edging give the backsplash a rustic charm. The wooden panel backsplash also adds a sense of charm to a rustic kitchen. There are numerous wood-coloured tiles to choose from. These backsplashes will complement the cabinets and countertops in a rustic-themed kitchen.
You can choose a rustic tile that features a traditional Mexican print. This rustic backsplash would look great in a rustic country or ranch kitchen. The bright colours of the pattern will add personality to your rustic kitchen. Typically marble is reserved for more contemporary kitchens, but combined with a leaf-shaped tile, the result is a rustic look that's both classic and modern. Pebble tiles are a beautiful option to achieve a natural look without spending a fortune. Pebble tiles come in shades of grey, including light and dark blue. Because of their natural appearance, these tiles look like they were cut by hand.
A kitchen with a glammed tile backsplash looks great and complements the rest of the room. It's easy to clean and comes in several different sizes. They don't stain and are heat resistant. A beautiful backsplash will be hardwearing, but it won't be difficult to keep clean. Another attractive option for your rustic kitchen is a glazed tile backsplash. Once a tile backsplash is installed, you can enjoy your kitchen's rustic charm for years.
Don't overlook the style when selecting a backsplash for a rustic kitchen. The design of the kitchen can make the entire room look more rustic. A darker tile, like pennant-coloured tile, will give the kitchen a more luxurious feel. When used with wood countertops, a rustic kitchen will look beautiful.
When choosing a tile backsplash, consider the style and colour of your home. Rustic tiles will complement a rustic-style kitchen. They'll look fantastic with wooden cabinets and other rustic accents. You can choose a range of tiles that match the rustic theme of your kitchen. You can also choose from a selection of iridescent tiles that come in the full-colour spectrum. It will be an eye-catcher in your kitchen!
Stainless steel appliances
For a rustic kitchen, stainless steel appliances will fit in nicely. This neutral colour can go with many other styles. Black is another option, as it blends well with several colour palettes. White looks great with a bright pop of colour. However, if you try to stay within a strict budget, you might want to avoid stainless steel appliances altogether. This may look unprofessional, but you can still pull off the look.
To complete the rustic look, you may want to add a farmhouse sink. These are typically made of granite, iron, or copper and are larger than most sinks. Stainless steel appliances are an excellent choice for rustic kitchens, but you can get more contemporary-looking options by choosing modern appliances. If you don't want to spend a lot of money, you can opt for retro appliances, which look like they belong in the mid-1900s.
A rustic kitchen is usually associated with nature, so it should also have a rustic countertop. Wooden or stone countertops are ideal, but you can also use granite or marble counters if you want a more sophisticated look. We would recommend a Quartz countertop but for a rustic look, choose quartz that looks like real Marble or Granite.
The focal point is a massive marble island in the center of a vast kitchen. The dark wood flooring is accented by terracotta flooring. Sleek grey cabinetry surrounds the island. The stainless steel stove and hood make the kitchen stand out amongst the other elements. A terracotta backsplash and white cathedral ceiling will help set the stage for the overall look. If you choose a rustic kitchen design, don't be afraid to mix and match materials and styles. You will end up with a beautiful kitchen no matter where you live.
Canadian Home Style is your family-owned and operated custom cabinetry retailer with a showroom in North Vancouver, BC. We are the official dealer of Cabico custom cabinetry in the Lower Mainland, providing complete kitchen renovations with an extended warranty. We always keep up to date with the latest trends and are proud members of the NKBA National Kitchen and Bath Association.  In addition, we have won the Consumer's Choice Awards back-to-back in 2021 and 2022 for our commitment to business excellence. We are considered one of the highest-rated kitchen and bath design and renovation experts in Metro Vancouver. Book now to visit our North Vancouver showroom, where you can get expert advice from one of our kitchen and bath designers. We're happy to be a part of your journey with your next kitchen renovation project in Metro Vancouver.
We are the official dealer of Cabico custom cabinetry in the Lower Mainland, and we believe in providing sustainable kitchen designs that can last you and your family a lifetime. Contact us for all of your Vancouver kitchen renovation needs.
Services We Offer:
Main Areas of Service in British Columbia:
North Vancouver
West Vancouver
Burnaby
Coquitlam
Squamish
Whistler
Did you miss our previous article…
https://canadianhomestyle.com/kitchen-renovation/accessorizing-kitchens-with-oak-cabinets/