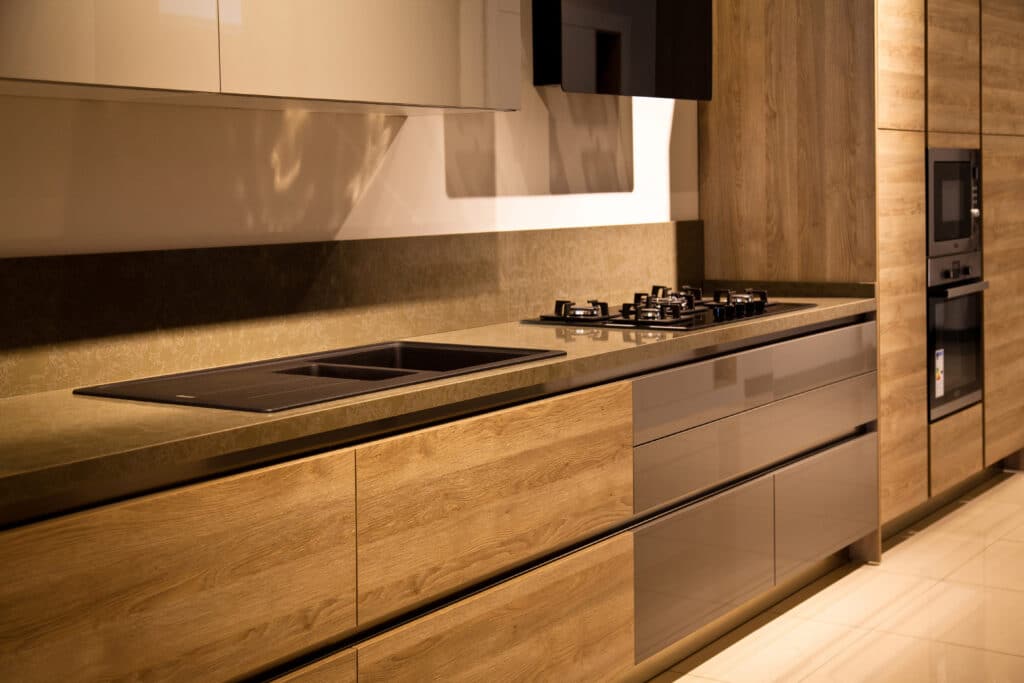 There are many ways to accessorize kitchens with oak cabinets. This article will discuss modern design, Wood species that go well with oak, and choices for countertops and lighting. Read on to learn more prepared for your next kitchen renovation! Also, don't forget to check out our article on choosing a wood floor! We'll share some of our favourite tips for a modern, stylish kitchen! If you're considering refacing your oak cabinets, here are some tips to help you make a good decision:
Modern design
To balance the warmth and rustic charm of oak cabinets, consider using lighter colours in the rest of the kitchen. A white wall and light floor will balance the oak and avoid looking too busy. Stainless steel appliances and sleek gray accents are great choices to complete the look. You can also use accent pieces in the room to balance the colour of the oak cabinets. Modern kitchen designs with oak cabinets can be a great way to add character to any home.
To make oak cabinets look modern, consider adding open shelving. This style is unique to modern design and can add a sense of space. Leaving the upper cabinets off can make the lower ones stand out more and help avoid the oak wood from dominating the space. Incorporating artwork and other materials in your kitchen is also a great way to balance the weight of the heavier wood surfaces. If you choose to go with open shelving, ensure the top cabinets are the same colour.
Another great way to update the appearance of your kitchen is to paint the walls. One of the key points in painting the walls is picking the right colour for walls. Warm colours will minimize the orange in the oak, while cool colours will highlight it. You can also update outdated hardware to make your kitchen look more modern. And finally, the dark countertops and oak cabinets can go well together. Your kitchen will look incredible when you combine all three colours.
A modern kitchen design with oak cabinets is one way to make your kitchen look more unique. Oak has long been a popular material for kitchen cabinets, and the wood grain is extremely versatile. If you have a contrasting island or a large backsplash, you can pair your new cabinets with an accent wall to create a stunning design. In addition to the beautiful wood grain, you can stain your new cabinets for a unique look. Using a stain can highlight the organic beauty of the wood and show off the intricate detail of the wood grain.

Wood species that go well with oak cabinets
Oak and white wood are a popular combination that goes well with various interior styles. Cottage, farmhouse, and country styles are examples of interior designs that feature this combination. Arts and crafts styles are also a favourite of oak lovers. Because it is available in various colors, oak is often paired with white or light gray. The wood's natural undertone is what gives it its colour and character.
Birch is a softer wood than oak and therefore more susceptible to scratches. However, if minor scratches are not noticeable, they will blend in with the grain pattern. Birch is not as accepting of dark stains, and its natural colour will make it look blotchy. On the other hand, Maple is a sturdy, durable wood. The warmth and charm of maple make it an excellent choice for contemporary and traditional settings.
Light oak cabinets can look incredibly bright and bold, so a dark gray floor or walls will make them appear more subtle. Choose a slightly lighter floor than the cabinets to balance these two colours. Accent pieces such as a contrasting colours can also bridge the gap between the two surfaces.
There are several species of wood that go well with oak cabinets. For example, quartersawn oak takes stains differently from poplar and alder. On the other hand, Rift oak lends itself to modern and contemporary styles. The grain pattern of these species is also easy to spot, making it a popular choice for homes with more modern styles. However, it should be noted that many people prefer the predictability of engineered materials.

Options for countertops
We would always recommend quartz countertops over marble and granite. Quartz is one of the hardest materials on earth. Quartz countertops are composed of natural quartz stone combined with other materials, such as resin and pigments. This results in a hard, durable surface that is non-porous, meaning it won't stain or absorb spills like granite or marble. Quartz is also highly heat resistant, making it ideal for use in the kitchen. In addition, quartz countertops come in a wide range of colours and patterns that can fit well with oak cabinets. Quartz countertops are also low maintenance, requiring only regular cleaning with soap and water. For these reasons, quartz is an excellent choice for those looking for a new countertop. Consider the colour and pattern of your cabinets when picking a top with oak.  Oak cabinets can match many different colours of countertops. However, you may not want to go with an all-white countertop, so consider one of the colours that complement the oak cabinets. Quartz concrete countertops, for example, can have cool or warm undertones. Choose between the lighter, cooler, or neutral colours of concrete-looking quartz countertops.
Choosing a dark countertop can make the space appear dingier than it is. A dark countertop can make the room appear smaller, so consider a light-coloured or neutral colour for your oak cabinets. For a modern kitchen with a minimalistic style, consider a countertop that has a light colour or a hint of veining.
Consider a smoked European oak if you're looking for a softer countertop and prefer to stay away from quartz countertops. These are typically lighter in colour and are great with stainless appliances or a modern subway tile backsplash. Black, oak butcher block counters can give your kitchen a modern look and lend a country or farmhouse feel. Make sure your countertops complement your cabinets, so you don't have to compromise on colour to achieve your dream kitchen. So, go ahead and get creative. And good luck!
Lighting
If oak cabinets dominate your kitchen, you can balance their appearance with lighter hues. You can choose lighter floors and walls and add a touch of light-coloured countertops. Stainless steel appliances and sleek gray accents can also help balance the weight of the heavier wood surfaces. Here are some tips to help you achieve this look:
Consider where you plan to place your lighting fixtures. Warm or cool lighting will work best if your kitchen is made of oak cabinets. Cool light can make the paint appear less vibrant. Warm lighting is best for kitchens with solid oak cabinets. In addition to accent lighting, you can also install soft strip lights above your cabinets. The right lighting will make a kitchen look more spacious and attractive. However, be sure to check out the lighting suggestions below before you make any final decisions.
Choose the right lighting for the right task. Kitchens need four different types of lighting. General ambient light is necessary for cooking and cleaning, while task lighting helps to focus attention on work areas. Accent lighting, on the other hand, highlights accents and details. Accent lights should be added in areas where you want to highlight a certain element, such as a piece of furniture. You can also add dimmers and controllers to the lights to work together.
Under cabinet lighting can be an excellent choice; we're incorporating that in almost all our kitchen designs. They can be connected to a wall switch or an outlet. They can also be used for backlighting showpieces. To add a touch of class to your kitchen, you can install light housings over the surfaces. If you're unsure of electrical work, you can hire an electrician to help. But if you're just starting, consider installing under cabinet lights in your kitchen.
Open shelving
To maximize the depth of your open shelving, you should stack items close to the back of the shelves. Open shelves should be stacked with fragile items toward the back. In addition, avoid placing too many heavy objects on them, as this may result in accidental knocking off. Also, keep in mind that open shelves aren't as stable as closed ones, so avoid placing them in earthquake-prone areas.
You can find open shelving in kitchens with oak cabinets in several styles. White oak is a great choice because it has a subtle graining pattern and a golden colour. It is also more durable than red oak and works well with traditional and Craftsman-style kitchens. Another type of wood that's not as popular is padauk, which is prized for its deep red colour. Some people call it vermillion.
Pine wooden open shelves will add a pop of colour to an otherwise neutral space. You can also purchase accessories made from pine. You can add green glassware to give the shelves a pop of colour. One of the softest woods available is pine. Pine trees are coniferous and grow fast. This makes them easy to source. Their fast growth, however, also makes them less durable. Consequently, pine open shelves are often lighter in weight and less dense.
Open shelving is a great option for a beautiful kitchen if you'd like open shelves to be a permanent fixture or just add them as a finishing touch. It can conceal the functions of a kitchen while providing a stylish look for the space. Just make sure that you know how many items you want to store. You may even be able to use floating shelves to create your look. In the end, you'll be pleased with the result.
Canadian Home Style is your family-owned and operated custom cabinetry retailer with a showroom in North Vancouver, BC. We provide complete kitchen and bathroom renovations across the Lower Mainland with an extended warranty. We are proud members of the NKBA National Kitchen and Bath Association.  In addition, we have won the Consumer's Choice Awards back-to-back in 2021 and 2022 for our commitment to business excellence. We are considered one of the highest-rated kitchen and bath design and renovation experts in Metro Vancouver. Book now to visit our North Vancouver showroom, where you can get expert advice from one of our kitchen and bath designers. We're happy to be a part of your journey to help you with your next home renovation project in Metro Vancouver.
Services We Offer:
Main Areas of Service in British Columbia:
North Vancouver
West Vancouver
Burnaby
Coquitlam
Squamish
Whistler
Read our last kitchen renovation article here: https://canadianhomestyle.com/kitchen-renovation/how-to-make-a-kitchen-look-more-elegant-and-welcoming/