CABINET HARDWARE: CABICO GLIDES AND HINGES
You're planning a kitchen renovation in Vancouver, and you're considering Cabico custom cabinetry, our prestigious partner, as one of the leading candidates for your kitchen cabinets. Cabico's experience and expertise put them at the very top of the custom cabinetry industry in North America. However, not only do their advanced technologies and the extensive array of wood species used make Cabico diverse, but they also use top-quality glides and hinges from Blum to make unique and long-lasting cabinets. As the official distributor of Cabico Cabinets in the Lower Mainland, we at Canadian Home Style want our customers to understand why these key features implemented during Cabico cabinets' construction make the cabinetry construction truly outstanding.

Blum Hinges
BLUM HARDWARE:
Blum also practices sustainable measures to ensure that waste production is reduced. Materials like plastic and wooden containers are reused for packaging. At the same time, they try to keep a green facility by using renewable sources for energy production like heat recovery systems, energy-efficient lighting, and groundwater cooling. With all these measures, it is no wonder that Cabico, an equally strict company on environmental protection, works with Blum's hardware.
Cabico uses the Blum TANDEMBOX Intivo and BLUMOTION soft-close hinges. The TANDEMBOX Intivo has the latter as a standard, so you get two for one. Check out why these hinges and glides are cool.
BLUMOTION SOFT-CLOSE
Blum strongly believes that hinges should not be seen or heard and drawers should close quietly. That is why they came up with the BLUMOTION soft-close unit. The soft-close feature is integrated into the lift, hinges, and pull-out systems. It can be used for doors, drawers, framed, and frameless cabinets. You name it. BLUMOTION is an added soft-close feature that allows drawers or doors to close smoothly and silently. No matter how hard you slam your doors, drawers, or cabinets. It will close softly and effortlessly.
Why the soft-close drawers and doors are a new rage?
• Quiet closing
It puts less stress on your drawers and doors
There is a great chance that soft-close will enhance the life span of your cabinets.
Your fingers will not be caught up in drawers anymore.
 It is a form of babyproofing that makes cabinets and doors safer for kids.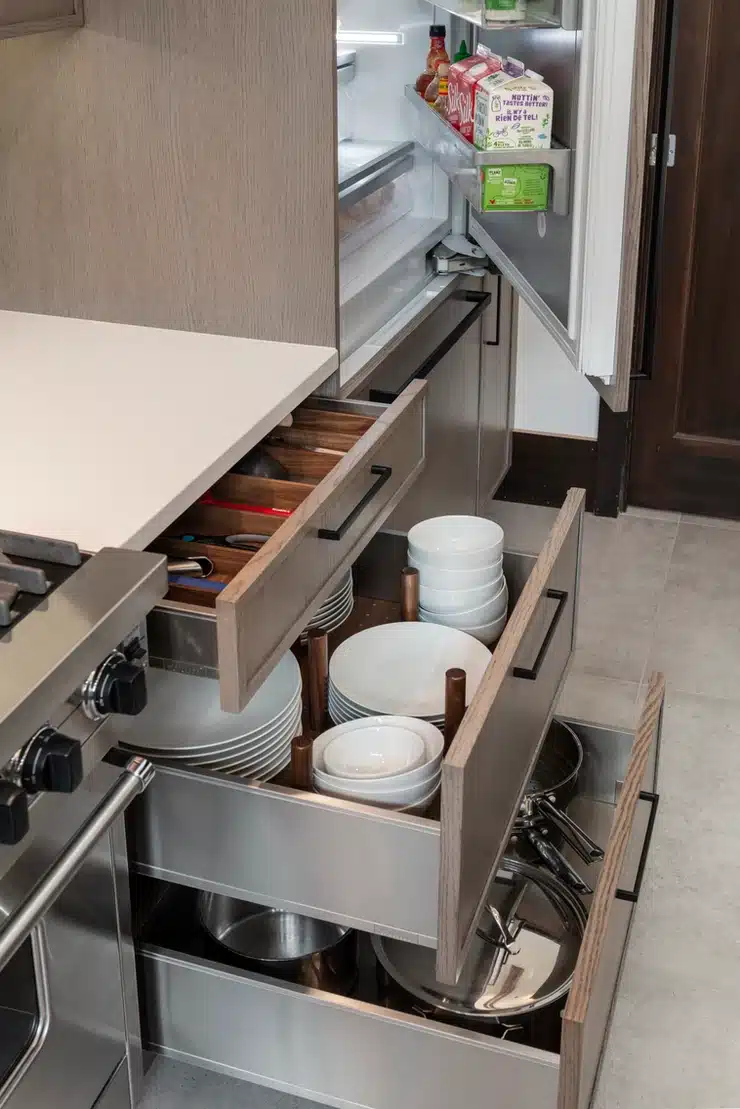 Blum LEGRABOX Pure
BLUM HINGES
Blum offers four different types of hinges for its cabinets. The BlueMotion version of these cabinet hinges is available for the Cabico Unique and Elmwood series.
Clip-top:
You can use this hinge in frameless and face frame cabinets. As the name implies, you can simply snap it on and off on the door of your cabinet. It is a concealed hinge for cabinet doors. It has a range of 107 to 170 degrees. There are different ways of applying the clip-top hinge from Blum; there is the blind corner, standard, aluminum frame, or wide-angle application. You can trust Cabico to use the best application method for your cabinet doors.
Compact:
Where the clip top hinge is multipurpose, the compact hinge is used only for face frame cabinet doors. They are also concealed, easy to use, and can work with the full or partial overlay framed cabinet. It also has a range of 105 to 110 degrees opening angle and comes in 3 types. For the partial overlay, the full overlay, and the partial & full overlay frame cabinets.
Clip top BLUMOTION:
You get all the features of the clip-top hinge with an added soft-close feature built into the hinge cups. Doors will close silently regardless of the weight, force, and size. You can also deactivate this soft-close on one or two of the hinges if you want the doors to close at the proper speed.
Compact BLUMOTION:
This also has all the Blum compact hinge features with an added soft-close for the hinge cup. All face-framed cabinets with the compact BLUMOTION will close quietly without damaging the hinges when slammed.
Now that we know how the BLUMOTION hinges work let's look at Blum's drawer glides that Cabico also uses.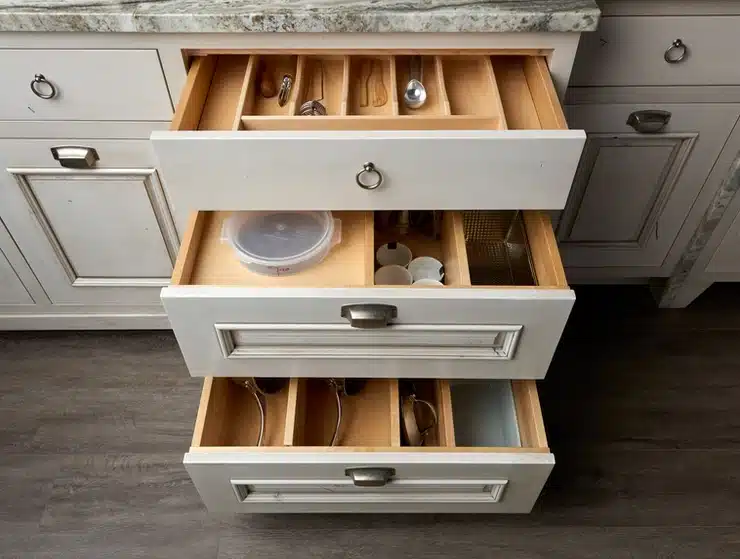 BLUMOTION Soft Close
BLUM DRAWER GLIDES
Cabico mostly uses the BLUMOTION pull-out systems and hinges for the Unique and Elmwood series drawers and cabinets because of its customizable feature. You may not get this type of hinge or glide for the Essence series. Blum's LEGRABOX systems are available in various Elmwood and Unique series options.

Blum LEGRABOX Free
BLUM TANDEMBOX Intivo system
LEGRABOX drawers are Blum's premium metal drawer system, available in three finishes; Anti-fingerprint Stainless Steel, Matte Orion Grey, and Silk White. It also comes with the BLUMOTION soft-close glides as a standard for easy closing. This drawer box distinguishing feature is the extra slim and sleek sides that provide a minimalist and modern look. You can pick from the two LEGRABOX design options: LEGRABOX Pure and LEGRABOX Free. LEGRABOX Free is only available in the Elmwood series, and large insert elements like glass characterize it. LEGRABOX glass design gives the premium pull-out an overall open and light appearance. LEGRABOX Pure is available in Elmwood, and Unique series and seamless one-piece sides characterize it. LEGRABOX also has full extension rails giving you full access to the entire drawer. It can carry up to 40 to 70 kg of items.
You can also include the handle-less SERVO-DRIVE, which we love for the two drawer types to open your drawers with a soft touch. This feature is very useful, especially for cabinets that are hard to reach. This will not come as a standard and will need to be specified.
It's also worth mentioning that due to COVID-induced production stoppage at Blum's mill, Cabico has been forced to seek alternative options for their Elmwood series hardware. Therefore, any orders produced as of February 15th, 2021, may contain hardware from Hettich until further notice.
Here at Canadian home style, we're considered Vancouver's premium destination for your kitchen renovation services. We offer modern and functional kitchen design and 3D rendering in-house, and we provide our cabinetry solutions only through our trusted and carefully chosen partner, Cabico custom cabinetry. With this additional hardware technology for your cabinets and drawers, it is easy to see why Cabico is one of the top three cabinetry manufacturing companies in North America. We are proud to be a part of that. Come and visit our North Vancouver showroom so you can see examples of our work with Cabico, and we can help you with your project every step of the way. Book Now!