The Right Color for Your Kitchen Cabinets in Metro Vancouver:
Whether you're opting to paint or retain the natural color of your cabinets, color is a major element that can add personality and curb appeal to your interiors. As cabinets are the primary storage solution in a home, you will find it visually impactful, especially if you have many cabinets in one area, such as your kitchen or wardrobe. That is why it is crucial to be mindful of the color you choose for your cabinets.
With so many color variations, choosing the right hue that works well with your needs is difficult. We've gathered useful guidelines to help your decision.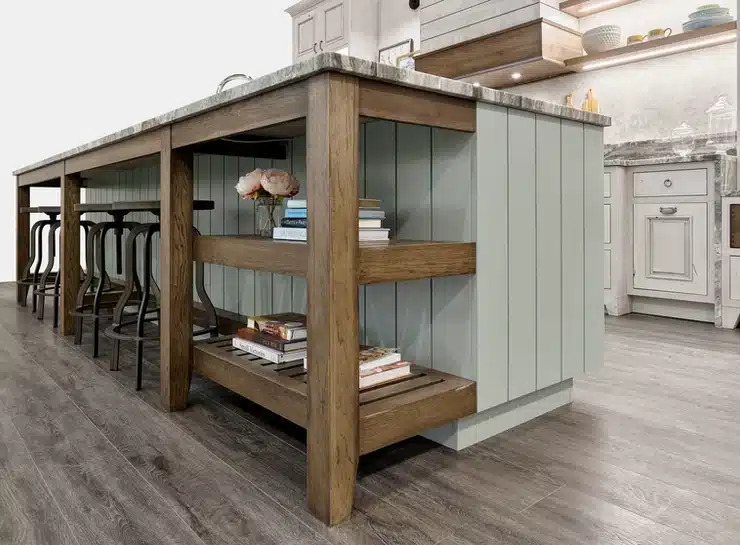 Consider the following
· Personality and Lifestyle
· Theme and Room Type
· Lighting
· Room Size
· Cohesiveness
· Material
· How Long
1. Personality and Lifestyle.
Always start with the color that you love. As hues can affect the mood and ambiance of your living space, choose a color that you are comfortable with and will love looking at for an extended time.
Decide on a color that satisfies your personal preferences and your lifestyle; if it's not possible, then compromise is the key. If you love the clean look of white on your kitchen cabinets, for example, but have little ones who are fully charged to run around the kitchen, you might want to consider a darker hue for your base cabinets and have the white tone on your top shelves instead.
If you'd rather have your kitchen cabinets the same shade, consider using different textures and finishes for a cohesive design. A matte finish will enhance the natural wood grain or texture in oak-finished pine while also adding depth to cherry red hues.
Consider how long you want the color on your cabinet to last and if you plan to sell your Vancouver home anytime soon.
2. Theme and Room Type.
Functionality is a consideration closely related to your lifestyle. So, if you've got a formal dining area, for instance, where you love entertaining guests, you might want to consider choosing a display cabinet color that will flatter your curated pieces.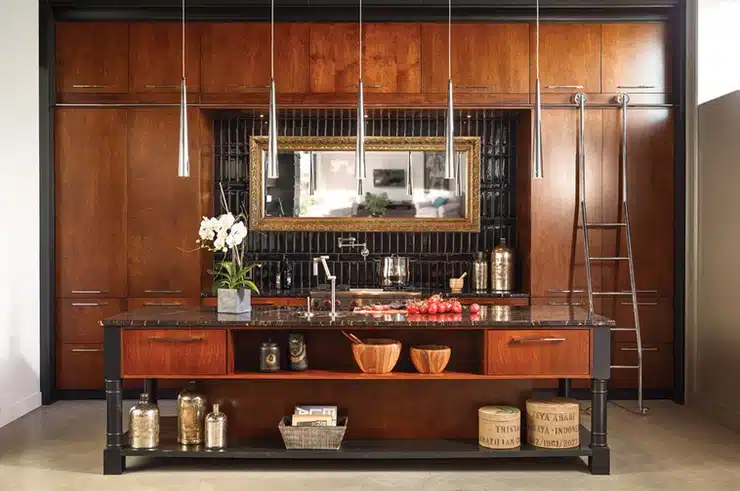 3. Lighting.
Color and lighting go hand and hand and can be tricky, especially for your wooden cabinets, since wood material can change depending on your lighting intensity, chroma, or temperature.
Remember that wood with warmer hues absorbs heat easily, so wooden cabinets are great options if you want a cozy and warm ambiance in your Vancouver home.
As lighting conditions change, so do the colors. This is why cold colors are countered with warm-colored surfaces Artificial lighting also has the same effects. If in doubt, you can ask experts who are knowledgeable about how to properly assign colors based on the lighting conditions of the environment.
Also, consider how your cabinet color reflects on certain conditions. Dark surfaces absorb light while pale colors magnify the effect.
Don't forget to have three light sources: ambient, task, and accent lighting. Layer the three lighting sources.
4. Theme or Style
There is a wide range of color combinations to choose from when it comes to matching a color scheme to your desired theme. Generally, neutrals and wooden hues are great with modern themes, while earth-tone hues are a staple in traditional cabinetry works. However, certain colors go along with anything you want. Popular combinations such as charcoal and off-white work well with shaker cabinets and seamless surfaces.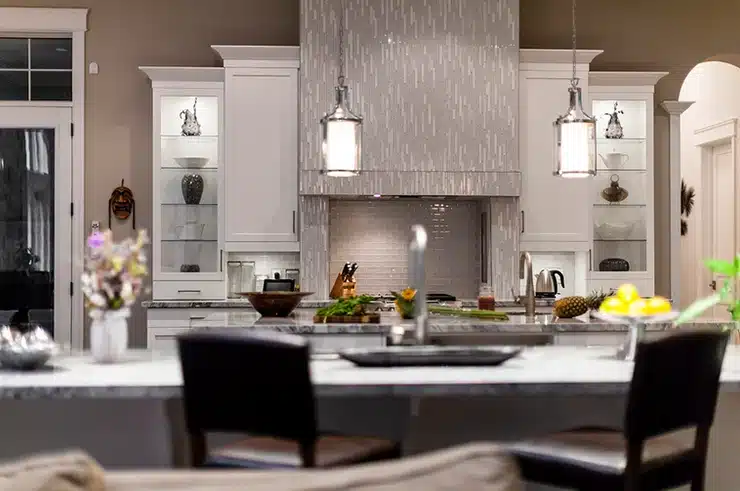 5. Room Size.
Color can affect the way we perceive space; take advantage of this. If you've got a small place, it is best to go with the brighter side of the color spectrum. White, beige, and other lighter colors look great in small places. We're a big fan of lighter colors when picking kitchen cabinets in a city like Vancouver with lots of clouds and constant rain.
If you have an expansive area and want to fill the void, rich colors with deep undertones are great to explore. Large rooms are an opportunity to have wooden cabinets with rich colors and textures.
6. Cohesiveness.
This criterion goes along with your room size as you must also consider the other elements present, such as your flooring, wall, and ceiling color.
Those who aren't ready to experiment with their color choices follow the rule of thirds. The rule of thirds means you have 60% for your primary color, 30% for your secondary color, and 10% for your accents. Depending on the size of your cabinets, typically in a bedroom wardrobe occupying one wall that's floor to ceiling high, your cabinets will usually take as much as 40% of the visual impact.
Generally, your cabinets belong to the use of secondary color, which means choosing a color that's contrasting with your flooring and walls. Typically, if you have darker floor coverings, you should select cabinets with lighter hues with undertones from your walls, flooring, or both to ensure a cohesive overall palette.
Aside from the rule of thirds, you can go with the two-tone cabinetry, which is now growing in popularity, especially with our Vancouver kitchen cabinet trends. Instead of having three colors, you can have a minimalistic look with a two-tone color palette.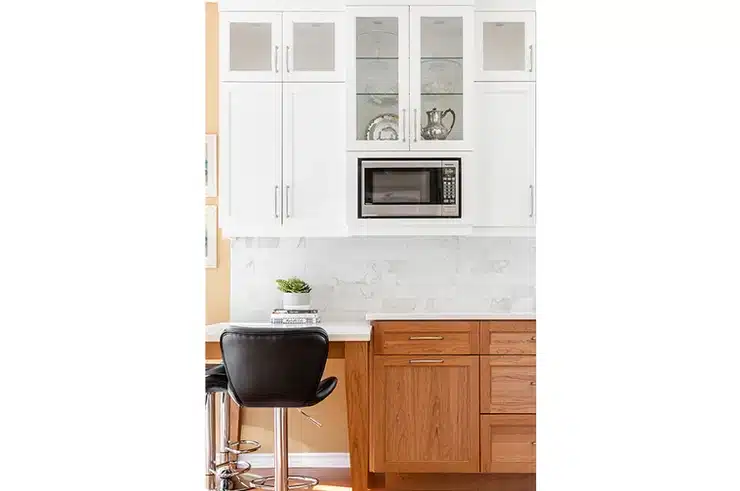 7. Material.
For laminated and high gloss finishes, you might want to consider more neutral hues, so you don't make your cabinets too overbearing. Also, remember that wood will age, creating a warmer or cooler color tone. So, make sure to consider the right species for your cabinets.
8. Longevity.
When you want a timeless color that will last for decades, you might choose classic neutral hues for cabinets such as white, beige, and gray, especially for your kitchen cabinets. This is also a wise choice if you want to sell your property in the coming future, as buyers may not be keen on such dramatic colors as mint or yellow, for instance. If you're in for a long haul with your kitchen cabinets, it's great to give it a little personality and get adventurous with your color choices. The Splashiest colors that are making a comeback are retro palettes such as mellow yellow, lime green, mint with gray, and a whole lot more.
Kitchen Cabinets in Vancouver: High-quality Cabinets
Canadian Home Style is your highest-rated kitchen renovation company in Vancouver. We are the official dealer of Cabico Custom Cabinetry, and our reputation speaks for itself. That which inspires you inspires us, and we have the confidence and expertise to help you every step of the way. Visit our North Vancouver custom cabinetry showroom today.
Book your free showroom consultation now!
Services we offer:
Exceptional kitchen and bath design services

Complete kitchen renovation services

Complete Bathroom renovation services

Residential and commercial flooring services
Kitchen and bath design
Our designs are modern and completely custom for all projects. Your professional designer will walk you through the whole design process, from picking your cabinet doors to the final walk-through and she will also stay in contact with you throughout the project. Our prices are competitive, our solutions are life-long, and our focus is quality.
Our Partner: Cabico Custom cabinetry
Cabico custom cabinetry makes high-quality functional cabinets, and their quality products are also designed with you in mind, focusing on your ideals without sacrificing affordability or quality.
Areas of our Services
West Vancouver

Coquitlam

Burnaby

Sunshine Coast
What do our customers say about us?
Karen Williams:
"I highly recommend Sahel and her team at Canadian Home Style. They did a wonderful job with our kitchen/pantry/laundry room renovation project, and the design advice and customer service were both first class.
I am a very detail-oriented person and Sahel cheerfully provided me with every piece of information I requested and worked with me to get every design detail exactly right. She also worked well with our general contractor to coordinate the installations.
As with any large project, there were a couple of minor adjustments required after installation and Sahel made sure that everything was finished to our complete satisfaction.
The cabinet quality is lovely and the end result is a beautiful kitchen that we will enjoy for many years to come."
Azadeh Sh:
"I never write reviews, but since reading reviews helped us to find Canadian Home Style, we wanted to make sure we tell others about our amazing experience with them.
After much research and looking at several firms we had selected Canadian Home Style to renovate the interior of our apartment; The company was well established, had a good reputation and quality of work.
We were apprehensive at first given the magnitude of both cost and construction but as we were guided through each stage of the process, we knew we made the right choice. The process was transparent, and the team was communicative. We hit a few bumps in the road but overcame them with support and input from a great team.
Sareh and Sahel were amazing, and we thoroughly enjoyed the entire experience with them. They were friendly, trustworthy and approachable; we were so comfortable bringing up any concerns to their attention. Sareh, our project manager, helped us match our budget with our taste and found us finishings that we loved. They have a great showroom with high-quality products. Sareh had us choose a couple of products so she could see what we liked, but also gave us some ideas of her own, and we are so happy we followed her advice. From my first meeting with Sahel, I could tell she totally understood my new Kitchen vision and would be able to put it all together.
Due to Covid-19, we were in our apartment throughout the construction, so the work trade manner and organization were even more important; Canadian Home Style employed great trades; they were all personable, very professional, organized, courteous, and clean. We felt that the flooring and kitchen cabinets installers they used were particularly good.
I am not an easy person at all, both my husband and I are very fussy and have very meticulous attention to detail, and now we both love how our apartment turned out, the results are outstanding. We keep pinching ourselves on how beautiful it all is! I highly recommend this 5-star company. They deserved the 2021 Consumer choice award. You won't go wrong with them. Thank You Canadian Home Style Team!"
Browse through our website to see some of our completed jobs.
Address: 1420 Marine Drive, North Vancouver, BC. Canada