Not many people can resist the charm of a high-end kitchen. From luxury appliances to intricate custom cabinetry – it's no surprise why Vancouverites are wrestling over townhomes and condos with designer kitchens.
If you're keen to upgrade your kitchen, this article will show you what kitchens in Vancouver you should look out for. In this article, I'll discuss some features that make high-end kitchens worth the splurge and where you can find them in Vancouver. Whether you're renovating or just looking for inspiration, here is what makes a design-loving homeowner go weak at the knees.
How to Transform Your Kitchen with High-End Custom Designs Unique to Vancouver.
Redesigning your kitchen to give it a high-end custom finish is one of the best ways to bring luxury into your home. With high-quality materials and expert craftsmanship, the Canadian Home Style of Vancouver has many options for transforming your space with elegant, custom designs.
Whether you're looking for sleek, contemporary cabinetry or on-trend fixtures and appliances, undertaking a renovation project in Vancouver can create an air of sophistication that speaks volumes about the style you want for your home.
Working with specialists in the area will ensure that all work is done to the highest standard and meets local building codes and regulations. Plus, they'll be well-versed in finding creative solutions if any issues arise in the process.
The range of materials you can use to complete any kind of look or aesthetic is vast in Vancouver – wood, stone, marble or concrete are just some of the choices to choose from, each bringing its own unique character to your kitchen. Combining quality materials with meticulous design emphasizes both form and function while creating a distinctive atmosphere of beauty and comfort.
High-end finishes like a beautiful Fenix cabinet door or quartz countertops show attention to detail that will have friends oohing and ahhing! Whatever style you decide best fits your lifestyle – formal or informal – count on local designers of Canadian Home Style who understand interior design trends specific to this city as well as classic, timeless styles that you'll love living with for years to come
Create the most sublime high-end kitchens in Vancouver.
We believe in the power of ambiance – it's all about creating an escape from the mundane. Our goal is to transform the ordinary into the extraordinary by breaking away from traditional norms with unexpected hues, textures, looks and shapes. It takes fearless creativity to make bold statements in space and energize it with unique beauty and style.
At Canadian Home Style, we combine your ideas with our expertise to create innovative concepts. We strive for excellence by using top-grade materials and providing exceptional craftsmanship that pays attention to even the smallest details. The final result? An exquisite home environment that exudes sophistication while still being true to your taste and desired lifestyle! Let us help you to turn your dreams into reality. We combine your ideas with the latest trends in the industry to create the most sublime high-end kitchens in Vancouver.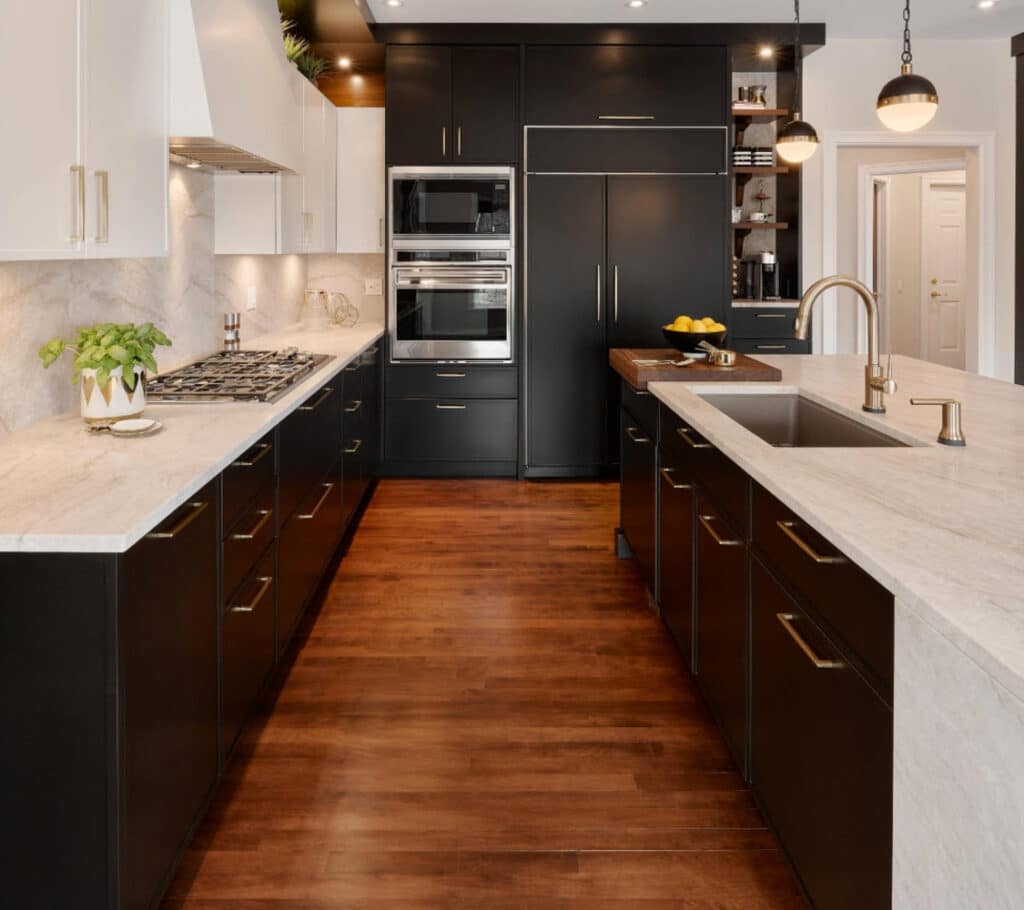 Discover the world-class craftsmanship behind creating the most luxurious high-end kitchens in Vancouver.
Exploring the finest kitchens in Vancouver means discovering a world of rare craftsmanship. We go beyond basic designs and offer up true creativity with attention to detail you simply won't find anywhere else.
Our expert team of interior designers is here to guide you through every step of the process – from helping you customize your perfect design vision to bringing it into reality. We don't just think outside the box – we push boundaries entirely. We're confident we can build something unlike anything else on the market that presents an entirely unique experience for your ultimate satisfaction. Experience the revolution – introducing a style of interior design unlike anything else on the market.
Bringing luxury into living spaces is our craftsmanship specialty. Whether curating a modern look or infusing rustic touches, you can trust our artisans to create something that is both practical and beautiful at once. Experience first-hand the pinnacle of exquisite kitchen design only offered by our experts! Craftsmanship for a timeless luxury in the comfort of your home: Let our artisans design the perfect kitchen for you!
Why Vancouver is the perfect place to purchase a custom, high-end kitchen!
Nestled between the beautiful Cascade Mountains, lush parks and some of Canada's most vibrant cultural districts, Vancouver is home to a diverse selection of beautiful custom homes that rival the best found on the global market. Vancouver is the perfect place to purchase a custom, high-end kitchen due to its unique combination of modern and traditional elements. Create your dream kitchen in Vancouver with the perfect mix of modern and traditional influences.
Exploring Vancouver offers something for everyone, especially if you are in the market for a luxurious, custom-made kitchen. From top-notch craftsmanship to competitive prices and intimate consultations with leading designers, why settle for anything less than your dream kitchen in the most beautiful city in the world, Vancouver? Experience the difference of having an indulgent custom-made kitchen in Vancouver, crafted only for you.
From wood refinishing and exquisite cabinetry to gorgeous kitchen islands and the latest green energy solutions, Vancouver's Canadian Home Style will give you an unrivalled level of customization without the associated risks or hassle.
Whether it's traditional elegance you're looking for, or modern appliances and bold features, every element of your desired vision can be brought to life here. Local designers are experienced in blending multiple styles producing intoxicating results that will make any chef smile.
Let Vancouver's best take your cook experience to new heights by providing the perfect habitat for luxurious ease and uniquely crafted kitchens that focus on sustainability and beauty. By choosing Vancouver for your next luxury kitchen upgrade or utterly custom build, nobody has to settle for unsatisfactory outcomes anymore – only blissful gastronomical satisfaction!
Unearthing the mysteries of Vancouver's leading kitchen specialists at Canadian Home Style is your key to unlocking a wealth of luxurious results. Their creative genius is unparalleled, giving you exceptional craftsmanship that will take your interior design dreams and make them a reality in a fraction of the time.
Discover why these experts in their field have earned a well-deserved reputation for being able to produce unique works of art that are not only aesthetically pleasing but also incredibly durable and timelessly elegant. Delving deeper into their methodology allows you insight into their design process, which will help inform your stylistic choices when remodelling your kitchen or redecorating any room in the home.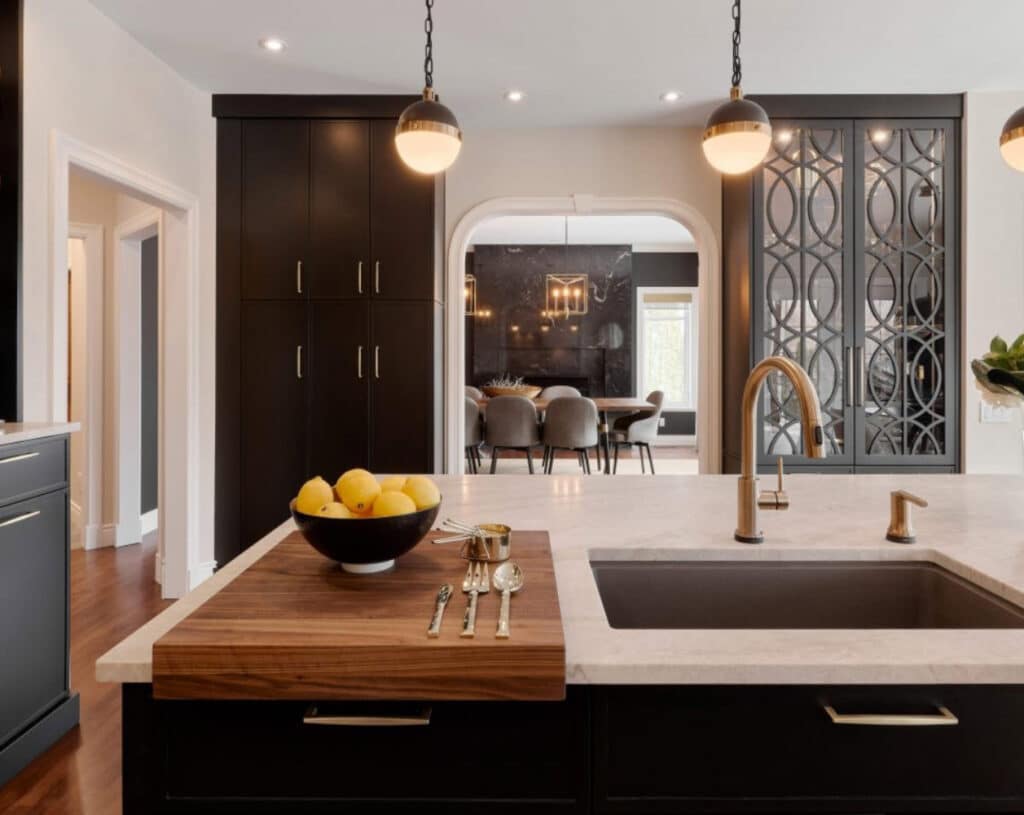 How to make your dreams of a high-end kitchen in Vancouver come true.
Realizing your dream of a high-end kitchen in Vancouver can be accomplished through careful planning, due diligence and a comprehensive budget. Before you begin planning, it is essential to determine the overall goals for your new kitchen and decide on the specific style, materials and design elements that will best bring these goals to fruition. Once you have a clear vision of what you want to achieve, it is important to work with professionals such as an interior designer or architect to develop a plan, select quality materials and manage the installation process.
When selecting materials for your beautiful kitchen, choosing attractive and durable components is important. Consider cabinetry materials that will provide luxury appeal alongside maximum durability over time.
Regarding appliances, look for energy-efficient models to help you reduce your overall energy costs. Additionally, consider incorporating green features such as LED lighting and water-saving fixtures into your kitchen design. Finally, select countertops and backsplashes that will provide a beautiful finish to the overall design.
Remember, superior lighting will help create soothing aesthetics while illuminating your high-end Vancouver kitchen. Incorporate overhead light fixtures while under cabinet lighting to highlight specific areas of interest, such as cabinets or counters, during meal preparation or entertaining events. By incorporating smartly designed layouts with elegant finishes and thoughtful storage habits, you can transform any space into a cooking oasis worthy of top chefs everywhere!
Why Canadian Home Style for your high-end kitchens in Vancouver?
Elevating traditional design to a higher level, Canadian Home Style offers customers access to luxurious kitchen design in Vancouver. Our modern-day extravagance is the finest of its kind and allows customers to tailor a cabinet door perfectly suited to their tastes.
Our team of renowned professionals understands the art of constructing your ideal kitchen, and they have a consistent track record of delivering incredible results. Our expert craftsmanship will guide you through the design process, where you can choose from premium finishes and materials for countertops, cabinetry, faucets and more. Our goal is to help create your dream kitchen that reflects your personality and will excite any visitor who walks into it.
For us, excellent luxury kitchen design goes beyond mere aesthetics. We source only the best materials across custom-tailored options to build each project with precision and excellence.
At Canadian Home Style, we strive for perfection each time – uncompromising levels of quality production back up our ambition every step; this ensures reliability at all stages of the creative process. Explore our range today and discover why we offer Vancouver's pinnacle of high-end kitchen design.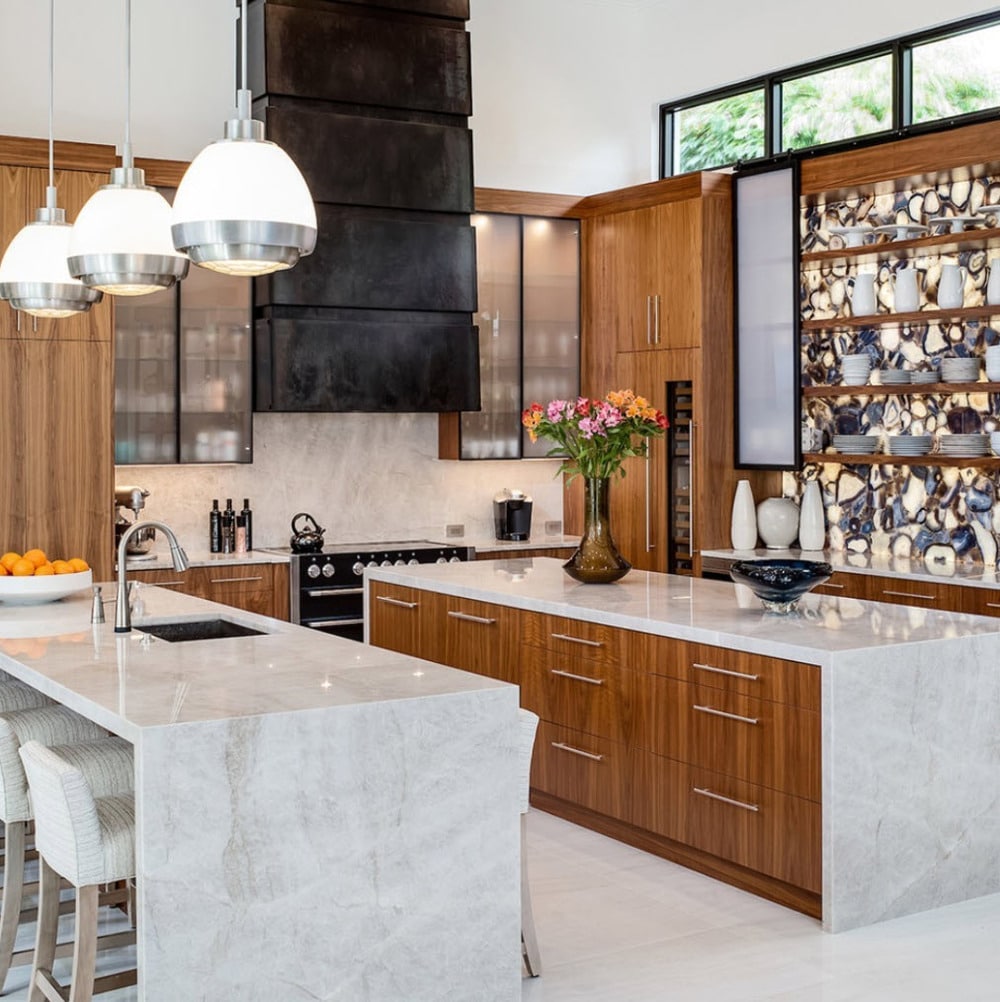 Step up to the ultimate level of luxury with Cabico Elmwood fine cabinetry
Masterfully crafted and completely customized, Cabico's cabinetry offers a precision that cannot be matched. Canadian Home Style has long valued this, making Cabico our trusted source for all things cabinets.
Unparalleled in detail and smooth to the touch, each cabinet is guaranteed to showcase your vision with beauty and a timeless sensibility. With superior craftsmanship built into every piece, your project will boast a golden seal of perfection without fail.
Reimagining what can be achieved with a luxurious high-end kitchen design is possible through Cabico Elmwood fine cabinetry. Every panel is designed to emphasize your individual style while providing storage solutions that are both intelligent and efficient – turning heads no matter where the sun sets!
The ideal kitchen is truly within reach when you unlock the potential of Cabico Elmwood's exquisite quality and natural detailing. Together we can provide something remarkable that simply defies expectations!
Every single design is custom-made for your own individual taste, for now and for years to come. Our masterful designers will help create the perfect setting tailored to your elegant taste. And no expense is spared in using only the finest materials, including select hardwoods and rare veneers.
Our dedicated designers and craftsmen work methodically together to ensure every detail is properly attended to, from edging and glazing techniques, intricate hand carving, and unique yet subtle shimmering highlights on doors, valances and panels- ultimately creating a bold look that can never be replicated.
By taking traditional kitchen designs that stand the test of time and adding modern accents, we help bring your dream into reality – one crafted piece of fine cabinetry at a time-evolving style with more sophistication than ever before!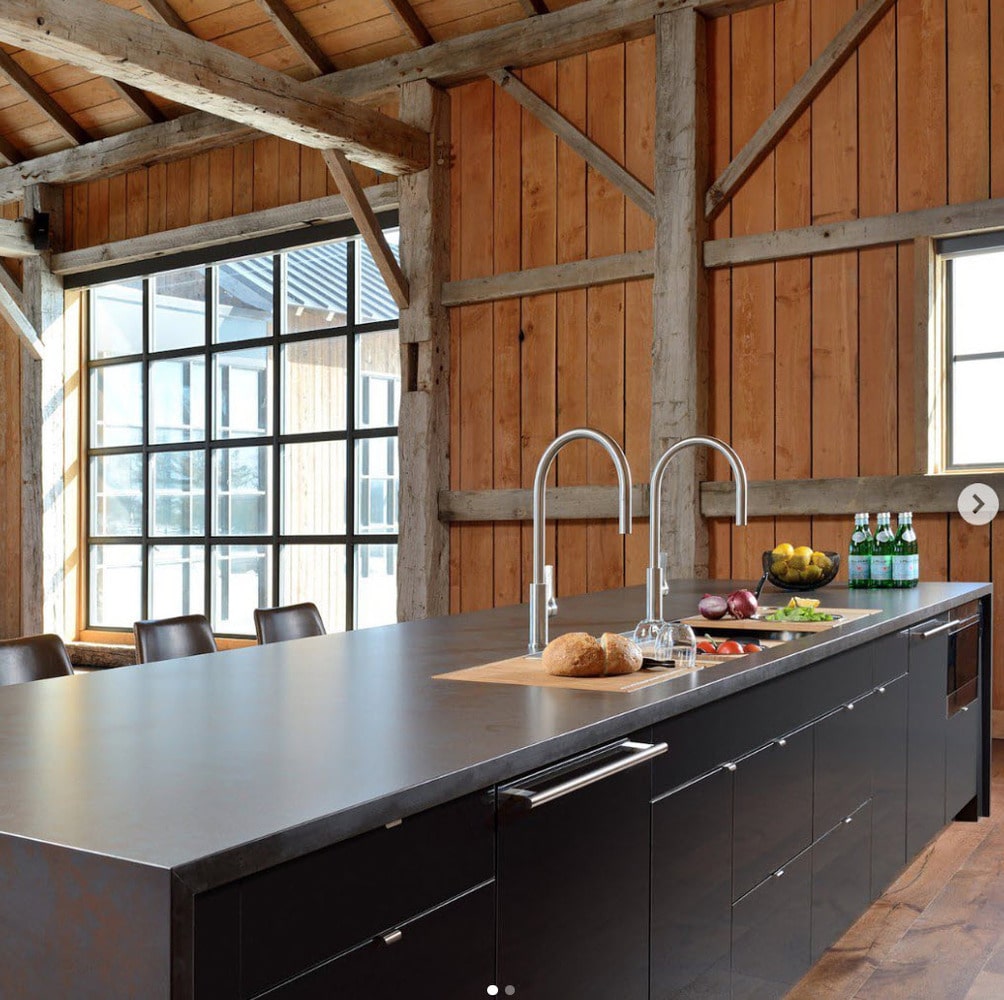 Choose Cabico Elmwood and Canadian Home Style for your Vancouver kitchen renovation projects.
Canadian Home Style is your family-owned and operated custom cabinetry retailer with a showroom in North Vancouver, BC. We are the official dealer of Cabico custom cabinetry in the Lower Mainland, providing complete kitchen renovations with an extended lifetime warranty. We always keep up to date with the latest trends and are proud members of the NKBA, National Kitchen and Bath Association. In addition, we have won the Consumer's Choice Awards back-to-back in 2021, 2022 and 2023 for our commitment to business excellence. We are considered one of the highest-rated kitchen and bath design and renovation experts in Metro Vancouver. Book now to visit our North Vancouver showroom, where you can get expert advice from one of our kitchen and bath designers. We're happy to be a part of your journey with your next kitchen renovation project in Metro Vancouver.
Our mission is to help homeowners create beautiful homes that reflect their lifestyles while reducing energy consumption and conserving resources. We do this by providing our clients with innovative products, services and education. Our vision is to become Canada's leading sustainable kitchen design and custom cabinetry solutions provider. Our values include integrity, respect, honesty and transparency. These principles guide us as we strive to provide outstanding customer service.
We believe that our success depends on the success of our clients and their customers. We work hard to ensure our clients get the most out of their investments. Our team consists of highly skilled professionals who are experts in their field. They have years of experience working together and know what works and what doesn't. They understand how to solve problems quickly and efficiently. We are committed to providing excellent customer service. We listen carefully to our client's concerns and suggestions. We take these into account when planning and executing projects. We always strive to exceed expectations.
Services We Offer:
Main Areas of Service in British Columbia: