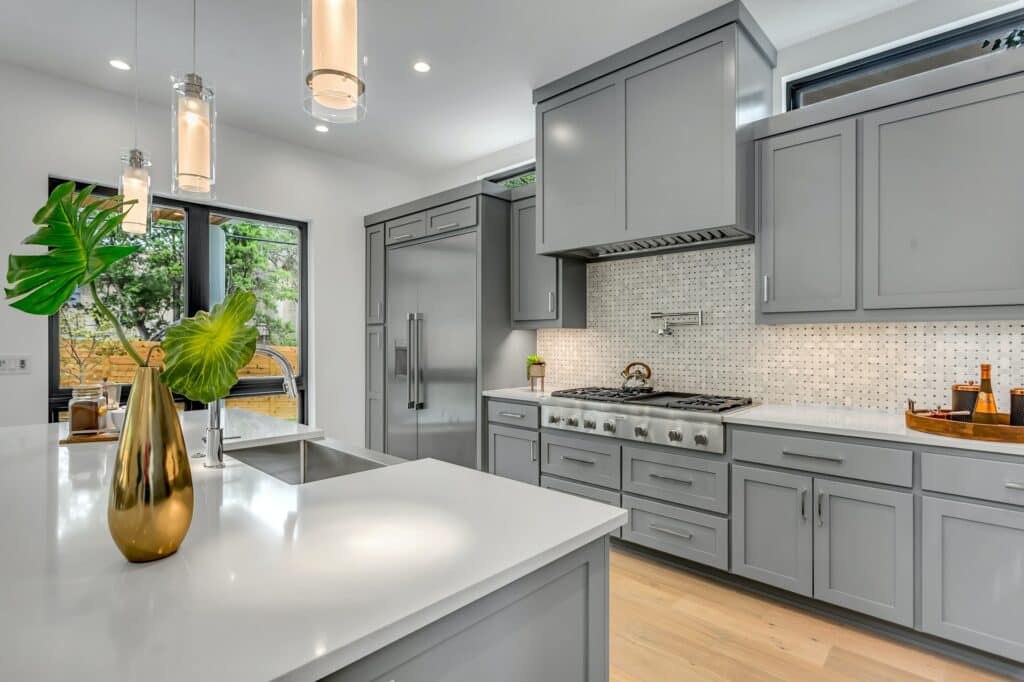 Are you planning a kitchen remodel but are worried about future regrets? It's essential to consider your lifestyle first and have a plan. You should know what you want and why you want it before you start. This article will give you a handy guideline to follow and answer some of the most frequently asked questions about kitchen remodels.
Kitchen renovation project checklist to avoid regrets:
Consider your lifestyle first.

Choose suitable materials according to your goals and budget.

Choose the right countertop in terms of maintenance and not just look.

Choose the right appliance in terms of size and style.

Choose the right backsplash for your needs.

Check the inside of your walls and cabinets.

Communicate with your kitchen designer and contractor throughout.

Customize your storage solutions in your design to fit your appliance and gadgets

Don't get your lighting lightly.

Don't ignore kitchen ergonomics!

Don't waste any space in your kitchen design.

Pick the right cabinet finish and colour.

Plan before you commit.

Hire the right people for the job.

Don't forget you need a place for your garbage. 
Consider your lifestyle when designing a kitchen.
First and foremost, when embarking on a kitchen redesign, it's essential to consider what life looks like inside your home. What activities take place there? Does everyone eat together? If so, consider installing a breakfast nook or having a separate dining area. Or maybe you want to ensure that your kitchen is large enough to accommodate extended families and friends.
Discussing your needs with your designer is the best way to find out your needs. After all, they know what works well. So don't hesitate to tell your designer everything you'd like to know about your lifestyle.

Avoiding buyer's remorse in your kitchen renovation
A homeowner's most challenging task is choosing suitable materials for their kitchen renovation. Hundreds of products, brands, and styles abound, so it can be hard to know which ones will be the most useful. Evaluate your needs and wants, keep your budget in mind, and carefully research your options.
Write out your goals and purposes for the renovation before you start. You may find it tempting to follow the latest trends, but a good renovation will preserve the room's functionality. 
Choosing the wrong countertop
When someone wants to redo a kitchen, they can easily make a mistake by choosing the wrong countertop. To avoid such shame, homeowners should compare countertop samples to the colours of the floors and cabinets.
Regarding countertops, homeowners should be aware of the durability of various materials and the cost of maintaining them. However, choosing cheaper materials means choosing one with less quality. The lower quality can affect the lifespan of the countertop, which in turn can hurt the home's value. On the other hand, choosing high-quality materials increases the home's value, so homeowners should pay special attention to the cost of the countertop.
Choose a quartz countertop for your kitchen renovation project.
Quartz is one of the most popular materials for countertops. It's strong, heat resistant, and easy to clean. Quartz comes in various colours and patterns, so you're sure to find one that suits your style.
Recommended Quartz brands: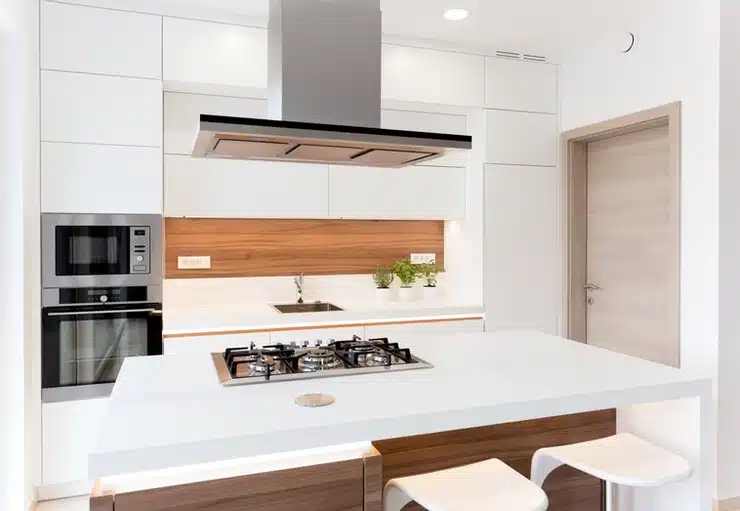 Choosing the wrong appliances
While kitchen remodels can be fun and exciting, several variables can lead to regret. When choosing appliances and other features, there are numerous ways to make a mistake. The size of your devices is essential to maximize your space. Certain appliances may be too big for specific layouts. 
Stainless steel is a popular choice for most homeowners, but stainless steel is cold and doesn't go with every style. Use integrated appliances as much as possible in your kitchen design if you're planning a modern design. 
Choosing the wrong backsplash
While choosing a backsplash for your kitchen can be one of the most enjoyable aspects of a remodel, you should keep a few things in mind. A backsplash must cover the entire work surface so that you can easily clean it. Small backsplashes are challenging to keep clean and look skimpy. Make sure you choose a large backsplash that covers the entire area. If you're worried it will look crowded, choose a simple design that doesn't overpower the room.
In a kitchen, the backsplash can be the main focus of the space, carrying a person's eye from one area to another. Use a full-height backsplash to make a statement with your design. 
Not checking the inside of your walls.
Before starting any kitchen remodelling project, always check inside your walls for electrical outlets, plumbing pipes, etc. Checking the inner contents of your walls may not sound significant. However, a homeowner needs to know before they start remodelling their house. It will help them avoid making costly errors later on. Some tools allow you to scan the wall's interior without having to remove the drywall. They indicate where you have electrical or plumbing to avoid them while working.
You can always consult a professional to help you out.
Not Communicating enough with your kitchen designer and contractor.
Communicate with your kitchen designer and contractor on every little detail possible. As your home evolves into something beautiful, keeping track of everything that needs to happen along the way can become overwhelming. Homeowners want to know what's happening with each part of your project and how much money you'll spend.
If you're working with a kitchen design firm, chances are good that they've already established a system to keep you updated on the status of your project. But if you're renovating alone, you could find yourself scrambling to keep tabs on things without having a clear idea of where your project stands.
Communication is vital during any construction project, whether you're doing it yourself or hiring professionals. Your designer and contractor are experts at their jobs but aren't mind readers. They rely on you to relay information to them.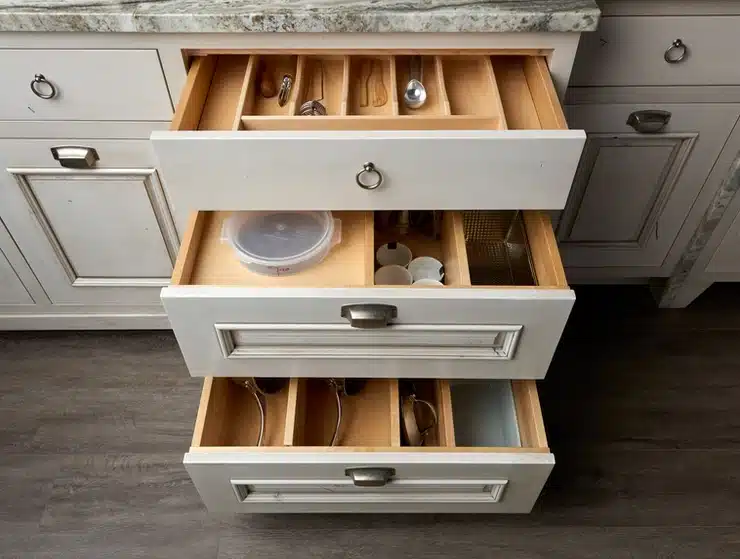 Not customizing your storage solutions.
Your gadgets, appliances, and storage solutions must be customized in every possible way. There's no point in having an array of different appliances and devices if the extent of your culinary skills is limited. A well-designed kitchen needs to integrate all aspects of food preparation into one place, whether a countertop appliance like a slow cooker, an oven, a grill, or a combination of multiple types of equipment.
Think critically about what you actually use most frequently and plan accordingly. If you're planning to make lots of baked goods, consider buying a stand mixer with kneading attachments. If you spend much time whipping cream, invest in a separate hand whisk. And if you love to cook Italian dishes, buy yourself a quality cast iron skillet.
Take your lighting lightly!
Think outside the box if you're considering replacing your existing kitchen lighting. Lighting fixtures come in many shapes and sizes, and plenty of ways to ensure your kitchen is well-lit without spending big bucks. For example, you could install recessed lights above cabinets or along walls. You could even mount some light strips on the ceiling to help bring down shadows and add dimension.
You'll want to remember how much natural light you already have coming in through windows and doors. Is your kitchen positioned to take advantage of sunlight during the day? Do you have skylights or large picture windows? These are great places to start.
Ignoring your kitchen ergonomics!
If you work in the kitchen often, you must consider how you design and organize it. This includes counter height, the type of lighting used, and even how much noise there is from appliances. All of these factors contribute to the overall comfort level of the area.
The common mistake people make when designing kitchens is ignoring kitchen ergonomics. For example, some people make counters high enough that they are forced to bend over all day long. They don't realize that this could lead to pain and injury down the road.
Another problem is that many people tend to put the sink too far away from the stovetop. This forces people to walk around the kitchen constantly to wash dishes. Not only does this unnecessary cause fatigue, but it also strains joints and muscles.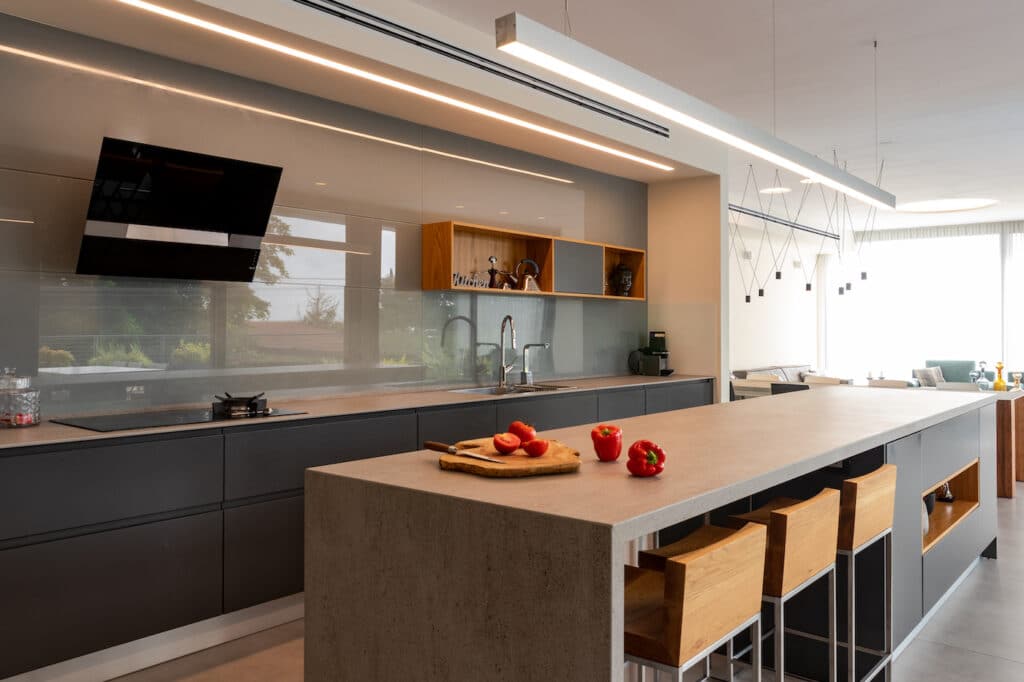 Wasting space in your kitchen design. 
If there's one thing we all want to avoid in our kitchens, it's wasted space. Unfortunately, this is one of the most common kitchen design mistakes. People often forget to account for things like appliances and storage when they're planning out their kitchen layout. As a result, they end up with a lot of wasted space.
One way to avoid this mistake is to think carefully about what you need and want in your kitchen. Please list all the things you use daily and find a place for them in your design. For example, if you have a lot of pots and pans, make sure you have enough cabinet space to store them. If you love to bake, make sure you have enough counter space for all of your baking supplies.
Another way to avoid wasted space is to use the Rule of Three-Fourths. This rule states that all work zones in the kitchen should be within three-fourths of the distance. For example, the sink, stovetop, and refrigerator should be within easy reach of each other, so you don't have to walk too far while cooking.
Picking the wrong cabinet finish and colour.
The wrong cabinet finish and colour can bother you forever. Wall paint is usually relatively easy to change. However, other colours, like the finish on cabinetry and kitchenware, can be more challenging. Choosing the right cabinet colour that would compliment your personality is essential.  
Choices made in the store often don't match choices made at home. If possible, take some samples and swatches home so you can see them in the real world. Lighting can change a colour's appearance, so test it in natural and artificial light.
Forgetting your kitchen Floor.
Don't forget about the kitchen floor! Your flooring is one of the most important aspects of any room, but it's often overlooked in kitchen design. It's not just about the colour of your cabinet doors. Your kitchen floor doesn't need to match your cabinet colours but needs a good flow. Also, select a material that can handle spills and traffic.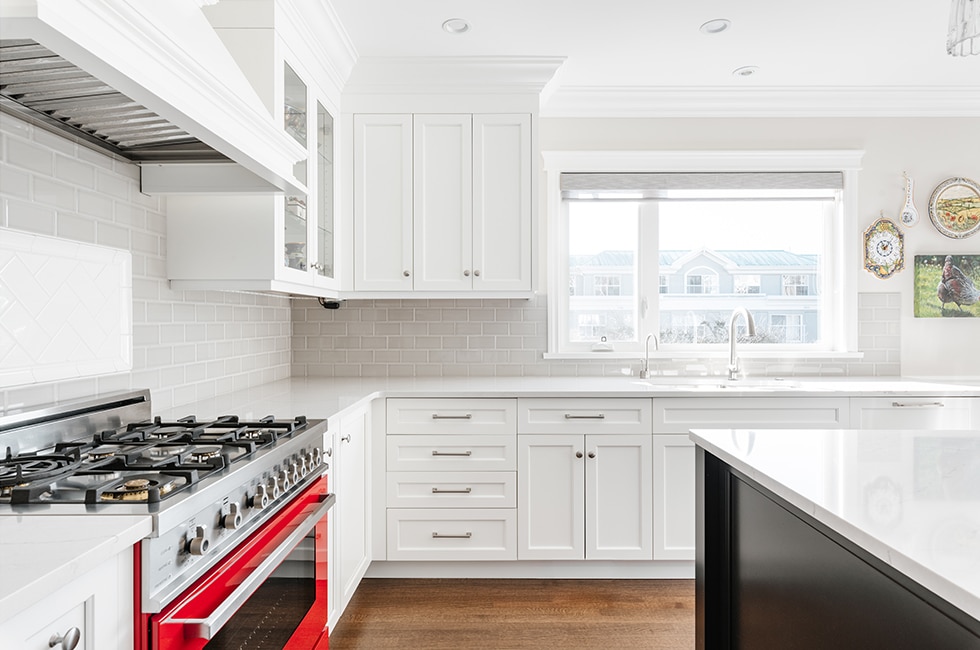 Not having a realistic budget and timeline.
Lack of planning can end up costing you down the road. One of the biggest mistakes in a kitchen remodel is not having a realistic budget. It's essential to sit down and think about how much you can realistically afford to spend on your project. You need a budget to have a plan. 
It's also essential to have a realistic timeline for your project. Many people underestimate how long a kitchen renovation can take. Be sure to factor in time for planning, ordering materials, construction, and cleanup. Trying to rush a remodel will only lead to frustration and mistakes.
Remodelling doesn't have to mean tearing out everything and starting over. Instead, consider making minor improvements throughout the house. For example, adding a backsplash or replacing cabinet hardware won't require a complete gut job. You can still keep most of the existing flooring and fixtures, and you might even be able to incorporate some of the old materials into your new design.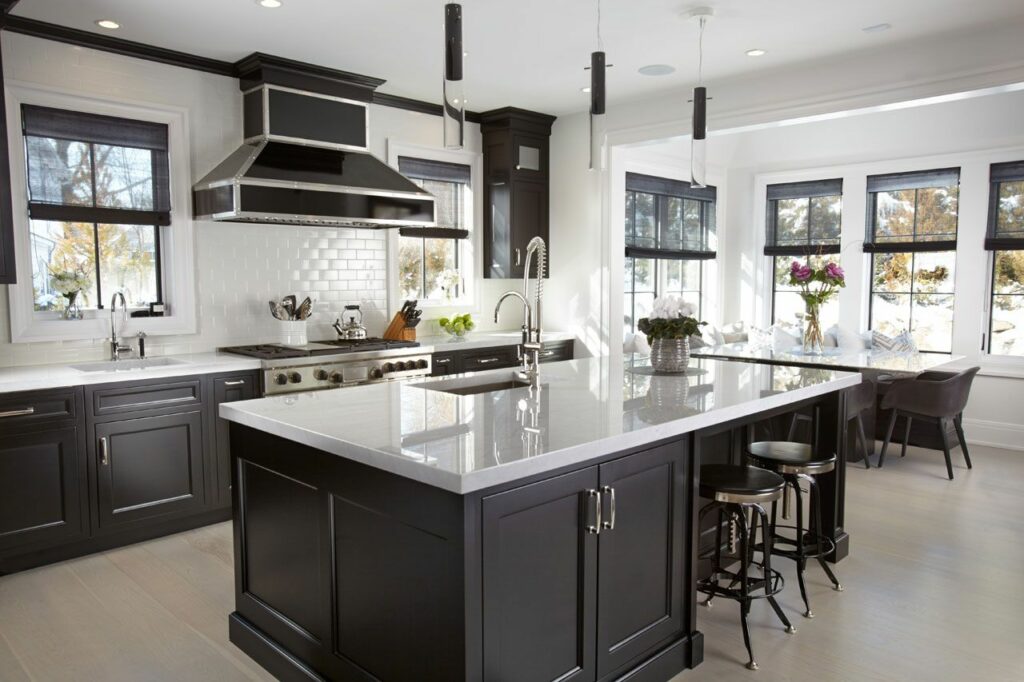 Not hiring the right kitchen remodeler. 
When it comes to remodels, there are many things you should consider: location, budget, materials, design, etc., and most importantly, the people involved. Your remodel project requires much work, coordination, communication, planning, execution, and patience. And while all those factors ensure your remodel goes smoothly, having the right remodelers is key to success.
Forgetting a place for your garbage. 
One of the most important things to consider when planning your kitchen remodel is where you will put all your garbage. You need to have a place for your trash can and recycling bin and ensure they're accessible but out of the way.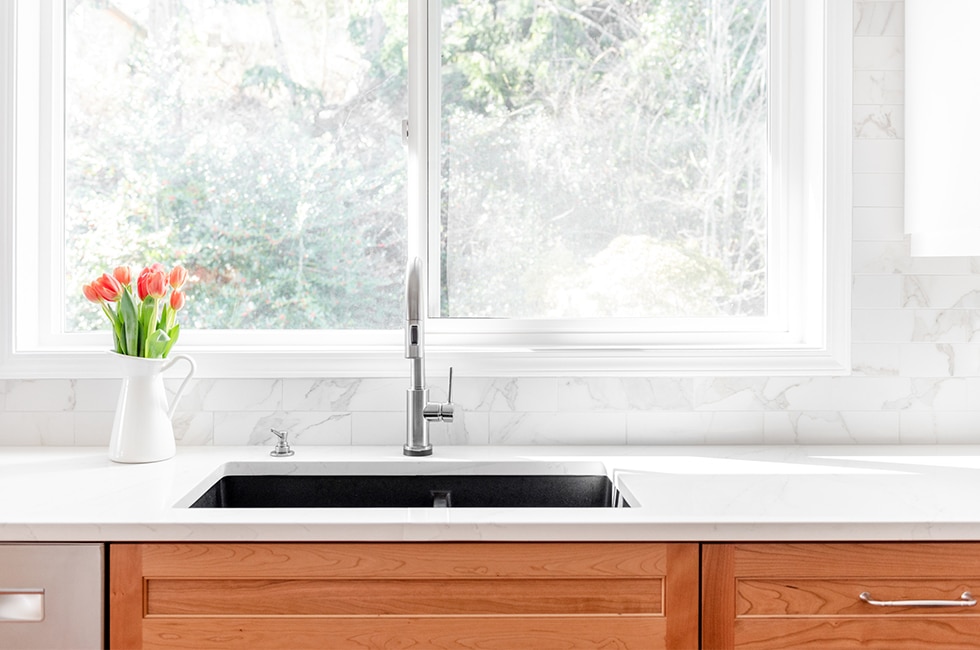 Solution: Make a list of your "whys."
Make a list of your "whys" before shopping for new materials. Having a list of these reasons will keep you focused when working with a designer. You'll be less likely to make last-minute changes, which can cost you more money. Also, remember that different materials can look different at other times of the day.
While many factors go into choosing a kitchen design, many homeowners end up with a "why." A list will help you stay on track and focus on what you want and don't want in your new space. It will also help you communicate your expectations to your designer. Your why list can go as follow:
Why do I want more counter space?

My current appliances are outdated. Why?

Why do I need more storage?

Why don't I like my existing backsplash?

Why don't I like my kitchen cabinet colours?

Why don't I need to change my kitchen flooring?

Why do I want to be able to entertain in my kitchen?

Why do I need more cooking space?

Why do I need a particular appliance in my new kitchen?

Why do I prefer a full-height backsplash?

Why do I need a bigger kitchen sink?
Once you have your list, you can start narrowing your design choices and making decisions. A "why list" will help you avoid regrets during and after your kitchen remodel.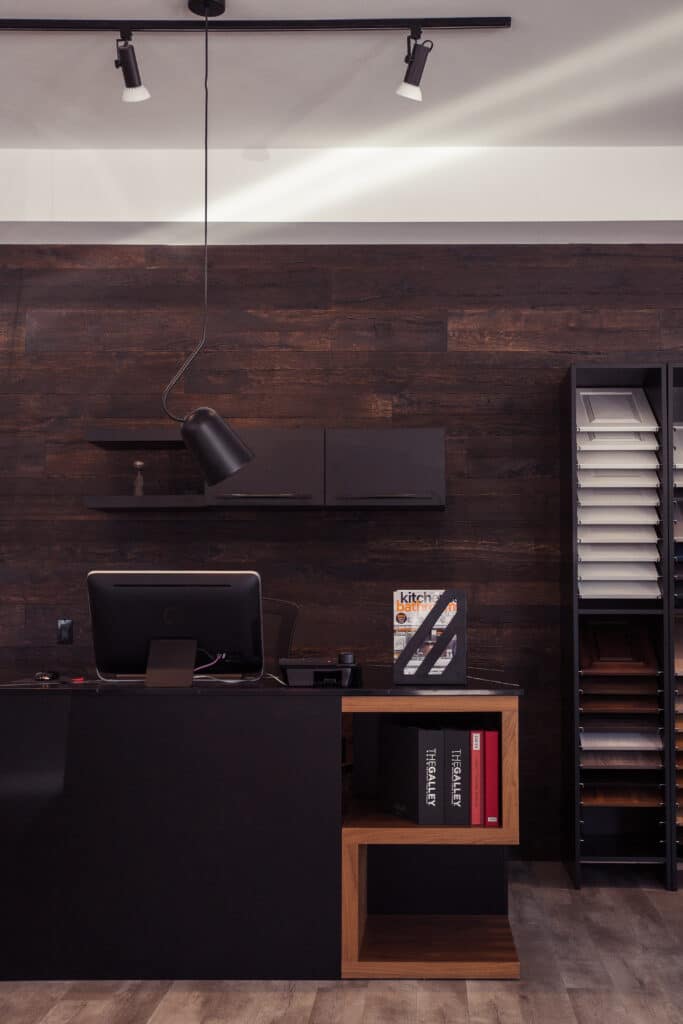 Hire Canadian Home Style for your Vancouver kitchen remodelling projects
Canadian Home Style is your family-owned and operated custom cabinetry retailer with a showroom in North Vancouver, BC. We are the official dealer of Cabico custom cabinetry in the Lower Mainland, providing complete kitchen renovations with an extended warranty. We always keep up to date with the latest trends and are proud members of the NKBA National Kitchen and Bath Association.  In addition, we have won the Consumer's Choice Awards back-to-back in 2021 and 2022 for our commitment to business excellence. We are considered one of the highest-rated kitchen and bath design and renovation experts in Metro Vancouver. Book now to visit our North Vancouver showroom, where you can get expert advice from one of our kitchen and bath designers. We're happy to be a part of your journey with your next kitchen renovation project in Metro Vancouver.
We are the official dealer of Cabico custom cabinetry in the Lower Mainland, and we believe in providing sustainable kitchen designs that can last you and your family a lifetime. Contact us for all of your Vancouver kitchen renovation needs.
Services We Offer:
Kitchen Renovation
Bathroom Renovation
Kitchen and Bath Design
Main Areas of Service in British Columbia: 
Frequently Asked Questions
What percentage of a kitchen remodel cost should be appliances?
About 15-20% of the total cost should be for appliances.
What are three things that add the most value to a kitchen remodel?
Kitchen appliances that make cooking easier.
An island with seating.
Cabinets with drawers.
What is the best order to remodel a kitchen?
Plumbing and electrical rough-ins
Drywalling
Painting
Kitchen cabinet installation
Flooring installation
Countertop installation
Backsplash installation
Appliances
Should you get appliances before countertops?
You should purchase your appliance before ordering your custom cabinets.
How long should a kitchen renovation take?
The work should take about three weeks once the cabinets are made. However, the design and/or custom cabinet manufacturing can take months.
Should I move out during the kitchen remodel?
You don't have to move out if you're good with takeouts. But if you have young kids or pets, you might want to consider staying at a friend's or family member's house during the renovation.
How does a kitchen remodel affect home value?
A kitchen renovation can increase your home's value by up to 20%.
What is a realistic budget for a kitchen remodel in Metro Vancouver?
$50,000
Read our other article about kitchen renovation:
Statistics
"Budget 10 to 15 percent more than what your contractor quotes because many projects run into unforeseen costs," she says. (apartmenttherapy.com)
Major kitchen remodels recoup less than 70% of their value upon sale. (houselogic.com)