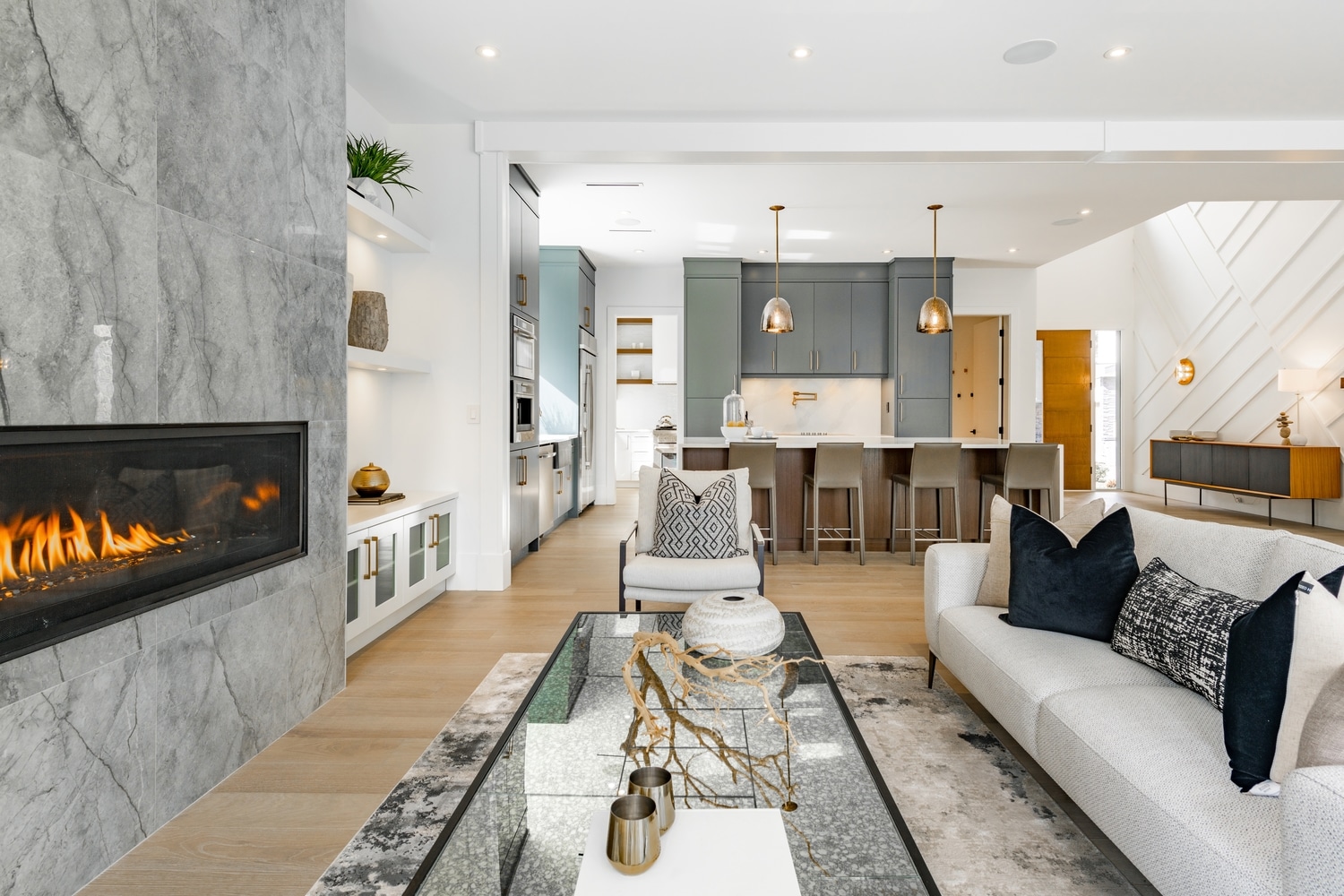 When most people think of open-concept kitchens, they imagine one ample, airy space where the living room merges seamlessly into the dining area and the kitchen. While this is certainly one possibility, several other layouts can achieve the same effect. Whether you're looking to combine multiple areas into one or want to keep them separate but still connected, there's sure to be an option that fits your needs. An open-concept kitchen allows for socialization while maximizing space by combining your dining room and kitchen. But this space-saving design can look humongous if it's painted entirely white. In this article, we talk about the benefits of open-concept kitchens and will give you ideas to incorporate into your next great kitchen design. 
Open concept kitchens are a trend.
Historically, kitchens are for preparing meals within their four-walled confines. Even older designs had hidden kitchens behind doors that swung open and closed. Homeowners now embrace the idea of having open spaces in their homes where they can enjoy meals together.
Open-concept kitchens are popular because they offer lots of space for cooking and entertaining. Open spaces encourage social interactions. One major drawback of an open-concept kitchen is that it lacks privacy. To mitigate this potential issue, consider the following ideas:
– Incorporate an island into your open concept kitchen. Islands provide extra counter space and storage. They can also be a barrier between the kitchen and the living room.
– Install a sliding door or screen to close off the kitchen when necessary.
– Use furniture to create separate spaces within the kitchen. For example, a kitchen table can delineate the eating area from the cooking space.
– Paint the kitchen and living room in different colours to create visual boundaries.
– Add textural interest to the space with area rugs, curtains, or different flooring materials.
A successful open-concept kitchen design requires a bit of remodelling work. It's crucial to organize things properly. Consider a storage solution that makes organization easier. An excellent example of this would be glass door cupboards. If possible, use the same colour scheme to tie the rooms together. Choose a similar theme if you're unsure what to use in each space. In general, a similar decoration scheme will look great in both rooms.
They maximize space by merging your dining room with your kitchen.
In addition to creating more storage, open-concept kitchens can also be elegant and aesthetically pleasing. A tabletop kitchen island can serve as a dining area and a workspace, combining the two rooms. When not in use, the tabletop can fold into the cabinet doors to save space. And if you want to save more space, you can incorporate a folding table as a countertop.
The open concept kitchen can be a practical option for families with small children. It allows you to multitask without disturbing family members. It also makes any mess visible, so it's likely to be cleaned up. This can make it easier to keep the room clean and organized.
You must consider the cost if you're thinking about remodelling your kitchen. Remodelling the kitchen is a significant expense and may not be feasible for everyone. But if you're willing to put in the effort, consider incorporating a modern design into your space. It's worth the effort. Consider your open concept kitchen ideas in the end. These ideas can maximize your space and make your kitchen appear more prominent.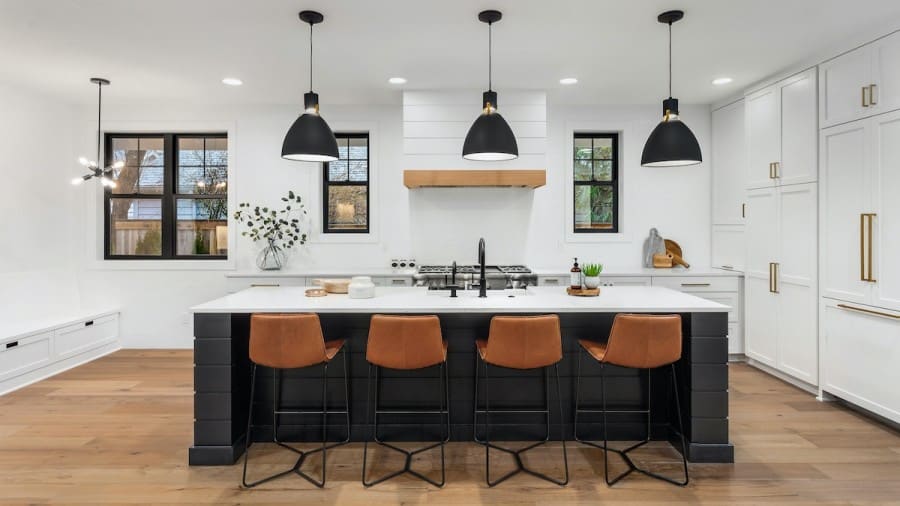 They allow for socialization: an entertaining space.
The best open-concept kitchens provide ample space for conversation, allowing you to engage in conversation with guests and family members. These kitchens are also more functional than traditional ones, allowing seamless transitions from one space to another. They allow you to enjoy socializing while cooking and chatting with visitors. 
Make Your Island the Centerpiece
An open kitchen design has one of its best features in integrating islands. We love how this kitchen design serves as an eating space and a visual focal piece. Open concept kitchen ideas allow for socialization and allow you to interact. Putting chairs around the kitchen counter will create a social environment that encourages conversations and breaks. If you do not want to spend time at the kitchen counter, consider installing a small table with benches to promote exchanges among family and friends. An open-concept kitchen will allow you to entertain guests while cooking, too! A mini table with benches will encourage conversation and help everyone stay on task.
Using an island can provide more counter space and seating, and the open concept design makes the room more spacious. An island can also be a great way to create more counter space and seating without disrupting traffic flow in your home. Don't forget that a kitchen should be a social space, too! Open concept kitchens make it easy to cook meals together so the whole family can enjoy them.
They can bring a theme to life.
A kitchen open to a living or dining room can have a dining room-like feel. Using fine chandeliers and pendant lights is one way to do this without walls. Open shelves, for instance, can give extra prep space without hiding cabinetry. Moreover, an open kitchen theme doesn't necessarily require much square footage. You can start small by knocking down a single wall in the kitchen.
The key is to use colour wisely. Colours contrasting with each other can make the space feel fresh and inviting. For instance, a contrasting backsplash or unique design element will draw visitors' eyes. The kitchen can seem cold and empty if the entire room has no colour. Add some colour to the kitchen island to break up this stark look.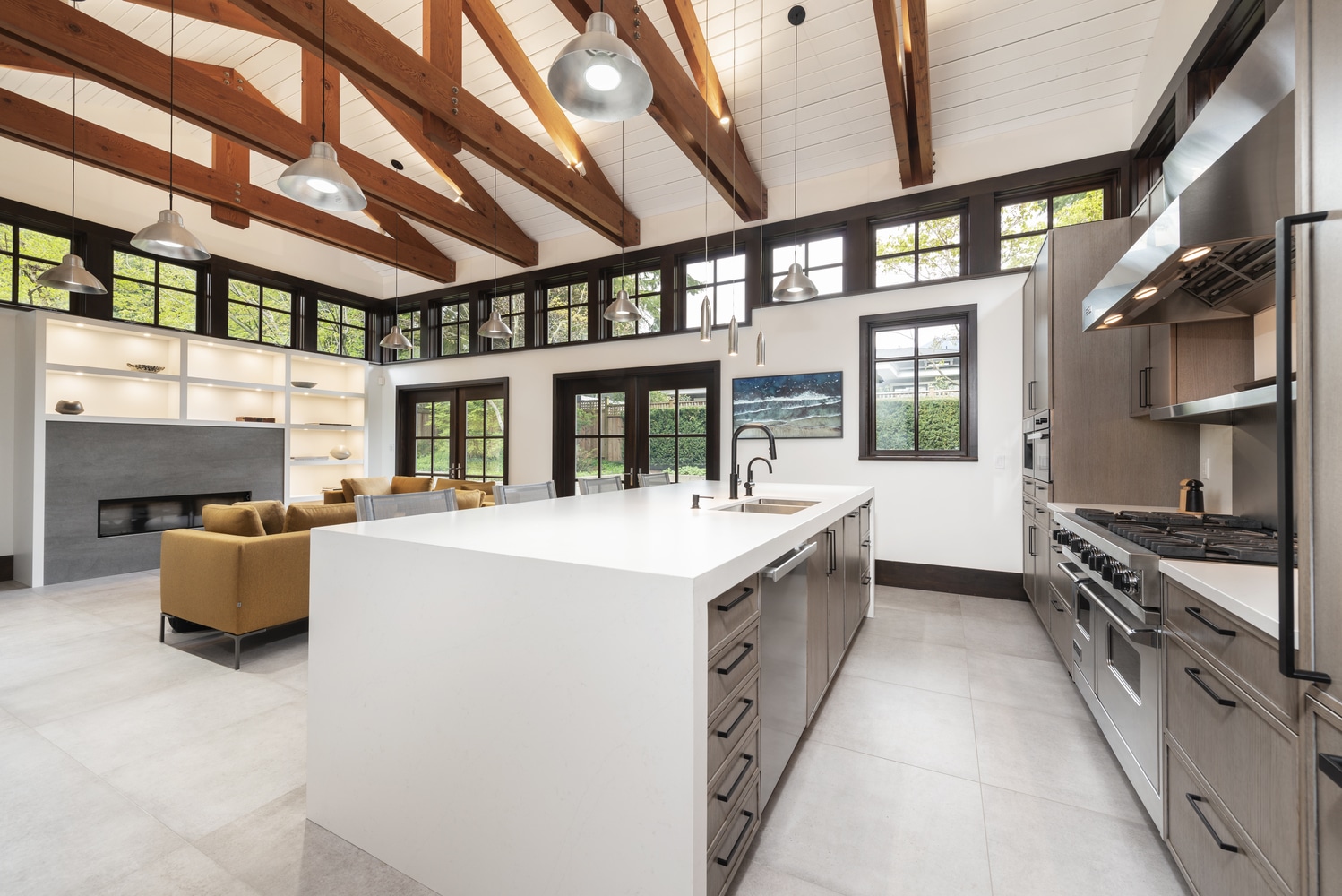 They are practical for tiny homes.
While you may be worried that an open-concept kitchen won't be able to accommodate all of your cooking needs, it can still look beautiful. With the right design, a small kitchen can look more extensive and more organized than it is. A narrow kitchen can be a great place to place a booth or small dining table. Make sure you incorporate much storage into your open-concept kitchen.
The free movement makes it easier to serve food and entertain. A wide-open concept kitchen makes entertaining more convenient, and a smaller home will appear more spacious than it is. An open-concept kitchen is also handy if you live in a tiny apartment or have limited space. However, it's important to remember that a small apartment or condo may not have much space. 
While an open-concept kitchen is often viewed as a luxury in large homes, it can be a practical solution for tiny homes. Open-concept kitchens are ideal for apartments and are often the home's main focal point. They provide plenty of space to entertain guests, even with a small budget. They also allow you to add more storage and appliances without sacrificing functionality. Whether you're remodelling your small kitchen or adding a new one, an open-concept kitchen will make your space look spacious and beautiful.
Frequently Asked Questions:
Are open concept kitchens going out of style?
Open concept kitchens are still popular today because they offer a modern look while allowing easy access to all kitchen areas.
Are open plan kitchens a good idea?
Open plan kitchens are great for families who want to cook together. But they can also be a nightmare if you have kids that like to play in the kitchen and don't always listen to their parents!
How do you organize an open-concept kitchen?
The best way to organize an open-concept space is to create a straightforward workflow. This means having all appliances close together. Having these items close together makes cleaning easier. Also, keep all cooking utensils near each other for easy access.
Do open concept kitchens increase value? 
A well-designed kitchen is a selling point for any house. In general, a properly designed kitchen can add value to your home. It wouldn't matter if it's an open-concept kitchen or not.
What are the disadvantages of an open concept kitchen? 
Privacy is the biggest issue. With an open-concept kitchen, you can't hide the mess from guests. Also, if you love to cook, the smells might bother people in other Often, there isn't enough counter space or storage space to accommodate everything. An open kitchen can be challenging to keep clean if there isn't designated cooking and eating area. Lastly, an open-concept kitchen may not be your best option if you don't have much square footage.
Is an open or closed kitchen better?
Open kitchens are great for entertaining guests, while closed kitchens are ideal for cooking at home. However, both kitchens require careful planning, especially when considering space constraints. If you want to host dinner parties, consider having two separate dining areas.
What are the four basic kitchen plan layouts?
The four basic kitchen layout plans include L-shaped, U-shaped, T-shaped, and open concept kitchens. These designs depend on the size of the room, the number of appliances, and other factors. It would help if you considered these different kitchen layouts to create a functional kitchen design for your home.
What is an open concept kitchen?
An open-concept kitchen has no walls between rooms, allowing easy access from one room to another. This design allows for more natural light, which makes the space feel bigger and brighter. Open-concept kitchens also allow for better flow through the home, making it easier to move around from room to room.
What does a new open-plan kitchen cost in Metro Vancouver?
A new open-plan kitchen costs around $40,000-$60,000, depending on the size of the kitchen and the materials selected. The price depends on whether the kitchen has been built from scratch or remodelled. The cost will be higher since you must apply for building permits to remove walls. The cost will depend on whether you have an open layout or not. If you have an existing open kitchen, the price will be lower. 
Will you need planning permission for an open-plan kitchen?
Planning permission is needed when building work affects the existing structure of a property. This includes new extensions, alterations, or additions to the property. 
 Open-concept kitchen quick ideas:
1. Open Concept Kitchen Design
An open-concept kitchen design is a great way to make cooking fun again! An open-concept kitchen gives you access to everything you need without going back and forth between different rooms. You can easily access pots, pans, appliances, and food storage.
2. Open Floor Plan
A floor plan that opens up makes room for entertaining family and friends. A spacious kitchen island provides plenty of space for preparing meals while still keeping everyone close together.
Island kitchens give you extra counter space for preparing meals. These types of kitchens are perfect for families who love to cook.
4. Pantry
Pantry designs provide ample storage space for all of your spices and ingredients. Having a pantry helps to keep your kitchen organized and clean. Incorporate one in your open-concept kitchen to maximize the space.
5. Center Island
Center islands are great for providing an additional seating area for guests. They also help to organize your kitchen and create a central gathering place.
Open-concept kitchen key takeaways:
1. Open Concept Kitchen Design
An open-concept kitchen design is a great way to make cooking fun again. An open-concept kitchen allows you to enjoy the space around you while preparing food. You don't have to worry about having to close off any rooms to cook. Many people find they use their kitchen more often than not.
2. Open Concept Kitchens – Small Spaces
If you live in a small apartment or condo, you might think you cannot create an open-concept kitchen. However, if you have enough counter space, you can still create an open-concept kitchen without taking up much room. All you need to do is add storage cabinets and appliances where necessary.
3. Open Concept Kitchens – Large Spaces
If you live somewhere with plenty of space, you should consider an open-concept kitchen. Not only does it look nice, but it makes cooking easier. There is no need to go back and forth between different parts of the house. Instead, everything is right there in one area.
4. Open Concept Kitchens- Modern Style
Modern kitchens tend to be smaller than traditional ones. But, they still offer lots of space for cooking. Just make sure you choose items that match the rest of the decor. As long as you keep things simple, you can easily fit an open-concept kitchen into a modern-style home.
5. Open Concept Kitchens: A Great Way To Cook
You may not realize how much time you spend in the kitchen. That is why an open-concept kitchen is a great idea. You can sit down and eat dinner with your family without worrying about closing doors. Plus, you won't feel cramped in the kitchen, either.
6. Open Concept Kitchens Make Cooking Fun Again
Cooking can become tedious if you never leave the kitchen. So, try something new and give an open-concept kitchen a shot. You will love walking around and checking out what you are doing.
Canadian Home Style is your family-owned and operated custom cabinetry retailer with a showroom in North Vancouver, BC. We are the official dealer of Cabico custom cabinetry in the Lower Mainland, providing complete kitchen renovations with an extended warranty. We always keep up to date with the latest trends and are proud members of the NKBA National Kitchen and Bath Association.  In addition, we have won the Consumer's Choice Awards back-to-back in 2021 and 2022 for our commitment to business excellence. We are considered one of the highest-rated kitchen and bath design and renovation experts in Metro Vancouver. Book now to visit our North Vancouver showroom, where you can get expert advice from one of our kitchen and bath designers. We're happy to be a part of your journey with your next kitchen renovation project in Metro Vancouver.
Services We Offer:
Main Areas of Service in British Columbia: 
Useful Resources: 
https://www.thespruce.com/open-kitchen-ideas-4693648
https://www.decoraid.com/portfolio/luxury-condo-interior-design-in-san-francisco/
12 Open Kitchen Ideas Brimming With Style
Read our last kitchen renovation article here: