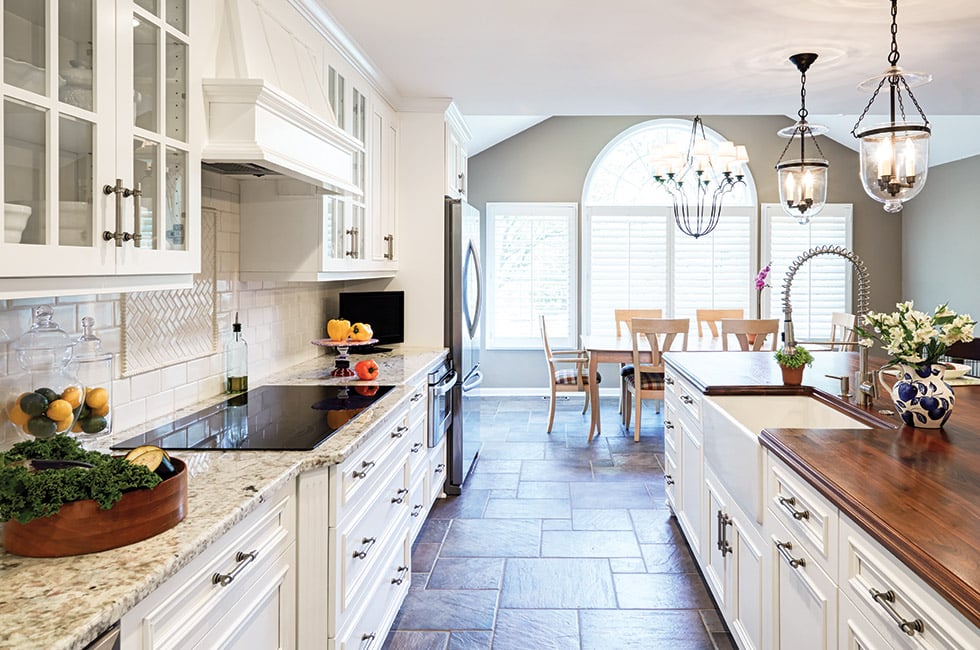 How to plan a kitchen remodel
When you're considering a new kitchen, you have many decisions to make. Everything from cabinets to handles should be carefully considered, as will the price and durability of the materials used. Cabinet boxes should be rigid, at least 18mm thick, and worktops should be durable and functional. If you're on a budget, it's also essential to consider the value of the materials and the price tags associated with them. Here is some kitchen remodel ideas for getting the most bang for your buck with your next kitchen renovation project:
1. Research different kitchen styles and layouts. This will help you determine the form and function of your new kitchen.
2. Work out a realistic budget. Having a clear idea of how much you can afford to spend on your new kitchen is essential.
3. Consider the value of different materials. Not all materials are created equal; some will be more expensive than others.
4. Choose functional kitchen appliances. When selecting new kitchen appliances, think about what will make your life easier.
5. Don't forget the details! Finishing touches like cabinet hardware, faucets, and light fixtures can make a big difference in the
Kitchen Remodel Ideas:
Work triangle
Using a work triangle when designing a new kitchen is a great way to maximize efficiency and minimize traffic in the space. Keeping significant kitchen areas close to the cook makes it possible to avoid crowding and cross-contamination. Additionally, you can reduce food preparation time by keeping the prep area closest to the sink. This method will also ensure a smoother workflow and minimize disruptions while cooking.
It is essential to understand that the work triangle is only a guideline, not a law. It is unnecessary to follow the guidelines precisely, and it can be helpful if you redesign an existing kitchen. However, it is essential to remember that the work triangle is only a general guideline, so you can get creative when designing your new kitchen. Your lifestyle will determine how functional your kitchen should be.
Work Triangle works excellent for a small space.
The concept of a work triangle is a time-tested interior design concept. The idea dates back about 70 years. Back then, kitchen spaces were small, and appliances were large. Industrial engineer and inventor Dr. Lillian Gilbreth pioneered the kitchen desk and established the standard dimensions of a kitchen. She recommended that most of the most-used items be close to each other and leave space for elbow room. 
Durable materials
There are many things to consider when buying durable materials for a new kitchen, and durability should be one of them. After all, your kitchen is probably the essential room in your home, so it should last as long as possible. Most people, however, do not consider the durability of their new kitchen materials. They tend to think only of the design and the cost. In reality, however, choosing durable materials can help you save money in the long run. We at Canadian Home Style offer custom cabinetry solutions via Cabico custom cabinetry. Cabico provides a lifetime warranty on all of its cabinet lines.
Cabinet boxes should be plywood, not particleboard.
Particleboard is an inferior product made of wood chips and sawdust held together with glue and resins. Particleboard will swell and disintegrate when it gets wet and is not as strong as plywood.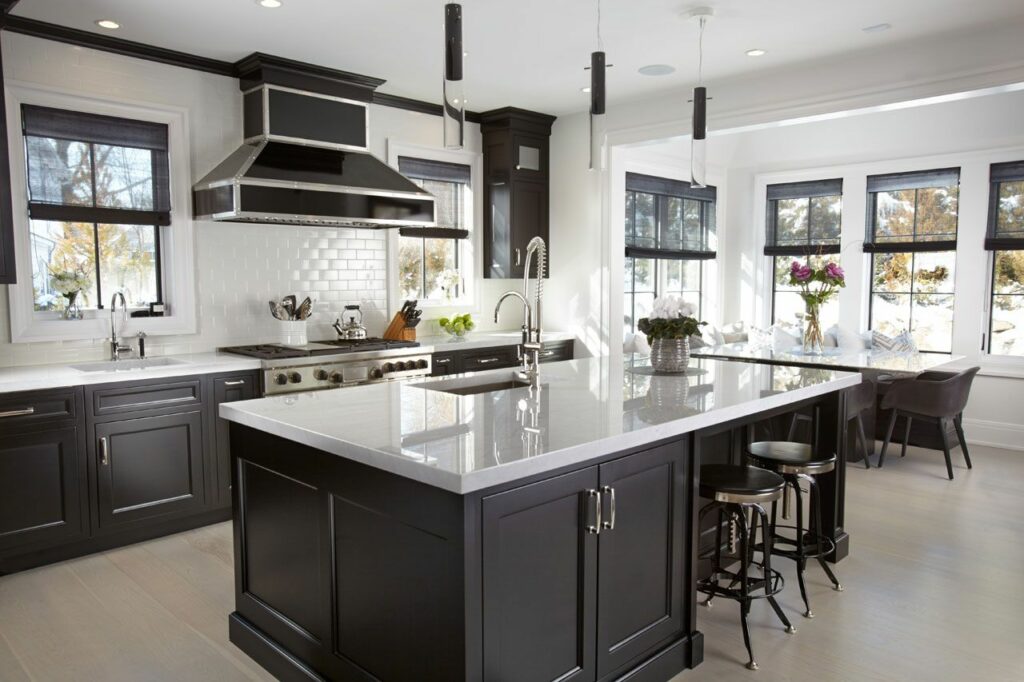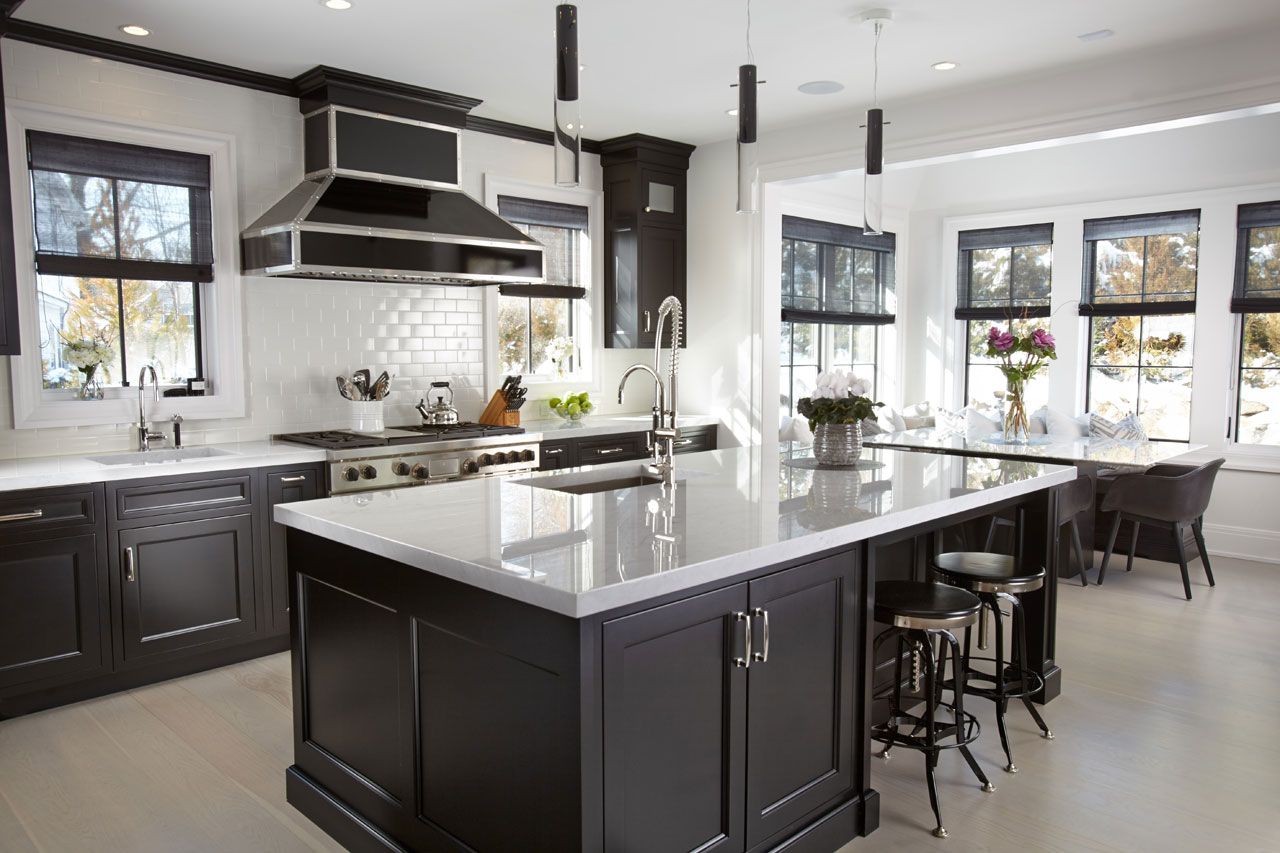 Kitchen Flooring
Flooring is one of the most critical aspects of your new kitchen. Don't be afraid to use hardwood in your kitchen. Try a blond white oak hardwood floor. It would help if you considered running your floor throughout your house for a contemporary kitchen.
Kitchen floor options
Tile or Stone

Hardwood – wood adds warmth to your space.
Task lighting
Good lighting is essential for preparing meals, cooking, and cleanup. Many kitchens have only one light fixture, which is usually not enough. Under-cabinet lighting is an excellent way to add task lighting to your kitchen.
Recessed lights

Pendant lights

Chandeliers

Under-cabinet lighting
Lower cabinets
You will need to have some lower cabinets in your kitchen. Consider using drawers instead of doors. Drawers are much easier to use and provide better access to your stored items. You can use them for storing pots and pans, dishes, food, and small appliances.
Upper cabinets
Upper cabinets are not essential in a kitchen, but they can help store seldom-used items. If you choose to have upper cabinets, ensure they are tall enough to reach easily.
Open Shelving
Open shelving has become a popular display of dishware and other kitchen items in modern kitchen design. Open shelving can provide an airy feel to your kitchen. It is essential to note that open shelves require more upkeep than traditional cabinets.
Kitchen Island
A kitchen island can provide extra storage, workspace, and seating if you have the space. You can make the kitchen island the focal point of the kitchen with a different countertop material or colour.
Backsplash
A backsplash is a great way to protect your walls from spills and splatters. It also adds style and personality to your kitchen. Full-height backsplash or subway tiles are in trend for many designers and homeowners.
Comfy seating
If you're designing a family kitchen where people will gather to eat, you'll need to have comfortable seating. Banquettes are a great option if you have the space. They can be built-in or free-standing and can be upholstered to add comfort. Bar stools are also an option, particularly if you have an island.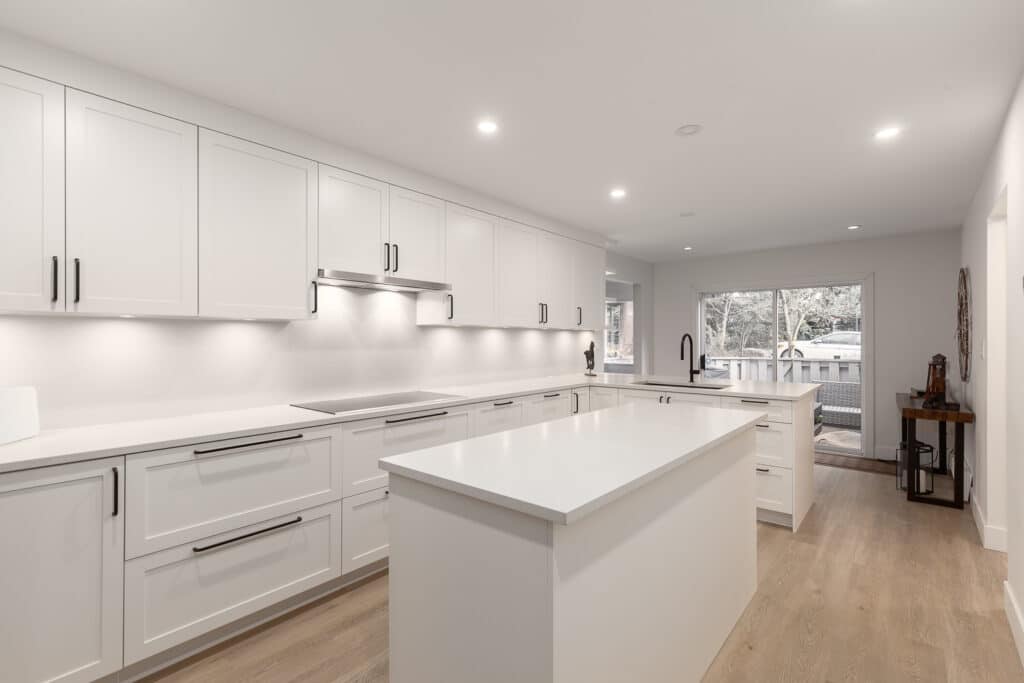 Countertop options
It would be best if you used quartz countertops since they need minimal maintenance and are very strong. However, you have lots of options when it comes to your kitchen countertop:
Quartz

Dekton

Marble

Granite

Laminate

Tiled countertops
The cost of renovating a new kitchen can be very high, so it's essential to make the right choices to keep costs to a minimum. A complete kitchen renovation can cost anywhere from $30,000 to $150,000 in Metro Vancouver. This would include all new appliances, flooring, cabinets, and countertops.
There are things you can do to save money, such as:
1. Use recycled materials – this can help reduce the cost of your new kitchen by up to 50%.
2. Use stock cabinets – these are usually less expensive than custom-made cabinets. However, they don't last as long.
3. Get creative with your design – use space innovatively to save on costs.
4. DIY where possible – this can save you much money on labour costs.
The cost of fitting appliances and plumbing could significantly add to the new kitchen's overall price. Fully integrated kitchen appliances usually cost more than free-standing ones.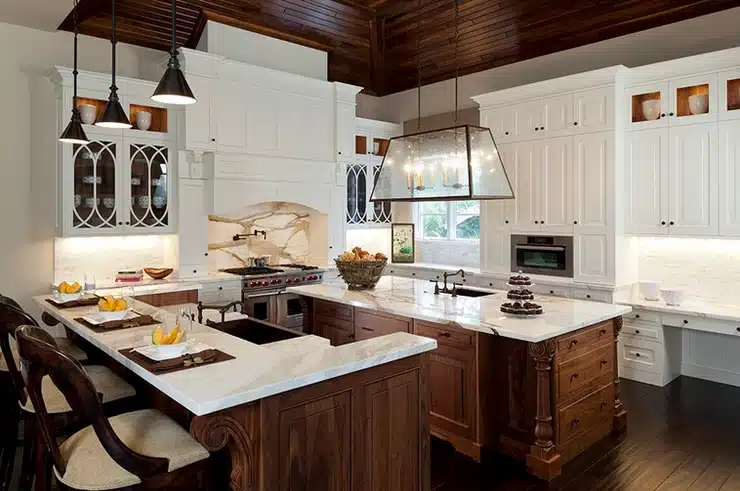 Common mistakes in home renovations
When it comes to renovating a home, there are some common mistakes that homeowners make.
Installing a new kitchen in the wrong location may not work out.

Putting the dishwasher too far away from the sink may result in wet floors.

Placing the fridge next to the oven can make it hard to open the fridge door.

Not enough counter space can be a problem.

Not having enough storage is another common mistake. Ensure you have enough cabinets and shelves for all kitchen gadgets and appliances.

Installing a new kitchen is choosing the appliances at the last minute.
Planning out the kitchen layout is necessary for a successful kitchen renovation. Before you begin the kitchen renovation process, consider where you will place power supplies, workflow, and appliances. If you plan to install a microwave, you'll need to consider its location and required worktop size.
Repurposing or re-using parts of an old kitchen
The beast in you may rise when you decide to renovate your kitchen. The ensuing teardown of cabinets may make you want to salvage what you can and re-use them elsewhere in the house. For example, wall cabinets can go in a garage, workroom, garden shed, kid's closet, hall closet, and even a laundry cart. You can also repurpose base cabinets for other purposes.
Many household items are recyclable, so it makes sense to reuse them. Aluminum cans, paperboard, cardboard, and glass jars are ideal for recycling. Many curbside programs accept these items as well. You can also use old kitchenware for a new kitchen by giving it away, selling it, or donating it to a resale center.
Buying second-hand items
Buying second-hand items for a newly-built kitchen can be an excellent way to cut costs without compromising quality. However, you should make sure you check carefully before making a purchase. There are risks associated with purchasing second-hand items, including the risk of damaged worktops and units. If you are considering second-hand kitchens, seek advice from a reputable trader.
Canadian Home Style is your family-owned and operated custom cabinetry retailer with a showroom in North Vancouver, BC. We are the official dealer of Cabico custom cabinetry in the Lower Mainland, providing complete kitchen renovations with an extended warranty. We always keep up to date with the latest trends and are proud members of the NKBA National Kitchen and Bath Association.  In addition, we have won the Consumer's Choice Awards back-to-back in 2021 and 2022 for our commitment to business excellence. We are considered one of the highest-rated kitchen design and renovation experts in Metro Vancouver. Book now to visit our North Vancouver showroom, where you can get expert advice from one of our kitchen designers. We're happy to be a part of your journey with your next kitchen renovation project in Metro Vancouver.
Services We Offer:
Main Areas of Service in British Columbia: 
Resourceful Links:
Did you miss our previous articles…