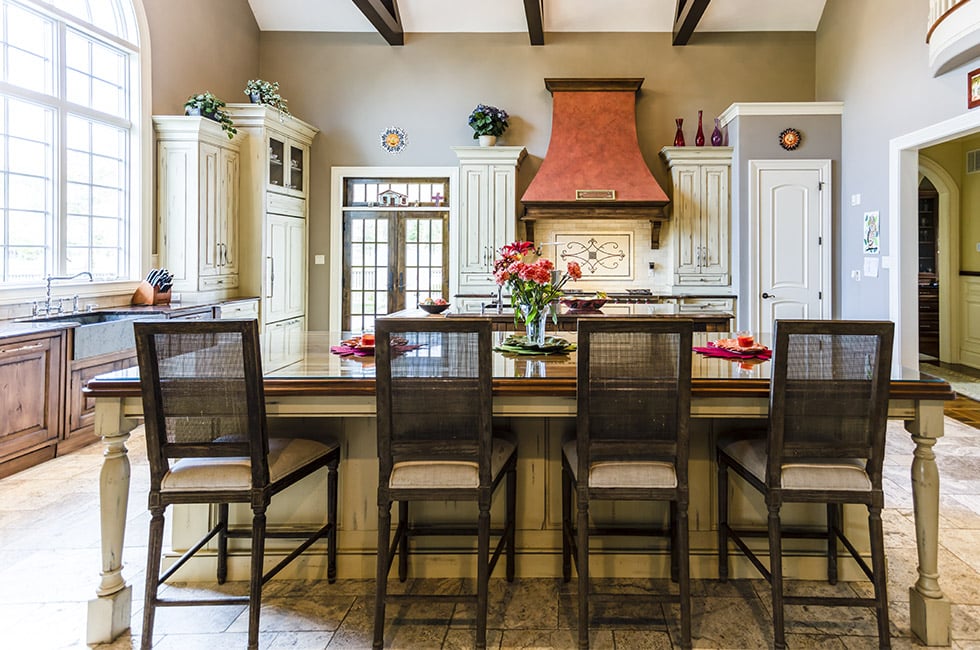 Family Kitchen
If you're planning a family-friendly kitchen renovation, there are several things to remember. Functionality is vital in family kitchens – everything should be within easy reach for little ones. Many family kitchens are designed for comfort and practicality. Banquette seating is a popular choice, as it provides comfortable seating and can also be used as a workspace. Work surfaces of varying heights are also suitable, as they allow different family members to work comfortably. Induction ranges are a good choice for family kitchens, as they are safe and efficient. Open-plan living is ideal for families, as it allows everyone to stay connected while cooking or eating.
Work surfaces at different heights for family members
If you have a large open family kitchen and want everyone to be comfortable working in it, you might need a new setup that accommodates everyone's height. Using a LINAK Baselift system, everyone can use the counter as their working height. The base moves up or down as the child grows. For a comfortable work surface, use both high and low shelves.
For a busy family kitchen, ensure all tools have their own dedicated space. Keep frequently used items accessible for all household members while keeping potentially dangerous objects out of reach of young children. For added safety, ensure the work surfaces of different heights are installed in the kitchen. Also, ensure that the countertops are at various heights so that other family members can work comfortably at different levels.
A multigenerational kitchen design should incorporate multiple work surfaces, tabletops, sinks, and prep zones. Multiple heights help multiple cooks work at different times, and numerous prep zones make it easier for those with limited mobility or eyesight to perform tasks in a particular area.
Banquette seating is a popular choice in family kitchens.
The benefits of banquette seating are numerous. It is an attractive and functional way to add a dining area to a small room. It can seat more people than a conventional dining set and incorporate storage options such as a pull-out drawer or lift-up seat for toys and crockery.
Another standard installation method for banquettes is tucking them into a corner of the island. The kitchen island can feature four or five seats tucked into an enviable corner. Banquette seating design is flexible, making it a practical and decorative option. For example, adding elegant legs to the upholstered banquette can mimic the style of a stylish sofa.
Induction ranges are an excellent option for families.
For family kitchens, it is essential to have a range that is efficient and safe. Induction ranges are an excellent option as they use magnetic fields to heat the cookware, which means there is no open flame. This feature makes them much safer than gas or electric ranges. Additionally, induction ranges are more energy-efficient than other types.
In Today's world, electric ranges aren't for everyone. They have traditionally been notorious for their poor performance. Conventional electric stoves take forever to heat and cool down. Gas ranges, on the other hand, are a preferred choice among serious cooks. But with the increasing use of induction technology, they have become more affordable than ever. Even the cheapest models have induction testers.
Induction double oven models from Samsung are one of the most affordable options on the market. These ranges are also great for families in kitchens. The Samsung model, for example, offers a 36-inch cooktop with a bright dial and convection heating. They also have Air Fry technology. This technology creates deep-fried favourites with less fat and a crispier texture. And if you're worried about cooking oil, you can choose an induction oven with a steam-clean setting to make cleaning easier.

Open-plan living is ideal for family life.
There are several benefits to open-plan living. In addition to a more spacious feel, open-plan living allows families to spend more time together and helps to reduce family stress. The following are a few of these advantages. Here's how to do open-plan living work for your family.
A kitchen Island or Peninsula is a must.
Open-plan living is an increasingly popular design choice among families with a family kitchen. It gives families greater access to the rooms surrounding the kitchen. While the traditional dining room may include a table and chairs, an open-plan living concept can also incorporate a kitchen island or peninsula, which allows you to eat meals while simultaneously working in the kitchen. Open-plan living can be ideal for families with small children.
A family with a busy lifestyle will benefit from an open-plan living design. While it can help people with different activities stay in contact, it can also be safer for children. While the entertainer is working in the kitchen, the other family member can keep an eye on the kids while watching a movie or doing homework. Open-plan living can also help make a small house seem much more spacious.
Breakfast bar
A breakfast bar is a great way to create an informal dining area in a family kitchen. Breakfast bars also provide extra seating for entertaining guests while preparing food. They can be located in a kitchen corner or incorporated into an island unit. This would give you great versatility and an alternative to a dining table and dining chairs at times.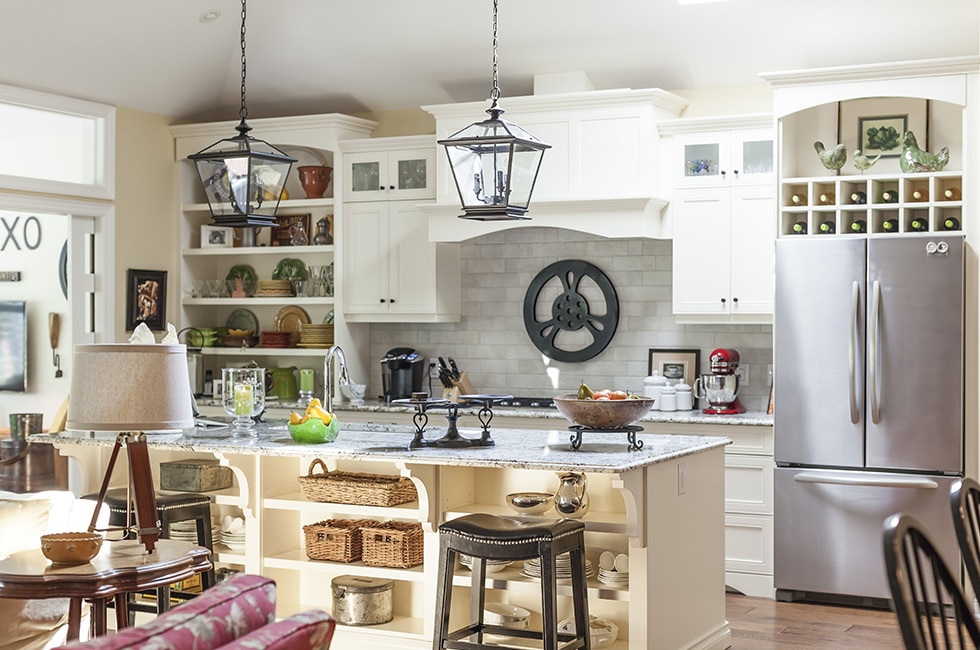 Storage solutions for a family-friendly kitchen
Today's families need efficient storage solutions that can fit their busy lifestyles. The kitchen has become a central hub of the home, with everyone in the family running to soccer practice, doctor's appointments, or school. For busy families, a well-organized sink area can save time and help assign cleaning duties.
You need closed storage space designed in your kitchen cabinetry that is easily accessible for the whole family. Often base cabinets are deep, making it difficult to see and reach what's stored at the back. A dedicated cabinet for storage in your kitchen allows your family to separate daily essentials from items they don't use often. They can hide away from sight by placing a dedicated space for these items. Some units even come with chalkboard panels. Another brilliant idea is to install a cup-hook rack in the corner.
Appliance placement
In a busy family kitchen, appliance placement is of utmost importance. As the center of the conversation, kitchen appliances should be placed in areas accessible by multiple users. 
Here are some tips for appliance placement in family kitchens:
Balance appliances' size with the room's other features. If they stick out too far, they can interrupt traffic flow or lead to accidents. On the other hand, if the appliances are too large, they can overwhelm the room and rob valuable workspace. The space between the kitchen sink and dishwasher should be 18 inches wide for a well-planned kitchen. This space should give enough space for the users to move freely. It is also essential to consider the layout of the counter space around the sink.
Family-friendly kitchens Checklist
– Use open shelving for easy access to pots and pans.
– Install a pullout pantry shelf for extra storage.
– Consider adding under-counter lighting.
– Add a breakfast bar for additional seating.
– Create a designated work zone near the sink.
– Include a trash bin that is easy to access.
– Place the refrigerator on the left side of the kitchen island
– Keep the microwave close to the stovetop for easy access.
– Make sure there's plenty of light in the kitchen.
– Choose a flooring material that will withstand heavy foot traffic.
– Designate a spot for kids to eat their meals.
– Include a bench seat for casual dining.
– Install a built-in wine cooler for entertaining.
Canadian Home Style is your family-owned and operated custom cabinetry retailer with a showroom in North Vancouver, BC. We are the official dealer of Cabico custom cabinetry in the Lower Mainland, providing complete kitchen renovations with an extended warranty. We always keep up to date with the latest trends and are proud members of the NKBA National Kitchen and Bath Association.  In addition, we have won the Consumer's Choice Awards back-to-back in 2021 and 2022 for our commitment to business excellence. We are considered one of the highest-rated kitchen and bath design and renovation experts in Metro Vancouver. Book now to visit our North Vancouver showroom, where you can get expert advice from one of our kitchen and bath designers. We're happy to be a part of your journey with your next kitchen renovation project in Metro Vancouver.
We are the official dealer of Cabico custom cabinetry in the Lower Mainland, and we believe in providing sustainable kitchen designs that can last you and your family a lifetime. Contact us for all of your Vancouver kitchen renovation needs.
Services We Offer:
Kitchen Renovation
Bathroom Renovation
Kitchen and Bath Design
Main Areas of Service in British Columbia: 
Read our other article about kitchen renovation: