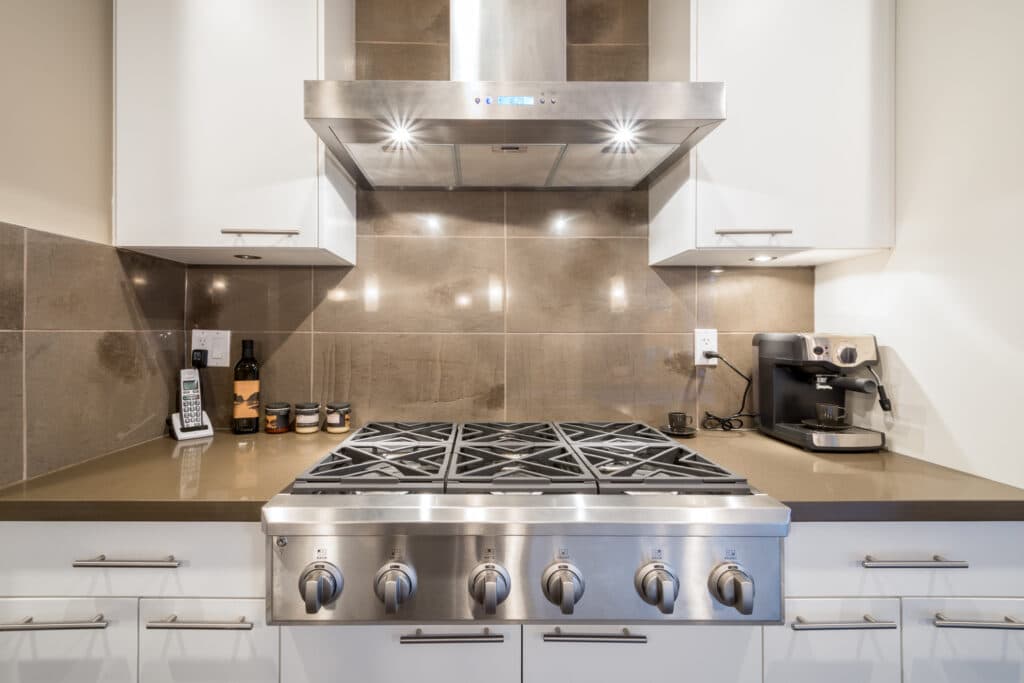 The best way to decide between high-end stoves and lower-end models is to consider a couple of factors: your budget and the style of your kitchen. Fortunately, there are some very high-end stoves available. We've also provided information on some of the best models for the price. If you're on a tight budget, a higher-end range may not be necessary for your next kitchen renovation. In this article, we'll discuss the top six brands of stove you should consider if you're looking for the best in the market.
Gaggenau
If you are looking for a top-of-the-line oven, consider a Gaggenau oven. These high-end ovens come in three sizes to suit the needs of every type of chef's kitchen. The ovens are built from the finest materials and offer a high degree of flexibility. In addition, they feature a touch display, rotary knobs, and 17 cooking modes. You can even use the oven's built-in wifi to control your oven from anywhere.
The interiors of Gaggenau ovens are coated with blue enamel. This colour is the company's trademark, recognized worldwide for its superior quality. Gaggenau developed blue enamel to promote its special competence, which is evident in its products. Some of the more recent oven models come with integrated technology to improve the cooking experience, while others have many options for customizing their ovens.
For the most part, Gaggenau stoves are expensive, but their aesthetics are unmatched. Not only do Gaggenau stoves cook delicious food, but their sleek design and stylish finishes make any room more eye-catching. Gaggenau also offers cooling appliances that inspire chefs with fresh ingredients. They even have a Teppan Yaki, an induction cooker. If you're planning to build a gourmet kitchen, you'll want to consider Gaggenau stoves.
While quality is essential, looks are just as important. The Gaggenau brand is one of the most sought-after products for high-end residential kitchens. This brand has been making high-quality appliances since 1681 and has become an icon of high-end design. You'll love using your new stove for cooking your favourite dishes! It's easy to clean, too, and there's no need to clean the stove regularly.
Bertazzoni
Another high-end stove that will complement the rest of your kitchen, you should consider a Bertazzoni high-end range. You can choose from different series to suit your budget, cooking needs and aesthetic style. As an Italian company, Bertazzoni makes a variety of high-end stoves and ovens for the home, including ranges, wall ovens, microwaves, and built-in cooktops. In addition to cooking ranges, Bertazzoni sells various accessories, including ventilation hoods, backsplashes, and more. These products are sourced from Italy, where the company was founded and sold internationally. However, the prices of Bertazzoni products are higher than those of similar mid-range appliances.
The Heritage series of Bertazzoni high-end stoves and ovens are perhaps the most expensive range. It is made from stainless steel with single-sheet construction and features soft-close door hinges. There are also models with six sealed Italian brass burners and Dual Diagonal Convection fans with four separate heating elements. These appliances are ideal for kitchens and commercial establishments, and the quality and finish are unmatched.
The ambiance of these ranges is incredibly stylish, with rich, vibrant colours and classical Italian styling. In addition to the quality of the interior, these stoves also have a pyrolytic self-cleaning function, which is a nice extra.
Thermador
A Thermador high-end stove will provide the base ingredients for incredible dishes. This company has been creating luxurious kitchen appliances since 1916. The company is known for its handcrafted stainless steel finishes, innovative Wi-Fi technology, and comprehensive kitchen appliance packages. Browse through the different package options to see which one will fit your kitchen's style. And, remember, you can even choose the colour of your stove. You can see more about Thermador's stoves and ovens at a showroom near you.
Thermador offers a wide range of service and support options, including an app to control your range remotely. This feature is particularly handy if you want to monitor the temperature of food remotely or if you'd like to perform diagnostics on the range. Home Connect also offers recipes and product tutorials. You can also ask questions of an expert who is on hand to help you out. This will ensure you get the best service possible for your Thermador high-end stove.
In addition to a high-end range, Thermador offers a large selection of wall ovens. Wall ovens can be installed alone or in conjunction with two other cooking appliances. Many Thermador's wall ovens offer WiFi-enabled programming and a 7-minute preheating cycle. There are also several handcrafted stainless steel ranges. Many of the gas ranges from Thermador are equipped with the Pedestal Star(r) Burner, which delivers 56% more even flame coverage than conventional round burners.
La Cornue
In the early 1960s, Albert Dupuy, a French engineer, designed the world's first gas stove. He was so close to the culinary world that he decided to build the stove for his son Xavier. Xavier later introduced the Chateau line, which has since become synonymous with La Cornue. Xavier spent four years perfecting the design, resulting in a stove that combines simplicity with more than 100 years of skill.
Today, La Cornue ranges offer various options to match any kitchen's decor. Their CornuFe series has three trim options and twelve finishes. A ceramic glass induction range top and powerful gas burner are just two of the features you'll find in these stoves. Each range offers you the best of both worlds – a traditional look combined with contemporary elements. And, to complete the look, you can select from various accessories such as a French Plaque or a Wok Ring for the Grill/Griddle.
The company's high-end ranges are handmade by skilled artisans in France. The company's staff uses only the finest materials, including porcelain, nickel and copper. Each range is unique, with each piece created by hand and made to last for a lifetime. As a result, each range is a work of art and is truly one of a kind. French artistry has created each range, making it an exclusive addition to any home.
The ranges of La Cornue include double and single oven compartments, as well as dual fuel options. The CornuFe Series offers five gas burners, induction cooktops, five hobs, and a dual fuel option. Unlike other stoves, La Cornue's induction cooktop delivers heat directly to the cookware. While the doors aren't heated directly, they're remarkably cool to the touch.
Miele
If you're interested in a new stove but aren't sure where to start, Miele high-end stoves are an excellent choice. These models offer wireless probes, M Touch controls, and dual-stacked burners. These stoves have several extras, including warming drawers, convection ovens, and MasterChef programs. For added convenience, some Miele stoves even include a microwave oven.
Since 1899, the Miele name has been synonymous with quality. As a family-run business, they guarantee quality control unmatched in the appliance industry. They control every step of the manufacturing process, from sourcing to manufacturing. You can count on their stoves and appliances to last for years. They're renowned for their reliability and performance. Y
Miele is a leading German appliance manufacturer that specializes in making high-quality appliances. They promise 20 years of exceptional performance, and their products are easy to clean and maintain. They can blend seamlessly with any kitchen design. The Miele brand has something for every kitchen. From stoves and ovens to coffee makers and refrigerators, Miele has a design for you. Miele makes kitchen appliances that are stylish, functional, and aesthetically pleasing.
Miele's high-end stoves and ranges come with features that meet your culinary needs. Despite the premium price, their performance is unmatched. Miele products are built to last and feature intuitive technology. These appliances are pioneering in design and innovation. You can choose from Clean Touch Steel, Graphite Grey, Obsidian Black, or Brilliant White to complement any kitchen decor. They're also designed for easy operation with touch controls.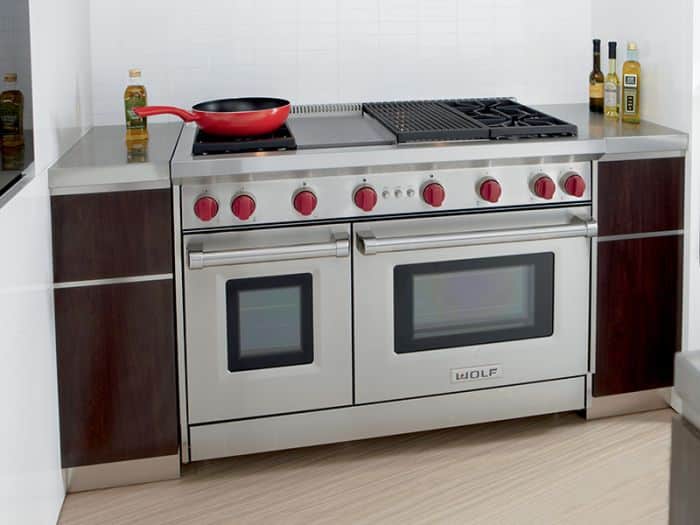 Wolf
Wolf is a leading manufacturer of high-end stoves and ranges. They offer impressive features, including infrared grilling, six sealed burners, and self-cleaning ovens. Wolf stoves are available in gas, electric, and dual fuel options. You can also choose from various finishes, such as black, white, or stainless steel.
Wolf stoves are designed for serious cooks who demand the best performance and features. These stoves come with powerful burners that can reach high temperatures quickly. They also have large ovens perfect for cooking multiple dishes at once. Whether baking a cake or roasting a turkey, Wolf stoves can handle it.
In addition to their impressive performance, Wolf stoves look great in any kitchen. They offer a sleek and modern design that will complement modern designed kitchens. You can choose from various finishes, such as black, white, or stainless steel. Their clean lines and simple design make Wolf stoves a great addition to any kitchen.
Canadian Home Style is your family-owned and operated custom cabinetry retailer with a showroom in North Vancouver, BC. We are the official dealer of Cabico custom cabinetry in the Lower Mainland, providing complete kitchen renovations with an extended warranty. We always keep up to date with the latest trends and are proud members of the NKBA National Kitchen and Bath Association.  In addition, we have won the Consumer's Choice Awards back-to-back in 2021 and 2022 for our commitment to business excellence. We are considered one of the highest-rated kitchen and bath design and renovation experts in Metro Vancouver. Book now to visit our North Vancouver showroom, where you can get expert advice from one of our kitchen and bath designers. We're happy to be a part of your journey with your next kitchen renovation project in Metro Vancouver.
Services We Offer:
Main Areas of Service in British Columbia: 
Read our other article about green kitchen cabinets: https://canadianhomestyle.com/kitchen-renovation/green-kitchen-cabinets/