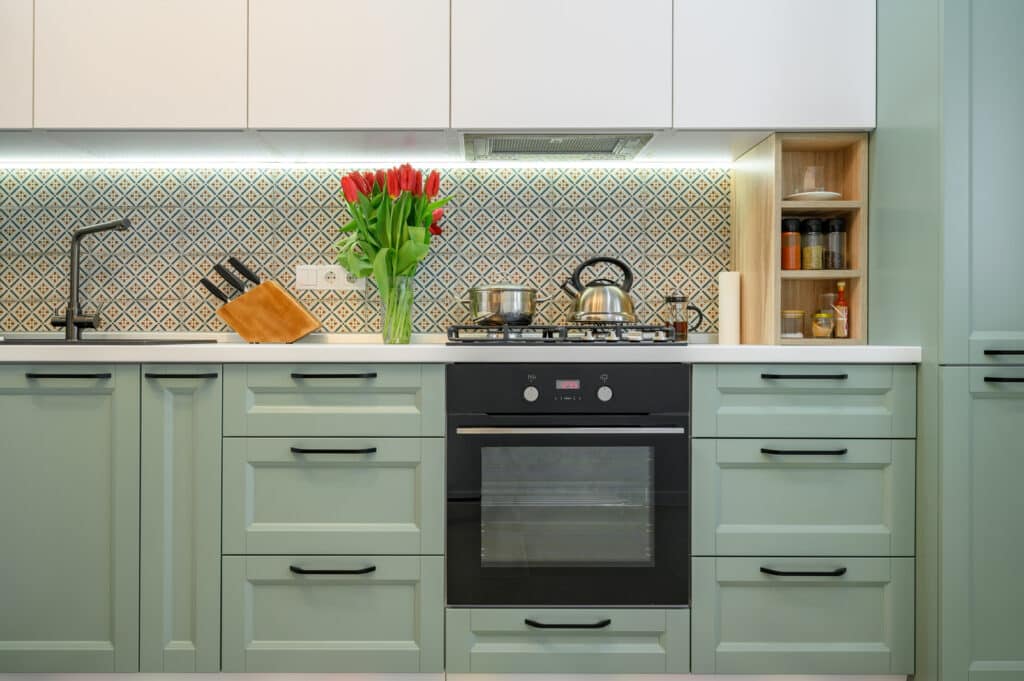 Why should you choose green kitchen cabinets in 2022?
There is a growing market for green kitchen cabinets in Metro Vancouver this year, and it's only a matter of time before this trend becomes even more popular worldwide. For this article, with green, we mean the colour green.
There are many reasons why green kitchen cabinets are becoming more popular in kitchen design. Firstly, green is a refreshing and natural colour that can help to create a calming and relaxing atmosphere in the kitchen. This is especially important in today's fast-paced world, where we often cook and eat on the go. Secondly, green is also associated with health and wellbeing, so it's the perfect colour for a kitchen where healthy meals are prepared.
Thirdly, green cabinetry can help to create a bright and airy space. This is because green is a light-reflecting colour that can help bounce light around the room. Fourthly green is also a very versatile colour, so it can be paired with a wide range of other colours to create different looks.
Green kitchen cabinet ideas
If you're looking for a unique colour for your kitchen cabinets, green may be the answer. It was named the Sherwin Williams' "Color of the Year" for 2022! This colour is a versatile neutral that works well with many other colours and styles of homes. And some say it even lowers stress levels. The colour Secret Garden is a warm olive green with a Low Refractive Value (LRV) of 8. It pairs well with warm tones of taupe and off-white. It can make even a large kitchen feel cozy and serene.
Once you've chosen the right shade of green for your kitchen, you can choose complementary colours to accent your new look. Earthy tones, such as beige, will work well with lighter shades of green. On the other hand, darker shades of green will work well with darker hues, such as black. Finally, grey can be the perfect colour pairing with green cabinetry. It complements the colour perfectly and can make your green cabinets stand out!
Available colours that work for cabinetry.
Mint Green
A light green that has a blue undertone, mint green is perfect for creating a refreshing and airy space.
Sage Green
Darker green, sage green, is perfect for those who want to create a more sophisticated look.
Dark Forest Green
For a bolder look, forest green kitchen cabinets can make a statement in your kitchen.
Tropical Green
A bright green that can transport you to a tropical paradise.
Lime Green
Lime green is perfect for adding a pop of colour to your kitchen.
Seafoam Green
A soft green that can create a calming and serene space.
Hunter Green
A Darker green tone is perfect for those who want to create a rustic look.
Olive Green
Olive green cabinets can create a warm and inviting space.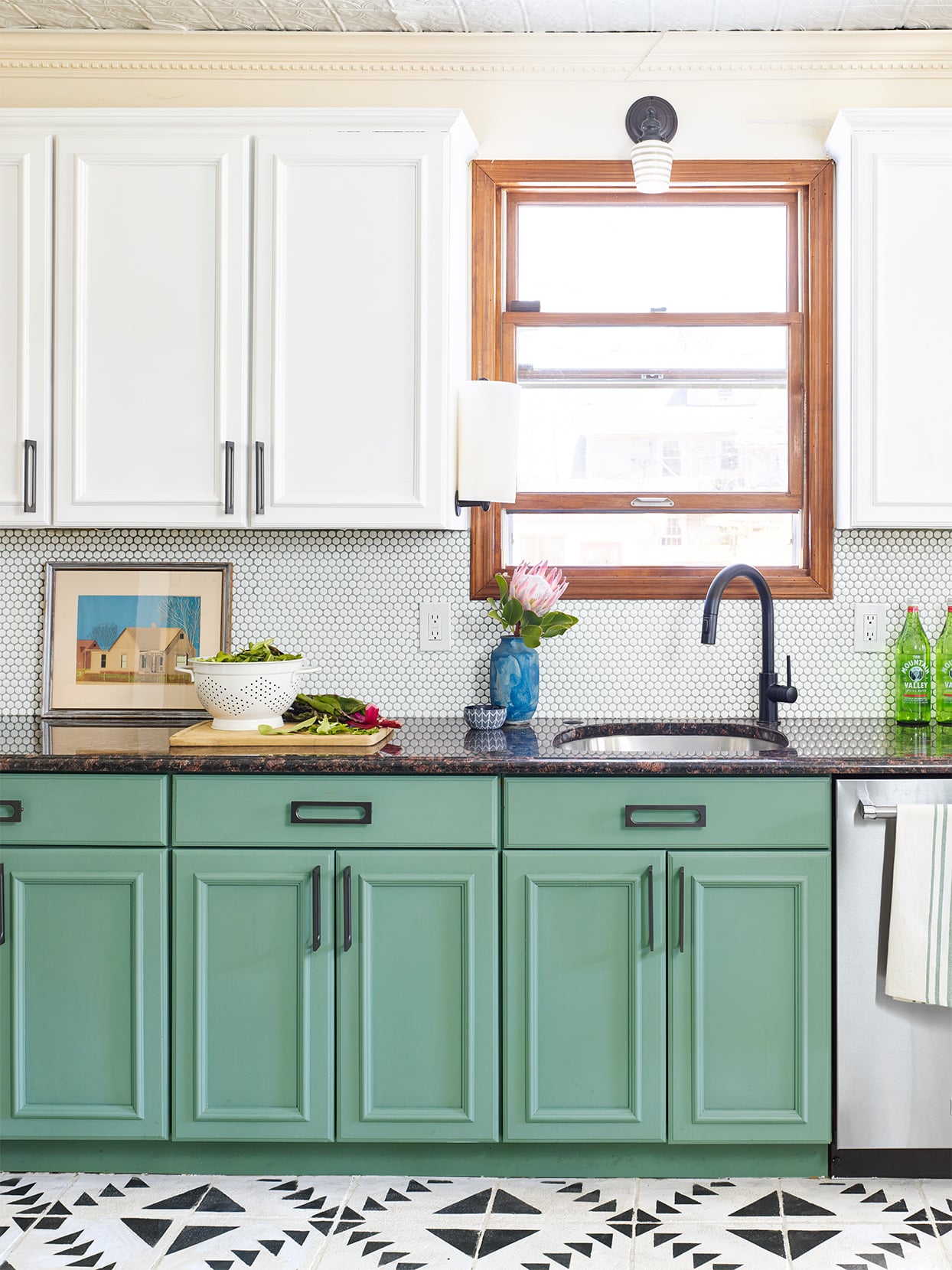 What do green kitchen cabinets say about your personality?
If you choose green kitchen cabinets, it says that you are a down-to-earth person who enjoys the simple things in life. You appreciate nature and want to bring the outdoors inside your home. You are also a very health-conscious individual who loves to cook healthy meals for yourself and your family. You are also very creative and enjoy experimenting with different colour combinations.
As with any bold colour, you must work with other colours to balance the look. Neutrals, white ceilings, and pale tones will help balance dark shades. Shelly Lynch-Sparks, the founder of Hyphen & Co., recommends the colour Benjamin Moore's Hunter Green as her favourite choice of green for custom cabinetry.
You can make green cabinets your own by choosing a shade that suits your kitchen's decor. If you're unsure about the colour, you can try a saturated teal, a soft shade that packs a punch without overwhelming the room. Teal cabinets have blue and gray undertones, so it looks great from every angle. It's also a fun accent colour for a kitchen island or adjacent built-in bar.
Styles to consider
In general, the dark hues of green are perfect for big kitchens and look particularly good with stainless steel and copper accents. A darker shade of green may be better suited to a more modern or minimalist style. Moreover, green painted cabinets can be easily matched with furniture, creating a seamless transition from top to bottom. The colour is also a good match for a traditional or contemporary style. However, there are many other ways to incorporate green in your kitchen.
Two-toned cabinets
Two-toned green kitchen cabinets are a popular style right now. You can choose a lighter shade for the upper cabinets and a darker shade for the lower cabinets. This is a modern twist and a great way to add some contrast to your kitchen and make your green cabinets stand out.
Shaker style cabinets
Shaker-style cabinets are a classic choice that will never go out of style. They are perfect for those who want a timeless look for their kitchen. You can choose green shaker-style cabinets and pair them with white countertops and backsplash for a classic look.
Contemporary kitchen cabinets
For a more contemporary look, you can choose green kitchen cabinets with sleek lines and a high-gloss finish. This is a great way to add a modern touch to your kitchen. You can complement green glossy cabinets with a concrete-looking countertop for a dramatic look.
Open Shelving
Open shelving is big in kitchen design and a great way to show off your green kitchen cabinets. You can use open shelving to display your favourite dishes and cookware. This is also a great way to add some personality to your kitchen.
Accent island
If green is too much for the entire kitchen, use green with your island. You can make the island the focal point of your kitchen. This is a great way to add this trendy colour to your kitchen without going overboard. You can also use green as an accent colour on your cabinets or walls.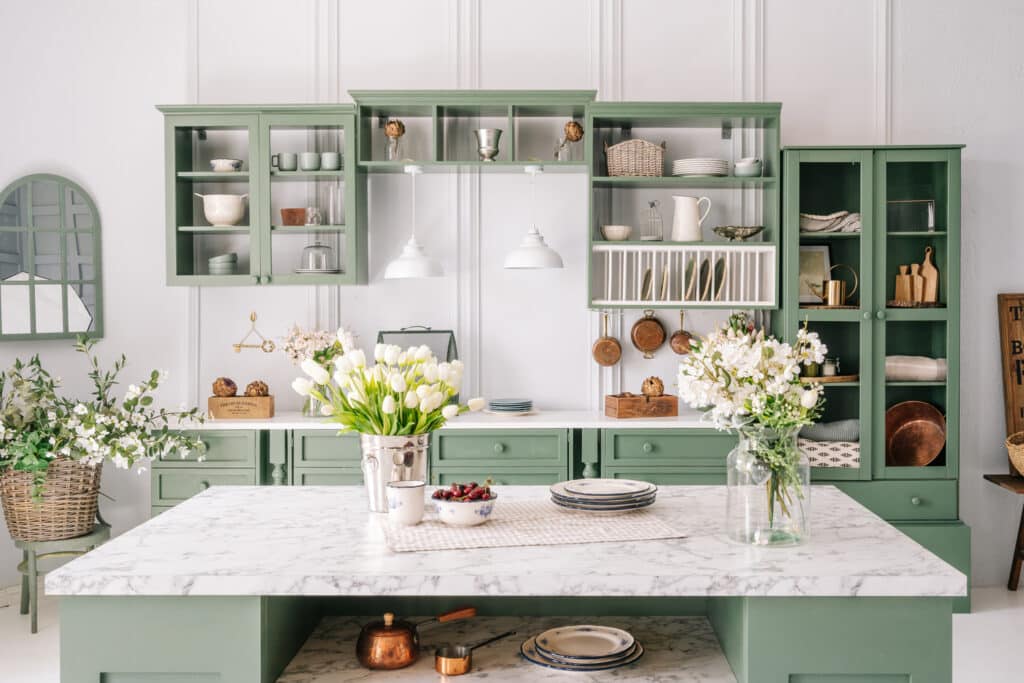 Further design tips
For a softer approach, you can paint your walls a light shade of green to emphasize the cabinets. You can also pair green kitchen cabinets with lighter shades of green in other room areas. However, balancing a bold colour like green with an even bolder shade is important.
Backsplash options
Green cabinets work well with a white backsplash. White is a classic colour choice for the kitchen and will look fantastic with dark green cabinets. A white backsplash will also add a contemporary feel to the room.
Green backsplash – Can you make it work?
Can you do a green backsplash with green cabinets? Not recommended but Yes, if you'd like to go full-on green! This is a bold move, but it can add a fun and festive touch to your kitchen. In this case, you must use a lighter green on the backsplash to avoid overwhelming the room.
Painting cabinets green
Suppose you're not in the market for a full kitchen renovation; you can just paint your cabinet doors with a fresh coat of your favourite green from Benjamin Moore.
Hardware for your green cabinets
Gold hardware
Green and gold make for a luxurious combination.
Silver hardware
Green cabinets with silver hardware can give your kitchen an elegant look.
Brass hardware
green cabinets with brass hardware are perfect for those who want to add a vintage touch to their kitchen.
Marble countertops
Green cabinets with marble countertops are a classic combination that will never go out of style. However, we recommend you use Quartz countertops that look just like Marble. For example, you can use Silestone Calcatta Gold or LG Calcatta So. There's minimum maintenance required with quartz counters as opposed to real marble.
Green is big in today's design world. It's a popular colour for kitchen cabinets, and there are many ways to incorporate green into your kitchen. Whether you choose olive green cabinets or pale green cabinets, green is a great way to add a pop of colour to your kitchen.
Canadian Home Style is your family-owned and operated custom cabinetry retailer with a showroom in North Vancouver, BC. We are the official dealer of Cabico custom cabinetry in the Lower Mainland, providing complete kitchen renovations with an extended warranty. We always keep up to date with the latest trends and are proud members of the NKBA National Kitchen and Bath Association.  In addition, we have won the Consumer's Choice Awards back-to-back in 2021 and 2022 for our commitment to business excellence. We are considered one of the highest-rated kitchen and bath design and renovation experts in Metro Vancouver. Book now to visit our North Vancouver showroom, where you can get expert advice from one of our kitchen and bath designers. We're happy to be a part of your journey with your next kitchen renovation project in Metro Vancouver.
We are the official dealer of Cabico custom cabinetry in the Lower Mainland, and we believe in providing sustainable kitchen designs that can last you and your family a lifetime. Contact us for all of your Vancouver kitchen renovation needs.
Services We Offer:
Main Areas of Service in British Columbia: 
Did you miss our previous article…
https://canadianhomestyle.com/kitchen-renovation/how-much-space-should-be-left-between-a-refrigerator-and-side-wall/