Modern Kitchen Design in Condos
There's no need to sacrifice style when designing a kitchen for your condo. A modern layout and design can be just as chic as any other type of kitchen. Here are some tips to help you create a modern condo kitchen that will wow your guests and makes cooking a pleasure. Read this article to be more prepared for your next kitchen renovation project. 
Modern condo kitchen design
The design of modern condo kitchens tends to include sleek lines, trendy colours, and play with light. This results in a clean and uncluttered look. Opt for simple and built-in options when choosing your kitchen appliances. Try using lighter colours on the walls and cabinets. Lighter colours tend to open up the feel of a space.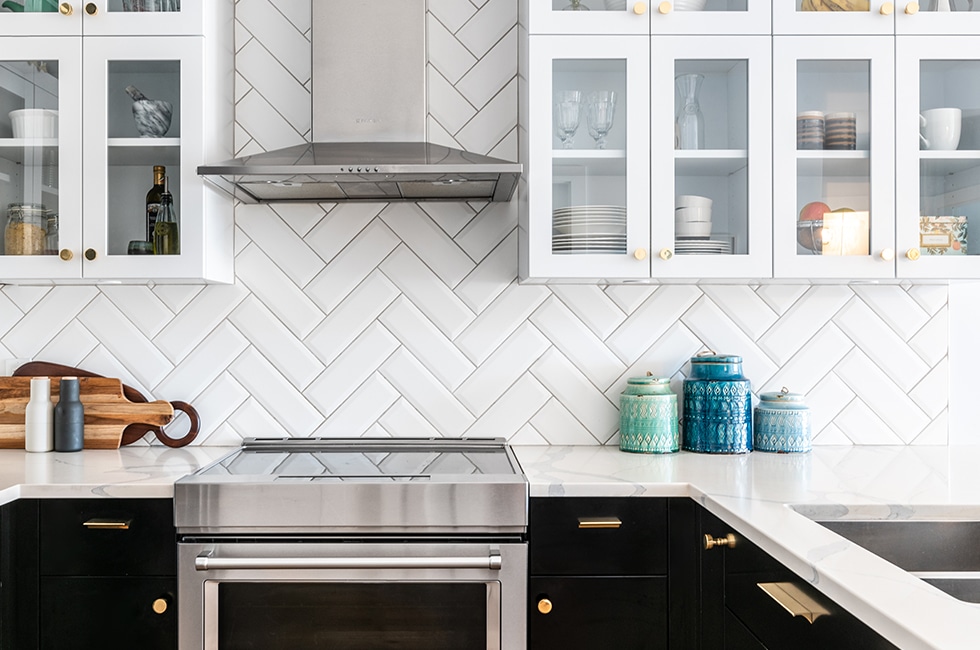 Modern condo kitchen layout
Regarding the layout for a modern kitchen design, You should choose galley, L-shaped or U-shaped layouts to take full advantage of your available space. These layouts offer plenty of counter and storage space, which is essential if you want to use your kitchen for cooking or entertaining guests.
Galley layout
Condo living offers many benefits, but the downside is often limited space. A galley kitchen layout features two parallel sides of cabinets and appliances, creating an open corridor in the middle. The galley kitchen layout features an island. Galley kitchens are usually long and narrow, with waterfall countertops on either side of the island. Compared to the other two mentioned, the downside of this design is that there is often less storage and counter space available. The galley is more of an open-plan kitchen layout, but you need to have a long enough wall where you can fit your appliances. This layout can use the kitchen island as your dining table or a breakfast area.
L-shaped layout
L-shaped kitchen layouts have their benefits. This design maximizes space and promotes interaction.
An L-shaped kitchen is often combined with a separate, large dining area. While an L-shaped layout isn't suitable for every condo, it is an excellent option for smaller kitchens. An L-shaped kitchen layout is very functional. Several people can use it at the same time. The separate areas in an L-shaped kitchen allow you to cook while conversing with family members and entertaining guests. This layout is perfect for maximizing kitchen space.
The downside of this layout is that you can't incorporate a kitchen island into the design.
U-shaped layout
This layout is for you if you have more space in your condo and prefer a more oversized kitchen with lots of storage and counter space. The U-shaped kitchen layout is the most popular for larger kitchens. It allows three walls of cabinets and appliances, creating ample working space in the middle. This layout is perfect for cooking and entertaining, as it offers plenty of space. The only downside to this layout is that it can feel cramped if not appropriately designed. You need to have more room for this layout to work.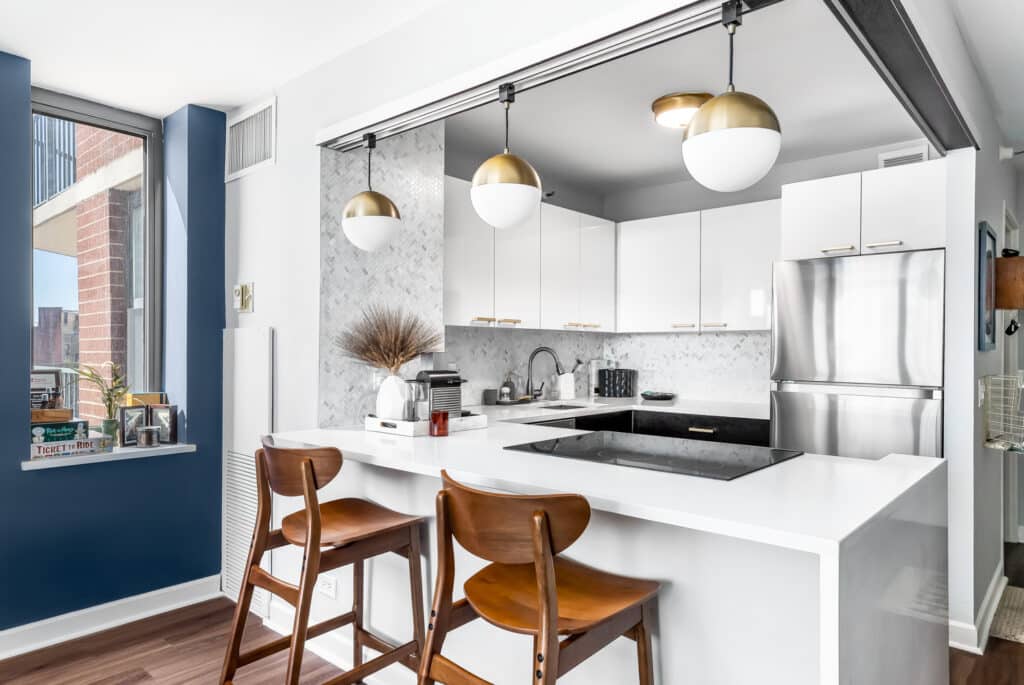 Custom cabinetry
Wall cabinets
The overall layout we discussed dictates your cabinet layout, of course. However, if you're working with a kitchen designer, see if she can somehow incorporate a floor-to-ceiling unit for extra storage at one end of your layout. Ensure your cabinets' fronts coordinate with the rest of your kitchen's finishings. Another great idea for small condo kitchens is to use full-height cabinets. This way, you can use every inch of space in your kitchen. Also, avoid open shelving if storage is important to you on your wall cabinets. Open shelves look great but are not very functional for small kitchens.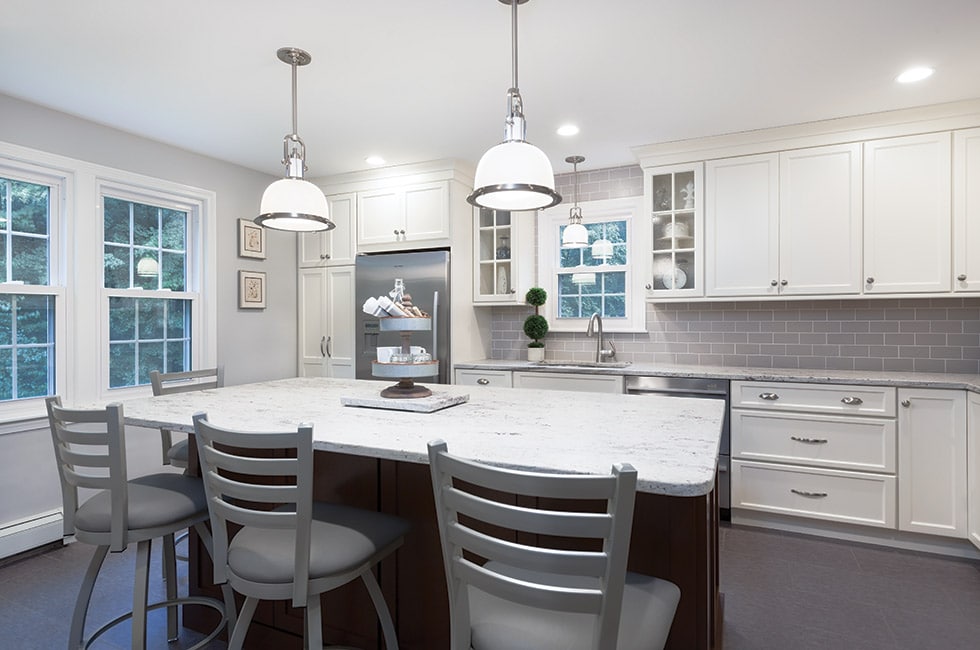 Lighting
In a small space like a condo kitchen, good lighting is essential. You need a light source for each task area in your kitchen. Under-cabinet lighting is perfect for providing extra light on countertops. Pendant lights are a great way to add style and personality to your new kitchen. They also come in different types and can be used to highlight other areas in your kitchen. 
Appliances
When choosing appliances for your modern condo kitchen, think about what you need and can live without. You'll need a good stove and oven if you love to cook. If you entertain often, you might consider a larger refrigerator and freezer. If the budget allows, go for integrated appliances built into the cabinets to create an inviting feel. If you have a small kitchen, choose smaller appliances. Wall ovens would look great in a contemporary kitchen. Consult with your design team before committing to any appliance package.
Quartz countertops
Quartz is the most popular choice for modern condo kitchens. It is an artificial material that offers the beauty of natural stone with the added benefit of being more durable and easier to maintain. This heat- and scratch-resistant material makes it ideal for busy kitchens.
Our Recommended Brands:
Silestone by Cosentino

Ceaserstone

Cambria

LG
Backsplash
It would be best if you used a full-height or glass tile backsplash for your modern kitchen. A kitchen with a full-height or glass backsplash is not just for condos; this is the new standard in contemporary kitchen design.
Undermount sink
Use an undermount sink for your modern kitchen. Top-mounted sinks are a no-no in the new kitchen design. They are old-fashioned and create a messy look. An undermount sink is sleek and easy to clean.
We recommend a workstation sink from the Galley brand for your modern kitchen. The surface of your Galley workstation can easily be converted to counter space when you have people over, and they are easy to keep clean.
Hire Canadian Home Style for your Metro Vancouver condo kitchen remodelling projects
Canadian Home Style is your family-owned and operated custom cabinetry retailer with a showroom in North Vancouver, BC. We are the official dealer of Cabico custom cabinetry in the Lower Mainland, providing complete kitchen renovations with an extended warranty. We always keep up to date with the latest trends and are proud members of the NKBA National Kitchen and Bath Association.  In addition, we have won the Consumer's Choice Awards back-to-back in 2021 and 2022 for our commitment to business excellence. We are considered one of the highest-rated kitchen and bath design and renovation experts in Metro Vancouver. Book now to visit our North Vancouver showroom, where you can get expert advice from one of our kitchen and bath designers. We're happy to be a part of your journey with your next kitchen renovation project in Metro Vancouver.
We are the official dealer of Cabico custom cabinetry in the Lower Mainland, and we believe in providing sustainable kitchen designs that can last you and your family a lifetime. Contact us for all of your Vancouver condo kitchen renovation needs.
Services We Offer:
Main Areas of Service in British Columbia: 
Frequently Asked Questions:
What are the three types of kitchen layouts for condominiums?
What is the most common kitchen layout?
L-shaped layout
How do you maximize space in a small apartment kitchen?
You can hang your cooking pots and pans on a pot rack.

You can also use small appliances to free up counter space.

Use your island instead of a dining table.

Install a low shelf under your countertop to store items
What is your recommended flooring option for a condo kitchen?
We recommend running your floor through the entire apartment except for your bathroom. This way, you can avoid the need for transitions between different floors in each room. Less is more!
Do you recommend real marble countertops?
No, real Marble needs maintenance. If you like the look of Marble, you can install Calcatta Gold from Silestone or Calcatta Sol from LG.
What's better in a kitchen design: a range oven or a cooktop?
For a modern kitchen, go for a cooktop instead of a range.
What are your recommendations on the hood?
An integrated hood would look fabulous in a kitchen designed to be modern and minimalistic.
Did you miss our previous article…
https://canadianhomestyle.com/kitchen-renovation/high-end-stoves/