Your Next Great Kitchen Cabinet Layout:
The thought of renovating or building your kitchen can be an exciting experience. All the smashing kitchen designs you've pinned from your social media accounts and hours browsing through magazines are even more reasons to get excited.
What is the best layout for kitchen cabinets? Many homeowners in Vancouver will have a question as you move forward through the process.
As there are unending questions to be addressed, the layout of your kitchen cabinets is one of the most critical. Aside from containing most of the space, the kitchen cabinets are said as the lifeline of the heart of the home.
Let's go back to the question, what is the best layout for a kitchen cabinet? To better answer, it lets first know the three major considerations in laying out your kitchen. Since the overall layout of your kitchen constitutes how your kitchen cabinets will be laid out.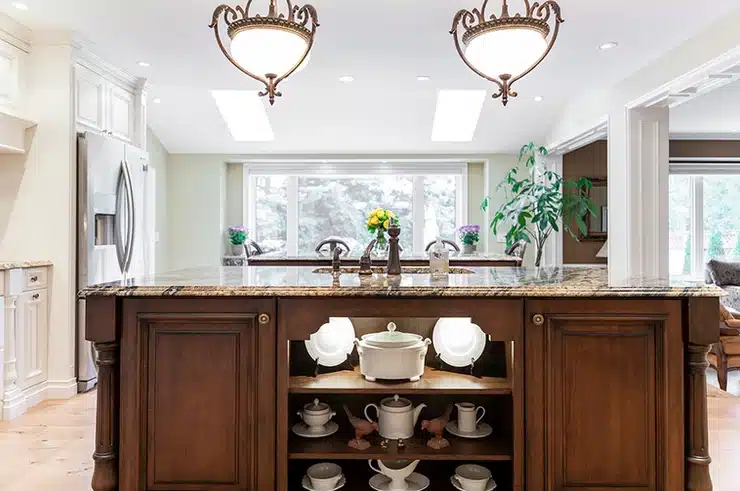 Cabico Custom Cabinetry – Unique Series
3 Major Considerations
We'll give an overview of arrangement and traffic considerations and focus on the storage aspect of your kitchen cabinet layout.
Arrangement
Traffic
Storage
Arrangement
Whatever the size of your kitchen, keep the basic working space compact and understand how your kitchen functions during your typical day-to-day. Generally, the kitchen workstation works with these zones: storage, preparation area, cooking section, and washing area. The general layout of a kitchen constitutes how your kitchen cabinets are laid out in the space.
Also, consider the possibility of having more than one person working in the kitchen.
Traffic
Avoid placing the traffic lane along with working areas when laying out your kitchen. Non-essential activities such as getting food from the freezer won't get in the way when chopping off meat. This means you have to zone off areas but at the same time be able to make these areas accessible and smooth flowing when switching in between activities.
Cabico Custom Cabinetry – Essence Series
Storage
We've heard that a good kitchen cabinet should be functional, but what defines a functional kitchen cabinet? First, minimize the need to have unreachable storage spaces. Your kitchen design can break your corner cabinets, top shelves, and other hard-to-reach areas. Utilize cabinet innovations such as having a pull-down mechanism for high shelves or a Lazy Susan on your corner cabinets.
Base your measurements on a household member when deciding the heights of your cabinets. This household member is also the one expected to use the kitchen often. If possible, design built-in cabinets to be adjustable for future-proofing.
Aside from ample storage space, store items near where they are typically used. Also, don't forget to provide ample space when reaching and returning items with the least strain.
The bottom line is that you've got a storage system that's safe, functional, and comfortable to work with.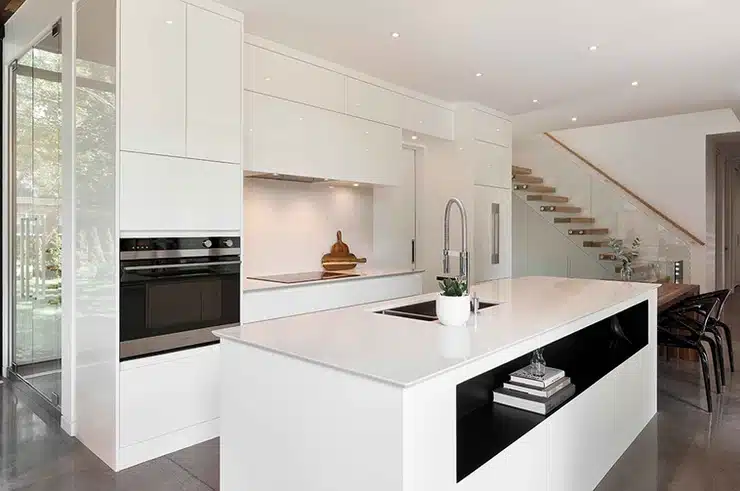 Cabico Custom Cabinetry – Unique Series
The Best Layout for Your Kitchen Cabinets
As you might guess, the best layout for your kitchen cabinets depends on many factors, but your layout primarily dictates how your kitchen is set up.
Homeowners have preferences when it comes to style and interior designers. Here is a list of some that we've gathered.
L-Shaped – For Corner Spaces and Open Plan Designs
Dubbed as one of the most efficient kitchen layouts. It works great for small to midsized kitchens. An L-shaped counter is a great option if your kitchen opens up to a dining or living room.
Cabinets: Minimizes travel and efficiency for one user but expects corner cabinets.
U-Shaped – For Large Kitchens
Good working space for two people without getting in each other's way.
Cabinets: Best layout if you want continuous storage and upper cabinets. For spacious kitchens, a provision for an island counter in the middle offers a space for open shelves for books, condiments, a wine rack, and more.
Single-Wall Kitchen – Best for Small Kitchens and Very Narrow Rooms
Typically, you'll have your sink in the middle, so you'll need to work on the vertical space on either side of your range hood and the base cabinets below.
Cabinets: As you only have one side to work on, utilize the vertical space on either side of your range hood by stretching out your cabinet through the ceiling. Add a pull-down mechanism to reach items on top. For your base cabinets, incorporate vertical slide-out racks and multiple tiers for easy organization.
Parallel or Galley Kitchen – For Narrow Spaces like Condominiums and Apartments
Make sure to allot a standard width for a comfortable work area.
Cabinets: Long counters can offer ample storage space, especially if you have both counters against a wall, where you can take advantage of the vertical space. Add a pass-through that can access the adjacent living or dining area, such as a window to open up space, and at the same time, you can install base cabinets.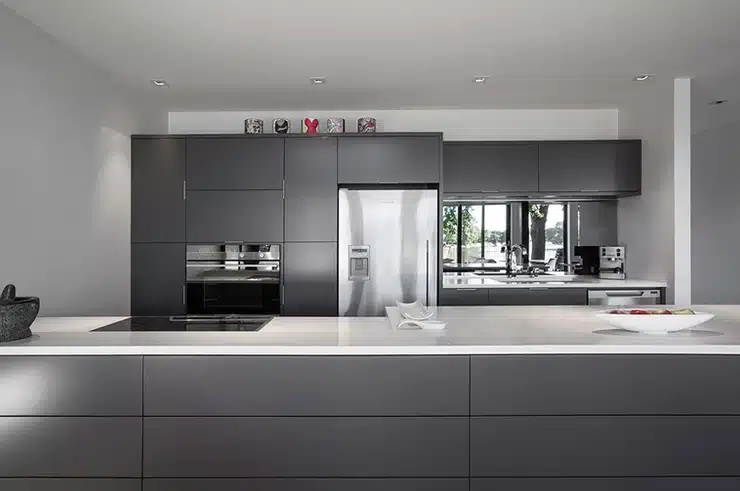 Cabico Custom Cabinetry – Unique Series
5 Basic Storage Zones
The goal of assigning ones for your kitchen cabinets is to improve your workflow. So, for instance, you got your cooking items such as mixing bowls, spatulas, knives, and slicing boards placed nearest to your prep work. Your storage for frying pans, pot holders, casseroles, spiders, or cooking oil should be near your cooking range.
1. Food Storage:
These are dried goods such as canned goods, cereals, and snacks, usually stored on your top cabinets or in your pantry area. The best place for your pantry area is beside your freezer and counter, this way, you'll have a surface to place the items as you open them or while you get other items from the freezer or pantry. You can have more than one pantry area to organize your food items.
2. Preparation Area:
When prepping food, it's very convenient to have knives, scissors, or plates near the preparation area. For instance, if you've got a kitchen island, you can add pull drawers just below the countertop where you can place your utensils for opening items.
3. Cooking Area:
This is where you have cabinets near your oven, range, and stovetop. Make sure to leave a countertop space on the right side of your oven or range to have an area for easy transfer of food from your stove to your serving trays. Utilize the base cabinets below your cooking range which are great for storing pots and pans. Add a narrow pull-out drawer for your spices and oils.
4. Cleaning Area:
You might consider utilizing your base cabinets just below your sink if you don't have a dedicated utility area for your cleaning items. Add racks to easily slide out your cleaning agents and keep your containers organized.
5. Display Area:
A kitchen cabinet should not only be about utility; your topmost shelves are great candidates to house your décor. May these be a collection of your china, potted plants, framed pictures, figurines, and other beautiful décor pieces that can add a personalized touch to your kitchen.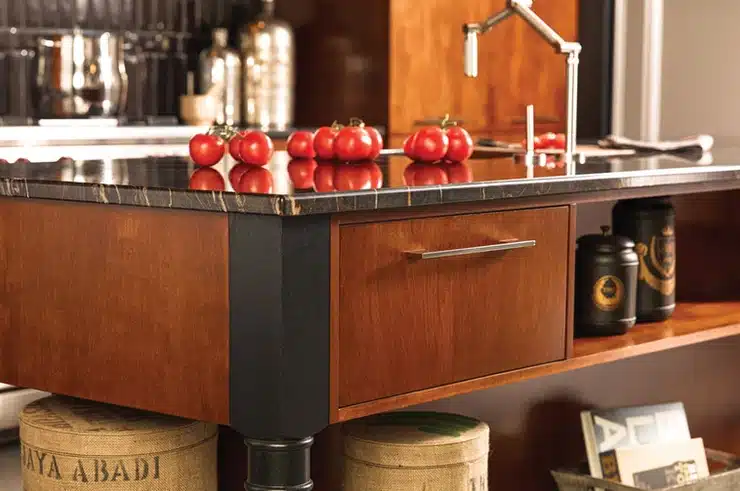 Cabico Custom Cabinetry – Unique Series
As there are universal standards for your kitchen cabinet layout, still, you need to consider your lifestyle and preferences to make your storage cabinets work. The objective of having guidelines is to provide a framework for you to work on and eventually come up with sound solutions that work only for you and your lifestyle.
Here at Canadian Home Style, we are famous for custom kitchen designs that are beautiful and unique and offer functionality and longevity. We are the official dealer of Cabico Custom Cabinetry in the Lower Mainland, and we can help you with your Vancouver kitchen renovations from start to finish. Come and visit our North Vancouver showroom to learn more about us and our cabinetry partner, Cabico custom cabinetry. Book Now!