Kitchen Renovation in Vancouver
Avoid that topsy-turvy ride on the road to your dream kitchen with these expert guidelines that get your Vancouver kitchen renovation started and running smoothly.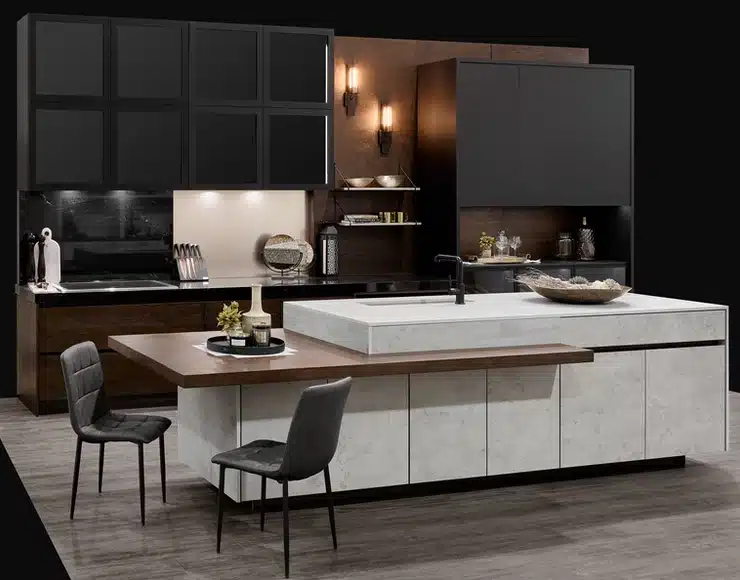 Kitchen Renovations: Define Your Needs
To determine your needs, let's go back to the basic question. Why do you need a kitchen renovation in the first place? Do you want to simply update the look of your kitchen? Do you want more kitchen storage? Or, do you want to change your overall layout?
Defining your priorities during a kitchen renovation will help you allocate your resources better and give you a clear mindset during the design and planning process to achieve that goal. Knowing your needs will tell your limitations and the trade-offs you have to take for your kitchen remodeling project.
Tip: Write down your requirements for your Vancouver kitchen renovation. Then, categorize them into three levels according to their hierarchy of importance.
Kitchen Renovations: Determine Your Budget
Set a realistic budget that you're willing to invest in your kitchen remodel. Having an overview of what you want for your kitchen remodel makes it easier to have a rough estimate of how much your kitchen may cost. Along with determining your budget, research how much a Vancouver kitchen renovation can cost; we can help you with that.
Tip: Measure your kitchen's dimensions, such as the width, length, and height. You can get the area and then multiply it by the approximate cost per linear foot of a kitchen renovation in Vancouver.
Kitchen Renovations: Criteria to Consider
It's not enough to have a gorgeous design, you should also consider the maintenance, safety, ergonomics, and availability of materials. For instance, you might love the clean look of those white base cabinets, but if you've got kids and pets around, you may want to reconsider this option.
Don't sacrifice mobility and safety to give way to a gorgeous design. Remember function first before aesthetics. If you've got a professional design team on board, they'll map out the critical dimensions needed and consider your local standards in the design process.
Tips: A rule of thumb, allow a clearance of 30" x 48" either parallel or perpendicular to the front of the sink, dishwasher, cooktop, oven, and refrigerator, Or, a clearance of 1 meter to 1.2 meters between counters.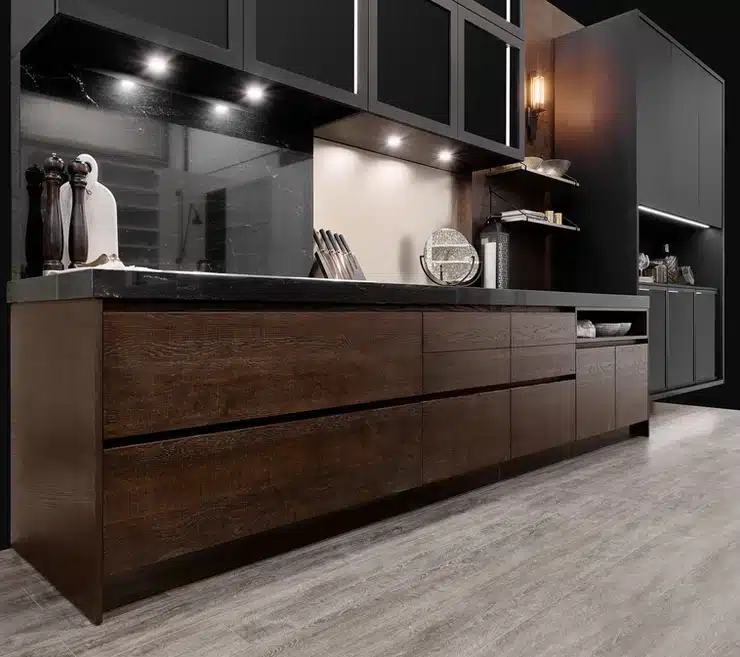 Don't Forget Extras
A kitchen remodel is an opportunity to update your equipment and appliances. Check for busted lights or convenience outlets to be fixed during the renovations. You may also want to switch your outdated appliances with the latest energy-efficient appliances.
Tips: As one of the most used spaces in your home, the kitchen consumes a lot of energy. Choosing energy-efficient appliances and lighting to keep your energy bills down while being environmentally responsible is the way to go.
Kitchen Renovations: DIY vs. Professional
As the prospect of tackling a kitchen up-do can fire up any gritty DIYer, a major kitchen remodel should not be embarked on as a solo project, more so if you're doing a full kitchen renovation. Unless of course, you're a professional builder or a contractor who can take on the amount of planning and work involved.
Yet the challenge should not deter you from pushing through a remodeling project instead, take advantage of the learning process and take an expert, reputable Vancouver kitchen remodeler. However, a successful Vancouver kitchen renovation means continuous communication between your contractor and designer.
The following are guidelines and a checklist to help you get organized and have a good overview of what encompasses a successful Vancouver kitchen renovation so you can make the most out of your dream kitchen.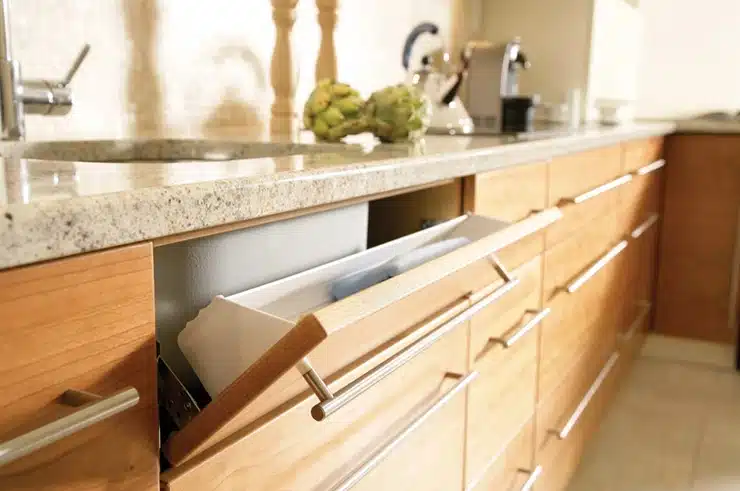 Finding the right Kitchen Remodeling Contractor in Vancouver
There are hundreds if not thousands of kitchen remodeling contractors in Vancouver, and finding the best can be absolutely exhausting. Start with recommendations from friends with first-hand experience working with the company.
Must Credentials
Licensed and Insured
Experienced and Established
Permanent Business Address
Covers Warranties
Desirable Traits
Trustworthy – Opening your home and entrusting your large investment to a stranger can be a tricky one, so, always double-check your contractor's background.
Passionate – Craftsmen take pride and value in their craft. Make sure to work with people passionate about kitchen remodeling and not only in it for the money.
Great Reviews – With a simple google search, you can find what people think about a particular company, so make the most of what you can use online.
Ready to Assemble (RTA) Versus Customized
Decide whether you will go for the RTA (Ready to Assemble) or Customized Cabinets as early as the planning stage.
Undoubtedly customization is the way to go when you want a worthwhile investment, as no two kitchens are the same. With a custom kitchen, you get the proper storage and design tailored and streamlined to your needs. Upfront, customized kitchen cabinets can be more expensive than ready-made cabinets such as Ikea. However, quality custom cabinets can save you more in the long run and the other benefits are too great to be ignored, especially in a city like Vancouver.
Benefits:
Quality that Speaks for itself
Get Design Solutions Not Available from Your Factory-Made Cabinets
No Details Are Overlooked
Safety is Paramount
Ergonomically Designed
Long-lasting Investment
At Canadian Home Style, we are the official Cabico custom cabinetry dealer and only offer the highest quality of customized kitchen cabinets in Vancouver and the surrounding region.
Our passion for the trade is evident in not counting the number of sales. Instead, we ensure that we provide the highest craftsmanship possible to every client. From the simplest to the most complex project, we never sell or showcase anything we wouldn't put in our home.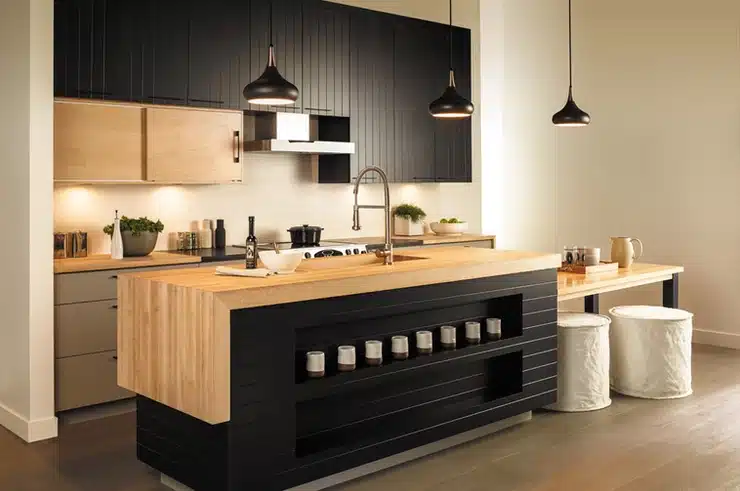 Things to Consider When Designing a Custom Kitchen
1. Function and Space Planning
Planning on Paper. A successful kitchen remodel starts with a plan, as always. A kitchen is a hefty investment that requires lots of planning. The more elegant the home, the more the kitchen should reflect this quality. Speaking of investments, not everyone has the budget, but everyone wants the best, so it is important to consult with designers to get the best out of your money. Professionals, especially experienced ones, can tell whether a project idea is worth pursuing or not based on the proposed budget.
2. Storage and Customizations
Customization is King. A great kitchen design reflects its owner's preferences and personality. But another factor to consider is what items are going to be stored. Aside from your typical pots and pans, appliances play a big role in determining the plans.
3. Logistics and Choosing Appliances
Dishwashers, large stoves, ovens, and refrigerators, are probably going to be the first concern when drawing out a plan. Where to position these will affect how the rest will be positioned. Coming up with an intuitive layout for the kitchen is something the homeowner and the planners are going to have to talk about in-depth. A bad layout can lead to a frustrating time in the kitchen. We want our kitchens to be a place that is easy to work in. Therefore, we have to strategically position the different appliances and cabinets, so it's easier to go around.
4. Style, Materials, and Finishes 
The budget is the limit regarding what materials can be used. Thankfully, there are lots of materials available, all of which come in various price ranges and designs.
Canadian Home Style: Highest Quality Kitchen and Bathroom Renovations:
At Canadian Home Style, we are famous for our custom solutions that last a lifetime. We believe everyone deserves a beautiful kitchen, and we're here every step of the way to make your dream kitchen a reality. Come and see our North Vancouver custom cabinetry showroom, and we can tell you why we are in love with Cabico custom cabinetry and why we're happy to be a part of your journey in creating the custom space that represents you.
Our Renovation Services:
Kitchen Renovations
Bathroom Renovations
Kitchen and Bathroom design
Flooring services
Canadian Home Style – North Vancouver Flooring and Custom Cabinetry – Book Now!
Frequently Asked Questions
How much does a kitchen renovation cost in Vancouver, BC?
A complete kitchen renovation project in Vancouver can cost between $30k to $100k. This would depend on the company performing the task and the material selection and customization. Most people get a few quotes from different kitchen renovation companies before renovating.
Does Canadian Home Style offer bathroom renovations as well?
Yes, We offer both kitchen and bathroom renovations. Our custom packages include consultations, design services, installation services, and project management.
What is Canadian Home Style's area of coverage in British Columbia?
We offer our services in most of the Lower Mainland. Our exact areas of coverage in British Columbia are as follows:
West Vancouver
Burnaby
Coquitlam
Port Coquitlam
Richmond
Squamish
Whistler
Sechelt
Gibsons
Delta
Surrey
Anmore
Port moody
Maple Ridge
New Westminster
White Rock
Surrey
Delta