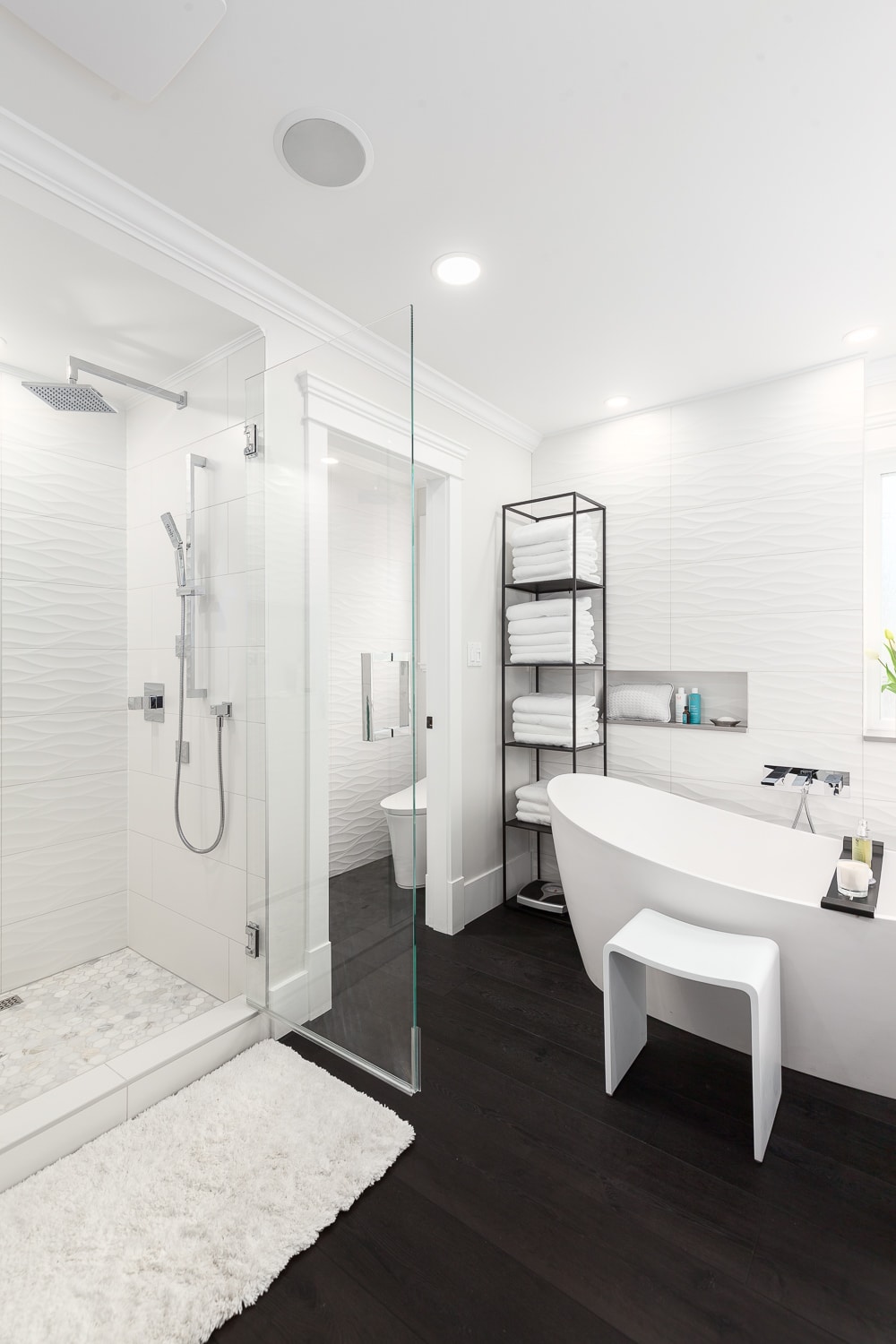 You're in the process of designing your next beautiful bathroom and thinking about what baseboards to use. There are many different materials for baseboards in your bathroom, but wood is the most durable. Pine baseboards are perfect for bathrooms, as it resists water damage and moisture. While MDF baseboards tend to warp when water exposure, pine is a great option for homeowners. Whatever the material, baseboards seal the joint between the floor and wall, protecting the structural integrity of your bathroom. Here are some reasons to use baseboards in your bathroom:
Wood baseboards
Pine baseboards are a classic choice for bathrooms. These baseboards can withstand moisture and water damage better than your average MDF baseboards commonly used in the rest of the house. A baseboard is a key component of a bathroom's design, as it seals the joint between the wall and the floor. As a result, it helps protect the bathroom's structure from water damage.
Choose solid wood baseboards for a more durable and lustrous look. Solid wood baseboards can be stained or painted but are less aesthetically pleasing than pressed wood. Also, you might have to prime and paint pressed wood to make it look nice. In addition, pressed wood is not as durable as solid wood. If you choose hardwoods, select one with a natural stain and a sealant, as these will help keep moisture and water out of the space.
If you choose to use MDF for your bathroom, it is best to use moisture-resistant paint to make it water-resistant. Water-resistant paints are available at most big box hardware stores.
Tile baseboards
The first thing to remember when installing tile baseboards in your bathroom is that they are not cheap. In addition, tile baseboards require more maintenance than other types of baseboards. You will need to regularly seal and clean the grout to prevent mold and mildew from growing. However, tile baseboards are durable and can last many years with proper care.
When choosing tile baseboards, make sure to select a material that is impervious to water. Ceramic and porcelain tiles are good choices for bathroom baseboards. However, mosaic tiles are not recommended for baseboard use. Here's a step-by-step guide to installing tile baseboards.
First, measure the gap. You may have to use masking tape. Make sure to tape the edges of the gap to avoid spills. Then, use a caulking tube nozzle to apply the caulk. Afterward, apply a thin layer of paint to the baseboard. This painter's tape will prevent the caulk from spreading to the tile. Once the caulk is applied, clean the area well and observe for any mistakes.
Vinyl baseboards
If you are planning to install vinyl baseboards for your bathroom, it is necessary to prepare your bathroom's floor first. To do so, you must first use a V-notched trowel to apply adhesive to the base. When applying it to the wall, you must ensure that it is at least 1/4 inch above the wall's surface. You must install the base by pressing it against the wall in the right direction and from left to right. The thickness of vinyl baseboards can vary, but the most common is about 3-1/4 inches thick. You can also cut the toes if needed.
You can buy vinyl baseboards in different colors and patterns. You can choose from bullnose or profile finish. If you dislike this finish, you can go for marble or chrome capping. However, be careful about the maintenance of vinyl baseboards as they are easily dented. You may also need to use a mildew killer to remove the accumulated dirt and mildew. Moreover, you can clean the baseboards with warm water and vinegar.
Though each material has its benefits and drawbacks, in the end, it is up to the homeowner which type of baseboard they want to install in their bathroom. All the materials listed are either waterproof or moisture-resistant to some degree, so you can be sure that your baseboards will not succumb to water damage like many other materials. It is important to keep in mind the different maintenance needs for each type of baseboard as well. For example, wood baseboards must be regularly sealed and painted to protect them from moisture, while tile baseboards require regular grout sealing and cleaning. So choose the material that best suits your lifestyle and needs!
Canadian Home Style is your family-owned and operated custom cabinetry retailer with a showroom in North Vancouver, BC. We provide complete kitchen and bathroom renovations across the Lower Mainland with an extended warranty. We are proud members of the NKBA, National Kitchen and Bath Association.  In addition, we have won the Consumer's Choice Awards back-to-back in 2021 and 2022 for our commitment to business excellence. We are considered one of the highest-rated kitchen and bath design and renovation experts in Metro Vancouver. Book now to visit our North Vancouver showroom, where you can get expert advice from one of our kitchen and bath designers. We're happy to be a part of your journey to help you with your next home renovation project in Metro Vancouver.
Services We Offer:
Main Areas of Service in British Columbia:
North Vancouver
West Vancouver
Burnaby
Coquitlam
Squamish
Whistler
Did you miss our previous article…
https://canadianhomestyle.com/bathroom-renovation/bathroom-cabinets-for-bathrooms/