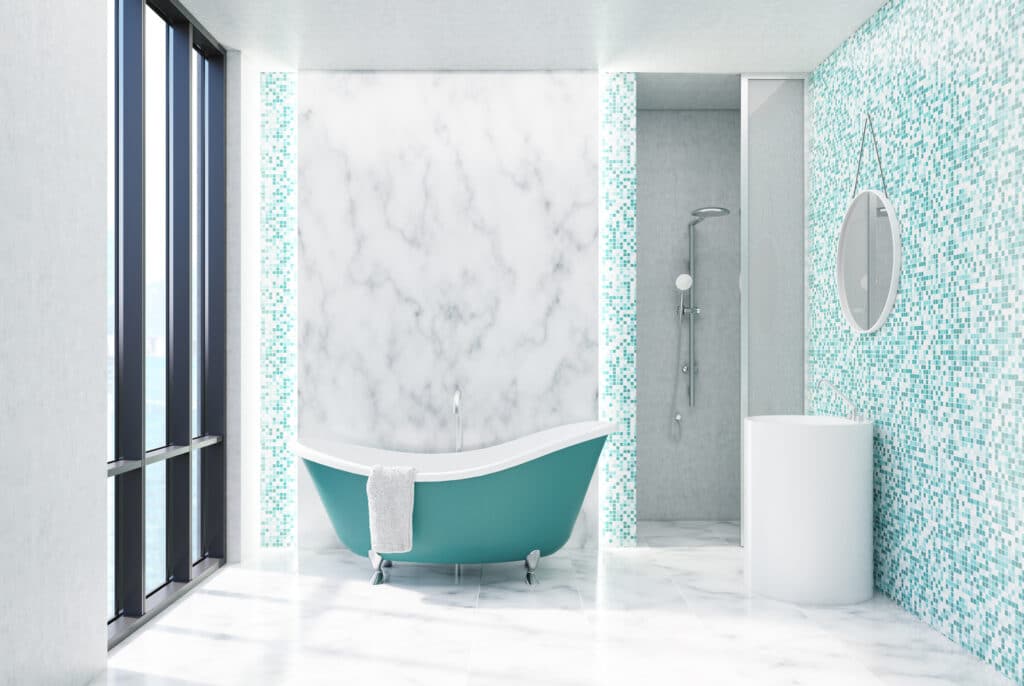 Several types of acrylic caulk include Polyurethane, Siliconized acrylic, and Hybrid caulk. Understanding their uses and characteristics can help you choose the perfect one for your next bathroom renovation project. Read on to learn more.
Polyurethane caulk
Polyurethane is a chemical composed of glycol and an isocyanate that occurs when those two substances are combined. When used as caulk, it can also be paintable.
Advantages:
It is water resistant which makes it ideal for use in areas exposed to moisture, such as bathrooms and kitchens.
It is corrosion-resistant and can be used on metal surfaces.
It is flexible, so it can expand and contract with the movement of your home without cracking.
It is very durable and long-lasting.
Disadvantages:
When first applied, it has a strong odour, so ventilate the area well.
This caulk is water resistant and not waterproof
It can be difficult to apply smoothly.
It requires a solvent (such as mineral spirits) to clean up.
Polyurethane caulks are sensitive to UV radiation. The joint's surface may show fine cracks and deterioration after prolonged exposure.
Polyurethane caulks don't perform well with super cold or hot temperatures.
Siliconized acrylic caulk
While the siliconized acrylic caulk is not as durable as polyurethane, it is easier to work with since it can be cleaned up with water. This caulk is also better tolerated by those who have sensitivities to chemicals. In addition, siliconized acrylic caulking can be painted over after application. The added silicone makes the caulking more resistant to water and flexible.
Before using Siliconized acrylic or polyurethane caulk, you must ensure the surface is clean and dry. They must be applied correctly to avoid cracking or chipping the paint. Silicone caulk is preferred for sealing in colder temperatures as polyurethane will crack and tear in cold weather. Furthermore, polyurethane does not like to be exposed to extreme heat cycles. While the silicone caulk will form a permanent bond, it will not adhere well to wood, which isn't a good material for sealing exterior walls.
Hybrid caulk sealant
A hybrid caulk combines qualities of silicone and acrylic latex. These materials can be mixed in the same container, resulting in a flexible, water-soluble caulk. Despite the name, this type of caulk is not as effective as silicone. Its high filler content detracts from its overall performance.
Solvent-based caulk is best for roofing projects, as it doesn't degrade when exposed to sunlight. Another option is the plumber's putty, which is more suited to pipes and walls. A hybrid caulk combines the best qualities of both caulk and sealants. It is easier to use than latex and silicone but not as versatile as acrylic latex. A high-quality hybrid caulk is typically more expensive than its counterparts.
Hybrid sealants are versatile and easy to apply with a caulking gun. They are formulated to be weatherproof, but they will also not dry out or shrink after exposure to rain. Because of their flexible nature, they can be applied to almost any surface. They are also paintable, which is a great bonus. And the best part is that they are environmentally friendly and have a low VOC content compared to other sealants.
Canadian Home Style is your family-owned and operated custom cabinetry retailer with a showroom in North Vancouver, BC. We provide complete kitchen and bathroom renovations across the Lower Mainland with an extended warranty. We are proud members of the NKBA, National Kitchen and Bath Association.  In addition, we have won the Consumer's Choice Awards back-to-back in 2021 and 2022 for our commitment to business excellence. We are considered one of the highest-rated kitchen and bath design and renovation experts in Metro Vancouver. Book now to visit our North Vancouver showroom, where you can get expert advice from one of our kitchen and bath designers. We're happy to be a part of your journey to help you with your next home renovation project in Metro Vancouver.
Services We Offer:
Main Areas of Service in British Columbia:
North Vancouver
West Vancouver
Burnaby
Coquitlam
Squamish
Whistler
Did you miss our previous article…
https://canadianhomestyle.com/bathroom-renovation/designing-a-hotel-bathroom/