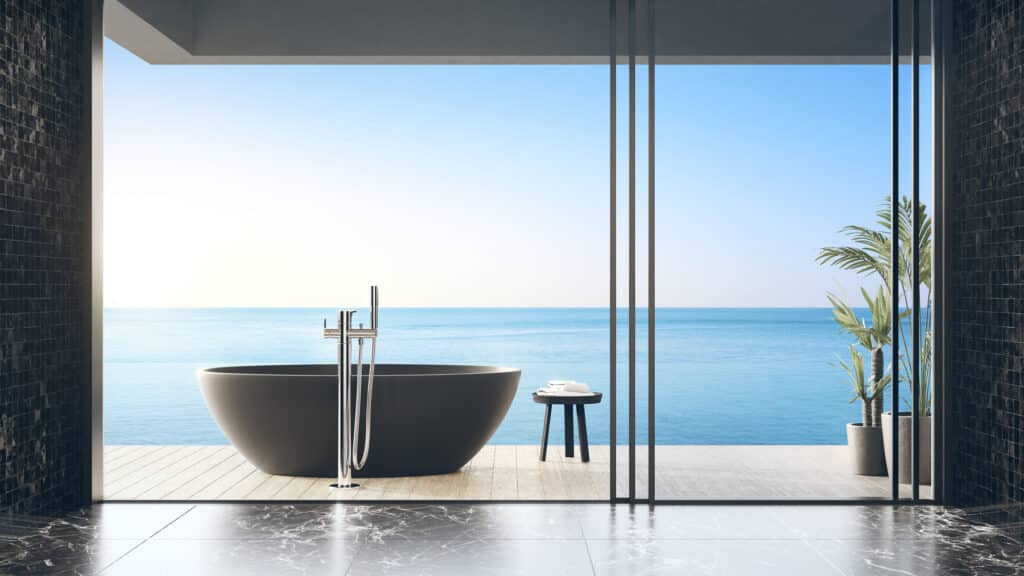 If you're an interior designer, there's a good chance that at some point you'll be asked to design a hotel bathroom. Hotel bathrooms can be tricky to design because they need to appeal to a wide range of people – from business travellers who just want to take a quick shower to guests who plan on spending hours soaking in the tub. But with a little creativity, it's definitely possible to create a hotel bathroom that everyone will love. In this blog post, we'll share some tips for designing hotel bathrooms that are both stylish and functional. So if you're ready to tackle this challenging but rewarding project, keep reading!
What to consider when designing a hotel bathroom
There are many important details to consider when designing a hotel bathroom. While high-end hotel bathrooms are neutral in colour, they also tend to use the finest materials. High-end hotel bathrooms feature sleek marble, ceramic floors, and hardwood countertops. You should try to emulate these aesthetics while designing a bathroom for a hotel. Keeping these things in mind can help you design a bathroom that will appeal to your guests.
Unlike home bathrooms, hotel bathrooms have a much bigger footprint than most rooms. Choosing large-format tiles can minimize grout lines, look impressive, and be easier to clean. You can also install a wall-to-wall mirror in the bathroom to create the illusion of space. European influences are often evident in hotel bathrooms. Wall-hung toilets and basins create a more spacious feel and make cleaning easier. Choosing a bathroom design that complements the hotel's overall design is important.
Decorating a hotel bathroom
If you're decorating a hotel bathroom, use the same colours as the rest of your room. You can use neutral colours, like white, to add contrast. White furniture will make a small bathroom appear larger and lighter. White is also a natural colour that will complement many other colours. Natural colours like blue and green are appropriate for a regular apartment. Adding a bit of humour is also a great way to add character to a bathroom.
Most hotel bathrooms are compact and tidy, with cubby holes and bright tiles. If you're aiming for a more exotic look, you might try Moroccan modern, a minimalistic washroom with white tiles, smart red grout, brightly painted wall, and a sleek basin. The Moroccan theme is a good idea because it evokes a sense of adventure. Look out for unusual details, like Moorish accessories.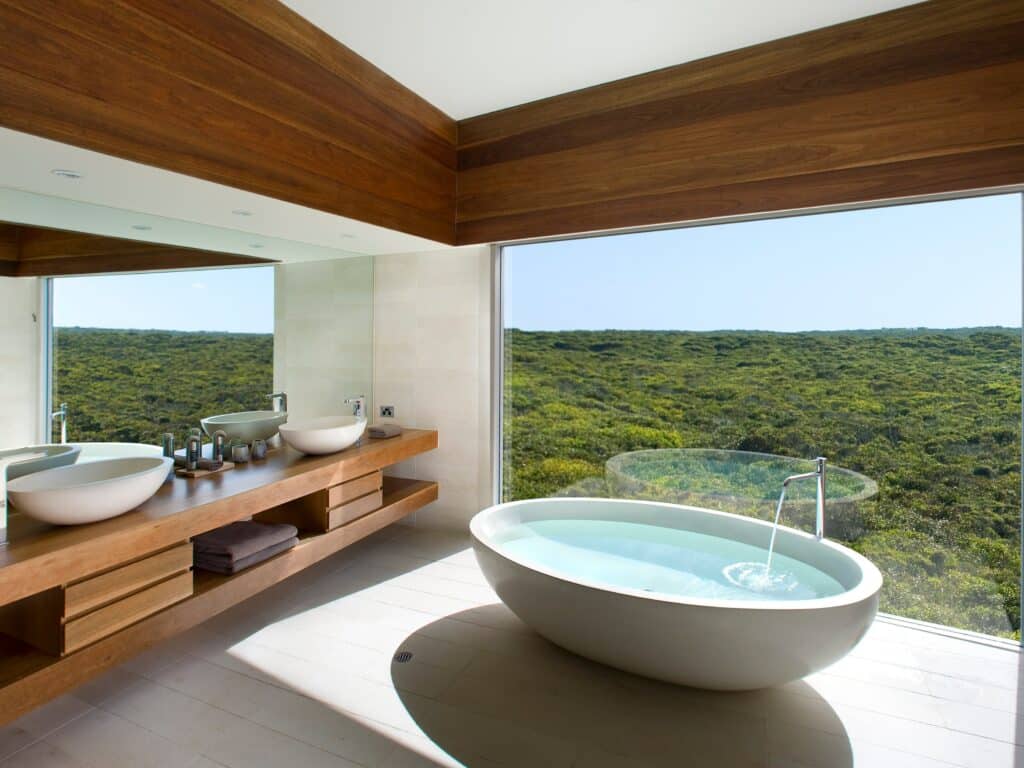 Installing LED lighting in a hotel bathroom
LED lighting is a great way to simultaneously improve energy efficiency and save money. LEDs have a 50,000-hour lifespan and produce 100 lumens per watt. In comparison, CFLs last only 10,000 to 20,000 hours. They contain mercury, a highly toxic substance that pollutes the earth and water. LED lighting provides tremendous value for the money spent. Let's look at a few advantages of LED lighting for hotels.
One of the best ways to install LED lighting is to use DMX512 control. This way, you can create lighting effects in any area of your bathroom. LED strip lights are flexible and can be cut and curved to fit almost any area. If you're the hotel owner, you can design your lighting plan or ask an expert LED lighting designer for help. You can even install them in concealed places. Consider installing remote-controlled RGB colour-changing strip lights if you're building a hotel.
Choosing high-end fixtures for a hotel bathroom
When designing a hotel bathroom, selecting quality bathroom fixtures is important to offer guests a luxury experience. Hotel bathroom fixtures should be easy to operate and have convenient storage options. A luxurious bathtub is an important part of the bathroom's design, including jets, armrests, back support, and temperature controls. Choose a faucet that controls temperature and water pressure to make your guests feel comfortable and welcome.
A few things to keep in mind when selecting high-end bathroom fixtures include the type of finishes used and their durability. Brass, for instance, is a popular material for hotel bathrooms. Brass makes a striking visual impact and will compete with other design elements. Oil-rubbed bronze and satin nickel are also excellent choices for upscale fixtures. Both materials offer a luxurious feel while adding to the longevity of the design. Free-standing bathtubs add an elegant ambiance to a bathroom.
Canadian Home Style is your family-owned and operated custom cabinetry retailer with a showroom in North Vancouver, BC. We provide complete kitchen and bathroom renovations across the Lower Mainland with an extended warranty. We are proud members of the NKBA National Kitchen and Bath Association.  In addition, we have won the Consumer's Choice Awards back-to-back in 2021 and 2022 for our commitment to business excellence. We are considered one of the highest-rated kitchen and bath design and renovation experts in Metro Vancouver. Book now to visit our North Vancouver showroom, where you can get expert advice from one of our kitchen and bath designers. We're happy to be a part of your journey to help you with your next home renovation project in Metro Vancouver.
Services We Offer:
Main Areas of Service in British Columbia:
North Vancouver
West Vancouver
Burnaby
Coquitlam
Squamish
Whistler
Read our other bathroom renovation article:
https://canadianhomestyle.com/bathroom-renovation/wood-waterproofing-oil-coatings/