Powder room ideas
A powder room is a small, often private, bathroom with a toilet and sink. The term comes from the days when ladies would powder their noses in these rooms (instead of in the main bathroom with all the other people). The powder room should be an inviting space that is both functional and stylish.
If you're considering remodelling your powder room, there are a few things to remember. Read on for tips on how to make the most of this small space.
Powder room Style – Small Space
A powder room is ideal for trying out new ideas regarding interior design. You could try using an intense colour or unusual material that might overwhelm a bigger space. Before contacting a bathroom design company, consider which type of powder room would be best for your needs. If you're thinking about remodelling your powder room, there are a few things to remember. For example, you can try using a different colour or material in this small space. You could also try out new ideas for interior design that you might not want to use in a complete and more extensive bathroom.
Powder rooms are often located near an entryway or a public area, making them convenient for guests. You can add a powder room to an older house if you have a great main floor for entertaining guests. Another idea is to install a powder room in a recessed space under the staircase, a large coat closet near the entrance, or even a space in the garage. Whatever you decide, a powder room can add value to your home.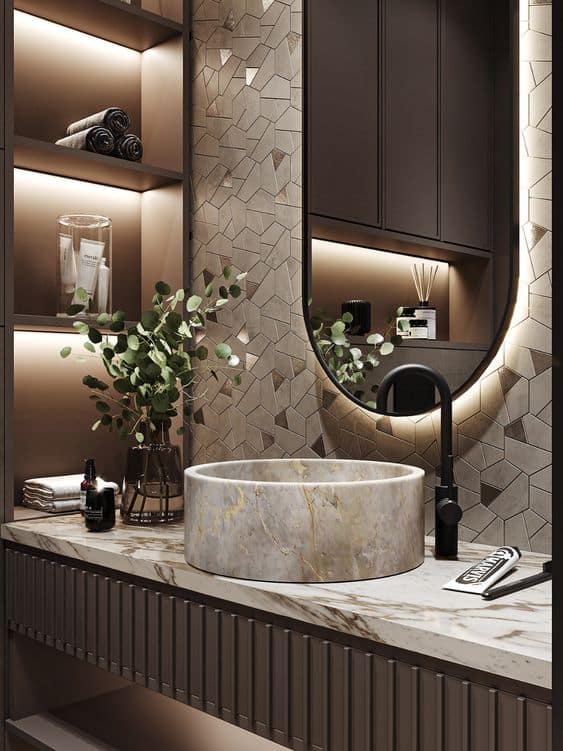 Be bold with the dark colour.
When choosing a paint colour for a powder room, many people are tempted to go bold and choose something bright and cheery. But according to interior designers, you don't necessarily want to do that. Instead, they say the best way to bring light into a small space is to use dark colours. Dark colours draw attention away from the walls, making the room seem more significant.
But what about those white spaces? Shouldn't they be used to highlight the room's features, such as mirrors or decorative mouldings? Not really, according to interior design experts. They say that small white spaces help to make a room look smaller because they reflect light around the room.
So if you want to make your powder room look bigger, stick to dark colours.
The layout is about maximizing space.
A bathroom layout isn't just about choosing colours and fixtures. It's about maximizing space. Even though designers often start working on a project without knowing what the final product will look like, you can still ensure you maximize space.
The first step is creating a floor plan. This includes determining how much space you have to work with and what needs to go where. When looking at the floor plan, think about how you can use the space most. You might want to consider a pedestal sink instead of a vanity in a powder room. This will make the room seem more open and less cluttered.
Mix and match fixtures to create a unique look.
Once you have the floor plan drawn up, you can move on to selecting fixtures. Take the exact measurements you took earlier and put them into a spreadsheet. Now, you can look at different options and see which fits best within your budget. You can always mix and match to create a unique look.
If you're unsure where to start, try looking at magazines or searching online for inspiration. You can also contact a bathroom designer for help. With their experience and expertise, they'll be able to guide you through the entire process from start to finish.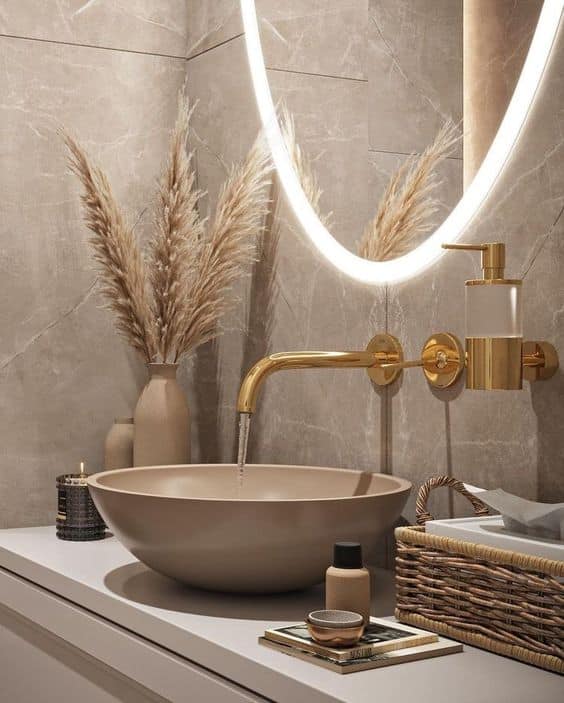 A vessel sink and a wall-mounted faucet are great.
Opt for a vessel sink and a wall-mounted faucet if you want to save space in your powder room. This type of sink doesn't require a pedestal or vanity, freeing up valuable floor space. Plus, wall-mounted fixtures are sleek and modern, giving your powder room. A vessel sink is a great way to add a touch of luxury to a small space. You can find them in various ceramic, glass, and stone materials.
Wall-mounted toilets are becoming more popular.
In the past, most toilets were floor-mounted. But nowadays, wall-mounted toilets are becoming more popular, especially in small spaces. They're easy to clean and take up less space than floor-mounted toilets. They have a sleek and modern look that can give your powder room a stylish edge.
Integrated sink
If you want to make a statement, an integrated sink and countertops are a great option. They're one unit, so there's no need for a separate sink and countertop. This sleek design can give your powder room a luxurious feel. Plus, it's easy to clean since there's no seam between the countertop and the sink.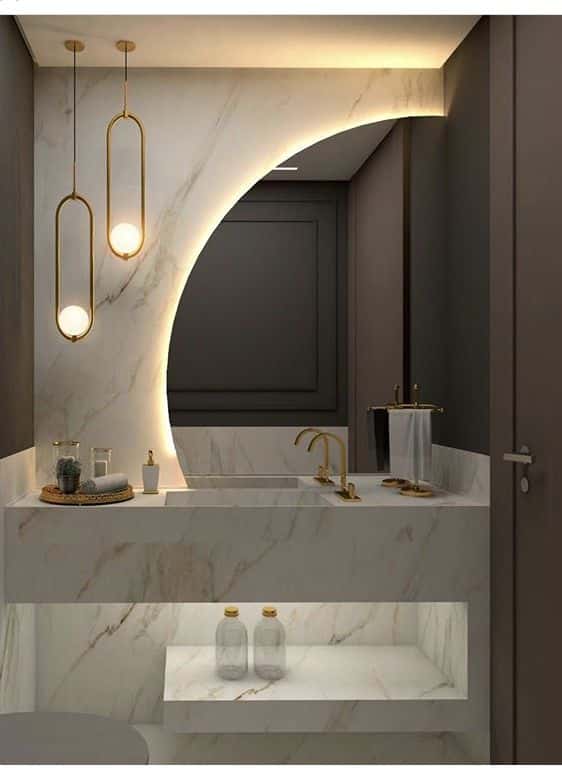 A Space-Saving Focal Point helps. 
It can be challenging to create a focal element in a powder room. A powder room has a small footprint, so a design element which is too big or imposing can easily negatively overwhelm the space. Whether it's a single-use product, a bold lighting fixture or an attractive decorative object, making a statement without taking up a lot of space is essential.
Creative Storage
It can be challenging to incorporate storage space into a small room. Wall-mounted cabinets usually take up too much wall real estate and look out of place in smaller rooms. A recessed cabinet built into the wall is a good option for adding storage without making the room feel cramped. If you have an unused fireplace, consider using it as a space to store extra toiletries or towels.
Consider adding storage above the toilet.
If you're short on storage space in your powder room, consider adding some shelves or cabinets above the toilet. This is a great way to add extra storage without taking up too much space. Plus, it'll make your powder room look more polished and put-together.
Good Lighting is critical.
Lighting is crucial in small spaces, especially when you don't have much square footage to work with. Too little light makes the area seem smaller, while too much light creates glare and shadows.
Inadequate lighting can make a room look dingy and small, while overly harsh, bright lighting can make the space seem even more minor because it casts unflattering shadows. As such, you want a soft glow that evenly illuminates the room without being glaringly bright.
The key is finding the perfect balance between the two extremes. You want enough illumination to see where you're going, but you don't want it to cast unflattering shadows across your face.
You'll want to place a lamp or table lamp near the entranceway to achieve this effect. This will provide just enough light to illuminate the path ahead, yet won't cause reflections that might blind you when you walk into a wall.
Mirrors are another great way to add dimensionality to a small space. They can help create the appearance of larger rooms by reflecting the surrounding light throughout the room. However, this trick works best when you use soft lighting. If you put up a mirror against a harsh, overhead light source, you could have a distracting reflection.
Pendant lighting is perfect for powder rooms.
Pendant lighting is another excellent way to save space in a powder room. Unlike recessed lighting, pendant lights don't require any extra space. They also add a touch of elegance and can be found in various styles to fit any decor. Just hang them properly so they don't interfere with your sink or vanity.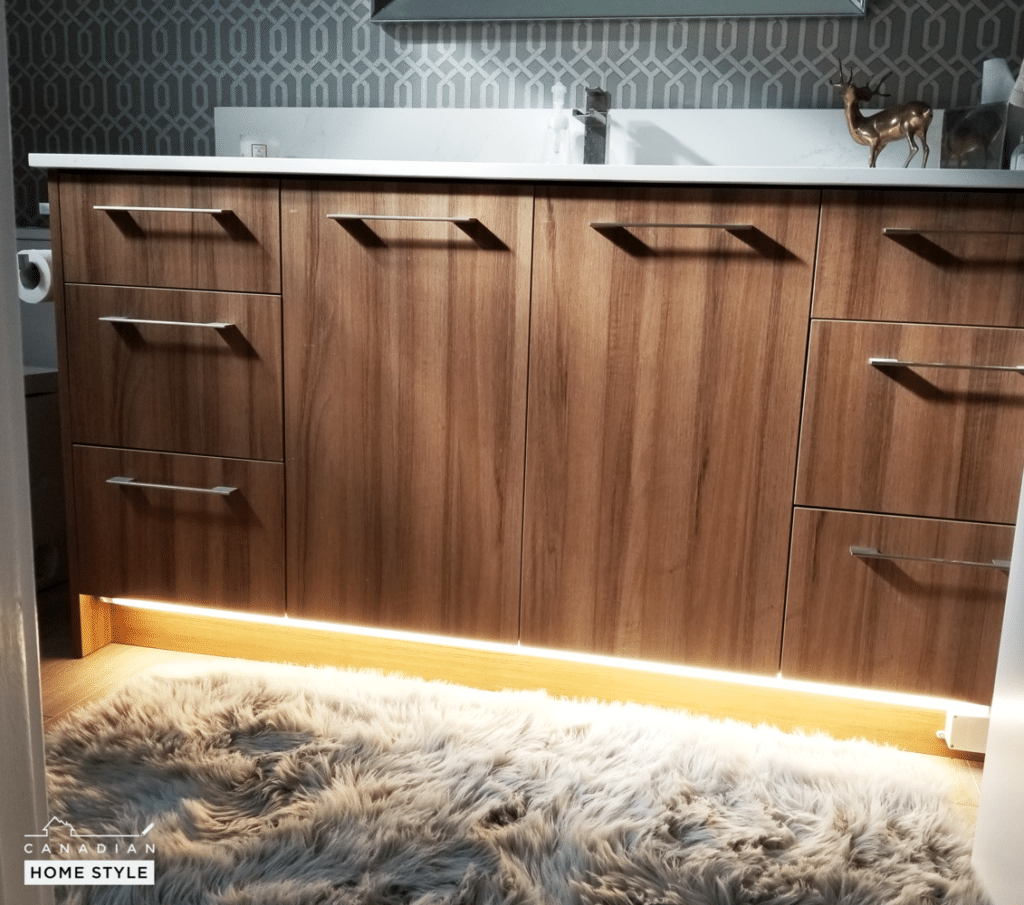 Run the same flooring throughout to avid transitions
For a powder room, you don't need waterproof flooring options such as tiles or luxury vinyl. For such a small space, it is essential to avoid transition. Therefore, run the hardwood flooring in the rest of the house right into the powder room. This will make the space much more significant, as there won't be any abrupt changes in flooring materials.
Avoid using rugs, as they can make a small room feel even more cramped.
Cost of a powder room remodel
You can expect to pay between $5 to $10 k for a powder room renovation in Metro Vancouver. It is also essential to consider the size of your room when determining your budget. Before deciding on the materials for your project, you should determine what is affordable for you.
If you want to keep costs low, try using recycled materials or shopping at antique stores for unique fixtures. You can also paint the walls yourself to save money on labour costs.
DIY methods for renovating a powder room
Several DIY methods for renovating a powder room include installing luxury vinyl tiles and replacing popcorn ceilings. While most powder rooms don't need extensive alterations, they can be made to feel hospitable by adding decorative touches, like art or a small vignette. Bathroom accessories, like fine milled soaps and rich lotion, can also be placed in the room. While you don't need a lot of storage space in a powder room, you should have everything guests will need in easy reach. You should also include a shelf or two to display decorative accents like a small vase of flowers or a framed picture.
Although you may want to try DIY methods for renovating a powder room, hiring a professional is essential if you can't do it yourself. Investing in a professional can boost the value of your home and add up to 70 percent of the money you spend. Make sure you don't leave anything undone or pending. Create a list of follow-up tasks that will prevent you from getting disappointed or failing the project. This list should also include payment details, timelines, and a detailed description of what you expect from the contractor.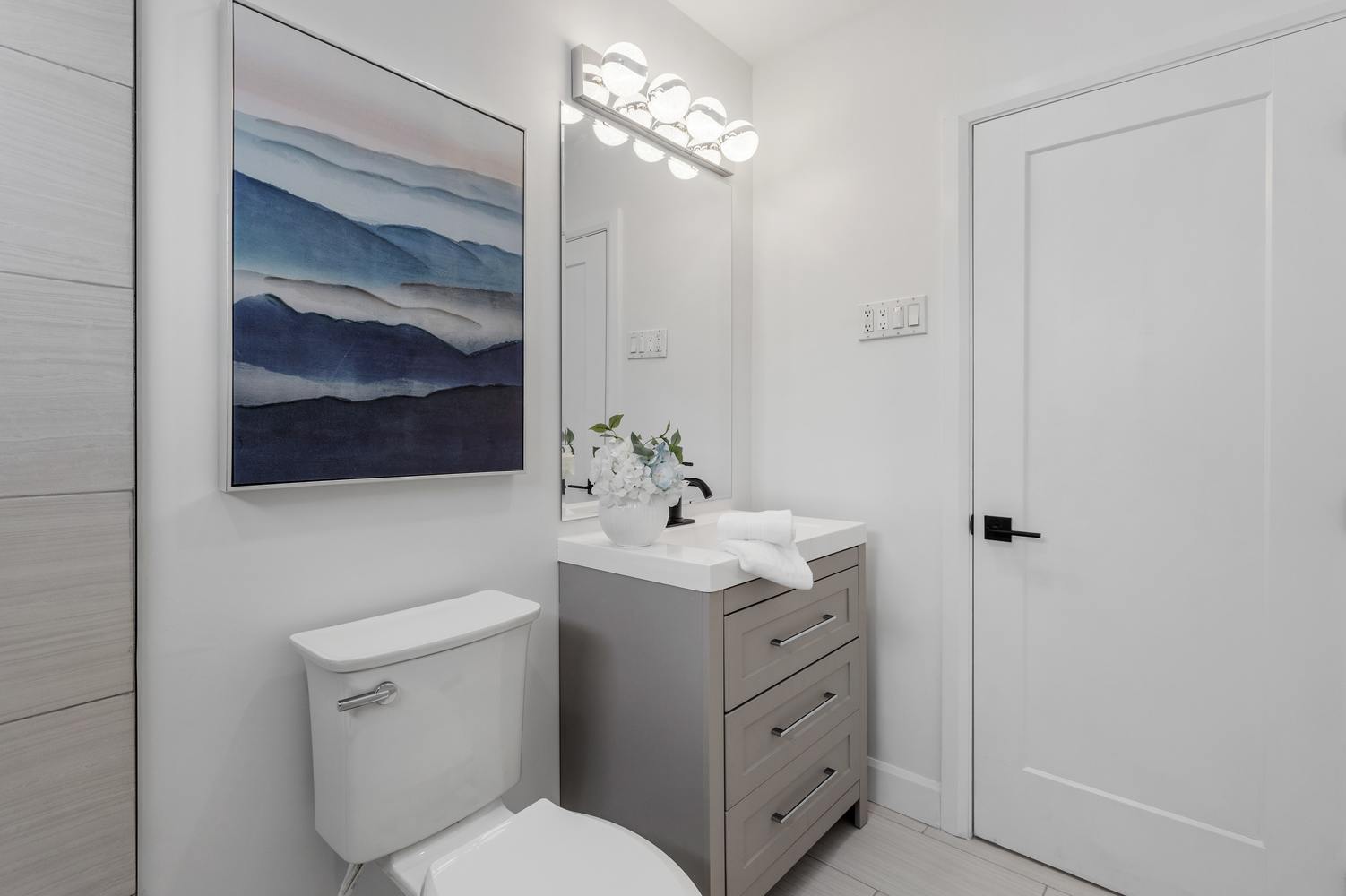 People Also Ask
How do you refresh a powder room?
You can refresh a powder room with a new coat of paint, new wallpaper, new flooring, new lighting fixtures, etc.
Can you turn a powder room into a bathroom?
Yes, it can be done! You will need to remove all the walls and install new plumbing.
Which wall should be accented in the powder room?
The wall that has the mirror should be accentuated with wallpaper or different paint colour.
How do you make a small powder room look bigger?
You can make a small powder room appear larger by using mirrors, lighting, and other design elements.
How much does turning a powder room into a full bathroom cost?
The average price for turning a half-bathroom into a full bathroom is $25,000. This includes materials, labour costs, permits, etc.
Does converting a half bath to a full bathroom add value?
Yes, it adds value if you plan to sell your home in the future.
How do I spruce up my powder room without spending too much?
You can spruce up your powder room with a new toilet paper holder, soap dispenser, mirror, and towels.
Do you need tiles in a powder room?
No, you don't need a waterproof floor for the powder room. So, Tiles are not necessary.
What is the difference between a powder room and a bathroom?
A bathroom is a room where people take a bath or shower. A powder room is a small room with a sink for washing hands and face.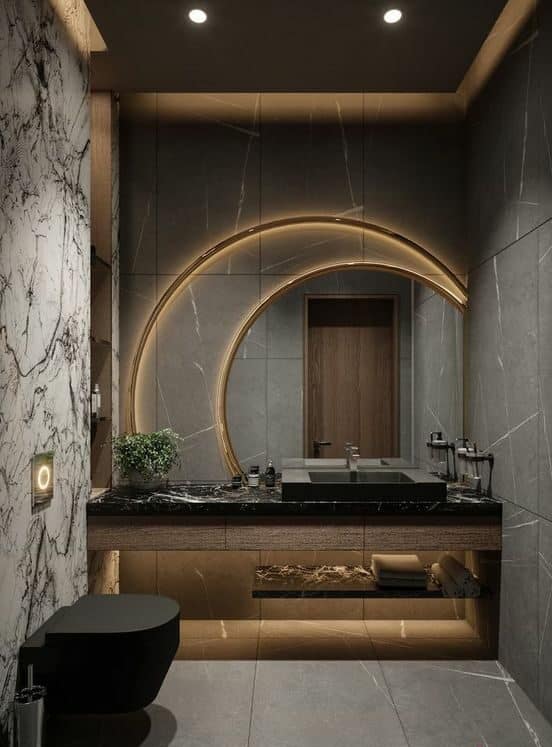 Powder Room Design and Renovation Checklist
#1. Choose a Color Scheme That Works With Your Home
Before choosing any colour scheme, think about how it will fit with the rest of your house. For example, if you live in an older home, you may want to avoid bright colours such as red, orange, yellow, and green. Instead, opt for softer shades like blue, gray, white, and cream.
#2. Make Sure There Will Be Plenty Of Storage Space
Make sure that there is plenty of storage space in your powder room. This means you should leave enough room for towels, hand soap, makeup brushes, and other things you store in the powder room.
#3. Consider Adding Mirrors
Mirrors are a great addition to any powder room. They allow you to view yourself without leaving the powder room. Mirrors come in various sizes and shapes. Some mirrors are rectangular, while others are round. Round mirrors are easier to clean than rectangular ones.
#4. Add Lighting
Lighting is another feature that you should include in your powder room renovation. Light fixtures are available in various styles. You can find wall sconces, ceiling lights, track lighting, pendant lights, and recessed lights.
#5. Include a Toilet Paper Holder
A toilet paper holder is essential in every powder room. It allows you to grab a roll of toilet paper quickly whenever needed. Toilet paper holders come in various shapes and sizes. You can find models that attach to the back of the toilet, hang over the side of the vanity, or stand alone.
#6. Replace Old Fixtures
Old faucets, toilets, sinks, and towel racks can detract from the overall appeal of your powder room. Replacing old fixtures with modern versions will give your powder room a fresh feel.
#7 Use Quality Materials
When remodelling your powder room, choose quality materials. High-quality materials will last longer and resist damage better.
#8. Create a Comfortable Environment
Create a comfortable environment in your powder room by adding soft lighting, plush seating areas, and cozy accessories. Add a bench seat to your powder room if you have the space. These seats are perfect for relaxing after a long day.
#9. Don't Forget About Privacy
Privacy is essential in a powder room. You can achieve this by installing a frosted glass window. Frosted windows prevent anyone from seeing what you're doing in the powder room. They also block out unwanted noise.
#10. Plan Ahead
Planning is critical when remodelling your powder room. Take measurements of your current powder room and create a design based on those measurements. Once you've created a design, draw up plans and order materials.
#11. Follow Safety Precautions
Safety precautions are especially important when remodelling your powder rooms. Always use safety equipment when working on construction projects.
For instance, wear protective eye gear when cutting drywall, wood, or plaster. Wear gloves when painting. And always wear shoes while working on the project.
#12. Get Help From Professionals
Remodelling your powder room doesn't have to be complicated. Hire professionals to do the job right. Professional contractors are trained to handle different aspects of building projects. They can install plumbing, electrical wiring, and heating/cooling systems. Hiring professional contractors will save you money and headaches. Plus, they know precisely how to complete each project step correctly.
#13. Enjoy Your New Powder Room
After completing your powder room renovation, enjoy the results. The finished product will enhance the appearance of your entire home. It's worth the effort to remodel your powder room. After all, it's one of the smallest rooms in your home. But it can still make a significant impact.
Choose Canadian Home Style for your next Powder room Renovation in Metro Vancouver
Canadian Home Style is your family-owned and operated bathroom remodeler in North Vancouver, BC. We hold the highest standards in the industry and provide complete bathroom renovations across the Lower Mainland with an extended warranty. We always keep up to date with the latest trends and are proud members of the NKBA National Kitchen and Bath Association. In addition, we have won the Consumer's Choice Awards back-to-back in 2021 and 2022 for our commitment to business excellence. We are considered one of the highest-rated kitchen and bath design and renovation experts in Metro Vancouver. Book now to visit our North Vancouver showroom, where you can get expert advice from one of our kitchen and bath designers. We're happy to be a part of your journey with your next bathroom renovation project in Metro Vancouver.
Services We Offer:
Main Areas of Service in British Columbia:
Statistics