Bathroom painting tips
The bathroom is one of the essential rooms in a house. It's where we get ready to face the day, and it's also a place where we can relax and unwind at the end of a long day. So your bathroom must be a comfortable and pleasant space. You don't have to commit to a complete bathroom renovation; you can make a dramatic change by just painting your bathroom. One way to make your bathroom more comfortable is to paint it a colour you love. Painting your bathroom can be a fun weekend project and a great way to add some personality to your home. Here are some tips for painting your
Before beginning, prepare the walls by cleaning them thoroughly with a DIY solution of three parts water and one part bleach. Begin by painting the walls in corners, working your way outward. Remember that ventilation is key to a long-lasting paint job. You can use painter's tape to block off areas before painting and drop cloths to protect the surfaces and toilet.
Eggshell finishes work well in painted bathrooms.
While eggshell finishes work well in painted bathrooms, they are not as practical as satin finishes. Satin surfaces reflect more light, making application mistakes more visible. Errant roller lap marks and brush strokes are harder to hide,, and touch-ups are more difficult to hide as well. Eggshell, on the other hand, is very low-reflective and helps to hide application goofs. Therefore, if you're unsure of your painting skills, go with Eggshell finish.
Paint with eggshell finishes is an excellent option for painted bathrooms because of its high-gloss finish. Eggshell finishes are easier to clean than flat paint and can help keep your bathroom looking its best. They do not retain water or moisture quickly and are less prone to mould and mildew than flat paint.
Bathroom Walls: white isn't off-limits.
You don't have to avoid white paint in your bathroom.  Neutral tones like beige, grey and off-white are best for your bathroom walls. They don't add too much contrast and don't change your complexion. However, white is great for a small bathroom.
Try another colour if you're not ready to commit to a white bathroom. White is associated with self-care and cleanliness. Having an all-white bathroom can help you feel more refreshed and relaxed. But if you're not ready for an all-white bathroom, try using white as an accent colour. You can paint one wall white and the rest of the walls a different colour. Or you can use white bathroom trim to add some contrast to your bathroom.
Wallpaper is a good option for most bathrooms instead of a paint job.
There are many ways to add interest to your bathroom walls, but wallpaper is a popular option that won't break the bank. Unlike paint, which will need regular maintenance, wallpaper holds up well in bathrooms and won't damage the walls, but the installation process can be tricky. Before installing wallpaper, ensure your walls are clean and smooth and patch any imperfections. Also, use a specific primer for your bathroom.
When decorating a bathroom with a classic theme, you might want to use textured wallpaper. Textured wallpaper will give the walls a unique look and add a layer of interest to the room. However, some designers don't recommend using textured wallpaper in a bathroom because it can promote mould growth. Similarly, textured wallpaper can add interest without creating the same effect as actual textured wallpaper. For this reason, try a simulated texture wallpaper.
Anti-mould bathroom paint
If you're looking for anti-mould paint for painted bathrooms, the best option is probably a 5-year warranty product like Perma White. While white may look nice, consider a pastel, off-white, or medium-colour paint. Darker colours aren't as visible, making it difficult to spot mould problems. Luckily, several brands will protect you without sacrificing colour or texture.
One of the most popular brands is Zinsser Perma-White Mold and Mildew-Proof Interior Paint. This paint is water-based, which means it doesn't require sanding. Add five gallons of water-based paint to one gallon of the product to apply this paint. Mix the two ingredients and use them on walls and ceilings. Then, let the paint dry completely. Benjamin Moore also offers their Aura® Bath & Spa anti-mould and mildew-resistant paint, which does similar things.
Painting behind a toilet
Painting behind a bathroom toilet is a simple yet effective way to transform your bathroom. Not only can it make the room look brighter and more appealing, but it also protects the wall behind the toilet, making it last for many years. The following tips will help you achieve stellar results. First, ensure sufficient clearance from the toilet bowl to the wall. Once you have painted and prepared the wall, you can reinstall the toilet tank.
The paint should be in a container or tray to minimize the chance of spills. Next, make sure that the colour doesn't drip on your brush. Make small, even coats, as too much paint can cause a mess. Position the paint roller at a comfortable angle. The distance between the bowl and the wall will determine the angle and space you need to cover. A side-to-side approach is most effortless for people with limited mobility.
Choosing the right paint colour for your personality
Choosing the right colour for your painted bathroom is essential. The paint colour you choose will depend on your overall decor, the paint finish, and the lighting in the room. If you have natural light in the bathroom, consider a blue or gray tone. If you don't have natural light, try a bright white colour to counteract the effects of artificial light. White paint also looks great with wood or brass accents.
Changing the paint colour in the bathroom can transform the whole feel of the room. The right paint colour can make an otherwise drab room feel larger and more inviting. Choose the right shade to reflect your personality. Choosing the right shade can reflect your style and personality while adding a sense of peace and calm. The right paint colour should also complement the flooring of your bathroom.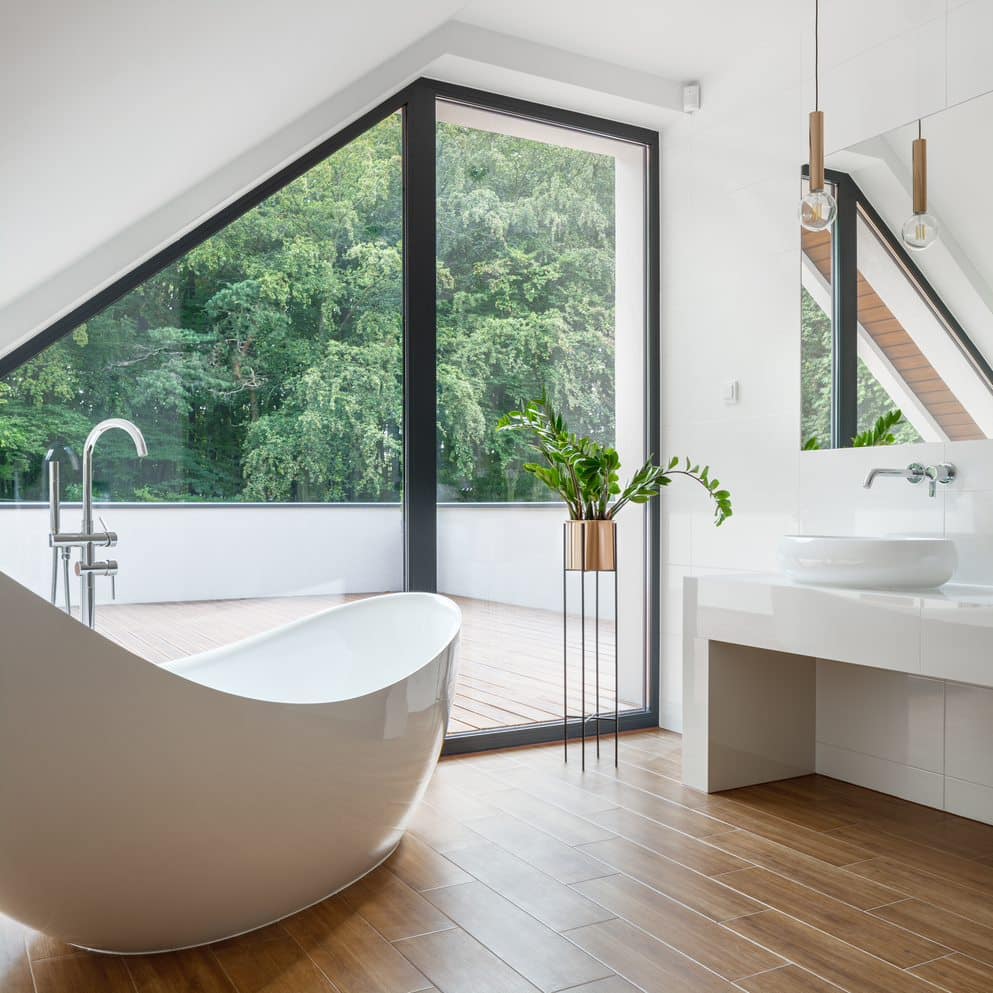 Quick painting tips:
If you're using different paint on the ceiling, use painter's tape to avoid painting the ceiling.

Permanently remove the soap scum around the shower or bathtub surround before painting.

Remember to tape towel racks, doorknobs, and other hardware before painting.

Start by cutting the corners of the walls for a smooth surface.

Make sure to wait at least an hour after the first coat to apply the second coat.

Remove all wall hangings and window treatments before starting the job.
Frequently Asked Questions
What do I need to paint a bathroom?
The right tools for painting a bathroom are as follows:
Paint tray

Plastic sheet

Painters tape

Paintbrush

Caulking

4″ Paint Roller

Mild detergent

Rubber gloves
How do I prep my bathroom walls for painting?
You will need to wash your walls with a mild detergent and let them dry completely before painting. You should scrape any loose paint and fill cracks or nail holes with caulk. Once you've prepared the wall, you can apply a primer if desired.
When painting a bathroom, What do you paint first?
You should always start from the most substantial light source and leave the ceiling last.
Should I prime bathroom walls before painting?
Yes, absolutely! It would help if you used a stain-blocking primer to prevent any bleed-through.
How long does it take to paint a bathroom?
It usually takes about four to six hours to paint an average-sized bathroom.
How many coats of paint does a bathroom need?
You need one coat of primer and two coats of your paint colour.
Do you have to remove the toilet to paint the bathroom?
You should, but you don't have to remove the toilet. Just be sure to tape around it, so you don't accidentally paint it!
How long after you paint a bathroom can you shower?
You should avoid using the shower for at least one day to allow the paint to cure properly.
Is semi gloss paint good for bathrooms?
Semi-gloss paint is excellent for bathrooms as it is water resistant and easy to clean.
How much paint do I need for a bathroom?
For a small space, one-gallon paint should be enough.
What's the best paint sheen for bathroom painting purposes?
Well, it depends on your level of experience. A semi-gloss or high-gloss sheen is the easiest to work with because it resists moisture and is easier to clean. However, these finishes can also show imperfections more easily. If you're not confident in your painting skills, we recommend going with an eggshell shell finish, as mentioned above.
Canadian Home Style is your family-owned and operated bathroom remodeler in North Vancouver, BC. We hold the highest standards in the industry and provide complete bathroom renovations across the Lower Mainland with an extended warranty. We always keep up to date with the latest trends and are proud members of the NKBA National Kitchen and Bath Association. In addition, we have won the Consumer's Choice Awards back-to-back in 2021 and 2022 for our commitment to business excellence. We are considered one of the highest-rated kitchen and bath design and renovation experts in Metro Vancouver. Book now to visit our North Vancouver showroom, where you can get expert advice from one of our kitchen and bath designers. We're happy to be a part of your journey with your next bathroom renovation project in Metro Vancouver.
Services We Offer:
Main Areas of Service in British Columbia:
Check our latest articles about bathroom renovation: