Lauzon Hardwood Floor
You are a proud homeowner in Vancouver, looking to renovate your home and looking for quality Canadian-made hardwood flooring. You may be wondering, what is Lauzon hardwood flooring? Is it worth installing in my home? What are the benefits of this finely crafted wood? Well, you have come to the right place. We will explain everything you need to know about Lauzon hardwood flooring to help you decide to purchase your next hardwood floor.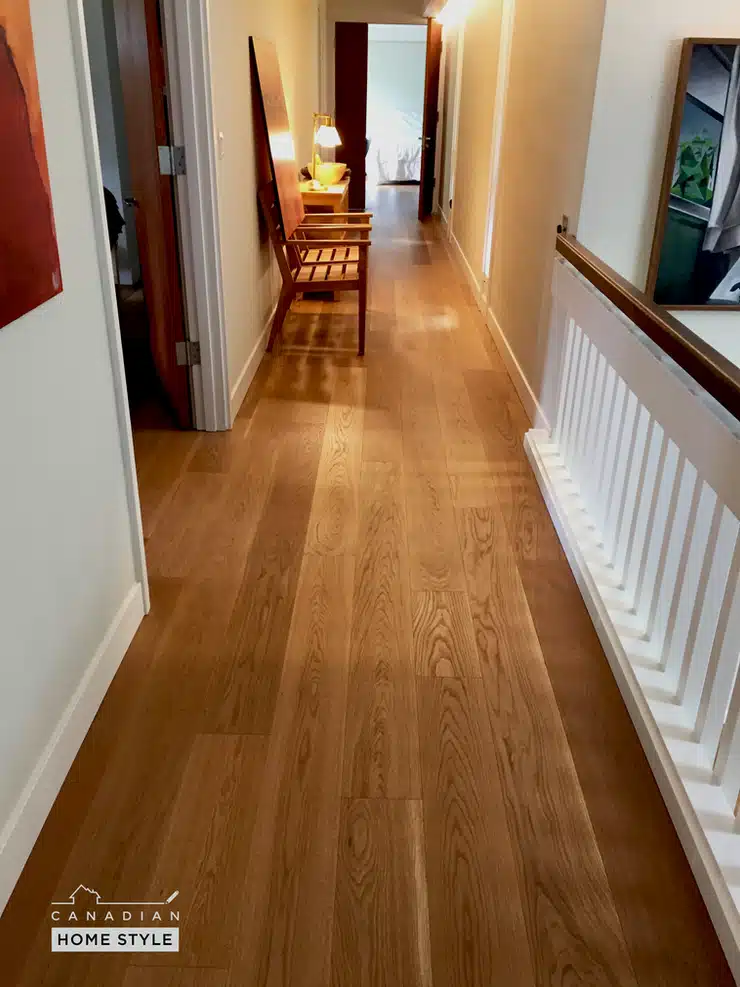 What is Lauzon Hardwood Flooring?
Lauzon hardwood flooring is a Canadian-made family business born in 1985. The company is the top leader in supplying customers with premium hardwood flooring and is known for being a greener brand. Lauzon hardwood flooring is one of the finer, high-end types of flooring, as it is resilient and naturally comfortable. In addition, Lauzon hardwood flooring is an environmentally friendly type of hardwood flooring. As a hardwood flooring enterprise, employees must learn to incorporate reasonable and sustainable stewardship practices through recycling and reusing. As they say, "Green isn't just a colour at Lauzon; it's part of our value system."
The company also offers a variety of solid and engineered hardwood so the customer can customize the width and even thickness to their liking.
Lauzon hardwood flooring is known for its special patented finish, which other floorings do not offer. Lauzon hardwood flooring has two popular unique features: The Titanium Finish and the Pure Genius feature.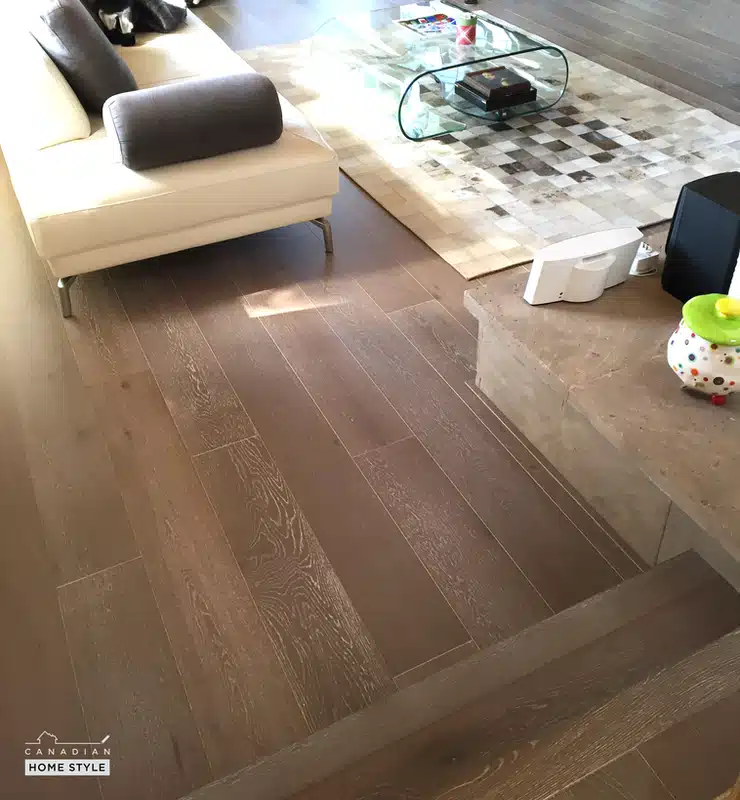 Lauzon Flooring and Their Finish
Dynamic Flex
Lauzon is famous for its Titanium Finish that provides dynamic flex ability to absorb heavy impact without cracking and provides great protection against scuffing and chipping. Cracks in hardwood flooring finishes tend to allow water to leak in, which could cause major stains. However, the technology within the Titanium finish protects the floor from that. Other finishes, such as the standard aluminide oxide finishes, do not offer that same guaranteed protection as the Titanium finish.
Timeless Look
Unlike other finishes that show signs of wear over time, the Titanium finish is made with superior anti-wear properties. This helps your floors age nicely while maintaining a beautiful lustre for years. Heavy foot traffic can cause a floor to appear less beautiful, but the Titanium finish protects the floor from looking worn and used.
Guaranteed Durability
When installing hardwood flooring, guaranteed durability is an important feature. When you invest, you want to know that your floor will not weaken or become damaged by heavy foot traffic. That is exactly what Titanium Finish can guarantee. Lauzon offers a warranty of up to 35 years to guarantee that what you choose continues to look as good as you expect.
Sunshield Technology
Sunlight and even artificial light can cause floors to yellow over time. During the manufacturing process of Lauzon hardwood flooring, Sunshield protection is applied to both the wood and to the Titanium finish. This exclusive Sunshield technology will protect your floor from any yellowing damage caused by natural and artificial light, and it will minimize the harmful effects of the sun.
Beautifully Clear
This formaldehyde-free finish is also known for being crystal clear, enhancing the wood's natural shine, and adding to the beauty of your home. Other standard finishes consist of aluminum oxide which can develop a dull appearance. However, the Titanium finish offers enhanced lustre and a beautifully clear and clean look.
Antimicrobial Treatment
The Titanium finish uses an advanced antimicrobial treatment. This treatment is used to help prevent the growth of bacteria and fungi. Limiting the growth of bacteria and fungi helps keep your home healthier and your family and pets safer.
Purification with Pure Genius
As great as the finish already sounds, it gets even better when paired with the advanced air-purifying feature of Pure Genius. Pure genius (discussed in further detail below) is the light-activated air-purifier feature made of titanium dioxide, cleansing the air in your home to create a healthier living environment.
Summary
In conclusion, the Titanium finish is one of the best anti-scratch hardwood flooring options available on the market. It is the only finish that uses titanium oxide rather than aluminum oxide. Although it can be expensive, costing around $6 per square foot, this finish gives your floor a beautiful look and proves to be a great investment adding value to your home.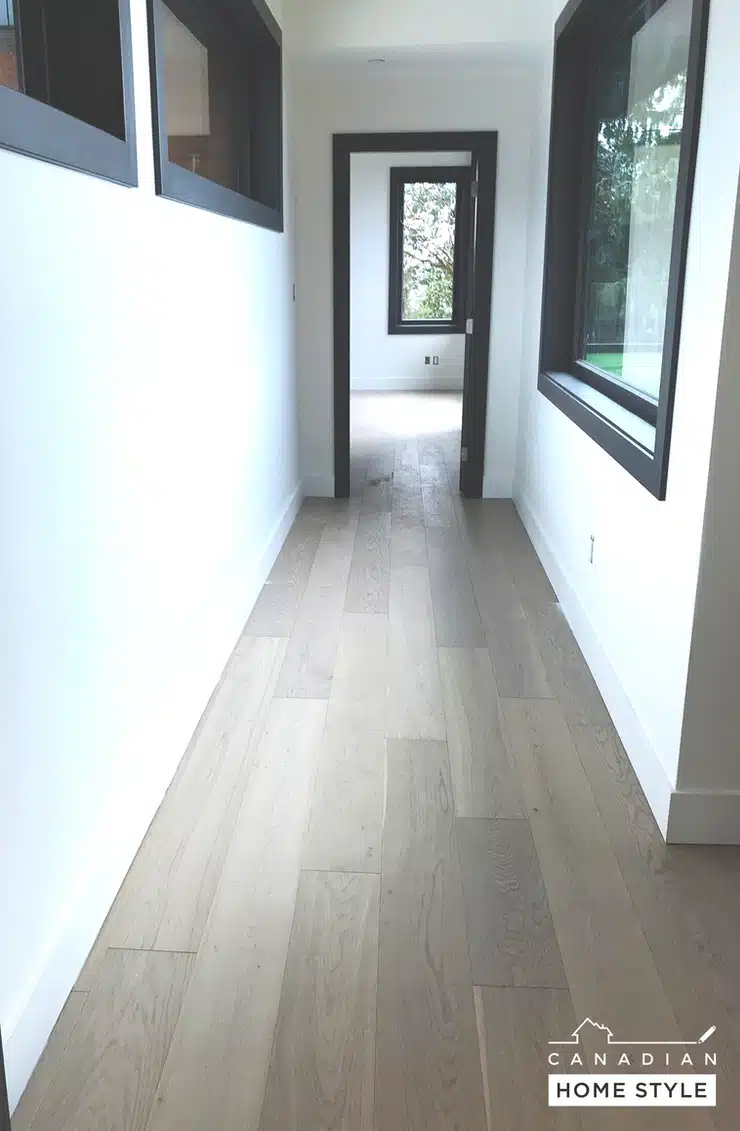 Pure Genius
Did you know that we take around 20,000 breaths a day and that the air we breathe indoors is five to ten times more polluted than what we breathe outside? You may be thinking to yourself how unhealthy that sounds. Well, the Pure Genius feature is the best solution to improve your indoor air quality.
What is Pure Genius?
Pure Genius is a light-activated, air-purifying built-in feature made of titanium dioxide, which is included in Lauzon's Titanium floor finish.
How does it work?
The air purifying agent is activated by both natural and artificial light which then activates the titanium oxide of Pure Genius setting the feature in motion.
Triggered by air circulation
Air circulation is simply the only contributing factor for the toxic contaminants in the air to come in contact with the active Pure Genius nanoparticles. Even just a fan in the room is enough to trigger the air cleansing feature.
Filters Air
Pure Genius contains active nanoparticles that help filter the air providing a cleaner, healthier air quality. The nanoparticles in Pure Genius decompose toxic contaminants in the environment and convert them into harmless water and carbon dioxide molecules making the air you breathe in your home healthier.
Benefits of Pure Genius
It is the only air purifying hardwood in the world!

Makes the air in your home up to 85% purer.

The air becomes cleaner and healthier, reducing symptoms of allergies and asthma.

Reduces stubborn odours, including cooking, smoke, and pet odour.

Decomposes up to 99.6% of bacteria, viruses, and mould.

Cleanses the air and creates a better, healthier living environment in your home.
Summary
As you can see, the features and technology of Pure Genius are pretty amazing. While it takes six months for the feature to be fully activated, once it is ready, it lasts forever. The quality that sets the Pure Genius feature apart from other flooring options is the benefit it affords your home by purifying the air. No other company offers this exclusive feature. If you want to install hardwood flooring in Vancouver, I hope you consider Lauzon hardwood flooring and all it has to offer to your home's value and quality of life.
Available Collections
Essential Collection:
Lauzon's essential collection provides affordability without compromising quality regarding North American hardwoods.
Warranty: 25 Years
Ambiance Collection
The Ambiance Collection is designed to enhance any room with its diversity of colours, grains, and finishes.
Warranty: 30 Years
Designer Collection
The Designer Collection, with its range of unique floors, will appeal to the most demanding aesthetic taste for unmatched beauty in hardwood flooring. Whether you want a floor with traditional or historic cachet or one that is ultramodern, the Designer Collection offers an extraordinary collection of beautiful domestic and exotic woods that will enhance any décor.
Warranty: 35 Years
Available Construction:
Solid Hardwood
Milled from a single piece of wood, solid hardwood flooring is a natural product that reacts to fluctuations in temperature and moisture by expansion and contraction. Therefore, we recommend that solid hardwood is only used in areas with little moisture to reduce the risk of the floor suffering from these conditions. For this reason, solid hardwood isn't advised for basements, given the high moisture levels below grade. The method of installing solid hardwood is by nailing it to plywood subfloors. Solid hardwood comes in various widths, but it is always 3/4″ thick and can be typically sanded up to three times based on industry standards. Sanding and refinishing hardwood floors is a technical and time-consuming procedure where you'd have to properly open up the wood grains. With the interior design trends moving towards wider planks and the manufacturers improving their anti-scratch finishes, this old-school practice is slowly getting phased out with its limitations, especially on the West Coast.
Engineered hardwood flooring
Engineered hardwood flooring is constructed from a solid wood top layer attached to a core of several wood layers (or plies), which have been stacked and glued together under pressure. Engineered hardwood is designed to be much more stable regarding expansions and contractions due to temperature and humidity changes over time. It's worth mentioning that the thickness of the top wear layer in engineered hardwood is not the only indication of quality. Factors such as the type and strength of the finish, anti-scratch coating, or the engineered core construction can easily be overlooked. Engineered hardwood can still be stapled on plywood subfloors similar to solid hardwood if needed. However, what makes them special is the fact that they can also be glued or floated on concrete subfloors. This allows the ability to use hardwood flooring in condos, basements, or applications that we traditionally are not allowed to.  
Herringbone Hardwood
Herringbone hardwood flooring is a type of engineered hardwood. The boards are installed in a diagonal pattern, a herringbone pattern. It is an extremely popular type of flooring featured in numerous magazines and television shows.
Available Species
Hard maple

Red oak

Santos Mahogany

White oak

Brazilian Cherry

Black walnut

Hickory

African Sapele

Yellow birch

Red birch
Canadian Home Style is your family-owned and operated flooring retailer with a showroom in North Vancouver, BC. We provide full-service commercial and residential flooring solutions across the Lower Mainland with an extended warranty. We are proud members of the BC Floor Covering Association (BCFCA) and the National Wood Flooring Association (NWFA). In addition, we have won the Consumer's Choice Awards back-to-back in 2021 and 2022 for our commitment to business excellence. We are considered the highest-rated flooring experts in Metro Vancouver. We pride ourselves on holding the highest standards in the flooring industry. To uphold our high standards, we have a strict policy of "not selling or displaying any products that we wouldn't want in our own homes." Before we select a product to feature, we carefully assess product quality, off-gassing, warranties, and responsible sourcing. Book now to visit our North Vancouver showroom; we can help you choose the perfect floor for your home or business.
Services We Offer:
Main Areas of Service in British Columbia:
North Vancouver
West Vancouver
Burnaby
Coquitlam
Squamish
Whistler