What is the Best Vancouver Vinyl Flooring Brand?
Thinking about getting luxury vinyl flooring, and you don't settle for average? You should consider brands such as Torlys, Mannington, and Purparket. Today we'll tell you about one of our favourite vinyl flooring brands by Torlys smart floors. Torlys is known for its realistic visuals and high-quality flooring products, especially vinyl.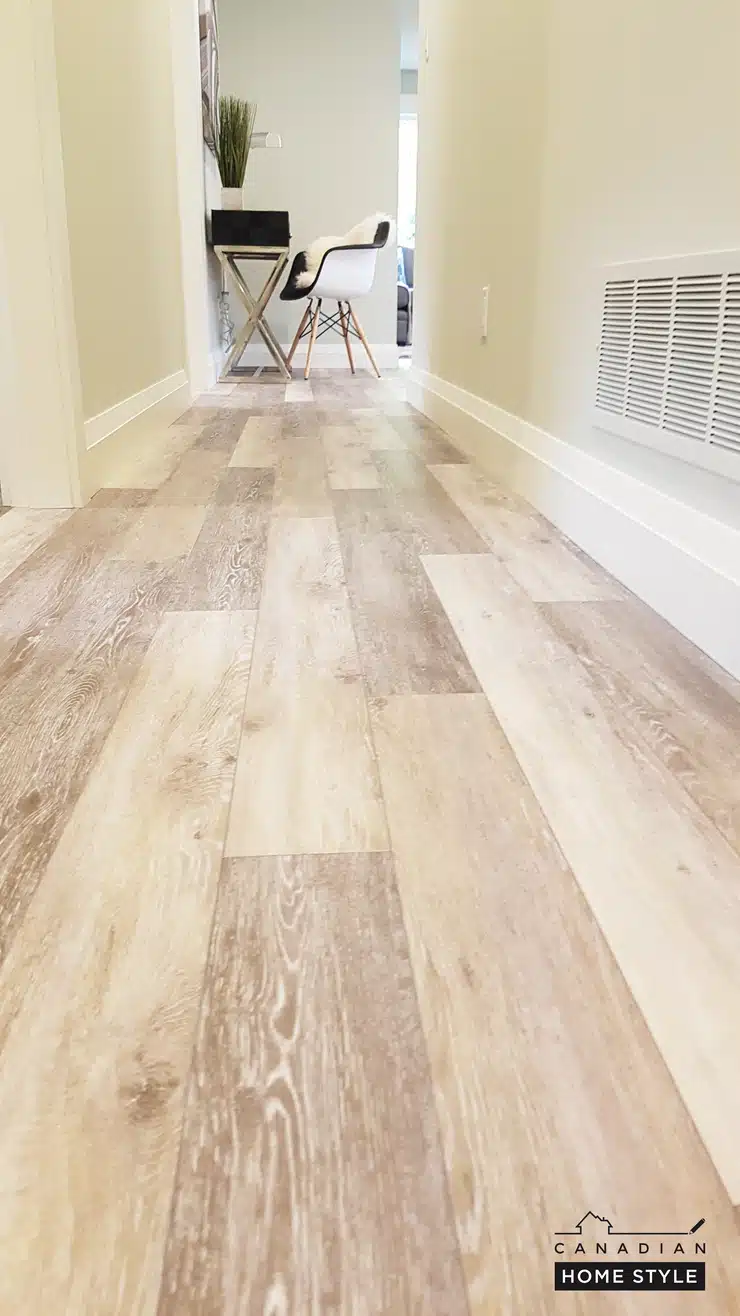 Before we get into Torlys and why we have them on top of our list. Let's learn some basics about vinyl flooring.
In general, vinyl comes in two main categories as follows:
Sheet vinyl flooring – comes in 13′ plus wide rolls similar to carpet
Vinyl tile or vinyl plank flooring: LVT or LVP
LVT stands for luxury vinyl tiles, and LVP stands for luxury vinyl planks. LVT or LVP is further categorized into two main categories based on the type of installation:
Glue-down vinyl
Hybrid vinyl (new vinyl flooring)
Hybrid Vinyl is a Floating floor.
Let's understand what hybrid vinyl is. Hybrid vinyl is a waterproof flooring option with a solid core and a locking mechanism that makes the product super stable and easy to install. Unlike traditional vinyl, this engineered product is sunlight approved and doesn't need to be glued down.
There are two main types of hybrid vinyl available in today's market these are WPC (wood plastic composite core) and SPC (stone plastic composite core). Both have unique benefits and are used in commercial or residential applications. However, WPC is a thicker and more comfortable product for residential applications. SPC, on the other hand, is aimed toward heavy commercial use
Torlys Smart Floors – Torlys Vinyl floors
Torlys offers hybrid vinyl in both WPC and SPC core constructions. Their WPC vinyl is branded under the name Everwood and Evertile. Their SPC vinyl is branded under the name Rigidwood and Rigidtile.
Torlys Everwood – WPC luxury vinyl plank LVP
Torlys Everwood is a WPC type of luxury vinyl plank flooring that mimics hardwood.
Everwood Premier – 5/16″ x 4-7/8″ x 48-3/8″
Everwood Elite – 5/16″ x 5-3/4″ x 59-7/8″
Everwood Designer – 5/16″ x 7″ x 72″
Everwood Vista – 1/4″ x 4-7/8″ x 48-3/8″ (No Cork Backing)
Everwood designer has the longest and widest planks and is preferred in modern homes.
Torlys Evertile – WPC Luxury Vinyl Tile LVT
Torlys Evertile is a WPC vinyl type that mimics stunning tile patterns.
Evertile Premier – 5/16″ x 11-1/2″ x 23-5/8″
Evertile Elite – 5/16″ x 17-7/16″ x 23-5/8″
Everwood/Evertile Construction:
1. Attached Anti-fungal Cork underlay (excluding Everwood Vista)
On the backing of your WPC flooring, you'll have their revolutionized trademarked Microban® cork underlay. Their patented antifungal cork backing will give you a new level of peace of mind by reducing the chances of mould or mildew, a common problem in traditional vinyl.
2. WPC Core:
WPC Core contains the trademarked Uniclic® locking system. This uni-click locking mechanism is the best in the world and allows your flooring to be gap-free and sturdy. Also, you can easily replace a plank in the middle of your floor without having to open the entire floor to get to the damaged piece. The WPC core on Everwood and Evertile vinyl is twice the thickness of traditional industry standards.
3. Decorative Layer
Now, onto the printed layer or commonly known as your decorative layer. This is where your chosen wood, concrete, or tile design will be. Torlys provide great visuals that are super-realistic.
4. Embossed anti-wear layer – 0.5mm (20mil) wear layer
This is the added layer of protection against scratching, a common problem in your traditional vinyl.
Key benefits of Everwood and Evertiles
Comfortable and Soundproof
The antifungal Microban® cork backing underlay does wonders as your underlay. Cork is a natural insulator that consists of 70-80% air. With this type of flooring, not only will you have a durable hard surface under your feet, but it will be the most soundproof one as well.
It can be installed in any room.
Because of their durability and signature Microban®, this type of flooring can be used in all rooms and for both commercial and residential applications. These vinyl planks are 100% waterproof allowing you to use them anywhere, including full bathrooms.
Uniclic® – Repair Compatibility
Unlike other vinyl, this flooring option is special because you can easily repair any plank with its iconic Uniclic® locking system. All you need to do is pull up the plank using the patented Bulldog tool without having to remove the entire flooring. Please remember that the use of a 6 mil (0.15mm) poly vapor barrier is recommended for all installations over wood sub-floors. If a repair is needed, the poly will make it easier to disassemble the floor.
Easy to Preserve
Due to a durable wear layer and water-proof characteristics, this hybrid floor is super easy to clean and maintain. You can clean your vinyl flooring with some water and soap without worrying about damaging the floor, similar to other hard surface flooring options.
Pet approved
Kid-approved
RESIDENTIAL PERFORMANCE WARRANTY
Wear, Stain, and Water Warranty:
20 years – Vista
25 years – Premier
30 years – Elite
35 years – Designer
Structure and No Gapping Warranty:
COMMERCIAL PERFORMANCE WARRANTY
Wear, Structure and No Gapping Warranty:
5 years – Vista
 10 years – Premier
15 years – Elite
20 years – Designer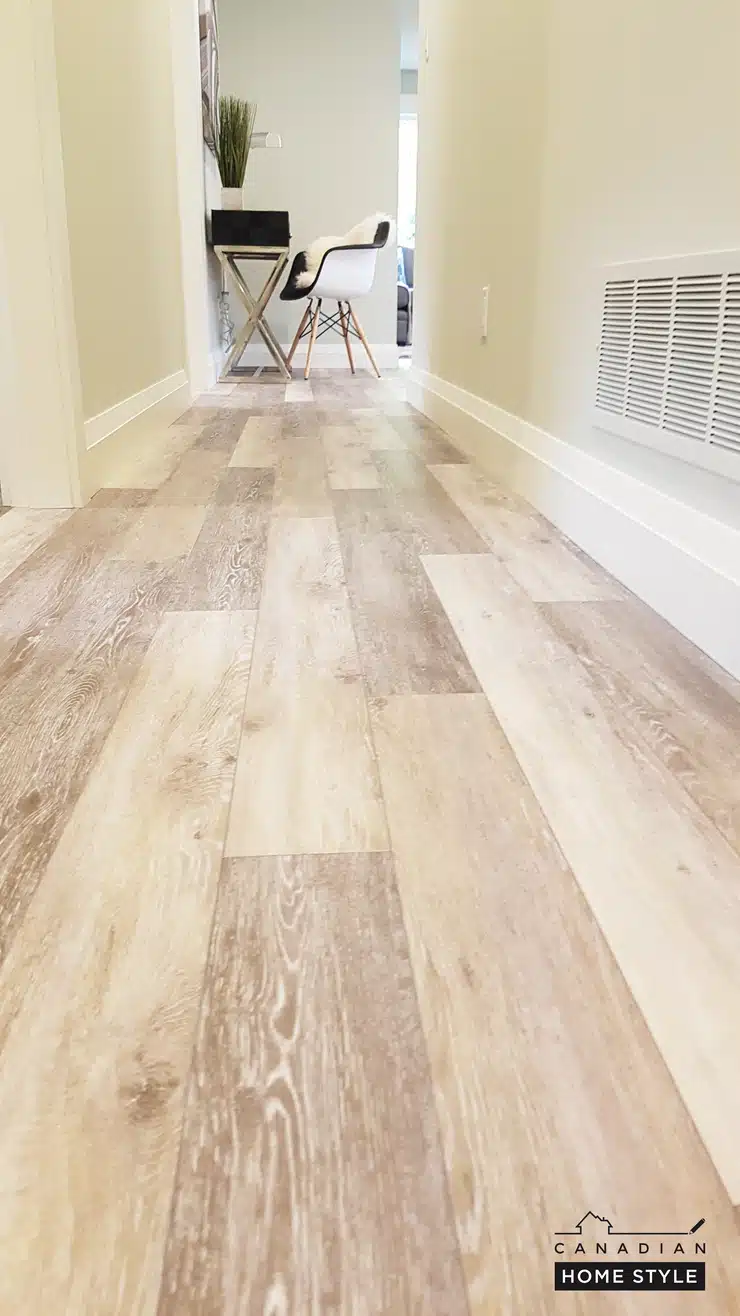 Torlys Rigidwood – SPC luxury vinyl Plank LVP
Torlys Rigidwood is an SPC type of vinyl plank that mimics hardwood planks.
RigidWood Flex Elite – 3/16″ x 7″ x 58-3/4″
RigidWood Flex Premier – 3/16″ x 6″ x 47-3/4″
Torlys Flex is the top-of-the-line SPC vinyl, with eight layers of single press construction, stunning deeply textured visuals with a tremendous amount of stability. With these planks, you can go transition free up to 80' x 80′.
RigidWood Firm Elite – 5/32″ x 7″ x 58-3/4″
RigidWood Firm Premier – 5/32″ x 7″ x 47-3/4″
Torlys Firm offers premium SPC vinyl in a five-layer continuous press construction that offers a lighter, more subtle texture providing excellent performance at a great value. With these planks, you can go transition-free up to 70' x 70'!
Torlys Rigidtile – SPC luxury vinyl Tile LVT
Torlys Rigidtile is an SPC vinyl type that offers stunning tile patterns.
RigidTile Firm Premier (grout) – 3/16" x 12" x 24" (Realistic painted grout lines)
RigidWood Firm Vista – 5/32″ x 6″ x 47-3/4″
SPC core vinyl flooring is incredibly denser than the WPC. This makes the vinyl flooring much more durable against impact, making it a longer-lasting product for commercial applications.
Rigidwood/Rigidtile Construction:
1. Microban® FoamPlus™
On the bottom of these floors, you'll have their signature Microban® FoamPlus™. This is considered the anti-fungal underlay; it doesn't just make it extremely sturdy but also makes sure that the planks are evenly distributed across. This underlay offers an IIC soundproof rating of 73, and It helps to prevent odour formation, which could be common with luxury vinyl.
2. PVC Balance Layer
PVC is a type of plastic that is flexible and tough, and it helps with the overall structural stability.
3. SPC Core:
The SPC core is combined with their patented Uniclic® locking system making installation fairly easy. The Uniclic® system has a locking mechanism that takes the place of traditional tongues and grooves. The locking pattern is designed to hold the planks together tightly and can be easily separated, making them reusable if repairs are needed any time in the future.
4. Fiberglass
On top of the core, there is a thin sheet of fibreglass for added durability. The exclusive fibreglass layer provides flexibility by conforming to the subfloor for a quieter, more solid "glue down" feel. The fibreglass is also stain-resistant and acts as a vapour barrier (preventing mould and mildew).
5. PVC Top Layer
This is similar to the stabilizing PVC bottom layer we talked about.
6. Decorative Layer
This layer gives you that stone or wood-like feel. This layer mimics natural wood grain and texture with its embossed surface, giving you a clean look.
7. Heavy-Duty Wear Layer – 0.55mm (22 mils)
This is a thick urethane wear layer designed to offer superior lasting durability.
8. TORLYS Maxx Finish
Torlys Maxx finish is an additional coating on the urethane wear layer for extra protection. It has Nano-aluminum oxide embedded to give the surface the best anti-scratch rating in the market. Maxx finish is also stain-resistant. Maxx finish is exclusive to Rigidwood and Rigidtiles.
Key Features of Rigidwood/Rigidtiles:
Durability
A hybrid SPC vinyl is used for both commercial and residential applications, but it is considered one of the best options for commercial. Because of its anti-scratch and waterproof characteristics, this resilient flooring is the perfect alternative to stone or tiles.
Price
SPC hybrid vinyl flooring options are generally cheaper than the WPC. The only downside to this is that it's a much harder floor. That may not necessarily be bad, especially in a commercial setting where everyone will be walking with their shoes on.
Antimicrobial Protection
Like Everwood/Evertile Microban® cork backing, Torlys SPC is equipped with a foam underlay (FoamPlus™) containing the signature Microban® granting stability and protection from mould, and mildew for healthy home living.
Which Hybrid Torlys Vinyl Should You Choose?
Everwood is the perfect choice for you if soundproofing and comfort are your priorities.
Rigidwood is ideal for those who make durability their top priority. Rigidwood is also more affordable than Everwood.
Everwood also holds warmth much better than Rigidwood due to the cork backing underlay, so the Everwood will be much more pleasant barefoot compared to Rigidwood.
At Canadian Home Style, we consider Torlys vinyl the top luxury vinyl flooring option in Metro Vancouver. Visit our North Vancouver flooring showroom to see our full display of Torlys vinyl floors. Book Now!
We are a family owned and operated flooring retailer with a showroom in North Vancouver, BC. We provide full-service commercial and residential flooring solutions across the Lower Mainland with an extended warranty. We are proud members of the BC Floor Covering Association (BCFCA) and the National Wood Flooring Association (NWFA). In addition, we have won the Consumer's Choice Awards back-to-back in 2021 and 2022 for our commitment to business excellence. We are considered the highest-rated flooring experts in Metro Vancouver. We pride ourselves on holding the highest standards in the flooring industry. To uphold our high standards, we have a strict policy of "not selling or displaying any products that we wouldn't want in our own homes." Before we select a product to feature, we carefully assess product quality, off-gassing, warranties, and responsible sourcing.
Services We Offer:
Main Areas of Service in British Columbia:
North Vancouver
West Vancouver
Burnaby
Coquitlam
Squamish
Whistler