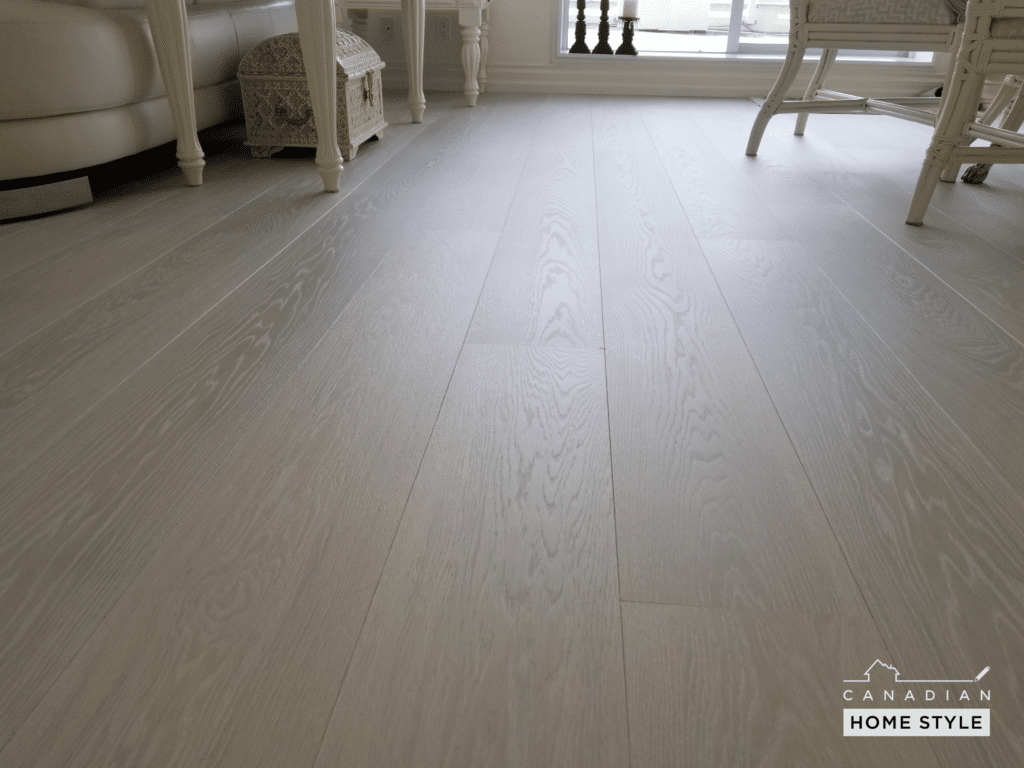 Flooring nailers can be essential for any DIY enthusiast looking to install their flooring. There are numerous types of flooring nailers on the market, and each has its own pros and cons. This article will discuss the top 5 flooring nailers available in the market and their respective pros and cons.
Bostitch MIIIFN
Featuring a wide composite base plate and pneumatic operation, the Bostitch MIIIFN Floor Nailer features a high-speed, single-pulse operation. It is also equipped with a pre-finished flooring adapter foot. Compared to the manual version, this nailer offers increased productivity and reduced fatigue. A wide, adjustable base plate and extra-wide composite base plate provide a stable platform for the floor nailer to work on.
The Bostitch MIIIFN flooring nailer features a composite base plate and high-speed mallet-actuated pneumatic operation. Its compact design, lightweight construction, and 7-year limited warranty make it ideal for various flooring projects. Other features include a 1/2-inch and 3/4-inch base plates, graphite mallet, and pre-finished hardwood flooring adapter foot.
The MIIIFN works well for fastening finished and unfinished wood. It delivers 70 to 120 PSI and is equipped with 110 cleat nails. It comes with a large foot assembly to protect prefinished wood. The MIIIFN nailer has a built-in rubber mallet to facilitate the fastening process. Besides, it comes with a rubber mallet to assist with trigger pressing.
A manual nailer uses a spring inside. It uses a mallet to drive nails into the board. Manual nailers depend on the user's force to drive the nails. Pneumatic nailers utilize air pressure to push the nails through the board. These nailers are best used for projects requiring flooring cleats to fasten the boards. If you want to make your floor installation, the Bostitch MIIIFN is an excellent option.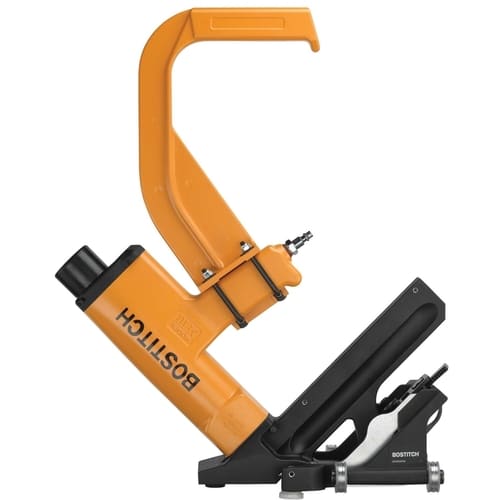 3Plus' HFSNSP
If you are looking for a pneumatic flooring nailer but aren't sure which model to buy, consider the 3Plus' HFSNSP. This pneumatic nailer is affordable and has two function modes. You can choose to use cleats or staples, and the tool's two shoe plates will accommodate flooring of different sizes. Lastly, it comes with a carrying case and warranty.
The aluminum-constructed 3PLUS HFSNSP flooring nailer is ideal for any home improvement project. This nailer can shoot both L and 15 1/2-gauge staples and cleats and features a padded grip for extra comfort and control. While this model is relatively inexpensive, it has some drawbacks and is unsuitable for those with large hands.
The HFSNSP tool is a 2-in-1 stapler and flooring nailer. The two-in-one design was a breakthrough in flooring, and consumers praised its convenience and quality. The long reach handle was a feature that customers praised. Overall, this nailer has a lot to offer, but the HFSNSP is the best choice if you're looking for a pneumatic flooring nailer.
The HFSNSP features two modes for easy reloading and a hammering feature that helps lay down flooring. These two modes are particularly useful for laying down trim moulding and other woodwork. In addition, the brad mode also provides easy access to trim mouldings and cleats without requiring a hand tool. You'll soon get used to the ergonomic design of the HFSNSP.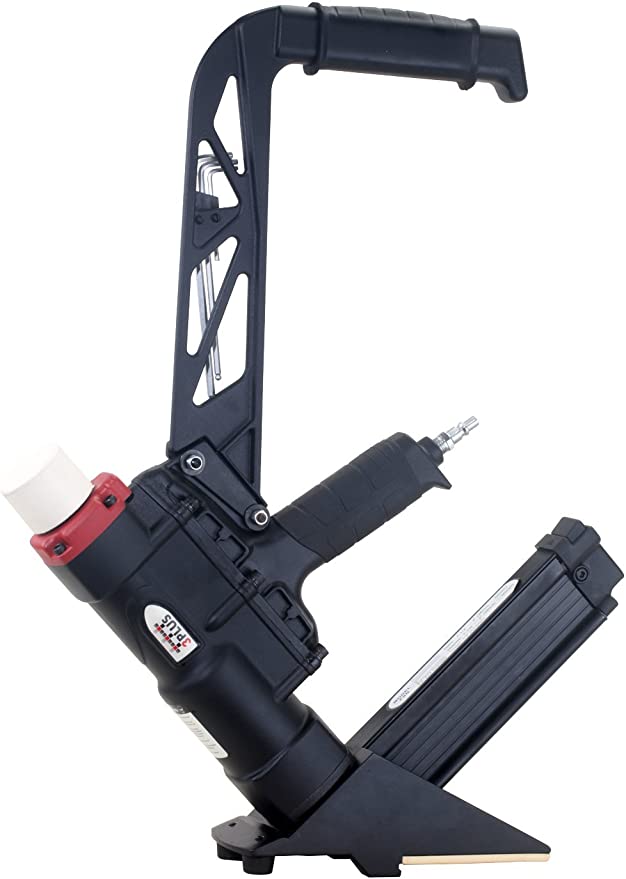 Ramsond RMM4
Unlike conventional nailers, Ramsond RMM4 flooring nailers have patented dual magazine technology. These tools fire 15.5-16 gauge staples and "L" cleats with ample force. The two air chambers continuously store compressed air in the handle for enhanced driving power. With dual-chamber technology, the RMM4 nails and cleats are always correctly aligned before firing.
The Ramsond RMM4 comes with a blow-moulded carrying case that secures the tools and accessories. The RMM4 is compatible with various L cleats, including 18 gauge cleats. However, it isn't the cheapest option for flooring contractors and DIY enthusiasts. Users may have to spend extra cash for a compressor. Some users report that the spring-fed cleats break after a certain amount of use. In addition, the nail cleats do not sit flush in the tongue of strip flooring.
Ramsond is an established name in flooring hardware, offering durable and quality products. Their patented 2-in-1 flooring stapler and nailer is the most popular tool among do-it-yourself consumers and professional installers. Its revolutionary two-in-one magazine and driver system are both patented. The RMM4 shoots both "L" cleats and 15.5/16 gauge staples. As a bonus, the RMM4 is lightweight and portable.
For solid hardwood flooring, a versatile 3-in-1 floor nailer from Freeman is the best choice. The Bostitch RMF618 Pneumatic Flooring Nailer is compatible with 16-gauge and both T and L-cleats. The pneumatic Ramsond RMM4 has a non-marring base plate. Its PFM requirements are low, and its air compressor run time is minimal.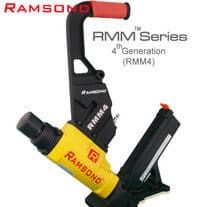 Freeman PFL618BR
The Freeman PFL618BR is a 3-in-1 pneumatic flooring stapler and nailer with a 2-inch working width. Ideal for construction contractors, DIY homeowners, and professional woodworkers, this pneumatic tool can be used to install 2 in. L-cleats and 15.5-gauge crown staples. It is also compatible with 16-gauge T and L-cleats.
The frame is made of durable aluminum. It has non-marring composite base plants for added stability and protection for the flooring underneath. The driver blade is made of tough steel and features an air filter and rubberized o-rings to help prevent chipping. The complete set comes with a sturdy plastic carrying case for convenience. It has a 7-year limited warranty and a 90-day wearable parts warranty. This tool is reasonably priced, but be aware that the machine is heavy. It might not be suitable for the lightest jobs, so it is best to choose a lighter nailer if you cannot handle the weight.
This pneumatic nailer is capable of shooting both nails and staples. There are two different types of staples available – 15-gauge and 16-gauge. The Freeman PFL618BR can shoot both types. Its magazine holds 100-120 staples and nails. The Freeman PFL618BR is an excellent tool for professionals and DIY homeowners. The Freeman PFL618BR is an excellent choice for anyone looking to install a new hardwood floor.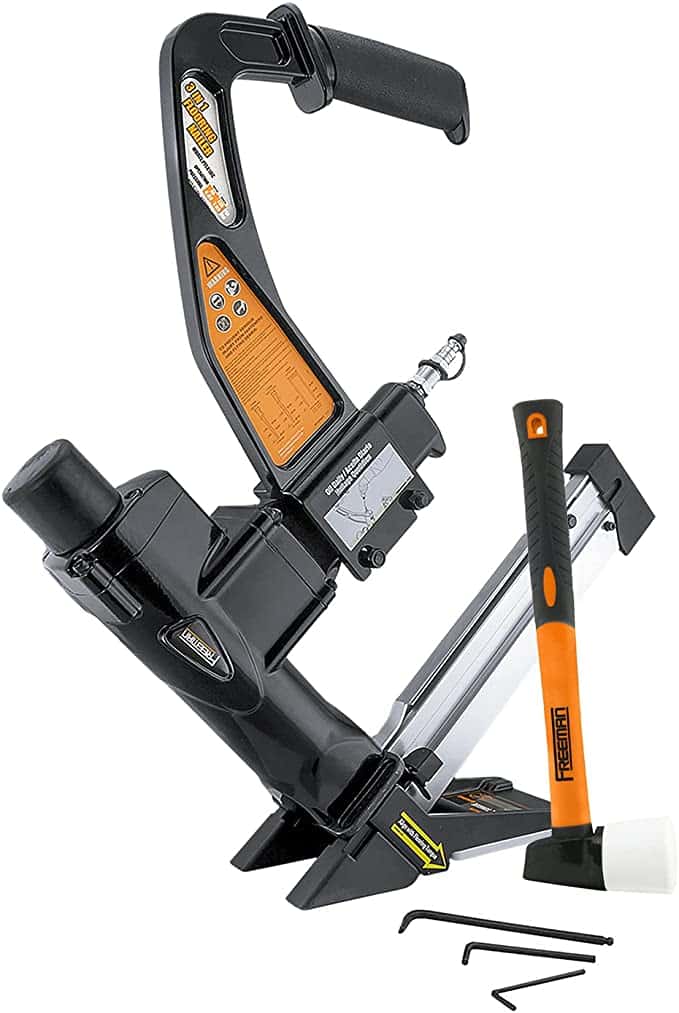 The WEN 61741 is a four-in-one pneumatic floor nailer. It drives 18-gauge brad nails and narrow crown staples. Because it's compact, it's great for small spaces and large flooring projects. This tool has a carrying case, two hex keys, and a spring-loaded flooring shoe.
The WEN 61741 nailer is great for DIY enthusiasts and professionals working on light projects. Its powerful design lets you drive 18-gauge brad nails from 5/8 to two inches long. You can also use it to shoot 1/4-inch narrow crown staples from half an inch to one-and-a-half inches. The nailer is lightweight and features a rubber-backed grip to increase accuracy and reduce hand fatigue. It also comes with a two-year warranty.
This tool is designed to nail down hardwood flooring without causing damage to the floor itself. The flooring nailer is easy to use and can install both soft and hard floor panels. Its flexible design allows you to use it for the first and last rows of hardwood flooring and saves you a lot of time. And, it's affordable enough to purchase if you need one. And, because it works without an air compressor, it's also easier to use and runs longer than its counterparts.
This flooring nailer features an adjustable spring-loaded flooring head. It also features a pneumatic hammer to drive 18-gauge brads and 1/4-inch narrow crown staples. It's also a high-quality pneumatic floor nailer with a 60-100 psi operating pressure and a 1/4-inch NPT air inlet. When choosing a floor nailer, the quality of the materials and design are two main considerations.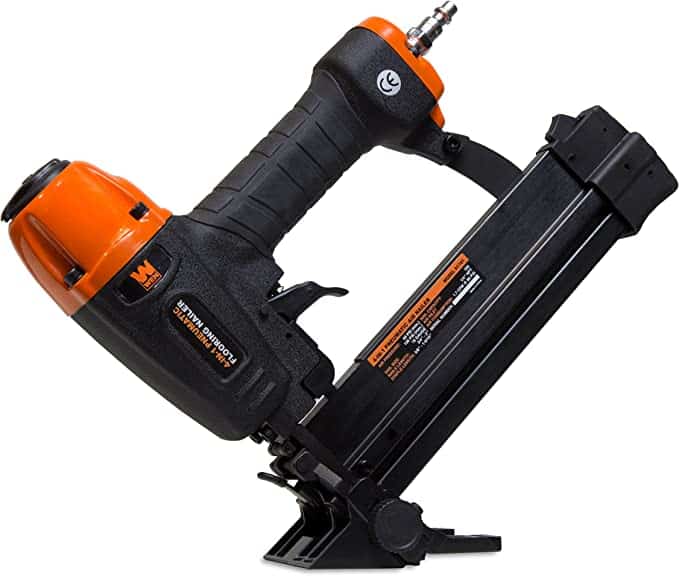 Canadian Home Style is your family-owned and operated flooring retailer with a showroom in North Vancouver, BC. We provide full-service commercial and residential flooring solutions across the Lower Mainland with an extended warranty. We are proud members of the BC Floor Covering Association (BCFCA) and the National Wood Flooring Association (NWFA). In addition, we have won the Consumer's Choice Awards back-to-back in 2021 and 2022 for our commitment to business excellence. We are considered the highest-rated flooring experts in Metro Vancouver. We pride ourselves on holding the highest standards in the flooring industry. To uphold our high standards, we have a strict policy of "not selling or displaying any products that we wouldn't want in our own homes." Before we select a product to feature, we carefully assess product quality, off-gassing, warranties, and responsible sourcing. Book now to visit our North Vancouver flooring showroom; we can help you choose the perfect floor for your home or business.
Services We Offer:
Main Areas of Service in British Columbia:
Did you miss our previous article…
https://canadianhomestyle.com/flooring/how-to-buy-a-vinyl-plank-cutter/