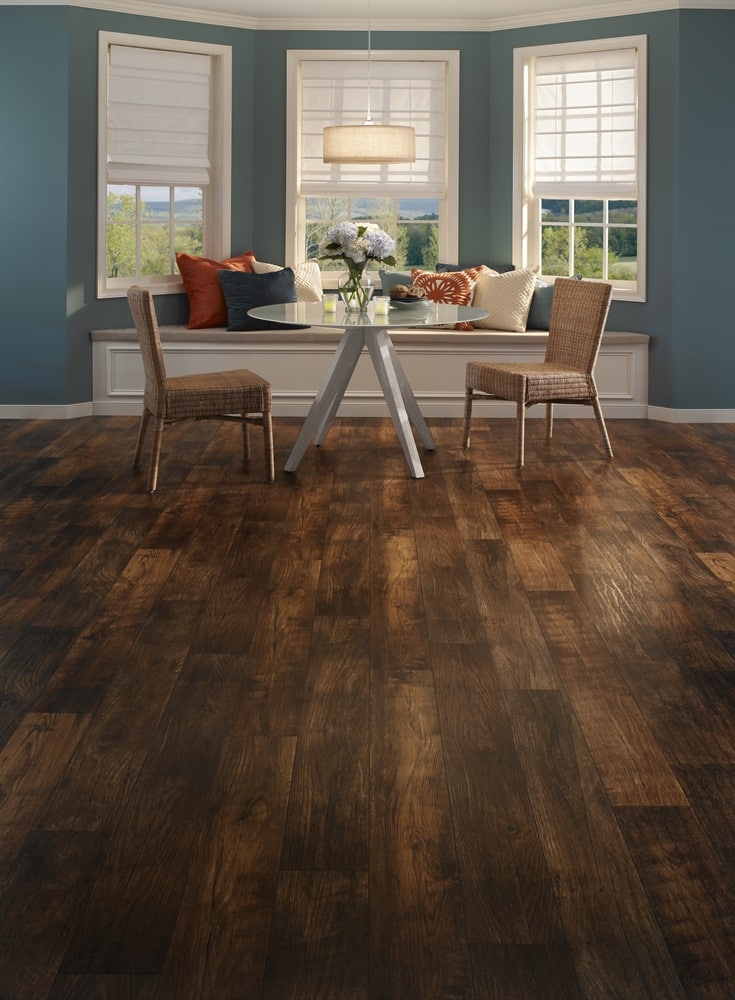 DIY vinyl flooring installation – what to cut the viny with
Installing vinyl flooring can be daunting, but it doesn't have to be. This article will cover the basics of cutting vinyl flooring and give you a few tips on making the installation process as smooth as possible. If you have decided this will be a DIY project, you first must ensure you have the right tool for cutting the vinyl. We'll give tips on picking the right vinyl cutter for the job, alternative options, and basic instructions on using these tools.
Utility Knife can do the job!
If this is your only project, you may just get away with using a utility knife. A box cutter, sometimes called a utility knife, is a simple tool for cutting vinyl planks. When using a box cutter, the blade is placed under the vinyl plank to score it and snap it into two pieces. This method is also widely used but is not as clean as a vinyl plank cutter. When using a box cutter, it's important to be sure you choose the correct blade and score the plank at the right angle to avoid damaging it. While this technique works, you'll need to apply considerable pressure to score the material. Plastic handles or snap-off blades will likely break when you use too much pressure. It is best to cut vinyl planks at least halfway through their material.
Vinyl Plank cutter
A vinyl plank cutter is a much faster and more effective way to cut vinyl planks. A utility knife is another option for cutting vinyl planks. There are a few different types of vinyl plank cutters on the market. The most popular is the handheld variety, which looks like a large pair of scissors. These cutters have a blade on each side of the handle and can be used to score and snap the vinyl plank in two quickly. Another type of cutter is the table-mounted vinyl plank cutter. These cutters are more accurate but require a bit more setup. They are also more expensive.
When choosing a vinyl plank cutter, it is important to select one that is the right size for the job. A smaller cutter will suffice if you only cut a few vinyl planks. However, it is best to choose a larger cutter if you are cutting a larger number of planks or working on a complex project. It is also important to select a cutter that has a comfortable grip. You will be using the cutter for an extended period, so it is important to have a tool that is easy to hold and use.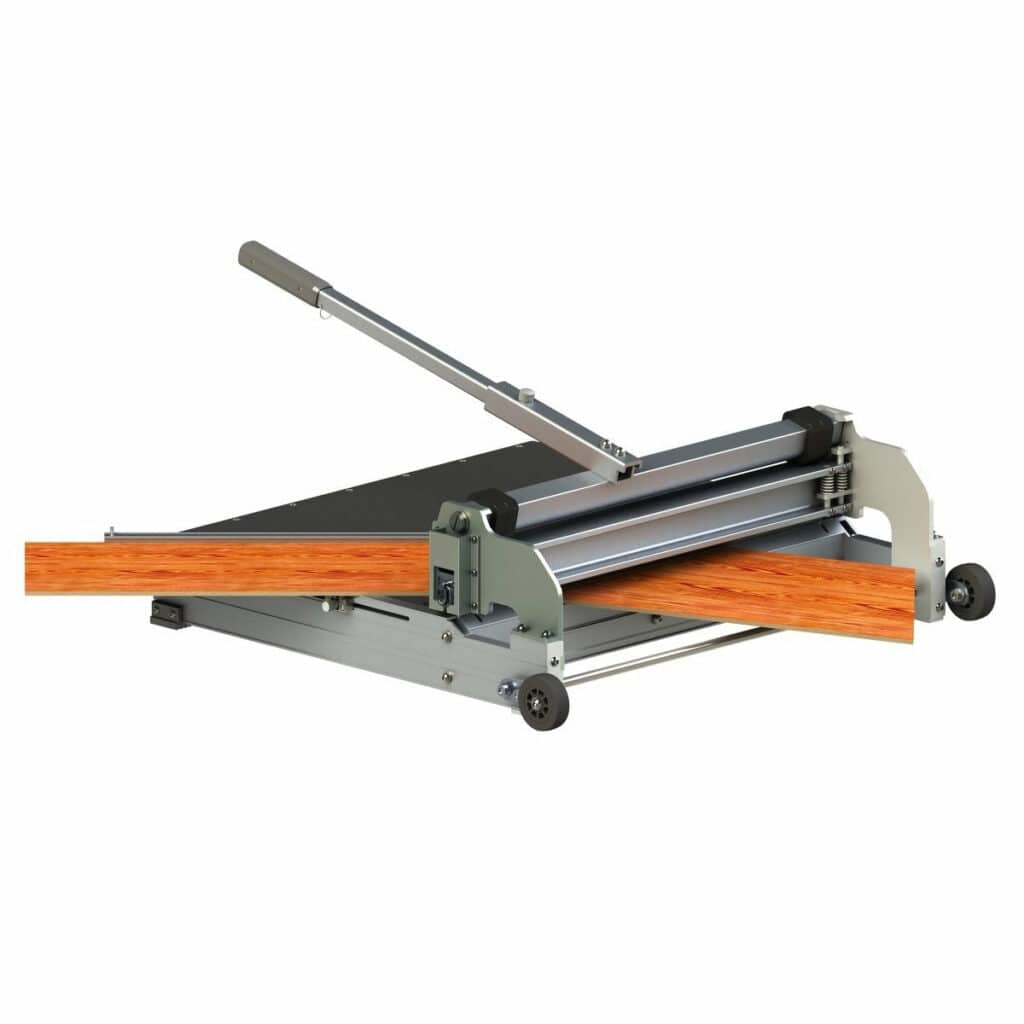 Other tools you have that can be used to cut the vinyl flooring.
Tile cutter
A tile cutter is another valuable tool for cutting vinyl plank flooring. This simple tool comprises three parts: an axle, roller, and blade. It also has an adjustable handle. The blade is designed to make straight and curved cuts. The roller spins to provide pressure that will ensure a clean cut. The tile cutter should also be sharp enough to cut vinyl plank flooring.
Table Saw
Another option for cutting vinyl planks is using a table saw. Performing a rip cut means cutting the vinyl planks along their length. This is usually where the planks meet the walls. A full-width vinyl plank would not fit between the second last plank and the wall. A table saw can accommodate full-width vinyl planks. However, it might not be as convenient to use a table saw. Most professional flooring installers use table saws to make rip cuts.
Mitre saw
A mitre saw is another option for cutting vinyl planks. While it can cut vinyl planks with less precision, it has the advantage of being versatile in your cutting. Choose a blade that can make clean cuts on vinyl planks. Some of the new SPC vinyl flooring products have stone composite in their core, and they're harder to cut than one hundred percent pure vinyl.
Jigsaw
This should be your last resort. You can cut the vinyl planks with a jigsaw, but it is not an ideal solution. Jigsaws are designed for making curved cuts. A jigsaw will give you versatility, but choosing a blade specifically for cutting vinyl planks is essential. Jigsaw blades are not expensive but are generally designed to cut wood. The blade for cutting vinyl needs to be less aggressive. A blade with finer teeth will ensure a smooth cut that will not damage the plank's edges.
You can go about cutting vinyl plank flooring in a few different ways. The most popular and effective way is to use a vinyl plank cutter. This handheld tool has a blade on each side of the handle, which allows you to score and snap the vinyl plank in two quickly. You can also use tools such as tile cutters, table saws, or mitre saws to cut your vinyl planks; however, these methods are not as efficient as using a vinyl plank cutter. If you need to make curved cuts, you can use a jigsaw; however, this should be your last resort as jigsaws are not designed to cut vinyl planks. Choosing the right blade is essential to getting a clean cut that will not damage your vinyl plank flooring.
You can learn more about vinyl plank installation by reading our other article.
Canadian Home Style is your family-owned and operated flooring retailer with a showroom in North Vancouver, BC. We provide full-service commercial and residential flooring solutions across the Lower Mainland with an extended warranty. We are proud members of the BC Floor Covering Association (BCFCA) and the National Wood Flooring Association (NWFA). In addition, we have won the Consumer's Choice Awards back-to-back in 2021 and 2022 for our commitment to business excellence. We are considered the highest-rated flooring experts in Metro Vancouver. We pride ourselves on holding the highest standards in the flooring industry. To uphold our high standards, we have a strict policy of "not selling or displaying any products that we wouldn't want in our own homes." Before we select a product to feature, we carefully assess product quality, off-gassing, warranties, and responsible sourcing. Book now to visit our North Vancouver showroom; we can help you choose the perfect floor for your home or business.
Services We Offer:
Main Areas of Service in British Columbia:
North Vancouver
West Vancouver
Burnaby
Coquitlam
Squamish
Whistler
Read our other article about wood look porcelain tiles here: https://canadianhomestyle.com/flooring/wood-look-porcelain-tiles/