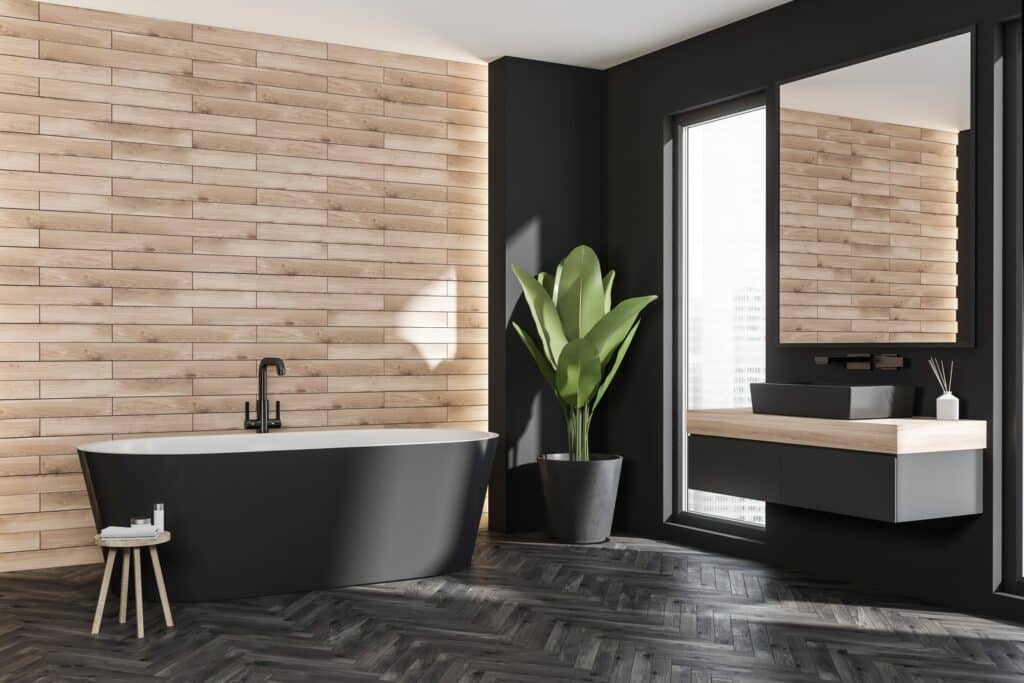 A good example of a floor covering with a natural appearance is wood look porcelain tiles. Wood look tiles are made to have the appearance of wood planks or lumber, and they are a popular choice for flooring in residential and commercial settings. Wood look porcelain tiles are available in various colours and styles and can be used to create various looks.
There are several reasons why wood like porcelain is a good choice for flooring. First, they are very durable and easy to care for. They are also stain-resistant and waterproof, making them ideal for areas that are subject to moisture or spills. Wood look porcelain tiles are also fire resistant, which makes them a good choice for homes and businesses in wildfire-prone
Wood look tile pros
Some of the benefits are as follows:
Wood look tile cons
Wood look tiles cost
The cost for a single square foot of wood look tile varies from $5 to $20 per square foot. Porcelain tiles typically cost between $4 and $15 per square foot, while ceramic tiles are cheaper.
Before installing wood look tiles, choose the finish that best fits your home. While you may prefer a textured surface, a matte finish is also a good option. Also, make sure to choose a tile that is slip resistant. You can also choose a variety of finishes, including glazed or matte. The price for wood look flooring can vary based on the style and the brand.
Tiles with rectified edges cost more than those with non-rectified edges. Rectified tiles are cut so that they have perfectly straight sides, while non-rectified tiles have slightly irregular sides. The straighter edges of rectified tiles can give you tighter grout lines.
Wood tile Size
These tiles look very real, and they come in all sizes. You can get small sizes in the bathroom or use large ones in your living room. The tiles are usually modular, so you can mix and match them as you see fit. The average size for these tiles is 6″x48″, but they come in many different sizes.
Porcelain tile floor installation
Porcelain tiles are not cheap to install. Installation costs vary widely but are often around $10 to $15 per square foot. If you're interested in having a wood look tile floor, here are some tips to ensure the best results.
First, install your wood subfloor, or OSB, as it is known. This flooring layer should be installed firmly on floor joists. In addition, you should use at least 3/4 inch thick plywood for tile installation. If your space between the floor joists is larger than 16 inches, you can add additional plywood on top of OSB.
After laying your tiles, you'll need to grout the floor. It may seem tedious, but you'll be surprised to discover that grout is not a piece of cake to install. Grout is always an unpleasant part of any remodelling project, but you can use it to refresh your floors with little effort. The darker grout colour will better conceal dirt and only match the darker tile finishes. To make the best choice for your floor, you'll want to choose a shade close to the tile's colour.
Installing wood look tile requires a high level of patience and scrupulousness. Cutting wood look tiles is an art; cutting them yourself can result in uneven tiles.
Canadian Home Style is your family-owned and operated flooring retailer with a showroom in North Vancouver, BC. We provide full-service commercial and residential flooring solutions across the Lower Mainland with an extended warranty. We are proud members of the BC Floor Covering Association (BCFCA) and the National Wood Flooring Association (NWFA). In addition, we have won the Consumer's Choice Awards back-to-back in 2021 and 2022 for our commitment to business excellence. We are considered the highest-rated flooring experts in Metro Vancouver. We pride ourselves on holding the highest standards in the flooring industry. To uphold our high standards, we have a strict policy of "not selling or displaying any products that we wouldn't want in our own homes." Before we select a product to feature, we carefully assess product quality, off-gassing, warranties, and responsible sourcing. Book now to visit our North Vancouver showroom; we can help you choose the perfect floor for your home or business.
Services We Offer:
Main Areas of Service in British Columbia: