Find Out What Flooring Type is for You?
There are five popular types of flooring materials for your home, ranging from hardwood flooring to carpet. I will provide a quick list of pros and cons for each type of flooring. The information is provided below to help you choose the best flooring for your home.
1. Hardwood Flooring
Let us start with the most popular selected choice, hardwood flooring. Hardwood continues to be the most popular due to its natural aesthetic appearance. There's just absolutely nothing like it.
Pros:
Beauty: The beauty of wood flooring is unmatched. Everything else is a compromise. Ask your flooring expert, and he'll tell you.
Durable: Wood flooring is known for its durability and longevity. A good hardwood provides a timeless natural look that can last for decades.

Ability to be refinished: If you would like to change the theme of your home or switch the colour/style of your floor, certain types of wood floors can be sanded and refinished up to four times.

Great investment: Many buyers are looking for homes with hardwood flooring installed and willing to pay top dollar for it. Not only do you enjoy the flooring while you live in your home, but the value of your home rises from this investment.

Many styles: Wood flooring works with all styles, from traditional to modern. There are also several types of woods to choose from, including the most popular being white or red oak, cherry, walnut, ash, and hard maple.

Hygienic and aesthetic: Not only is wood flooring a pleasant natural look for the human eye, but it also is the most hygienic option. Wood flooring does not have the problem of harbouring dirt such as carpet, making wood floors more hygienic, especially when installed in a child's room.
Cons:
Not good with scratches: A scuff or scratch does not settle well with wood floors, and the softer the wood, the easier it is to scratch and damage. In high-traffic areas, especially l involving pets or children, hardwood floors are more prone to show damage. However, if significant damage is done, you always have the option to have it refinished.

Costly: Materials for hardwood flooring can vary from $6 per square foot for an unfinished oak plank to more than $20 per square foot for more distinctive types of wood. Refinishing hardwood flooring costs between $6 to $8 per square foot.

Not good with water: Water is the enemy of hardwood flooring. Moisture and liquids can be easily absorbed due to the nature of wood material and can cause damage.
It's worth mentioning that this is a general guideline regarding hardwood flooring, and there are exceptions. For example, you don't have to worry about your Mercier hardwood flooring with an intact 2500 finish regarding scratches and moisture. Out of all the five types of flooring, hardwood flooring continues to be the most popular choice due to the natural, clean look that it adds to the home. Also, homes with hardwood floors have a greater resale value, so many looking to eventually resell tend to install hardwood flooring.
Engineered Hardwood
Engineered hardwood is one of the more popular types of flooring in Canada. Engineered hardwood is made from a top wear layer and an engineered core that consists of a more stable kind of wood species. These types of flooring tend to be more stable than solid wood because they have layers within them that can help with the overall structural stability of the planks.
Solid Hardwood
Solid wood is made from solid wood throughout, unlike engineered or integrated hardwoods containing various other materials like veneers and plywood backing. Common types of Canadian woods used for these purposes include maple, red oak, white oak, white ash, and yellow birch.
Our most recommended hardwood floors:
Purparket – Made in Croatia and finished in Canada
Mercier – Made in Canada
Lauzon – Made in Canada
Preverco – Made in Canda
Boen – Made in Europe
Torlys – Made in China
Cork Flooring
Cork flooring is technically engineered hardwood and a great alternative to traditional hardwood. Cork has been used for centuries as a natural building material and will last for decades when treated with care. The cork tree grows quickly in the Mediterranean region of Portugal and Spain, making it an eco-friendly option for homeowners who want to save money on their heating bills.
Pros:
Cork is naturally warm and comfortable to walk on.

The surface of cork flooring feels soft and pleasant, it's easy on your feet and knees when you're kneeling or sitting in a chair at the kitchen table with bare feet.

Cork is a soundproof flooring option due to the naturally forming air pockets in the cork cell structure.

Cork is waterproof, fire-resistant, and mould resistant.

It's a green option because it can be harvested sustainably from the cork oak tree without harming the environment or animal life.
Cons:
Traditional cork flooring just doesn't look good, and it's commonly used in modern design. Cork has this busy look that many people don't care for.
Our most recommended cork floors:
2. Laminate Flooring
Laminate is a type of floating floor that looks like hardwood, but it's not made from hardwood.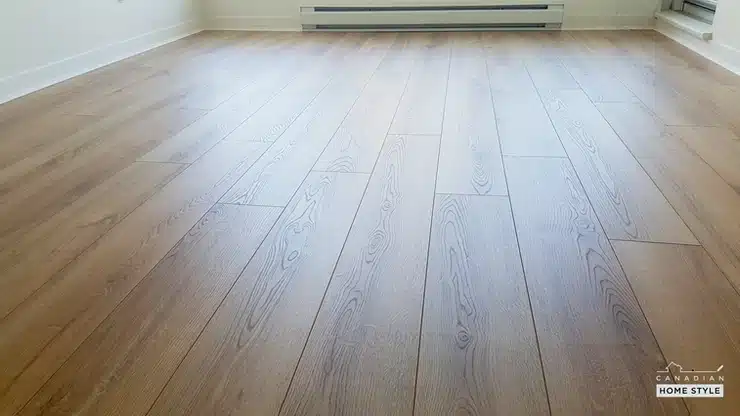 Pros:
More affordable: Laminate might be your best option if you are on a budget. It may not be hardwood, but it is just as durable while delivering the look of real wood at a more affordable price!

Scratch-resistant: Laminate is another popular choice because of the perks it offers. Scratch-resistant and noise-resistant options are available when installing laminate flooring. Generally, laminate is more anti-scratch than your average hardwood flooring.

Ease of installation: Laminate flooring offers many styles, all easy to install. In most cases, it tends to require less maintenance than more traditional types of floorings.

Good for high-traffic areas: Unlike hardwood flooring, laminate flooring holds up well in high-traffic areas.
Cons:
Typically not good with water: Laminate flooring is prone to moisture damage like hardwood flooring. Therefore, laminate is not the ideal option for kitchens and bathrooms, which are high-risk areas for water leakage or damage. In recent years, there has been a tremendous amount of improvement when it comes to the water-resistance characteristics of laminate flooring. Companies such as Torlys, Richmond, Mannington, and Mohawk offer waterproof to water-resistance options to solve this common problem with traditional laminate flooring.

Unable to be refinished: It may look real, but it still has an unnaturally hard fee. Since it is not real wood, it cannot be refinished in the same way real wood can be. Once it is worn out, it will need to be replaced.
Conclusion: This is the best way to go if you are on a tight budget but looking to install flooring similar to hardwood. It is less expensive, yet very similar-looking to the real thing.
Our most recommended laminate floors:
Torlys NatureTek – Made in Europe or USA
Mannington Restoration – Made in the USA
Mohawk Revwood – Made in the USA
3. Luxury Vinyl Flooring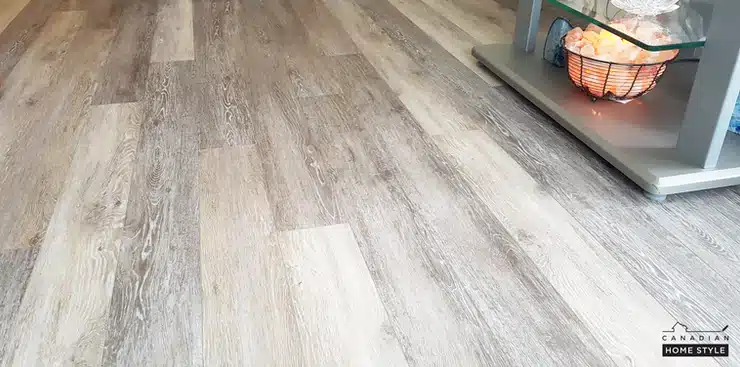 Vinyl flooring is a waterproof kind of flooring, and it seems to be the fastest-growing flooring option in North America. This product is commonly used in bathrooms and laundry rooms. It may not be the cheapest option, but it is durable and can be found in a variety of colors, patterns, and textures that will match any décor need you might have.
Luxury vinyl flooring comes in two main categories: Vinyl sheet and LVT or LVP.
Vinyl Sheet:
Vinyl sheet flooring is made from PVC or polyvinyl chloride. This flooring can be glued down the same way as carpet and has great insulating qualities because it does not retain heat very well. The vinyl sheet comes in rolls; you must seam the sheets together just like carpet. Vinyl sheet is the most cost-effective vinyl per square foot on the market.
This type of flooring is easy to clean but can also scratch easily.
Luxury Vinyl Planks and Luxury Vinyl Tiles:
The other type of luxury vinyl is the LVP or LVT. This stands for Luxury vinyl planks or luxury vinyl tiles. These types of vinyl are either glued to the subfloor with pressure-sensitive glue or have some sort of a locking mechanism for floating them just as you would float laminate flooring. The installation is easy, and the subfloor doesn't require any feather-patching before installation.
Pros:
Affordable: Vinyl is about$3 to $8 per square foot, which is much more affordable than hardwood floors which can cost up to $30 per square foot.

Waterproof: Unlike any flooring listed earlier, vinyl flooring is 100% waterproof, and there's no exception!

Warm and quiet: Vinyl is warm and quiet under your feet.

Low maintenance: Vinyl flooring does not require nearly as much maintenance as other flooring types. It is known as the easiest type of flooring to maintain. Regarding vinyl flooring, the relative humidity and temperature ranges don't need to be regulated. Therefore, you don't need to worry about spills on your floor.
Cons:
Does not have a natural wood feel: Although it has the natural look of wood, it does not feel that way because, again, it is not real wood; it's plastic!

Hard to remove: Traditional vinyl may be easy to install, but it is the exact opposite when removing it. Once the vinyl backing hardens the floorboards, the glue is extremely difficult to remove.
Conclusion: If you are looking for an upscale waterproof option yet less expensive type of flooring, Vinyl is a great option. Vinyl flooring delivers what homeowners value in upscale flooring but at a more affordable price.
Our most recommended luxury vinyl floors:
4. Carpet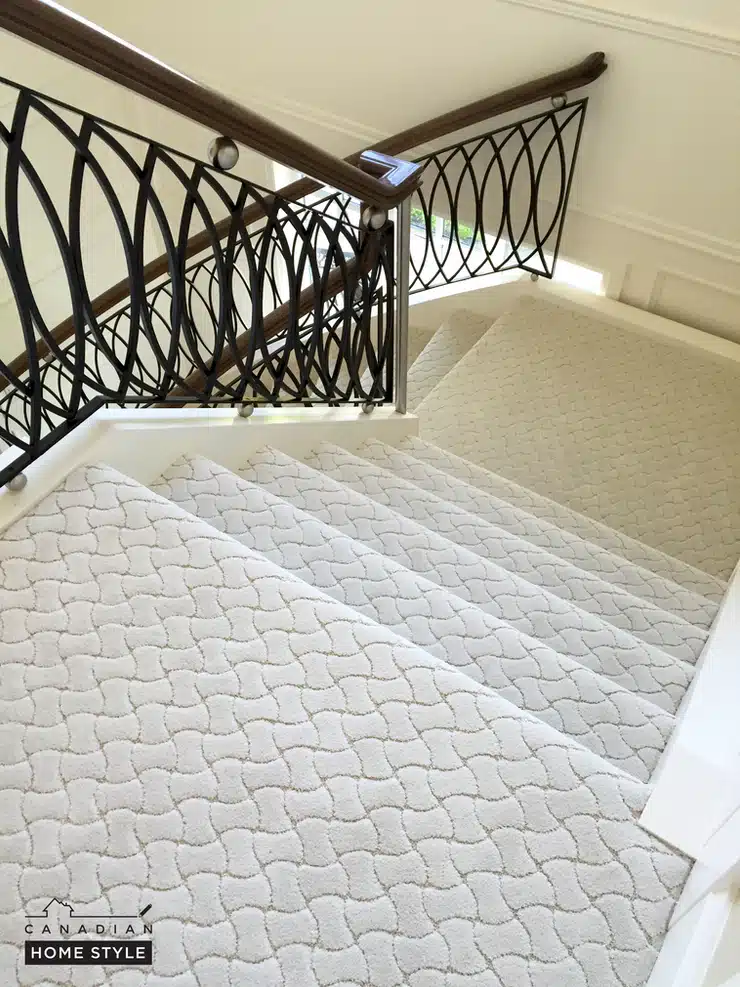 Pros:
Warm and cozy: Carpet is hands down the coziest option. It is the softest, warmest, most comfortable, and soundproof option.

Soundproof: Are you looking for a quiet, soundproof flooring option? If so, carpet is perfect for you. It is the most soundproof flooring due to its soft material, which is easy on the feet.

Various styles and colours: There are thousands of carpet styles that you have the option to choose from, one of which is bound to fit nicely with your home's theme.

Safety: If you have small children, carpet could be a good option because it limits the risk of falling and getting hurt because you are essentially falling on padding, unlike the other floorings listed.
Cons:
Maintenance: Carpet usually requires a high level of maintenance, such as regular vacuuming or an occasional deep carpet cleaning. You will need to schedule a professional cleaning every so often.

Not shoe friendly: Carpet has some disadvantages as well. Since it is such a soft sensitive floor covering material, it can easily attract dirt and stains, making shoes unfriendly in the house.

Allergies: If someone in your home has allergies, it may be best to stay away from carpet. Carpets attract allergens such as dust mites, mould, and pet dander.

Lack of longevity: Unlike other flooring options that can last for multiple generations, such as hardwood, carpet is manufactured synthetically, giving it a shorter lifespan.
Conclusion: Carpet is the best option when looking for a cozy, warm type of flooring. It is the softest material on the feet, and if you do not have any allergies and are happy not to wear shoes in the house, then carpet is the best option for you.
Our most recommended carpet brands:
Fabrica – Made in the USA
Masland – Made in the USA
Karastan – Made in the USA
Mohawk – Made in the USA
Shaw – Made in the USA
Godfrey Hirst – Made in the USA
Stanton – Made in the USA
5. Tile and Stone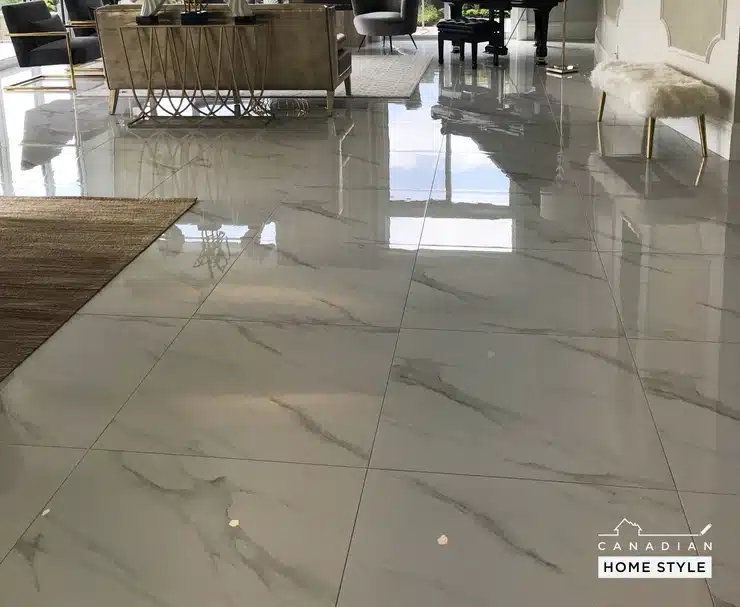 Porcelain tiles are the most durable type of tile available on the market and mimic the look of natural stone. They do not chip, scratch, or stain easily as ceramic tiles. Porcelain also has a much wider variety of colours, styles, and sizes, making them a popular choice for homeowners. Porcelain is used for flooring purposes and not ceramic tiles. When choosing tile flooring, make sure to choose slip-resistant tiles instead of polished ones. Polished tiles are used for the walls. Tile flooring is the most common type in bathrooms and laundry rooms and is great for radiant heating systems.
Pros:
Most durable: Tile and stone flooring is the most durable option, and it can handle heavy foot traffic.

Elegant: Unlike laminate, vinyl and carpet, tile and stone flooring offers a more elegant style and look.

Waterproof: Tile or stone flooring is waterproof and easy to clean.

Best heat transmission: Natural stone tile is the most effective floor material for radiant heating because it is a good conductor of heat and adds thermal storage.
Cons:
Expensive: Tile and stone are among the more expensive options when the installation cost is also considered. The price depends on the material type, but tile costs about $5 to $20 per square foot.

Not the most comfortable: Tile and stone contain a harder material than all the others. Tiles are mostly made of ceramic, and tiling stone is most often made of marble, onyx, slate or granite, making it hard and sometimes uncomfortable for the foot. Also, since it is the hardest flooring material, glass is prone to break when falling on it.

It could be cold: Without a heating system, tile and stone floorings can become very cold and uncomfortable while walking barefoot.
Conclusion: Because of its waterproof feature, tile and stone flooring are most commonly installed in kitchens or bathrooms. Although they are an expensive option, many homeowners find the investment worth it as their home's value rises.
Are you ready to install your home's hardwood flooring, laminate flooring, luxury vinyl, carpet, or tile/stone?
Canadian Home Style is your family-owned and operated flooring retailer with a showroom in North Vancouver, BC. We provide full-service commercial and residential flooring solutions across the Lower Mainland with an extended warranty. We are proud members of the BC Floor Covering Association (BCFCA) and the National Wood Flooring Association (NWFA). In addition, we have won the Consumer's Choice Awards back-to-back in 2021 and 2022 for our commitment to business excellence. We are considered the highest-rated flooring experts in Metro Vancouver. We pride ourselves on holding the highest standards in the flooring industry. To uphold our high standards, we have a strict policy of "not selling or displaying any products that we wouldn't want in our own homes." Before we select a product to feature, we carefully assess product quality, off-gassing, warranties, and responsible sourcing. Book now to visit our North Vancouver showroom; we can help you choose the perfect floor for your home or business.
Services We Offer:
Main Areas of Service in British Columbia:
North Vancouver
Burnaby
Coquitlam
Squamish
Whistler
5 Types of Floors for your living spaces – Book Now
Read our article about the best waterproof laminate flooring options: