Laminate flooring and Water:
Traditional laminate flooring comprises three layers: the bottom, middle, and top. The bottom layer consists of particleboard or MDF boards which are layered with fibreglass strands and a special resin that binds them together. The middle layer is an incredibly thin sheet of polyethylene film. Finally, the topmost layer is a protective finish that prevents any hint of wear and tear. Traditional laminate flooring and water are not a good mix; when this type of flooring comes in contact with moisture, it will buckle. Finding the best laminate flooring can be difficult. With so many different options and styles, it's hard to know where to start. That's why we've created this blog post showing you our top 3 picks for waterproof laminate flooring for 2021! We'll show you some pictures, talk about what makes them special, and give a brief overview of the pros/cons associated with each one.
What's the difference between waterproof laminate and water-resistant laminate flooring?
Waterproof laminate flooring is sealed and watertight around all edges. Water-resistant laminate flooring is not sealed and watertight around all edges, meaning that if any water gets on the floor, it can find its way to the core and cause a lot of damage. Flooring manufacturers have been working hard to create laminate flooring more resistant to water damage.
Traditional laminate floor
Does waterproof laminate flooring exist?
Yes, Absolutely.
The waterproofing capability of laminate flooring is a high deciding factor in whether you purchase the laminate or not. We've seen enough problems with water and laminate flooring throughout the years. We decided to write an article dedicated to the best waterproof laminate flooring products currently circulating within the Vancouver flooring market. We hope this gives you a clearer perspective of what the best ones are and help you on your buying journey to becoming new floor owners.
Waterproof Laminate Flooring – Richmond Atroguard
Waterproof laminate Brands: Our Top Brands
1. Richmond Atroguard series
The Atroguard series by Richmond is the best waterproof laminate flooring currently on the market.
Waterproofing– The waterproof technology of the Atroguard is through a patented, built-in core technology. This waterproofing is innovative at its finest and outperforms its competitors sealing systems. This special core is stable enough that allows you to install up to 4300 SF of this product without having to use a single piece of transition. You can even run this laminate into your bathroom for a seamless look, as Richmond Atroguard is under full warranty for use in full bathrooms. This is very impressive. In addition, you can wet mop this waterproof laminate flooring with peace of mind as the core doesn't absorb water. Other components such as their SureCore and Power Sealer also add to the sheer waterproofing that this laminate flooring has to offer. The extra layer of protection helps with all kinds of spills.
Additional Extras – This series was created while being mindful of the environment. They have various environmental certificates that they're proud of. These include low chemical emissions by the Greenguard Environmental Institute and Carb2 compliant given by the California Air Resources Board (CARB). This product also features a 100% PVC-free label that is worth mentioning. Richmond Atroguard waterproof laminate flooring offers an AC4 wear rating backed by a lifetime residential warranty and a 15-year light commercial warranty.
Wet mopping – Yes
Steam cleaning – Yes
Attached underlayment – No
Floating Floor – Yes
Scratch-resistant – Yes
Easy Installation – Yes
Design Variety – The Richmond Atroguard series has one of the smallest design choices compared to the waterproof laminate flooring series we'll discuss here.
In our opinion, the Richmond Atrogurard series is the top waterproofing laminate flooring option in Vancouver's market, and that's why it's number one on our list.
Square foot price – $3.50 – $5.00 per square foot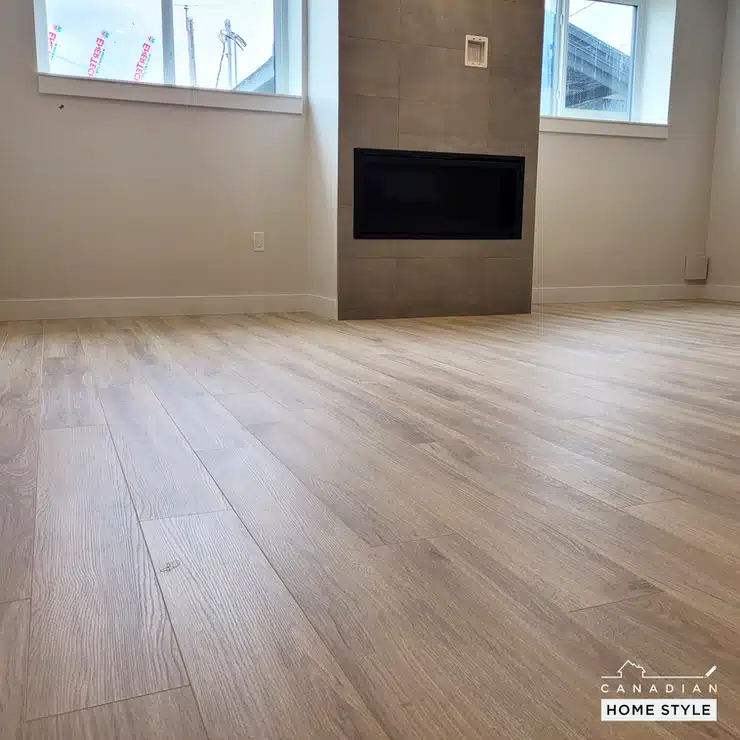 Waterproof Laminate Flooring – Torlys NatureTek Plus
2.Torlys NatureTek Plus series
Torlys is a well-established brand in the laminate flooring industry, and its NatureTek Plus series offers an expansive range of laminate floors to choose from.
Waterproofing – In terms of waterproofing, the Torlys NatureTek plus series is impeccable. There are three features included within this floor that provide such waterproofing capabilities. These are the HydroSeal, Uniclic®, and GenuEdge™. HydroSeal is a sealant that protects all the perimeter edges, and GenuEdge wraps the wear layer by forming a transparent layer for extra protection. Whereas the Uniclic® system is their innovative locking mechanism used to merge the planks. This offers a gap-resistant technology that makes it almost impossible for moisture to penetrate the core. There's no time stamp on the hours that water can sit on your laminate floors. However, you need to properly seal the perimeter of every room since water can still find its way to the core eventually. Sealing the perimeter is vital for those seeking a completely waterproof floor. This is simply because the core is not waterproof; the laminate will buckle if water gets to the core.
Additional Extras – The Uniclic system also allows you to remove a plank in the middle of the floor with the help me a patented tool called BullDog™. Normally, you'd have to open up the nearest baseboard and backpaddle to get the damaged piece. This is a great advantage of the Torlys NatureTek plus laminate series compared to other laminate options on our list.
This flooring also has a great warranty if installed within a residential area. They offer 35 years residential warranty and five years of light commercial. In addition, you can install up to 2500 SF, 50′ x 50′, of this laminate without a transition piece. This number is smaller than the 4500 SF Richmond Atroguard, but it's still very impressive and indicates the product's overall stability.
Wet mopping – Yes
Steam cleaning – Yes
attached underlayment – No
Floating Floor – Yes
Scratch-resistant – Yes
Easy Installation – Yes
Design Variety – Torlys is well known for its vast selection of laminates. NatureTek Plus has an extensive 15 collections with 5-15 colour variants to consider in each collection. It makes it extremely difficult not to find the perfect waterproof laminate flooring for your application. On our list, Torlys has the biggest variety within their range, and they also make the widest and longest boards. They offer boards over 9″ in width and 80″ in length.
Square foot price – $3.50 – $5.50 per square foot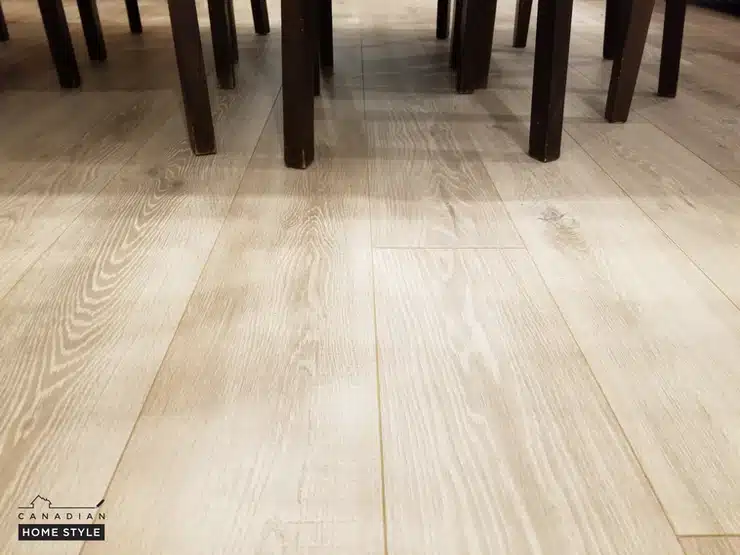 Mannington Restoration Collection
3. Mannington Restoration Collection
Like the others, Mannington provides a collection called Restoration Collection® that is well-known for its waterproofing abilities. Mannington has been around forever and has the technology to produce precise embossing and texturing for their laminate series.
Waterproofing – Apart from this collection providing stunning and realistic designs, it also comes with a great waterproofing feature which they call SpillShield®Plus. This revolutionary creation that Mannington uses is called HydroSeal technology. These hydrophobic molecules are present on all four sides of each plank, including on the lock system, and they simply work as water repellent molecules similar to Rain-X. Rain-X is a synthetic surface-applied product that causes water to bead up and run off surfaces, most commonly used on glass automobile surfaces. In addition, Mannington's HDF core is superior compared to your average laminate HDF because it also contains HydroSeal. This patented core, although not completely waterproof, resists water absorption. Therefore, Mannington with SpillShield®Plus provides excellent protection against water. Mannington Restoration Collection offers you a 72-hour moisture guarantee. This means you can expect no damage from moisture, even if the water sits on your floor for three days. Therefore due to this timestamp, we would have to put Mannington Restoration Collection third on our list.
Wet mopping – Yes
Steam cleaning – Yes
attached underlayment – No
Floating Floor – Yes
Scratch-resistant – Yes
Easy Installation – Yes
Square foot price – $4.00 – $5.00 per square foot
Design Variety – The variety of this collection stands out to us. This collection may be smaller than the Torlys NatureTek Plus collection but provides great visuals and realistic designs.
Additional Extras – Mannington constructs its flooring in the United States with the environment in mind at every step. Mannington has been an industry leader in environmental stewardship right from the start. They know it's not enough to make a difference for their company – they need to take responsibility and do something good for everyone else too! That's why Mannington offers low VOC ink systems so that we can work together towards green business practices with LEED certification.
The same goes for all the laminate flooring brands that are mentioned above.
Flooring Advice 101:
Your Laminate floor and Water: Frequently Asked Questions:
Are all laminate floors water resistant?
Yes, the exterior surface of any laminate floor is waterproof, but problems can arise when the water seeps into the HDF core, as buckling and swelling are likely to occur if it does not dry out quickly enough.
Is Luxury Vinyl Flooring more waterproof than laminate floors?
Luxury vinyl planks are plastic, and plastic is waterproof by nature. Therefore, Vinyl is waterproof, to begin with. On the other hand, most waterproof laminate floors are somehow treated to be water-resistant.
Is waterproof laminate the standard laminate flooring?
No, the standard laminate flooring is not waterproof. This flooring material is made from an HDF core layer that doesn't react well to water.
Should I test for subfloor moisture when installing laminate?
Of course, especially if any self-levelling compound has been poured into addressing floor levelling. You need to make sure the subfloor is dry enough before installation. High moisture content in the subfloor before installation can result in problems with most laminate flooring soon after.
Can I use a steam cleaner on my laminate?
No, you shouldn't. This is especially true when talking about standard laminates. Water-resistant or waterproof laminate is more durable and can withstand the high heat of a steam cleaner.
A standard laminate exterior surface may come off or dissolve in contact with hot steam, so it should not be cleaned like this because damage can render your flooring unusable.
What is the laminate flooring core made of?
Compressed high-density fiberboard.
Is Waterproof laminate flooring good for laundry rooms?
Yes, you can use this type of flooring for water-prone areas of your home. However, all the room's perimeters have to be properly sealed.
Is Waterproof laminate flooring good for bathrooms?
Only Richmond Atroguard is fully warrantied in full bathrooms. You should consider tiles or luxury vinyl flooring that are completely waterproof.
Can I install laminate flooring myself?
Yes, you can install it yourself, but please follow the installation instructions that come with the product. You will need to put down a moisture protection layer first. All underlays come in with a built-in moisture barrier. Make sure you leave enough expansion gaps. Make sure to create your 1,2,3,4 random length pattern since all laminates come in the same length.
If you need to ensure your laminate is properly installed, hire a flooring company that can honour an installation warranty on their work.
Can I wet-mop my laminate flooring?
Avoid wet mopping if your laminate is not waterproof.
Is laminate more water-resistant than natural wood flooring?
No, hardwood floors are better with water; specially engineered hardwood can reverse water damage. However, water damage in laminate is not reversible. Laminate is worse than hardwood when reverting to its normal form when it's introduced to water. The wear layer of your laminate flooring is waterproof, but the core is not.
How do I clean my laminate flooring?
The good news is that laminate can be cleaned easily. Before applying any cleaning agent to the planks, simple sweeping should be done first. For a normal household, you can clean them with a laminate cleaner named Bona.
Should I worry about pet accidents with my waterproof laminate?
No, You shouldn't. You should clean it immediately, but it won't damage your flooring.
What is the best waterproof laminate flooring for the kitchen and bathroom?
You can use any of the above waterproof laminate flooring brands for your kitchen or bathroom. You must perimeter seal (waterproof seal) the bathroom floor for the Torlys and Mannington options to keep the water from getting to the core.
Can I install the laminate plank flooring on existing floors?
You can install a floating floor such as laminate on another floating floor or carpet, of course. However, if you have sheet vinyl, glue-down or nail-down hardwood, you can install laminate on top without removing your floor.
If you're looking for the highest quality flooring, then Canadian Home Style is your best choice. We offer Richmond AutroGuard, Torlys NauterTek Plus, and Mannington Restoration as waterproof laminate flooring options – all displayed at our North Vancouver Flooring showroom! Come by today and find out why so many people recommend us. Book Now!