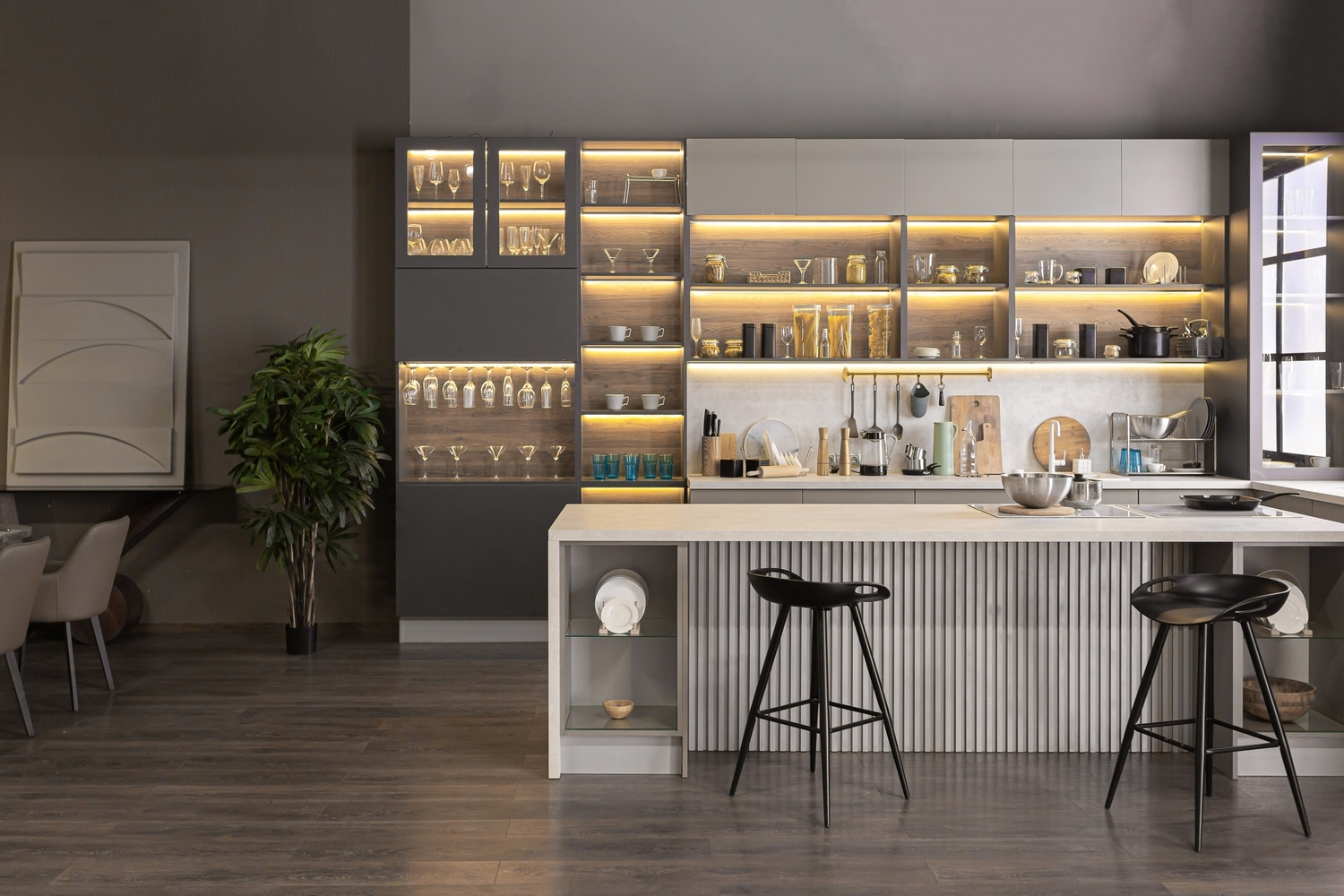 Vancouver is a city where people can enjoy the beauty of nature alongside their homes. The modern architecture and scenery make it one-of-a-kind compared to other cities in North America! Vancouver is often considered the jewel of Canada regarding interior design and architecture. Canadian architecture and interior design often feature wood as a prominent material, and Vancouver is no exception. After all, wood is of the best ways to add warmth and charm to our homes.
Craftsmanship is alive and well in the Canadian custom cabinetry industry. Master Canadian craftsmen design and build some of the world's most exquisite kitchen cabinets. These high-end professional cabinetmakers use only top-quality materials to create a truly unique home design experience for customers worldwide! Cabico, our custom cabinetry partner, is one of the leading manufacturers in Canada and North America.
This article discusses why investing in quality Canadian craftsmanship, Cabico, in your kitchen cabinets is crucial, especially if you live in one of the world's most expensive cities, such as Vancouver.
Quality vs Quantity
Quality is what you get when you don't settle for less. It's the difference between having something good enough and having something great. When you're looking at your kitchen renovation project, there are two ways to go about it. You could do it right and make everything perfect, or you could do it cheap and settle for mediocre results. The first option will always cost you more money, time, effort, and energy. But if you want to save money in the long run, you should know that the second option isn't necessarily the best. There are plenty of people who think that they can renovate their kitchens cheaply without sacrificing quality. They'll tell you that they've done it before, so they know how to do it, and they'll show you pictures of their old kitchens. But those aren't any indication of whether or not they did a good job. If you want to see what kind of workmanship goes into a kitchen renovation, then you need to look at the details. And the only way to find out is to hire someone who knows what they're doing.
Quality is everything!
Quality is something that we should always strive for. It is something that makes us feel good when we achieve it. We know there is no such thing as perfection, but we still try our best to make things perfect. When we talk about quality, we usually mean the level of excellence. This is where Canadian Home Style and Cabico Custom Cabinetry come in.
Cabico Custom Cabinetry is the epitome of quality craftsmanship and refined design. Their cabinets are constructed with attention to detail, using only top-grade wood and hardware. Cabico has been designing, building and installing custom-made kitchen cabinets for nearly four decades. Every year their team tests out the latest trends and technologies to ensure they are creating the most beautiful and functional cabinets.
This is staying true to our Canadian way of quality over quantity.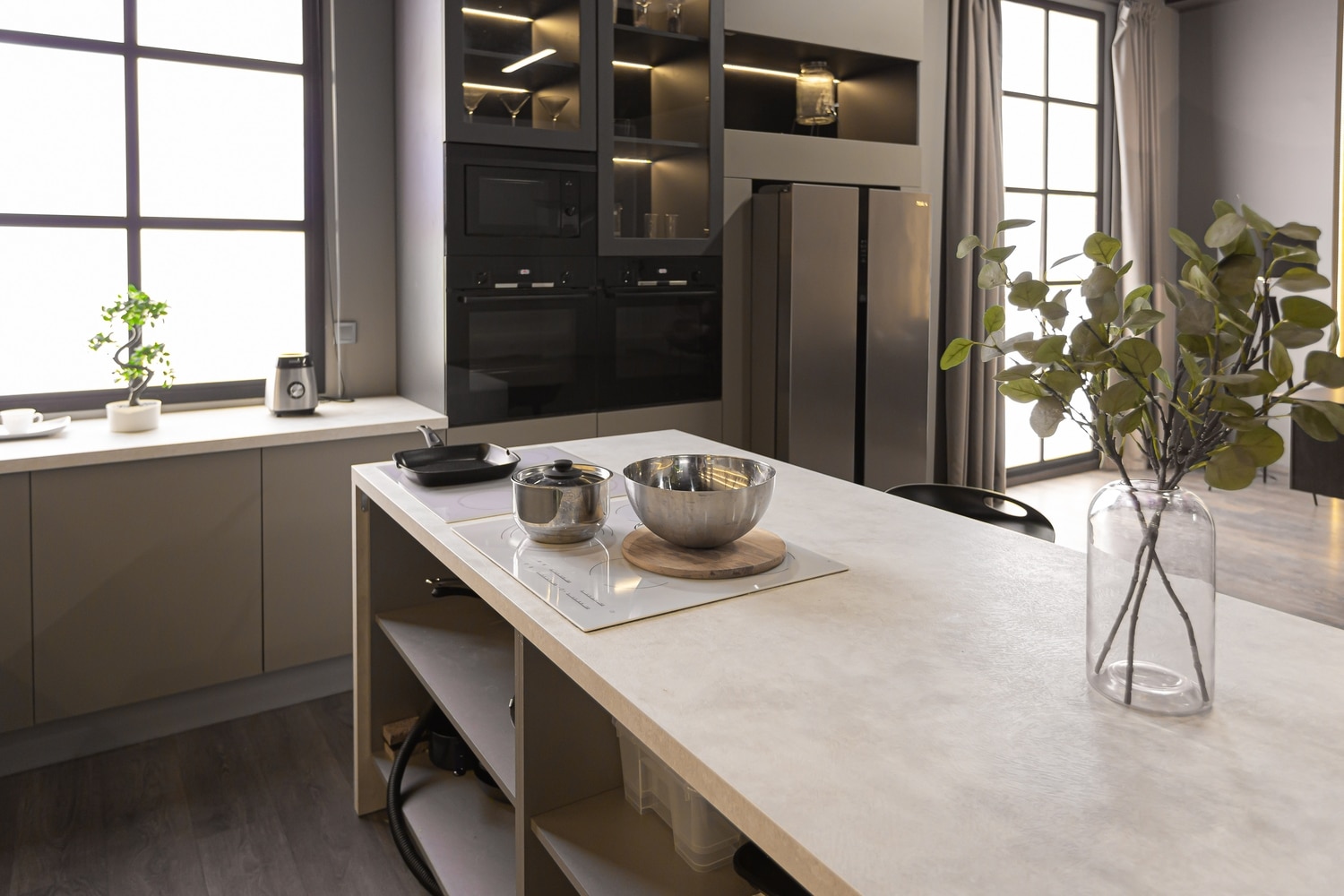 Quality Assurance
Quality assurance is more than just ensuring that products meet specifications. It's also about making sure that customers receive the best experience possible.
Quality assurance is about delivering a superior customer experience. It's about creating an environment where customers feel valued and respected. It's about offering quality products and services that meet customer expectations. Quality assurance can include conducting regular surveys to gauge customer satisfaction, testing products before they reach the market, and providing ongoing training to employees to ensure that they're up-to-date on the latest industry trends. Quality assurance also involves understanding customer needs to develop better solutions and services. It's about creating a culture of quality within the organization, where everyone is focused on meeting customer needs and expectations.
Canadian Home Style and Cabico Custom Cabinetry understand the importance of quality assurance. That's why we offer a lifetime warranty on our products and services, so customers know they are investing in quality craftsmanship.
Cabico offers true customization with your kitchen cabinets.
Customization is one of the most critical aspects of your kitchen design. Understanding what makes customers unique is essential and using this knowledge to provide customized services is essential. At Canadian Home Style, we understand that each customer has individual needs, expectations, and preferences. That's why we offer our clients the opportunity to customize their kitchen cabinets and experience fully.
Using our 3D design software, we offer a virtual tour of the kitchen before it is installed so that clients can be sure to get exactly what they want. We offer a variety of materials, colours, and finishes that can be used to create your unique door style. That's right, your very own door.
We've been working on our model of customization for years, and it's based on the following principles:
1. Understand the customer's needs and expectations.
2. Develop a strategy to solve the problem.
3. Design a solution.
4. Implement the solution.
5. Evaluate the results.
6. Improve the system if needed.
7. Repeat the process until you get the desired results.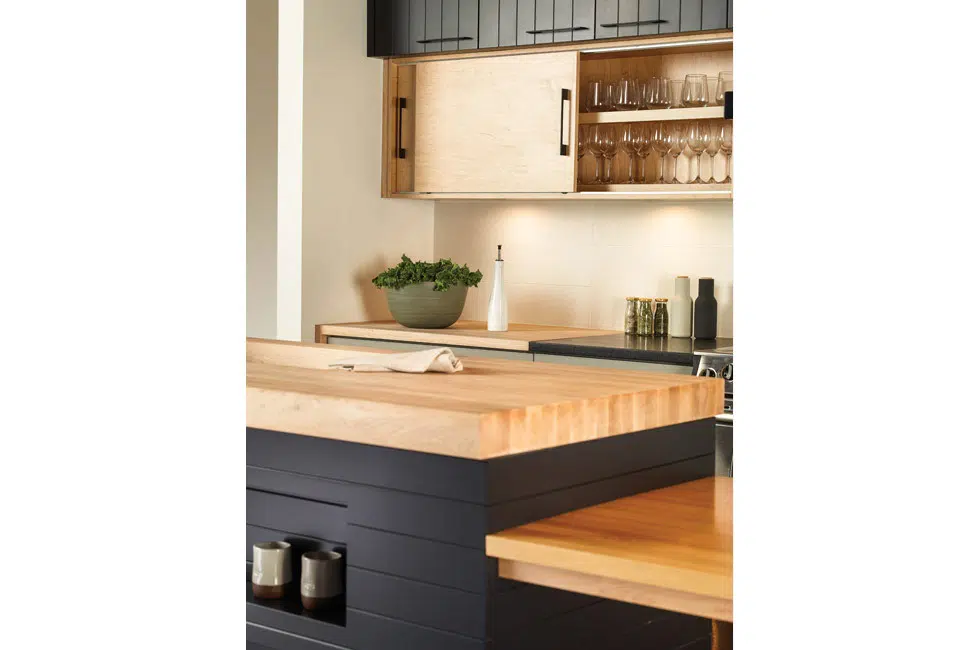 What matters to us is "timeless design."
Timeless Design Principles are the essential elements of good design. They include simplicity, clarity, balance, harmony, unity, order, rhythm, proportion, repetition, contrast, movement, colour, texture, line, shape, space, light, scale, material, form, function, and style.
Design is an art form that requires skill, experience, and intuition. But there are timeless principles that can help guide you toward creating great designs. As a company that prides itself on providing lasting and timeless solutions, we emphasize the importance of following these principles.
The timeless design approach helps to ensure that our kitchen cabinets are designed with a purpose. Our approach is based on the basic principles of timeless design for homeowners across the Lower Mainland.
The 7 Principles Behind Timeless Designs that you should think about with your kitchen
1) Simplicity – A design should be simple enough to understand at first glance. It should be easy to grasp what you want from it. If something isn't clear, ask someone who knows what they're doing.
2) Consistency – Design elements must look like they belong together. They shouldn't appear haphazardly strewn across the room. There's no reason why every button on your microwave oven should look different than the one on your coffee maker.
3) Clarity – Your design should be crystal clear. Every element should have its own function and purpose. No part of your design should be superfluous.
4) Functionality – Everything in your design should serve a useful purpose. That means if you put a clock on your wall, it should tell the time. If you put a light switch on your countertop, it should turn the lights on and off.
5) Elegance – Your design should be beautiful. It doesn't matter whether you're designing a traditional or modern kitchen; beauty is always in the eye of the beholder. But when it comes to aesthetics, people prefer well-made and refined things.
6) Durability – Your design should last. It should withstand wear and tear without breaking down. This includes everything from the materials used to the way it's assembled.
7) Creativity – Finally, your design should be unique. It should stand out from the crowd and be something special. Whether it's an innovative way of using existing elements or an entirely new concept, your design should be fresh and exciting.
These are the principles behind timeless designs in the kitchen, and they will always remain relevant regardless of trends and fashions. When you're ready to design your dream kitchen, keep these principles in mind, and you'll be sure to create something that will stand the test of time.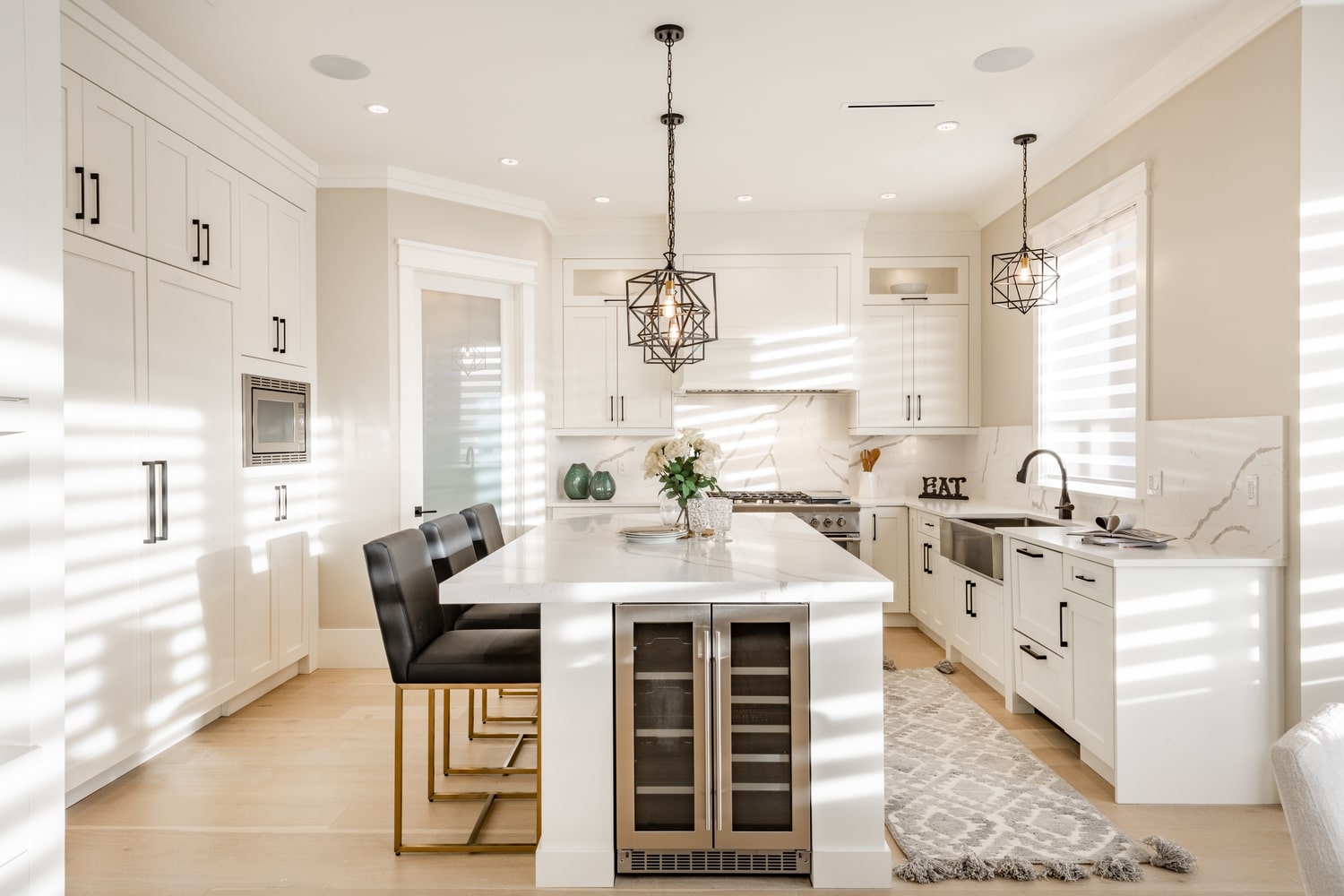 Sustainability is also important when designing a timeless kitchen.
Sustainability is an important topic for any homeowner. But when it comes to kitchens, there are more questions than answers.
The most common misconception is that sustainable means eco-friendly. This is simply untrue. Sustainable means long-lasting, durable and affordable.
Sustainable kitchens are built to last and designed to be easy to maintain. They are also energy-efficient and cost-effective.
Kitchens are often overlooked when it comes to sustainability because they are considered luxury items. However, the average homeowner spends nearly half of his/her income on food.
This makes kitchens a vital place to focus on sustainability. If we can make them better, we can save money and help our environment.
There are many ways to go green in the kitchen. Here are a few ideas:
• Use natural materials such as wood instead of plastic.
• Install low-flow faucets and energy-efficient appliances.
• Buy Canadian-made custom cabinetry as opposed to Europeans. Remember, anything they can do, we can do better – and locally made means fewer emissions.
• Install LED lighting, which is much more energy-efficient than traditional bulbs.
• Install renewable energy sources such as solar panels.
We can help you create a unique kitchen cabinet system that will wow your guests at dinner parties.
Whether you want to go green or make your kitchen look timeless, we'll work with you every step to create a functional and beautiful design.
Combining timeless principles with sustainability allows you to create a kitchen design that will stand the test of time. With creativity and an eye for detail, you can build a kitchen that will envy your neighbourhood. A timeless and sustainable kitchen is more than just aesthetically pleasing – it can also save you money in the long run.
We believe everyone deserves a beautiful kitchen.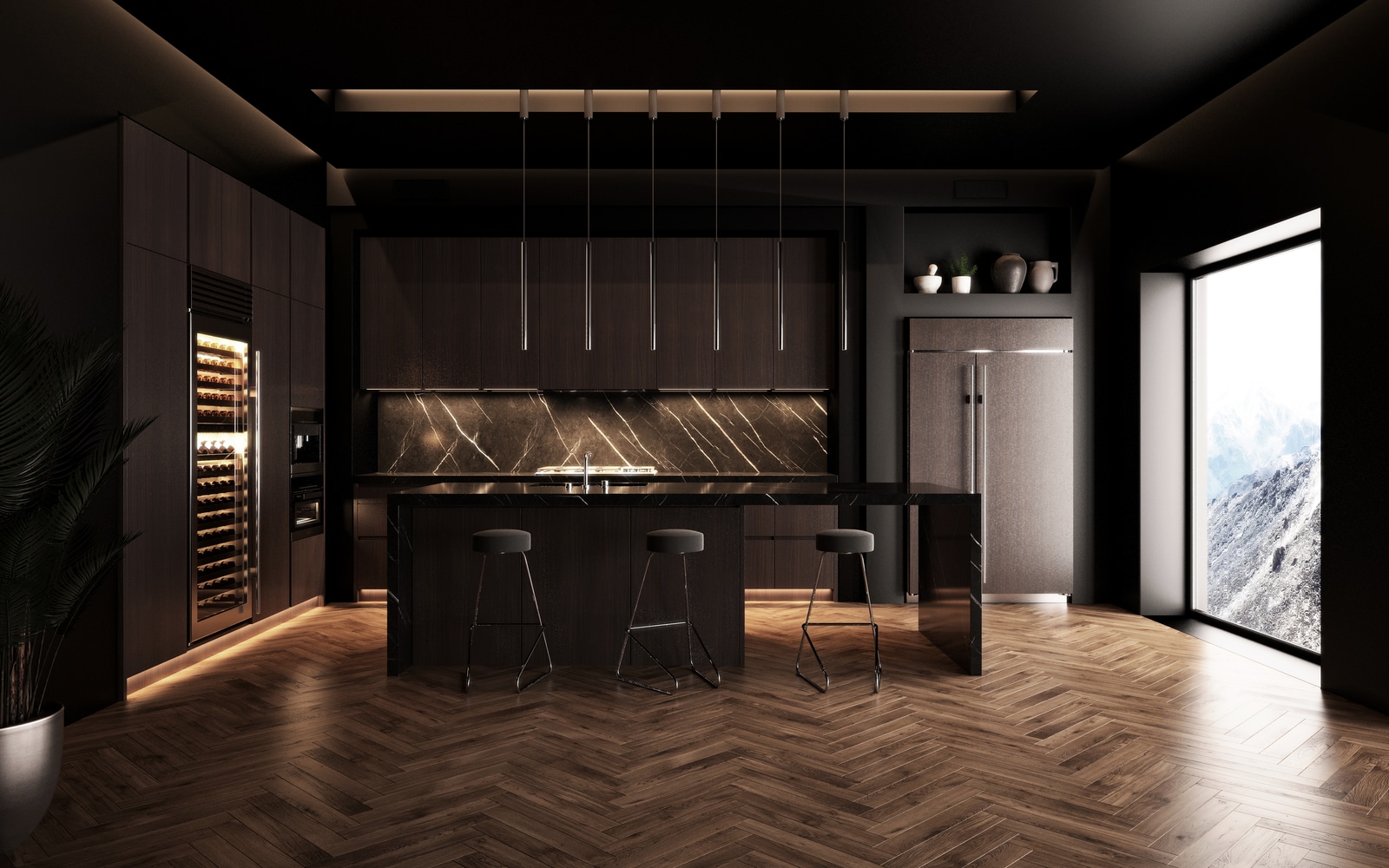 Canadian Home Style is your family-owned and operated custom cabinetry retailer with a showroom in North Vancouver, BC. We are the official dealer of Cabico custom cabinetry in the Lower Mainland, providing complete kitchen renovations with an extended warranty. We always keep up to date with the latest trends and are proud members of the NKBA National Kitchen and Bath Association. In addition, we have won the Consumer's Choice Awards back-to-back in 2021, 2022, and 2023 for our commitment to business excellence. We are considered one of the highest-rated kitchen and bath design and renovation experts in Metro Vancouver. Book now to visit our North Vancouver showroom, where you can get expert advice from one of our kitchen and bath designers. We're happy to be a part of your journey with your next kitchen renovation project in Metro Vancouver.
We are the official dealer of Cabico custom cabinetry in the Lower Mainland, and we believe in providing sustainable kitchen cabinets that can last you and your family a lifetime. Contact us for all of your Vancouver kitchen renovation needs.
Services We Offer:
Main Areas of Service in British Columbia:
Please read our last blog about kitchen renovation here: