How to Transform a Small Kitchen Into a Socializing Space
Designing a kitchen is not easy because the kitchen is such an important room in the house. Our kitchens are not just for cooking anymore. They are a social space where we entertain guests, gather with family, and spend time together. So how do you design a small social kitchen that is both functional and stylish?
There are many things to consider for a modern social kitchen, so don't feel overburdened. It would be best if you thought about the layout, the appliances, the colour scheme and more. One of the most important aspects of a kitchen is the layout. The layout of a kitchen determines how well the room functions. You must be extra careful about the layout if you have a small kitchen. There are many ways to make a small kitchen more efficient. A well-designed kitchen should accommodate the needs of both cooking and entertaining. Consider creating an open floor plan to transform a small kitchen into a socializing space. This will allow more room to mingle while cooking. Adding a small kitchen island can also create more room. In a social kitchen, there's still the need to cook, but having several people crowded around the oven will make it difficult to work.
Social Kitchen must-haves
A Social kitchen would be nice to haves:

Create a focal point with your kitchen island in the center of the kitchen.
One of the best ways to create a focal point in a small kitchen is to incorporate an island. Islands are a great way to add extra counter space, and they can also be used as a dining area or a place to gather with friends. Most condo kitchens don't offer enough space for a separate dining room. Therefore, an island that can function as a dining table is perfect. If you have a small kitchen, be sure to choose an appropriately sized island. You don't want the island to take up too much space and make the kitchen feel cramped.
A well-designed kitchen should accommodate the needs of both cooking and entertaining. When you're planning a social kitchen, it's important to remember that you'll still need to cook. But having several people crowded around the oven will make it difficult to work. To avoid this, consider creating an open floor plan. This will allow more room to mingle while cooking. A kitchen island instead of a dining room table gives you more space to move around and makes the kitchen feel more spacious.
Double islands allow for socializing while providing a separate cooking and entertaining area. If you have the space, consider adding a second island. This will provide extra counter space and allow you to create a separate cooking and entertaining area. Double islands are also great for large families or groups of friends who like to cook together.
Chose the proper kitchen layout for creating a social kitchen
There are many different layouts for kitchens. It would be best to consider what is essential when designing your kitchen. Some layouts are better for socializing than others.
An L-shaped layout with an island is an excellent option for socializing. This layout allows multiple people to be in the kitchen simultaneously without getting in each other's way. The island can be used as a dining area or a place to gather with friends. Another great layout for small kitchens is galley kitchens. The downside to this layout compared to an L-shaped layout is that it can be more challenging to move around in a galley kitchen without interrupting the social hub.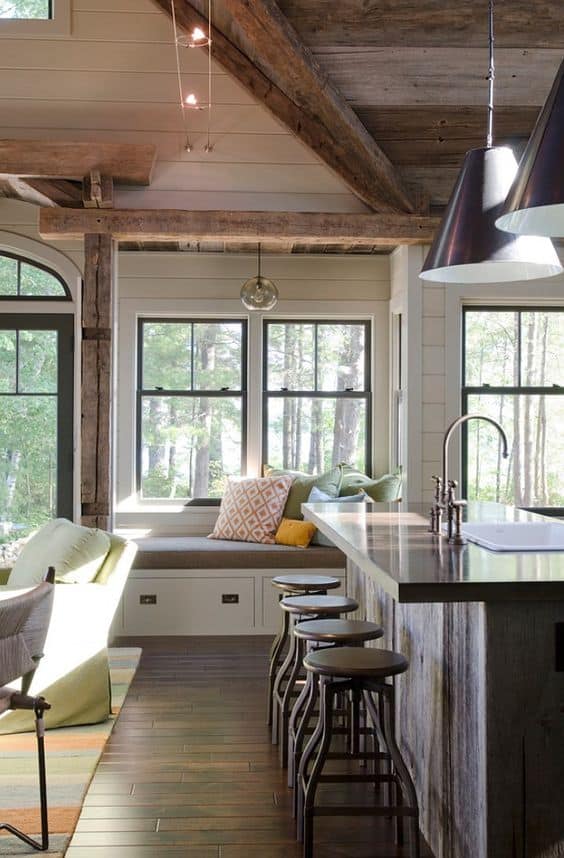 Banquette seating is a must for social kitchens.
A banquette is a seating arrangement that integrates into a room. It makes the room feel cohesive and complete and can make an underused corner a focal point. Banquette seating also has a high-end feel, which can be a bonus to your home. It will also maximize the living space in your kitchen. It is perfect for socializing. You can place a banquette in your kitchen or use it in a dining area. Banquettes provide seating around a table while providing open shelving and display space within easy reach. You can choose a banquette made of wood or a mix of materials for a quaint look. For example, in a small kitchen, a built-in L-shaped bench pair well with a simple kitchen table. A wooden dining chair takes advantage of an awkward bump-out and adds style to the space. You can also hang a low chandelier over the table, ensuring you can host dinner parties even when you are short on space.
A banquette can also be built into a wall next to the cooking area. A built-in banquette offers extra storage and is great for afternoon snacks. In a small kitchen, banquette seating is conducive because it provides a comfortable place for everyone to gather. It also encourages conversation and allows people to interact easily. Unlike a conventional dining table, a banquette seat is convenient for small spaces and doubles as a comfortable spot for relaxing after a busy day.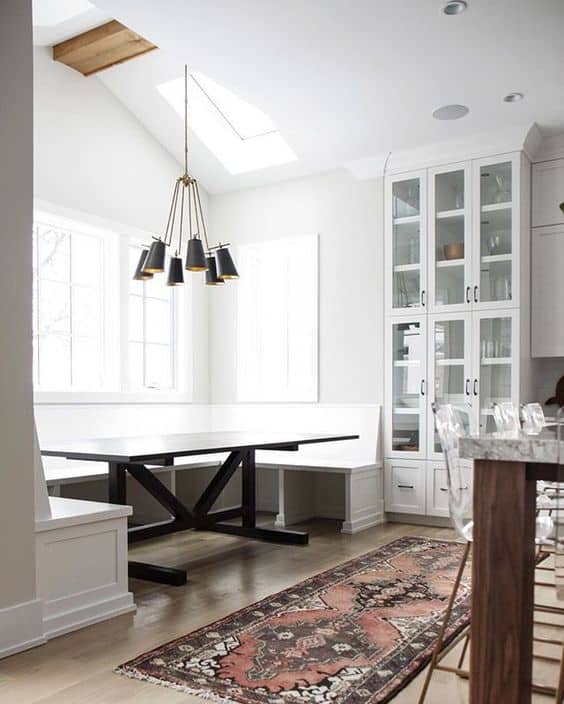 Open shelving can make your kitchen feel more social.
Open shelves make the most of the limited kitchen space, making it ideal for socializing. These shelves can be made of several materials, including wood and plywood. Pine is the most common softwood used for open shelves. It is a type of conifer, which means that it matures quickly and is widely available. However, because of its rapid growth, pine is not as durable as other types of wood.
When styling open shelves, it's essential to consider how to mix different materials and colours. Try to keep the colours neutral so that they blend well together. To add interest and personality, you can add a pattern. For example, you could use patterned ice cream bowls or coloured glasses. Also, you could mix and match colours and textures. You could also use plants to add depth to your open shelves. You can also display artwork on open shelves for a chic look.
Another way to make an open shelf functional is combining it with an accent wall. The shelving can display your favourite items, such as plants, artwork, or crockery. The accent wall can be a great way to add some personality to your kitchen. You could use a bright colour or a bold pattern. Alternatively, you could use a feature wall made of materials such as wood or brick. This will add some texture and interest to the room.

Adjustable kitchen/bar stools are a great way to add seating to your kitchen.
Kitchen stools are a great way to make a small space into a socializing zone. Kitchen chairs encourage people to sit down and socialize while cooking or serving food. You can buy them in pairs or a set and customize the look of your kitchen with these adjustable stools. Having adjustable stools will allow you to maximize the space in your kitchen. You can also use them as bar stools if you need extra seating in your home.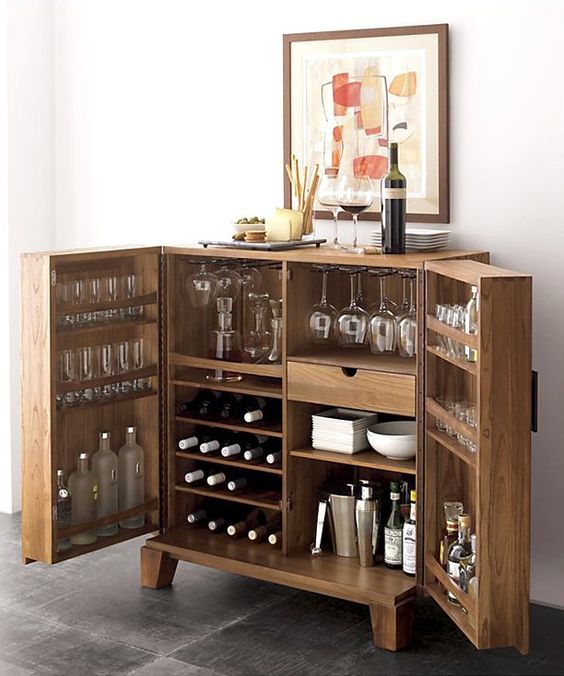 Adding a bar or drink cart is excellent for creating a dedicated social area in your kitchen.
Adding a bar or drink cart to your kitchen can transform it into a socializing space. These carts usually come with various accessories, including ice buckets, glasses, wine bottles, beer taps, etc. Not only does it give you extra countertop space, but it makes it easier to entertain guests. You can incorporate a drink cart into your custom cabinetry design if you're designing a new kitchen from scratch. Your kitchen designer can help you with clever and fun ideas to make the most of your space while incorporating this into your design.
Make sure that your drink cart comes with plenty of storage options. If you plan on using it frequently, you'll want to store items like napkins, utensils, condiments, etc., in the drawers. Your drink cart should include at least two shelves, preferably four. One shelf is ideal for storing beverages, and the second is where you can keep snacks, appetizers, etc. To avoid spills, ensure your drink cart is sturdy and stable. Also, make sure that it doesn't wobble or tip over. You can find drink carts online or at local stores.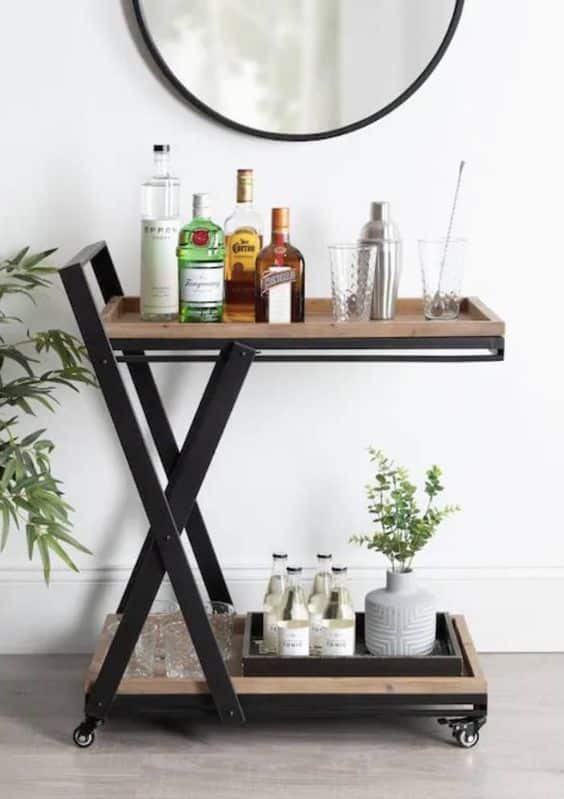 Adequate storage space is necessary for a social kitchen.
In a social kitchen, it is essential to have enough storage space. That way, you can keep your cooking supplies and food in one place. You have to be able to put food and meal preparation tools away so that your kitchen looks neat. If you don't have enough storage space, your kitchen will look cluttered, and it won't be easy to find what you need. One way to maximize your storage space is to use the walls. You can install shelves or hooks to hang pots, pans, utensils, or aprons. It would be best to use baskets or bins to store your food. This is a great way to keep your food organized and easy to access. You must make sure you use every inch of your cabinets and pantry.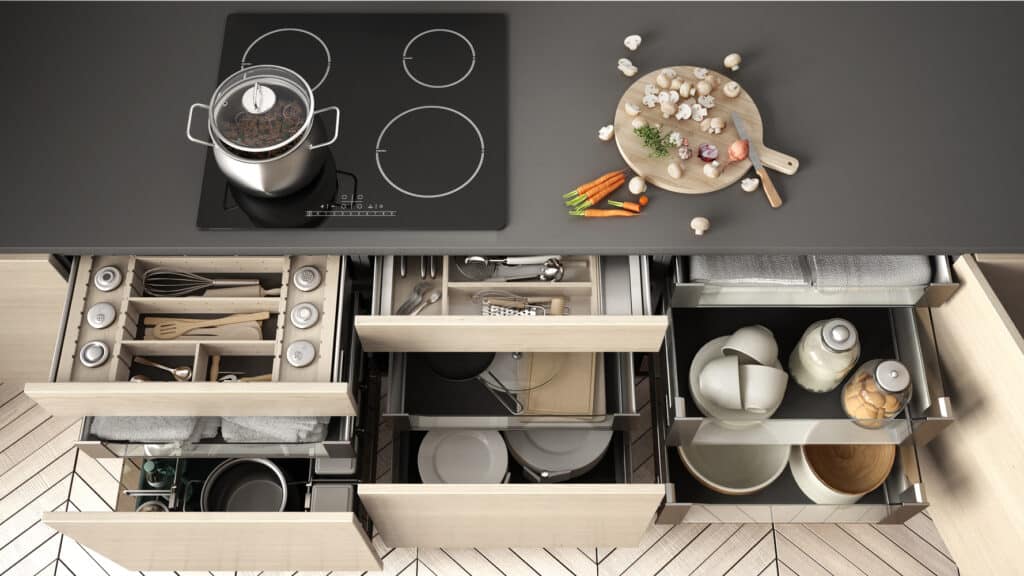 Canadian Home Style is your family-owned and operated custom cabinetry retailer with a showroom in North Vancouver, BC. We are the official dealer of Cabico custom cabinetry in the Lower Mainland, providing complete kitchen renovations with an extended warranty. We always keep up to date with the latest trends and are proud members of the NKBA National Kitchen and Bath Association. In addition, we have won the Consumer's Choice Awards back-to-back in 2021, 2022, and 2023 for our commitment to business excellence. We are considered one of the highest-rated kitchen and bath design and renovation experts in Metro Vancouver. Book now to visit our North Vancouver showroom, where you can get expert advice from one of our kitchen and bath designers. We're happy to be a part of your journey with your next kitchen renovation project in Metro Vancouver.
We are the official dealer of Cabico custom cabinetry in the Lower Mainland, and we believe in providing sustainable kitchen cabinets that can last you and your family a lifetime. Contact us for all of your Vancouver kitchen renovation needs.
Services We Offer:
Main Areas of Service in British Columbia:
Please read our other article about kitchen renovation here: