Dekton by Cosentino Product Review
Dekton is an ultra-resistant surface created by Cosentino, a company with more than 43 years of experience in the industry. Dekton is made from a blend of raw materials, including quartz, porcelain, and glass, ground down and combined with pigments to create a beautiful and durable product. Cosentino uses a revolutionary high-tech process to create these beautiful surfaces with unrivalled performance.  Dekton is an ideal surface material for both indoor and outdoor use. It is stain-resistant, scratch-resistant, and heat-resistant. In this article, we will take a closer look at some of the features and benefits of Dekton and reveal our favourite collection of Dekton.
Product Review of Dekton surfaces – Quick takeaways
Dekton is a sophisticated blend of raw materials used to produce ultracompact surfaces with a process called TSP.

TSP is a unique method of manufacturing that makes Dektons stronger than steel.

Dekton is made of 

20

 different raw materials under extreme 

heat

 and 

pressure

. The main three components are 

quartz, porcelain, and glass.

Dekton is suitable for both 

interior

 and

 exterior applications

. It is also ideal for both residential and commercial applications.

Dekton comes in large format slabs. A large slab means 

fewer seams

 and usually no seams on kitchen islands.

Dekton is 

non-porous

 and 

stain

, 

scratch

, and 

UV resistant

.

Dekton is tremendous at resisting abrasion.

Dekton has a very 

low coefficient of thermal expansion

, which makes the surface resistant to damage by extreme heat and cold.

Dekton does 

not require sealing or maintenance

.

Dekton is an eco-friendly product.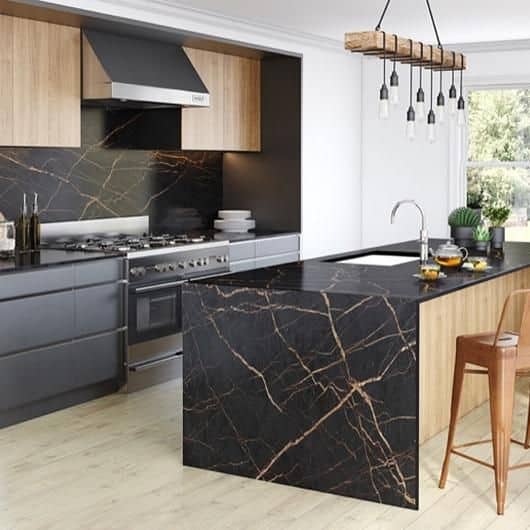 What are Dekton countertops made of?
Dekton is made from a mixture of more than 20 natural products using TSP technology. TSP stands for "Technology of Sinterized Particles," allowing Dekton to produce high-quality products with great precision. The process is based on putting the materials under extreme pressure and temperature. TSP is an accelerated (4-hour process) version of the metamorphic process that creates a strong bond between the individual components in the mixture. TSP involves heating raw materials to over two thousand degrees Fahrenheit and pressing them with 25,000 tons of uniform pressure. The result is an ultracompact surface that is indestructible. This ultra-compaction allows for unique colours and veining, which make this material stand out from other stone surfaces. The 4-hour TSP process is equivalent to thousand years of metamorphic changes that natural stone undergoes under heat and pressure in nature.
Cosentino is Environmentally and sustainably cautious.
Cosentino, the company that produces Dekton, is environmentally and sustainably cautious. Cosentino is always looking for new ways to reduce its energy consumption and decrease its carbon footprint. For example, they use 100% renewable energy to power their factories. They also participate in reforestation projects to help offset the carbon dioxide emitted by their factories. Furthermore, they use recycled materials in the production of Dekton surfaces. Cosentino strives to minimize our environmental footprint at every production stage while maintaining strict safety standards.
Cosentino sources their raw materials responsibly, ensuring that suppliers meet stringent requirements regarding protecting workers and the environment. Their factories are built to LEED Gold certification standards and actively monitor their energy consumption levels. They also recycle 100% of their packaging material and aim to reuse 95% of their products.
Their commitment to sustainability extends beyond their operations. As part of our corporate responsibility program, They partner with organizations that support education initiatives in developing countries.
Dekton versus Quartz
| | | |
| --- | --- | --- |
| Characteristics | Dekton | Quartz |
| Stain | 100% stain proof | Stain resistant |
| Heat  | Heat resistant | Vulnerable to heat |
| UV Resistant | 100% UV Proof | UV resistant |
| Chipping  | Vulnerable to chipping | Super resistant to chipping |
Dekton Countertops Formats
Slab size 320 x 144 cm 

Available thicknesses: 4, 8, 12, 20 and 30 mm
Warranty
Cosentino offers a 25-year warranty. This warranty is a transferrable one you can pass on to future property owners in which Dekton surfaces have been installed.
Maintenance – Dekton Cleaning
Dekton countertops are super easy to clean and maintain. Dekton doesn't need to be maintained by constant sealing, unlike granite or marble countertops. Consider using a hard surface spray cleaner such as Puracy Natural Cleaner. This product is safe for both humans and pets, and it doesn't contain any harmful ingredients. If you're concerned about using a cleaner that has vinegar, don't worry; it won't discolour your countertop. While many think using a cleanser designed specifically for granite and marble surfaces is necessary, that isn't always true. Hard surface sprays work just fine. We don't recommend using soap or water on Dekton surfaces. This is because soap can leave a film that dulls the surface.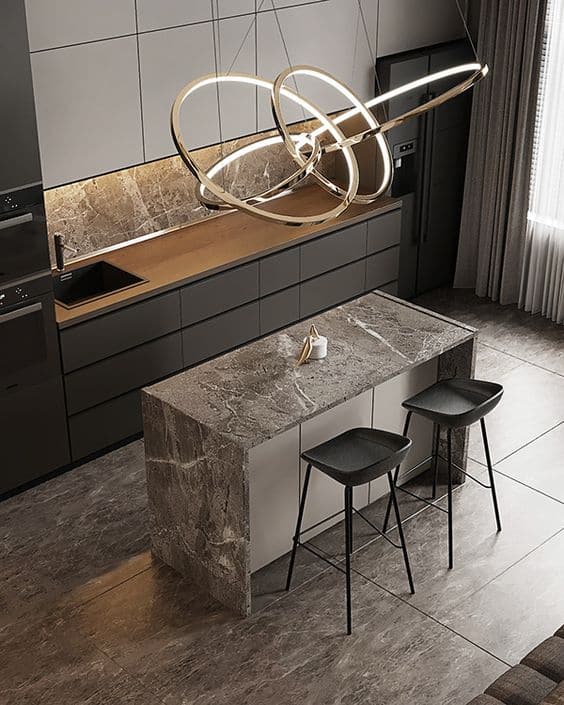 Ultra Durable Material – Dekton by Cosentino
Dekton is 100% UV proof
Dekton by Cosentino is an ultra-compact surface made from a blend of quartz, glass, and porcelain. Although it is not a natural stone, Dekton is often referred to as an "ultimate" stone surface, combining the benefits of natural and artificial stones.
Dekton is heat reistant
Another critical feature of Dekton is its resistance to high temperatures. This feature is due to Dekton's low coefficient of thermal expansion. This makes Dekton thermal shock-proof, which will resist extreme heat and cold. You can place hot pots and pans directly on the surface without worrying about damaging the countertop. 
Dekton is abrasion resistant.
This ultra-compact surface from Cosentino is highly resistant to scratches and provides high abrasion resistance and durability. Dekton is four times more scratch resistant than granite. And, if you do happen to scratch the surface, it can also be easily repaired.
Dekton is stain-proof.
Dekton can easily handle even the most stubborn stains. Its resin-free surface also resists chemical agents. The surface of Dekton is impervious to common household cleaning solutions, including bleach and vinegar. In addition, you can remove stains easily with a damp cloth and a cleaning solution.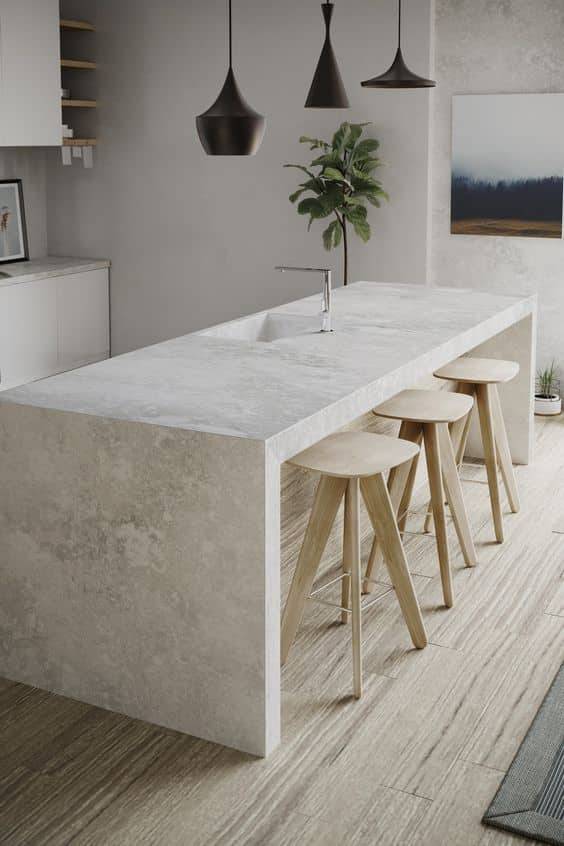 Dekton by Cosentino is perfect for outdoor applications.
These ultra-compact surfaces are impervious to almost any type of damage. They are 100% UV-proof and don't fade or discolour over time. Therefore, Dekton is the perfect countertop for your outdoor kitchen.
Dekton Pricing for your kitchen countertops
Dekton is expensive, so hiring a professional for installation is essential. Dekton's cost depends on the thickness of the material and the number of slabs needed for your kitchen. It's also worth mentioning that Dekton fabrication is also more expensive than quartz, granite and marble. This is related to the fact that Dekton has no resin. Therefore, it's much trickier to cut it compared to quartz countertops, for example.
Dketon Pricing Calculator
The thickness of the slab – Generally, the thicker products are more expensive. 

Size of your kitchen (Number of slabs needed) 

The chosen slab itself (Some popular colours are more expensive per slab compared to others)

Number of desired seams (You may save some cost by compromising your seam location)
Dekton, supply, fabrication, and installation can cost anywhere between $100-$150 per Square foot in Metro Vancouver.

Dekton Stonika Series
The Stonika series is our favourite Dekton series in kitchen and bath design. The Dekton Stonika is a beautiful material that showcases nature's beauty. This collection highlights the natural wonders of marble, limestone or granite. The Dekton Stonika is designed to showcase the beauty of natural stone while addressing the issues associated with its application. In addition, Stonika series also offers a super thin, 4mm, edge profile for those looking for a super modern look for their next kitchen renovation. 
Dekton Kraftizen Collection: Beauty of Handcraftsmanship
This excellent new collection of Dekton honours craftsmanship perfected over centuries of work. This collection pays tribute to the skilled artisans who have mastered their craft. You'll find that they are incredibly durable and long-lasting. These colours are not only beautiful, but they are also very functional. They are ideal for kitchens, bathrooms, offices, living rooms and anywhere else where you'd want to add a touch of luxury. You'll find that the colours in this collection are incredibly honest and versatile. They look fantastic in modern spaces but also work well in older homes.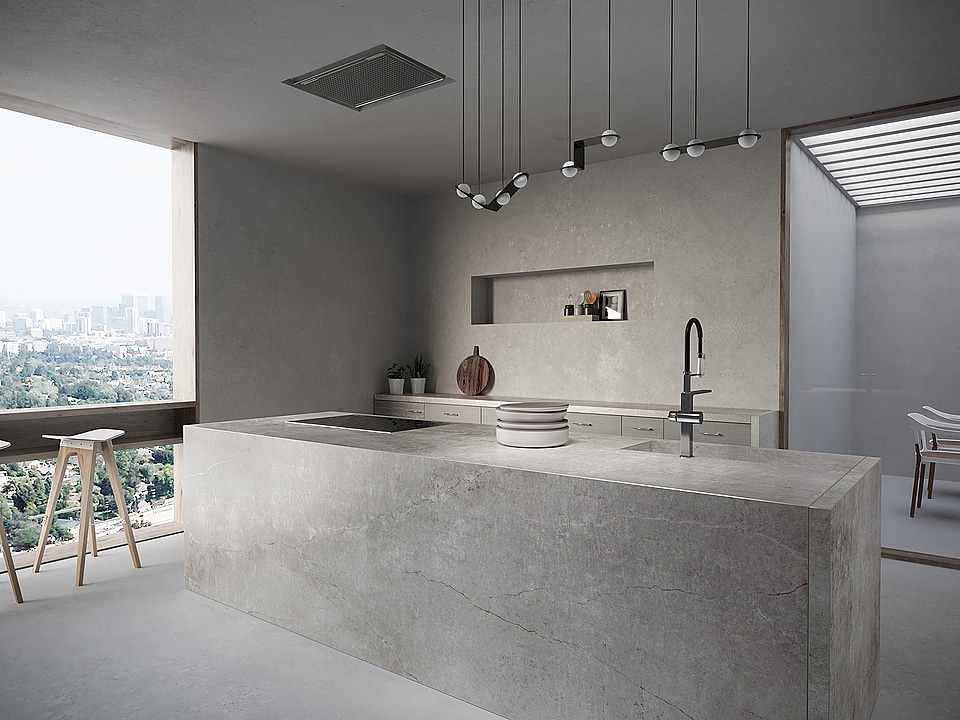 Canadian Home Style is your family-owned and operated custom cabinetry retailer with a showroom in North Vancouver, BC. We are the official dealer of Cabico custom cabinetry in the Lower Mainland, providing complete kitchen renovations with an extended warranty. We always keep up to date with the latest trends and are proud members of the NKBA National Kitchen and Bath Association. In addition, we have won the Consumer's Choice Awards back-to-back in 2021 and 2022 for our commitment to business excellence. We are considered one of the highest-rated kitchen and bath design and renovation experts in Metro Vancouver. Book now to visit our North Vancouver showroom, where you can get expert advice from one of our kitchen and bath designers. We're happy to be a part of your journey with your next kitchen renovation project in Metro Vancouver.
We are the official dealer of Cabico custom cabinetry in the Lower Mainland, and we believe in providing sustainable kitchen designs that can last you and your family a lifetime. Contact us for all of your Vancouver kitchen renovation needs.
Services We Offer:
Main Areas of Service in British Columbia:
Helpful Resources:
Please read our last kitchen renovation blog here: