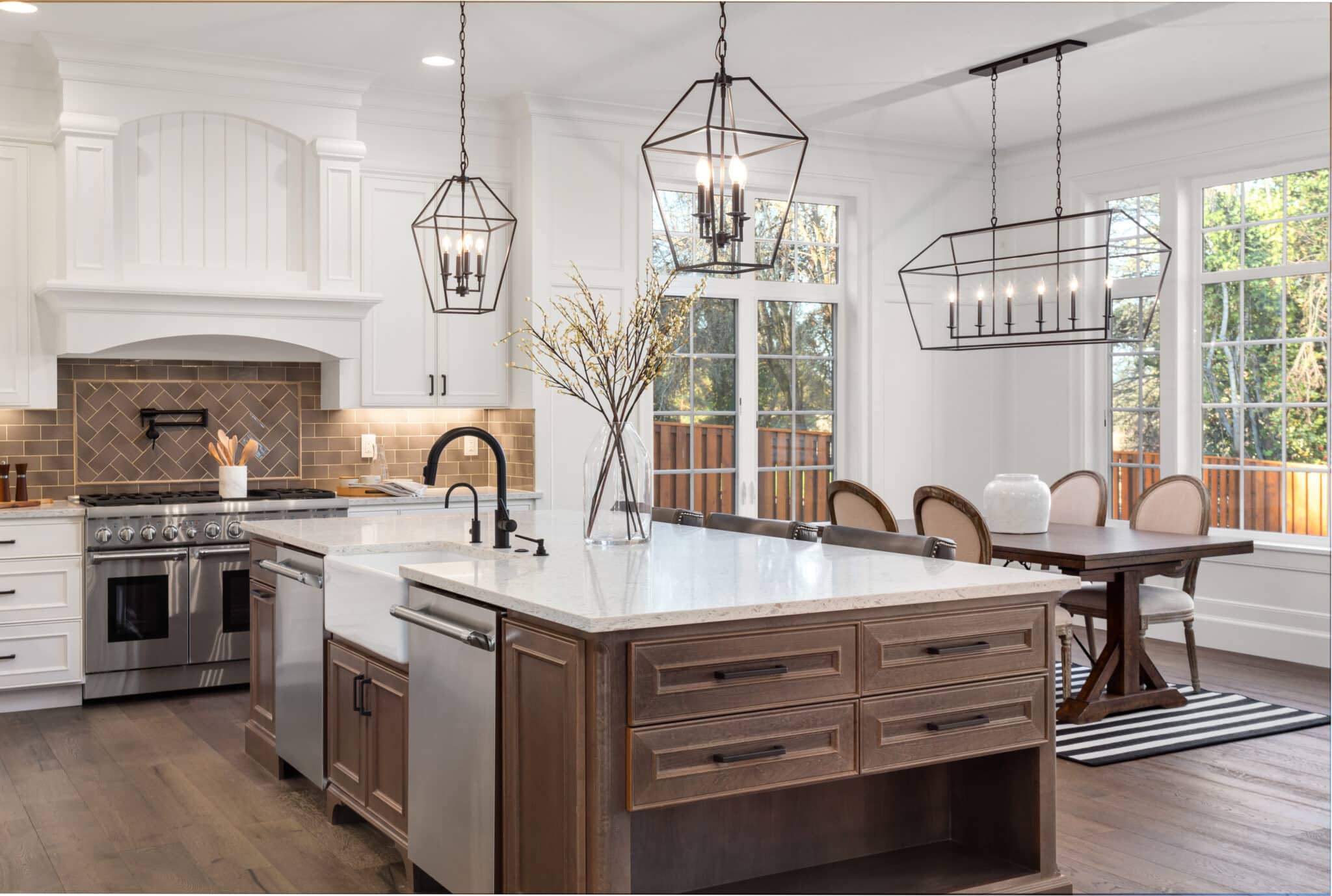 Counter height is an important consideration when designing a kitchen. The right height can make your work easier and more comfortable, while the wrong height can lead to discomfort and frustration. In this article, we'll look at the factors you need to consider when choosing the right counter height for your kitchen, with a handy checklist to help you make the best decision for your next kitchen renovation.
Kitchen countertop height checklist:
Standard kitchen countertop height varies between 

32 inches and 42 inches

. A counter height of 

36 inches is the average countertop height 

that should be fine for most people.

The optimal kitchen countertop height is determined by how tall people are, what size of appliances they own, and where they plan to put them.

Countertops should be comfortable for everyone who uses them.

Tall people have different needs than short people, and the countertop height should be adjusted accordingly.

You don't have to keep all kitchen counters at the same height. Multi-height countertops are a great way to accommodate people of different heights while keeping the space functional.

People who like sitting at a countertop while cooking can benefit from a counter between 24 to 32 inches high.

For wheelchair access, a 28 to 34-inch counter works well.

The standard bar-style countertop height is 42 inches.

Custom cabinets are available to accommodate different heights if needed.
The standard counter height is between 32 and 42 inches tall.
The standard height for kitchen countertops is between 32 and 42 inches. Some people choose to have a lower counter height for accessibility reasons. Luckily, there are home counters designed to be wheelchair-accessible. If you are over six feet tall, you can buck the trend and have a higher-than-average counter. A little research will help you decide which height works best for you.
Should you go higher or lower than the average height?
Unless your kitchen is a bar-style restaurant, the standard counter height is between 32 and 42 inches. The 36-inch height is the international standard kitchen counter height. It would help if you considered the functionality of your kitchen when deciding on the counter height. If you're planning to create a bar-style atmosphere, you should go with a 42-inch height. A lower counter of 28 to 34 inches will work best if you're planning to build a wheelchair-friendly kitchen.
It's worth mentioning that a counter higher or lower than the standard height may affect the resale value. A higher or lower counter may work for you, but it may not be as appealing to potential future buyers. Although you can customize a counter's height if you plan to stay in a house for many years, it is better to have a standard height.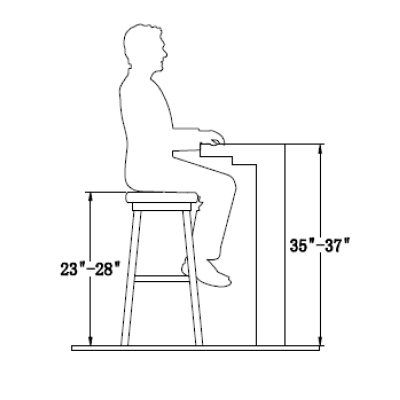 What is the most comfortable countertop height?
The optimal kitchen countertop height should be based on the people using it the most. If you're tall, you may want a higher counter, so you don't have to stoop when using the sink or stove. If you're short, you may want a lower counter to reach everything easily.
Bar-style seating can be as high as 42 inches.
If you plan to use your kitchen island for bar-style seating, you should know that these islands can be as tall as 42 inches. A 42-inch bar is perfect for standing and sitting on a bar stool. The height of a bar is essential for creating a sense of space. A good rule is to choose chairs at least ten inches lower than your counter. This will give you ample room to move.
Suppose you're wondering about your stools. Bar height stools should be between 29 and 32″ high.
Material thickness considerations: kitchen countertops and flooring
You need to consider countertop material thickness and the finished flooring when figuring out the height of your kitchen counters. Figure out your countertop thickness is easy since they are typically 2 to 3 cm thick. The flooring thickness, on the other hand, can vary. Please remember that you're not supposed to install your kitchen cabinets on floating floors. Installing your cabinets directly on your floating floor would automatically void your flooring warranty.
On the other hand, suppose you're gluing or stapling down your flooring material. In that case, you can install your cabinets on top of the finished floor. Please follow our checklist for countertop and flooring thickness below:
Countertop thickness range: 2 to 3 centimetres (0.787402″ to 1.1811″)

Flooring thickness range: 2.5 mm to 19.5 mm (0.0984252″ to 0.75″)
Flooring thickness checklist
The comfort of family members can affect counter height.
When it comes to the kitchen, there is no one-size-fits-all answer. Standard counter heights should be adjustable. The right countertop height is the one that is right for you and your family. Your countertop height should be comfortable for everyone, including tall and short family members. If you have a family of different heights, you may want to consider a multi-height countertop. Multi-height countertops can also allow you to create more counter space. Remember that these kitchen design standards are only averages.
Frequently asked questions about kitchen counter height.
How was counter height standardized?
The kitchen counter height is standardized to make it easier for people to use. It is a measurement determined to be the most comfortable and functional for the average person. When deciding on your kitchen counters, you should consider the height of the people who will be using them the most. You may want to go with a custom height if you are exceptionally tall or short, but a standard height is usually preferable.
What is Bar Height Seating?
Bar height seating refers to seats at bars or pubs where people stand up while drinking. It is also called a standing room only (SRO) or standing bar.
Should a kitchen island be the same height as a counter?
That will depend on the island's purpose if you're using your island as more of an entertaining bar-style seating. Then, your kitchen island should be taller than a standard counter to accommodate bar-style seating. Otherwise, keep the same height as the rest of the kitchen.
How deep are kitchen countertops?
25.5″ is the standard countertop depth.
What is the average kitchen countertop height?
36″
Can I use stock cabinets for a custom countertop height?
No, it would be best if you customized your cabinets t accommodate custom countertop heights.
How thick are quartz countertops?
Quartz slabs come in either 2-3 cm slabs.
Why is raised countertop a good idea?
Raised countertops are a good idea because they provide extra storage space and accommodate bar-style seating. In addition, it makes it easier for family members of different heights to use the kitchen counters.
Canadian Home Style is your family-owned and operated custom cabinetry retailer with a showroom in North Vancouver, BC. We are the official dealer of Cabico custom cabinetry in the Lower Mainland, providing complete kitchen renovations with an extended warranty. We always keep up to date with the latest trends and are proud members of the NKBA National Kitchen and Bath Association.  In addition, we have won the Consumer's Choice Awards back-to-back in 2021 and 2022 for our commitment to business excellence. We are considered one of the highest-rated kitchen and bath design and renovation experts in Metro Vancouver. Book now to visit our North Vancouver showroom, where you can get expert advice from one of our kitchen and bath designers. We're happy to be a part of your journey with your next kitchen renovation project in Metro Vancouver.
We are the official dealer of Cabico custom cabinetry in the Lower Mainland, and we believe in providing sustainable kitchen designs that can last you and your family a lifetime. Contact us for all of your Vancouver kitchen renovation needs.
Services We Offer:
Main Areas of Service in British Columbia: 
Read our last kitchen renovation article here: